One of my favorite things to do at Walt Disney World during the holiday season is the Disney Springs Christmas Tree Trail.
It's basically a walk through Disney Springs, from one end to the other, to view elaborately decorated Christmas trees.
This activity is completely free and a great way to get into the holiday spirit. It's also a great way to get some ideas for Disney Christmas tree decor!
The trees go up in early November and stay up a bit past Christmas. This year, they'll be available from November 10, 2023 through December 30, 2023.
Whether you're looking for more information before heading out to do the trail or can't make it this year and want to still see the trees, keep reading for my guide to the Disney Spring Christmas Tree Trail.
Disney Springs Christmas Tree Trail Map for 2023
Disney Springs is broken down into four neighborhoods: West Side, Town Center, Marketplace, and The Landing.
For 2023, the trees are spread through the first three neighborhoods, with none located in The Landing.
This year there are 19 Christmas trees set up throughout the West Side, Town Center, and Marketplace neighborhoods
Let's go through each of these neighborhoods and where each tree is located.
Marketplace
The Marketplace neighborhood is the east side of Disney Springs and includes landmarks like the World of Disney, the LEGO store, and Once Upon a Toy.
If you arriving at Disney Springs from the ferry boats, ride share, Disney's Saratoga Springs, the Hilton Orlando Lake Buena Vista, or Wyndham Lake Buena Vista Disney Springs, you'll start off in Marketplace.
Once Upon a Toy tree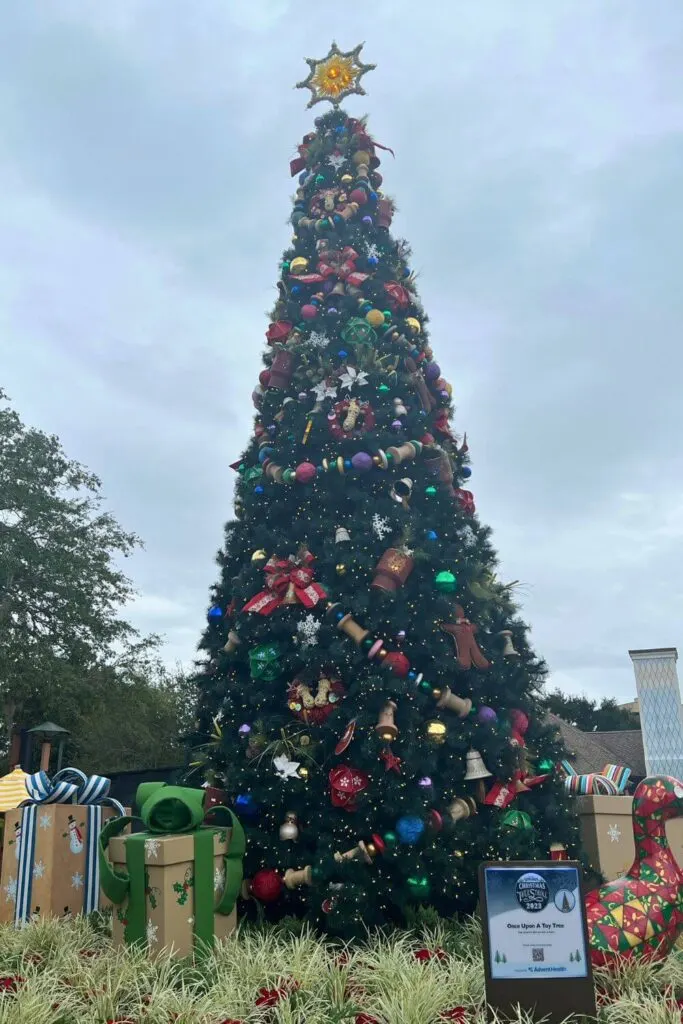 One of the biggest trees in the Marketplace neighborhood is the Once Upon a Toy Tree.
It's located near the Once Upon a Toy store, but is actually closer to Earl of Sandwich, Disney Pin Traders, and Star Wars Trading Post.
I love this tree because it reminds me of my family's Christmas tree growing up. Some of the ornaments are designed to look like DIY projects, like the peanut shell moose, gingerbread men, and garland made with faux sewing thread spools.
When I visited this year, a PhotoPass photographer was stationed there to take photos. What a fun way to capture photos for your holiday cards!
Toy Story tree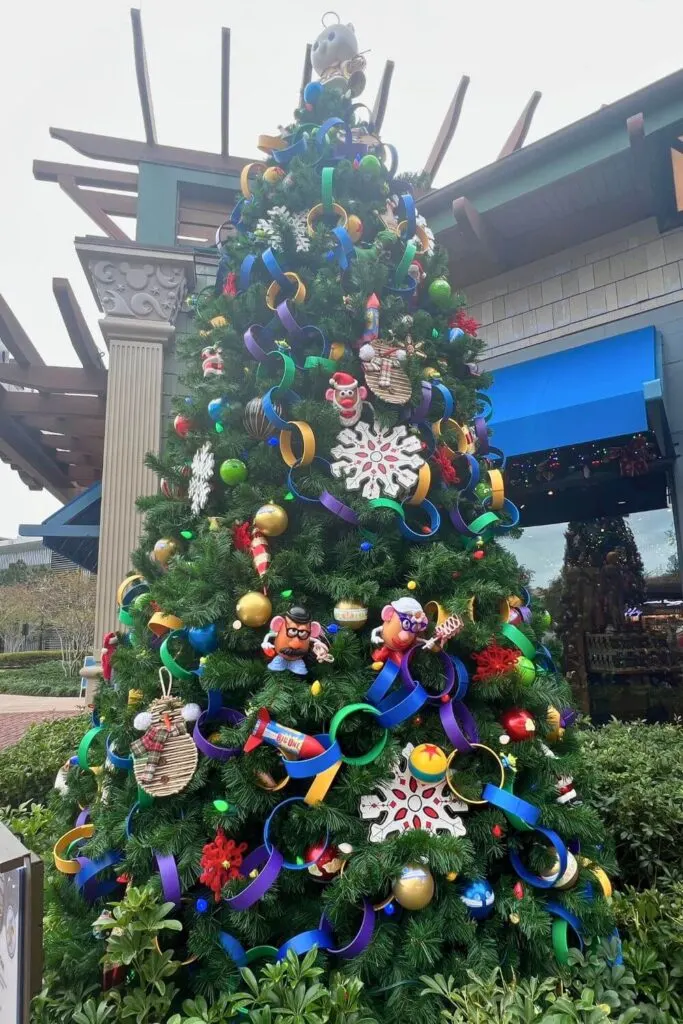 Head over to World of Disney and walk down the pathway between World of Disney and Basin.
Here you'll find the Toy Story Tree, which has Pixar balls, Mr & Mrs Potato Head, green aliens bulbs, slinky dog, and faux paper chain garland.
The only thing I didn't like about this tree was the tree topper, as it was unrelated to the tree's theme.
I would have loved to see something connected to the films instead, like Woody's cowboy hat, Mr. Hamm, the Pixar ball, or even a plain yellow star.
Mickey & Minnie tree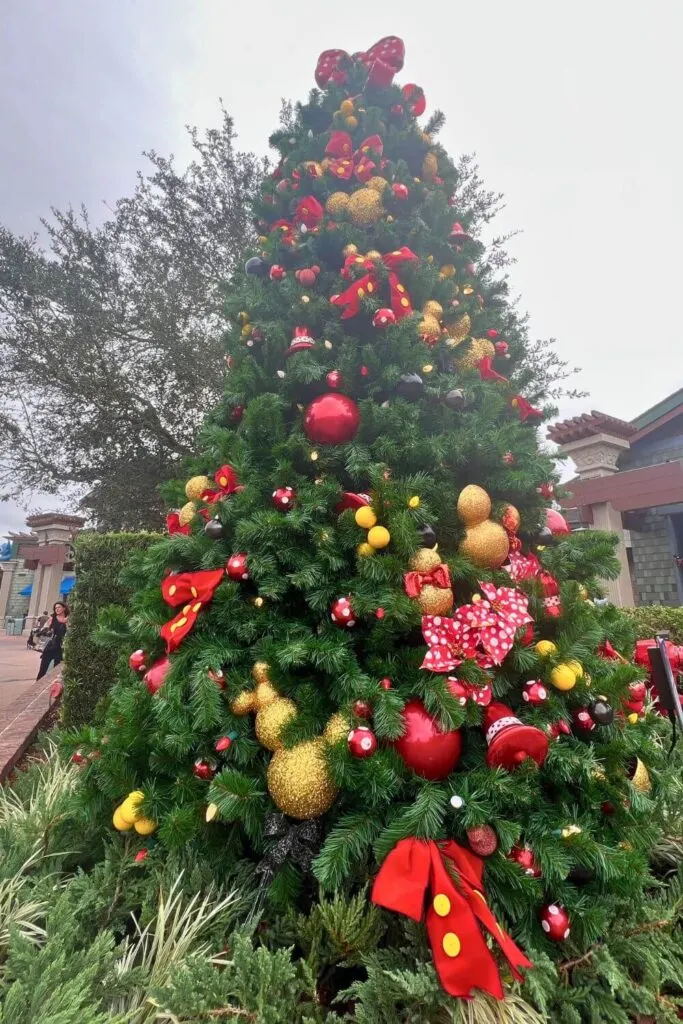 Turn back and walk around the front of the World of Disney store, toward the LEGO store, where you'll find a Minnie and Mickey Mouse inspired tree.
You can't miss this tree, as the theme is recognizable even from far away! I love the gold Mickey Mouse shaped bulbs, red and white polka dot bows, and red bows with yellow buttons.
Town Center
The middle of Disney Springs is split between Town Center and the Landing.
Town Center is where you'll be dropped off if you're coming to Disney Springs via the resort buses or if you drove there and parked in the Lime or Grapefruit garages.
If you park in the Orange garage and exit through the far end, you'll end up right on the border of Town Center and West Side, by the AMC movie theater.
Frozen tree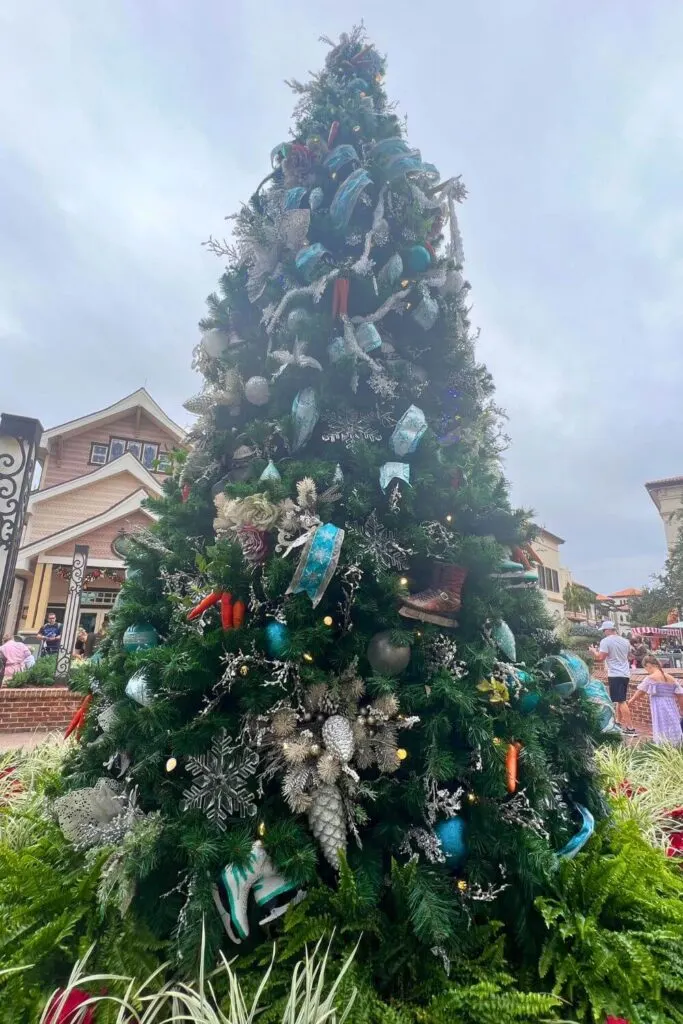 Picking up from where we left off in Marketplace, if you walk down the pathway between the LEGO Store and World of Disney, you'll technically be in Town Center now.
Here you'll find the Frozen tree, with ice skates, snowflakes, carrots, and turquoise and silver ribbons and bows.
This tree is beautifully decorated, but not as obvious of a theme as other trees thus far. I would have liked to see Olaf, his snowbies, maybe some troll rocks, Sven, and other clear character representation.
Princess & the Frog tree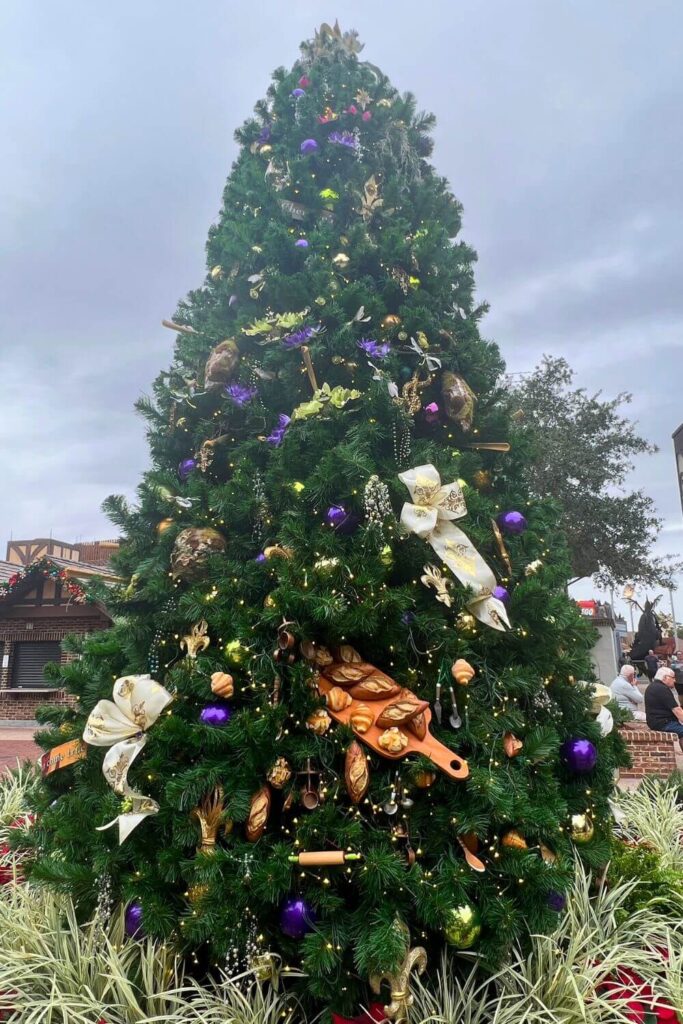 Right next to the Frozen tree is the Princess & the Frog tree, which is more New Orleans themed than themed after the movie.
You'll see fleur de lis ornaments, french pastries, and lots of purple accents. I would have loved to see more frogs, fireflies, maybe some faux beignets.
In fact, I think it was a little odd that they had croissants and French bread, but no beignets – despite that being one of Tiana's signature dishes and more unique to New Orleans than the other items.
The frogs were kind of hidden, too. I actually didn't realize they were there until I was reviewing the photos I took after the fact! I think they might need some pink flowers to help them stand out against the green of the trees.
Overall this tree is beautiful, but not as on-theme as it could be, in my opinion.
Coco tree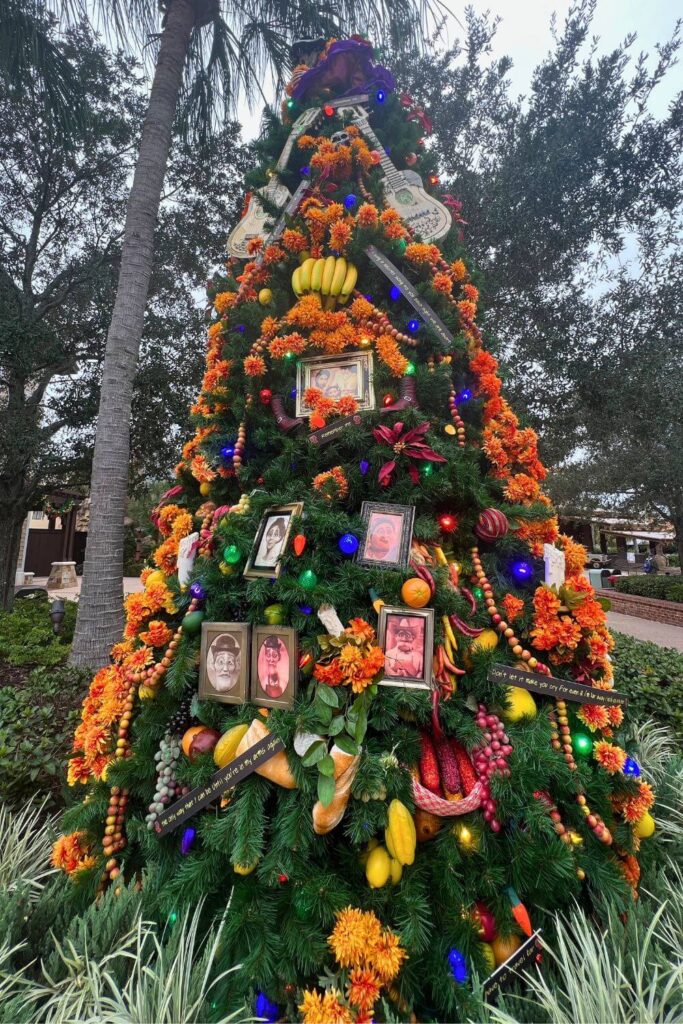 Circle around the Lego store and go up the path between it and Uniqlo. Here you'll find the Coco tree, which is one of my absolute favorite trees this year!
You can't miss this tree with is bright orange marigold garland. It also has family photos, sugar skulls, a guitar, and fruits. It's kind of like an ofrenda, an altar for lost loved ones, but in Christmas tree form!
Do not miss this tree – it really is a beautiful site to see and quite impressive!
Star Wars tree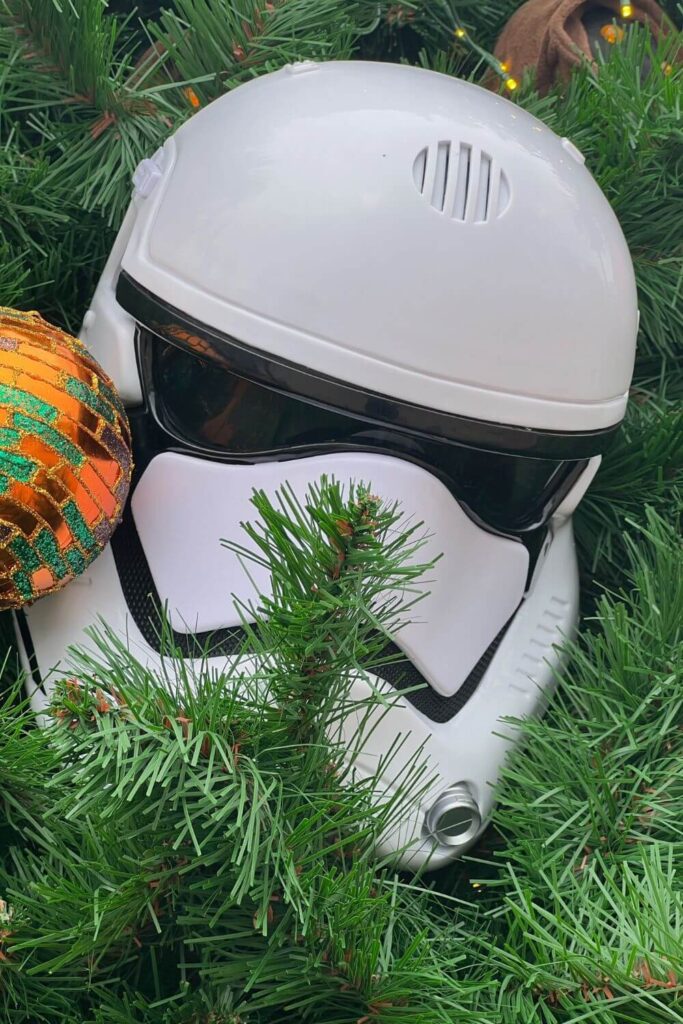 Not far from the Coco tree is a Star Wars inspired Christmas tree.
There are so many different ways that such a tree could be decorated, but I was happy to see the classic Star Wars themes with Stormtrooper helmets, Jawas, and Christmas bulbs with various symbols and outlines of ships. It even had a C3-PO tree topper!
Disney Cruise Line 'Treasure' topiary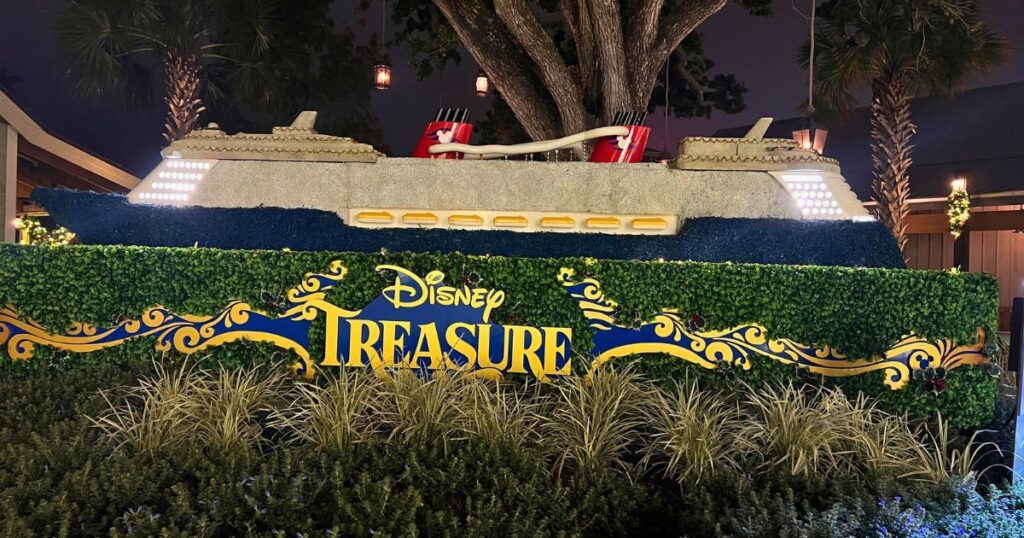 Over by D-Luxe Burger and the Welcome Center is more of a Christmas shrub or topiary than a tree.
It's actually a replica of the newest Disney Cruise Line ship, the Disney Treasure!
Last year they had a replica of the Disney Wish, so perhaps next year, it'll be whatever the next ship is, too!
Town Center tree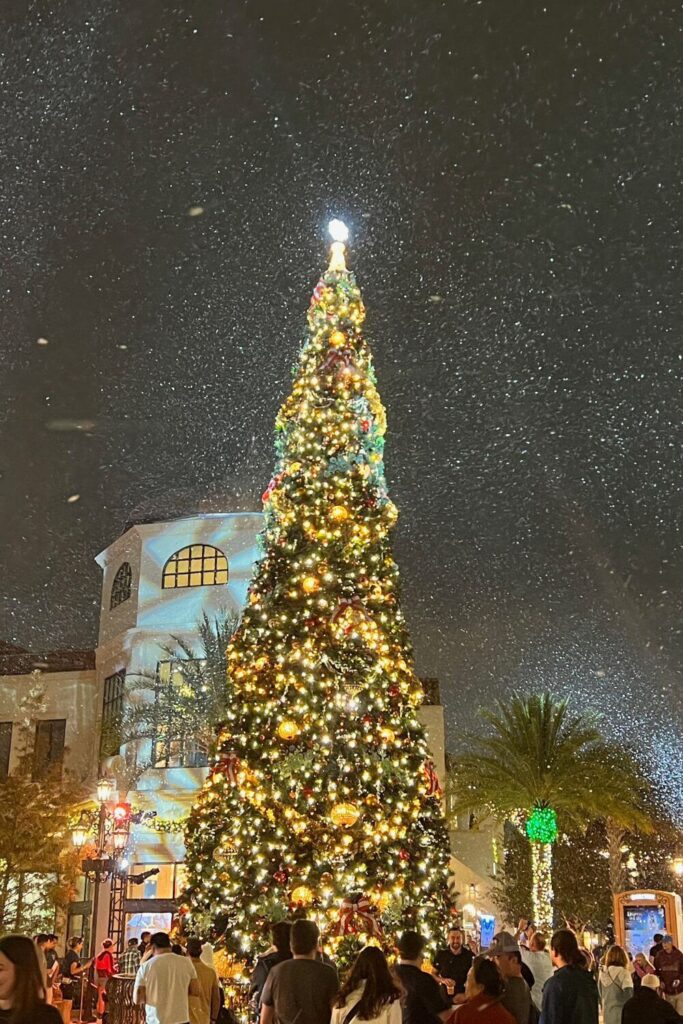 Circle back to town center, between Zara and the Town Center entrance, where you'll find the Town Center tree.
This is a more traditionally decorated tree with gold garland, red and white striped bows, and solid Christmas bulbs.
Starting at sunset, you'll sometimes see "snoap," aka faux snow, falling in this area, adding to the Christmas-y ambiance.
There are also some large Christmas decorations nearby, like some giant Christmas bulbs and a giant snowflake, for fun photos, too.
Moana tree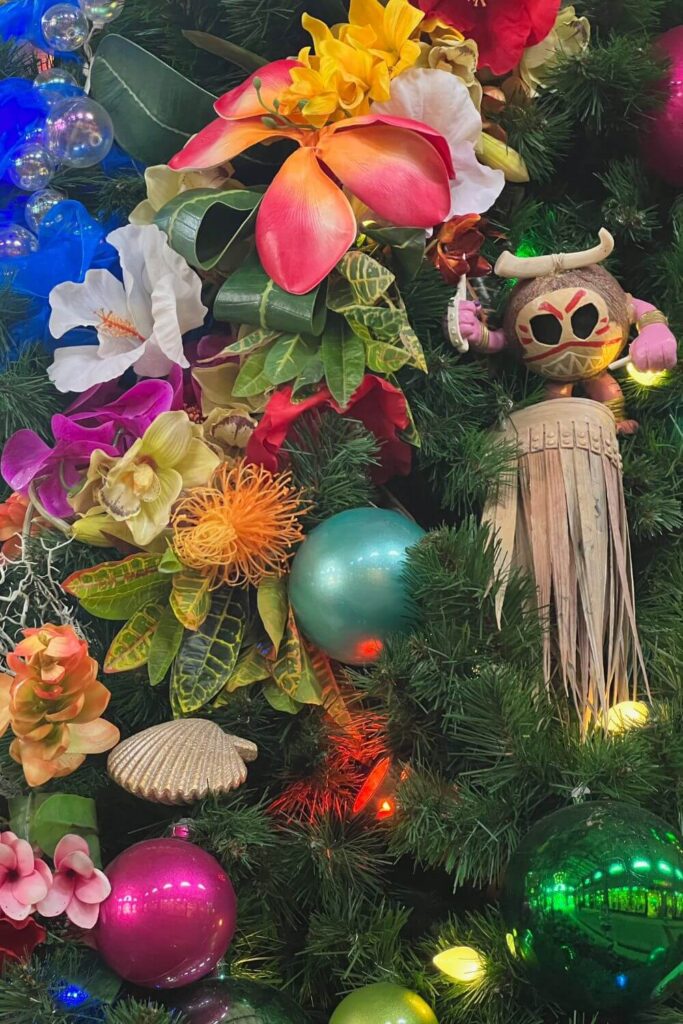 If you walk through the covered area where Lululemon, Sugarboo, Lilly Pulitzer, and other stores are, you'll find another one of my favorite trees on the trail: the Moana tree.
This tree has beautiful brightly colored hibiscus flowers, replicas of Moana's boat, kakamora, seashells, seahorses, and even a glowing heart of the ocean!
The Nightmare Before Christmas tree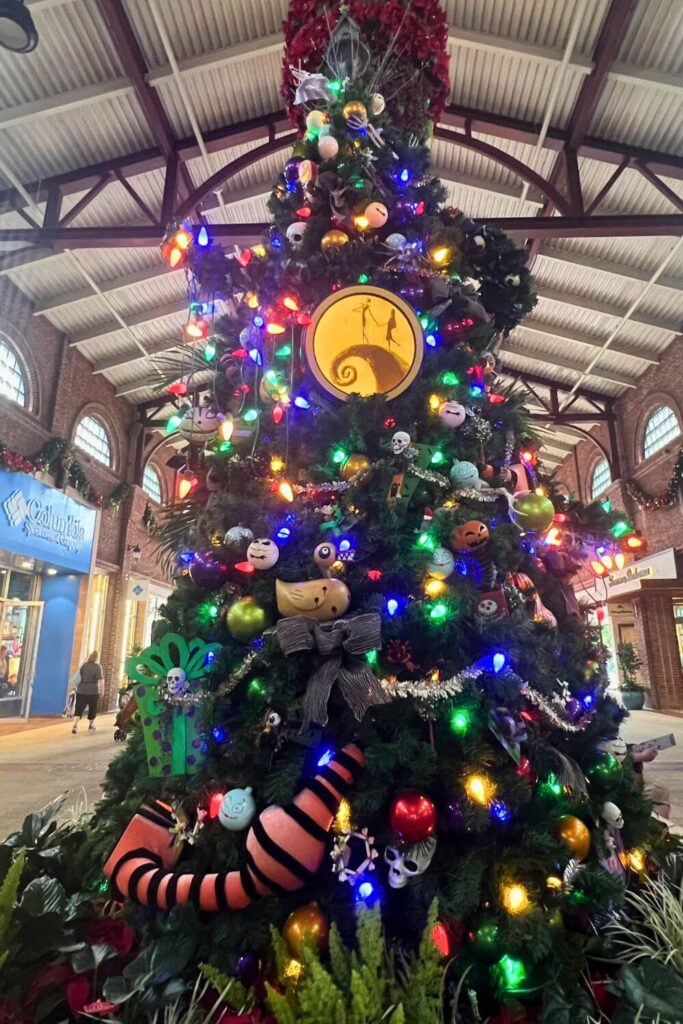 Right next to Moana is the Nightmare Before Christmas tree. Front and Center is a portrait of Jack and Sally, but you'll also see their face on bulbs throughout the tree.
There's also Lock, Shock, and Barrel masks, black and silver bows (like Jack's suit), pumpkins, and even orange and black snakes!
Haunted Mansion tree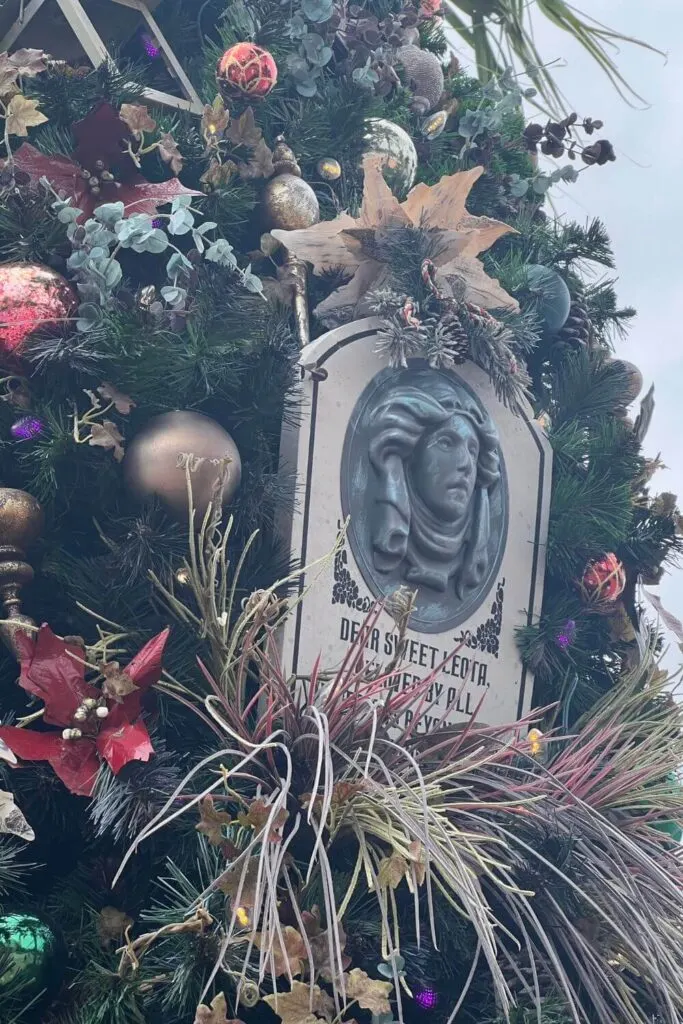 Continue walking through the covered shopping area and go past Chicken Guy! and Planet Hollywood, toward the fountain outside the AMC movie theater.
Here, you'll find a set of three trees around the fountain, starting with the Haunted Mansion themed tree.
You can't miss the giant corpse bride on this tree, which definitely sets the tone! There's also a Leota tombstone, as seen in the photo above.
There's also lots of old books and framed photos, following the dark and creepy haunted mansion vibes.
Wish tree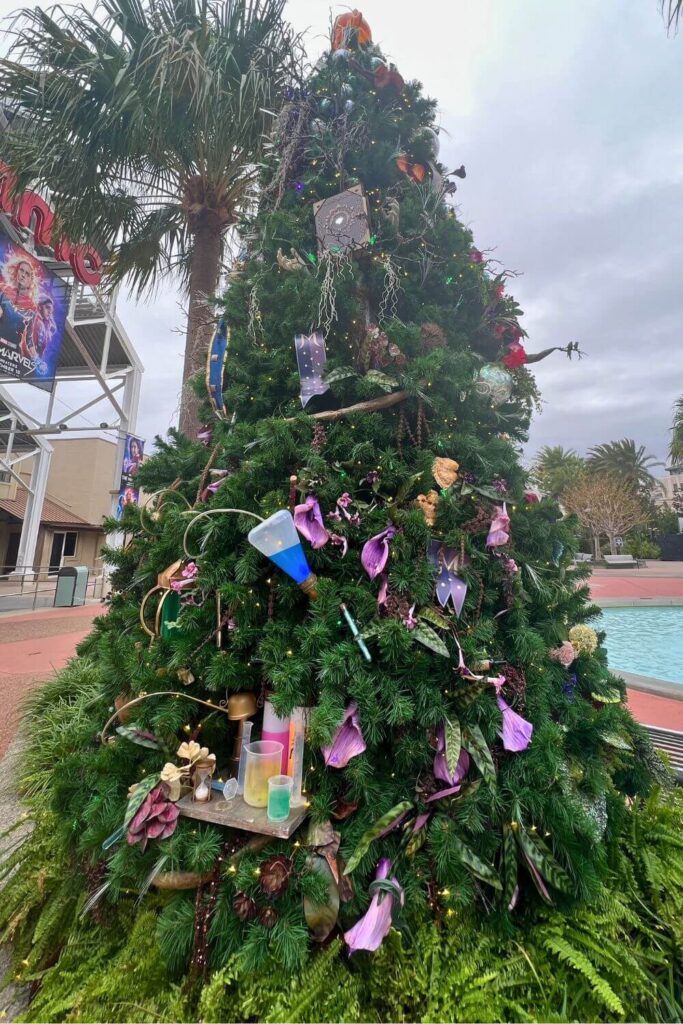 Next up is the Wish tree. I haven't seen the movie yet, but based on the trailers, the tree didn't seem on-theme to me. Perhaps it will make more sense after I go see the movie!
This tree had a chemistry set, a spell book, and lots of purple flowery-type filler. I would have expected cartoon-ish shooting stars, as featured in the trailer, or maybe the cute pet goat.
Annual passholder tree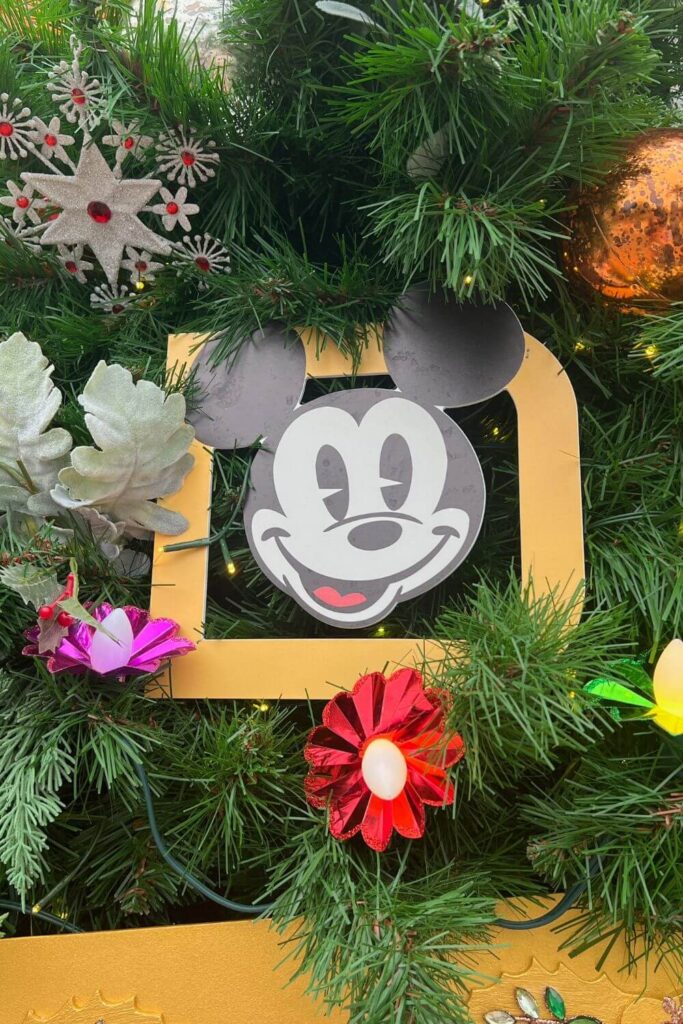 The third tree by the fountain is the annual passholder tree, which is a ton of fun to see, even if you don't have an AP.
I saw Minnie Mouse ears, passholder magnet ornaments, Mickey Mouse ice cream bars, family portraits, Mickey Mouse balloons, and a lot more.
This tree was a lot of fun and I definitely spent more time examining all of the different ornaments and artwork around this tree.
West Side
The area where the AMC theater is located and further back, toward the Cirque de Soleil theater, is known as the West Side.
There are 5 trees located in this area, so we're in the home stretch now!
Disney Vacation Club tree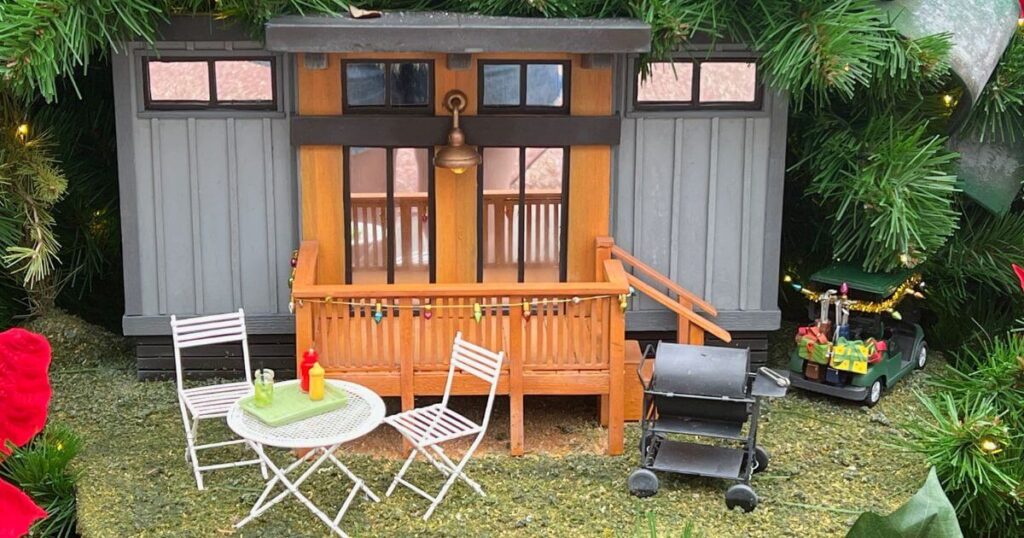 If you walk up straight from the fountains, you'll see one more tree before you turn left: the Disney Vacation Club Tree. It's right next to the bridge between the West Side and The Landing.
Here you'll see signs with names of all of the DVC properties around the US, as well as a few ornaments representing them.
Most notable this year is the addition of a mini-model ornament of the upcoming Fort Wilderness cabins.
It is also filled with red pointsettias, which is a nice contrast against the green trees and blue DVC property name ornaments.
Disney+ tree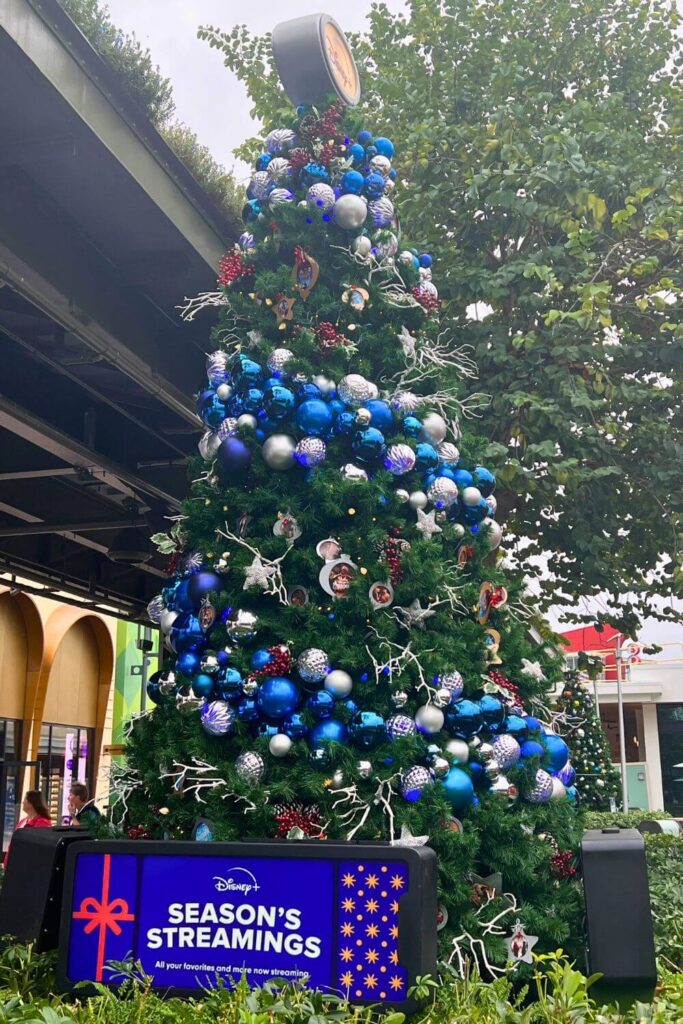 Heading over to the food truck area, you'll find the Disney+ tree with blue and silver bulbs, a Disney+ logo topper, and small ornaments with Christmas movie logos on them.
While it was nice to see some of the Christmas movies represented, they were hard to pick out as those ornaments were small. Plus they were overpowered by the blue and silver garland.
I would love to see ornaments of classic Disney movies, perhaps faux DVD and VHS covers as ornaments.
Guardians of the Galaxy tree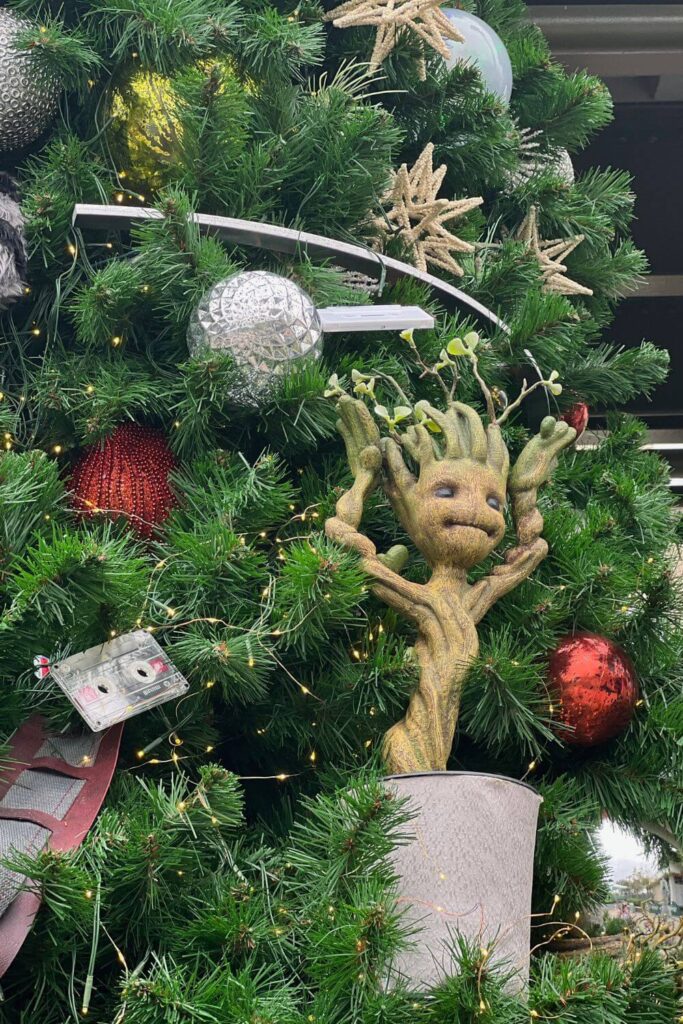 Next to the Disney+ tree is a Guardians of the Galaxy tree. This one is very cute, with baby Groot, mix tapes, gameboys, and even a Star Lord mask at the top of the tree.
I really would have loved to see Rocket the Raccoon represented here, given that he was the focus of the latest movie, which came out earlier this year.
But other than that, this was a solid tree, even if a bit hidden by the food trucks and "high line" trellis.
Encanto tree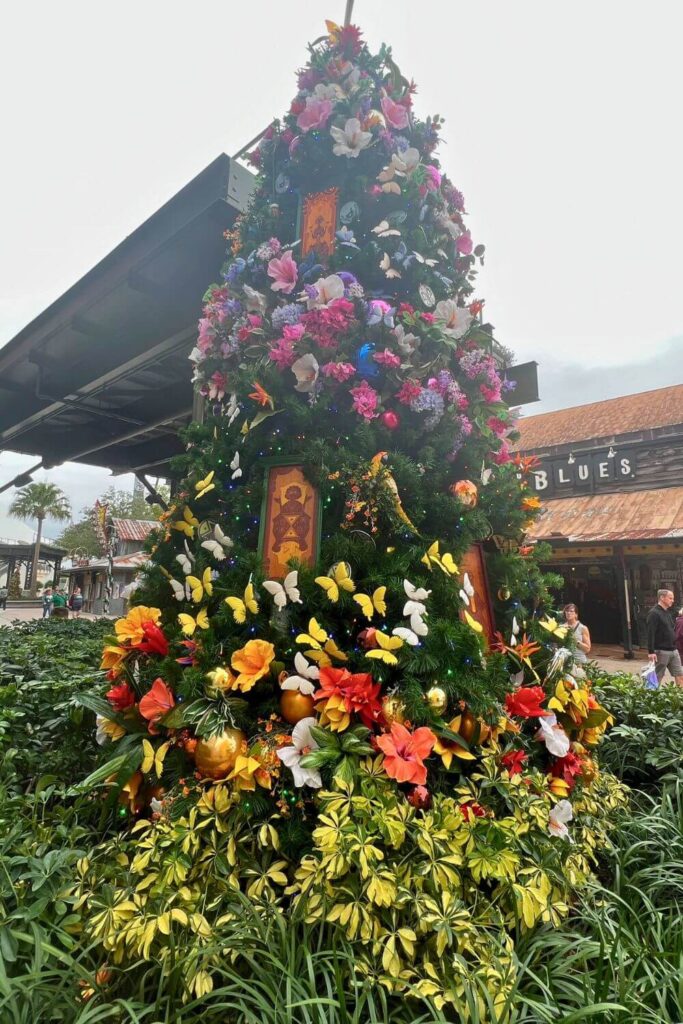 Between City Works Eatery and House of Blues is the Encanto tree, which is quite stunning.
Just like the movie, this tree is filled with brightly colored flowers and butterflies, as well as wooden carvings of each character. At night, the carvings light up, too!
Lion King tree
The last tree on the trail is the Lion King tree, which is just a further bit down from the Encanto tree.
I love that this tree is themed more after the Broadway version of the Lion King. It has wooden Lion masks and a wooden Simba tree topper from the iconic opening scene where Rafiki holds up baby Simba. It's definitely worth making the trek through the entire trail to see this one!
Disney Springs Christmas Tree Trail tips
If you're thinking of doing to the Disney Springs Christmas Tree Trail yourself, keep reading for a few tips.
Bring your MagicBand+
If you have a MagicBand+, bring it with you. You can use it to turn on the Christmas lights on a few of the trees, adding a little extra something to the experience.
Get your Christmas photos taken
While you're at Disney Springs, why not get some photos taken for your Christmas cards? There's a PhotoPass studio nearby, right behind the Ghiradelli Ice Cream shop.
It doesn't require reservations, but you can make one if you prefer.
In addition, it's free to take the photos – but you'll either need to pay to download the photo(s) you want or have the Memory Maker package.
Plus, as I mentioned earlier in the post, there's a PhotoPass photographer outside the Once Upon a Toy tree, for a less formal photoshoot experience.
Meet Santa
Last but not least, save some time to meet Santa Claus at Once Upon a Toy, so you can pass on your wish list this year.
This experience runs from November 10 through December 24, 2023. It uses a virtual queue, so if you're set on meeting him, go put your name on the (naughty and nice) list, and do the trail while you wait!
Get a map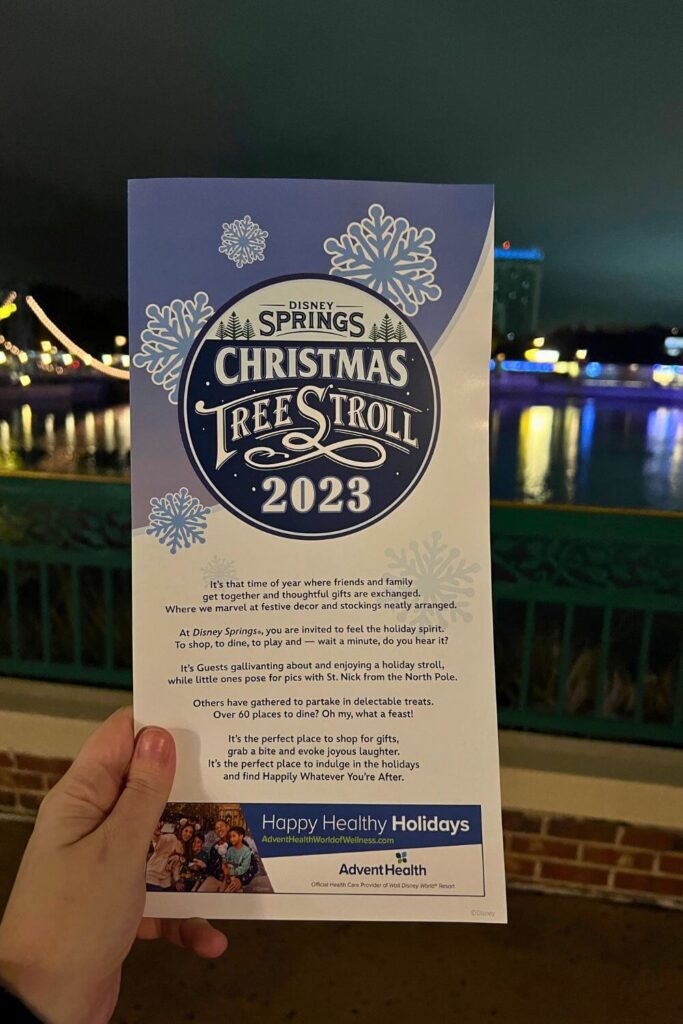 For an extra challenge, grab an official Disney Springs Christmas Tree Stroll map at one of these shops:
Joffrey's Coffee
Crystal Arts by Arribas Brothers
The LEGO Store
Planet Hollywood
City Works Eatery & Pour House
And yes, this experience is officially called the Disney Springs Christmas Tree Stroll, but most people refer to it as a trail, so maybe Disney should just rebrand it as such!
The map includes stickers that you add to the map as you make your way through. Once you're finished, bring it back to one of the locations listed above for your prize (which is a fun Christmasy button).
The map also includes some small discounts for over 2 dozen shops and restaurants.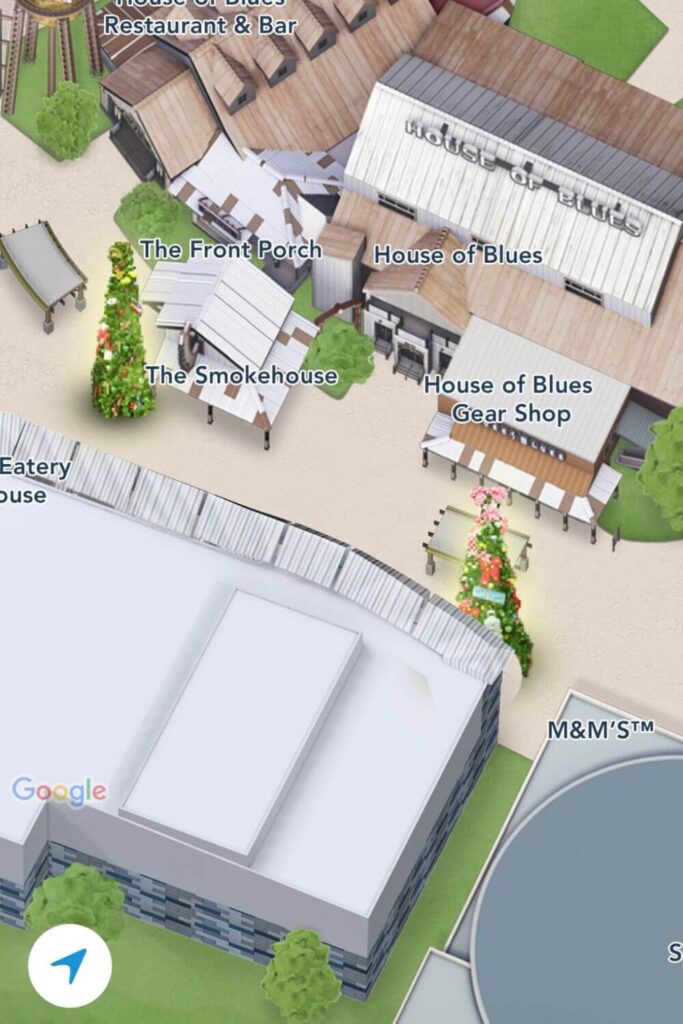 But if you don't want to bother getting a map, you can also get a general idea of where the trees are from this blog post, as well as using the map on the My Disney Experience app.
It has trees sprinkled throughout the app during the time that the trees are up, so you can use it as a reference.
Go during the day AND night
If time permits, I recommend doing the trail twice – once during the day and once at night.
During the day you'll get a nice clear look at all of the ornaments and hard work that went into decorating each tree. But at night, you'll get to see the trees lit up!
Jock Lindsay's Holiday Bar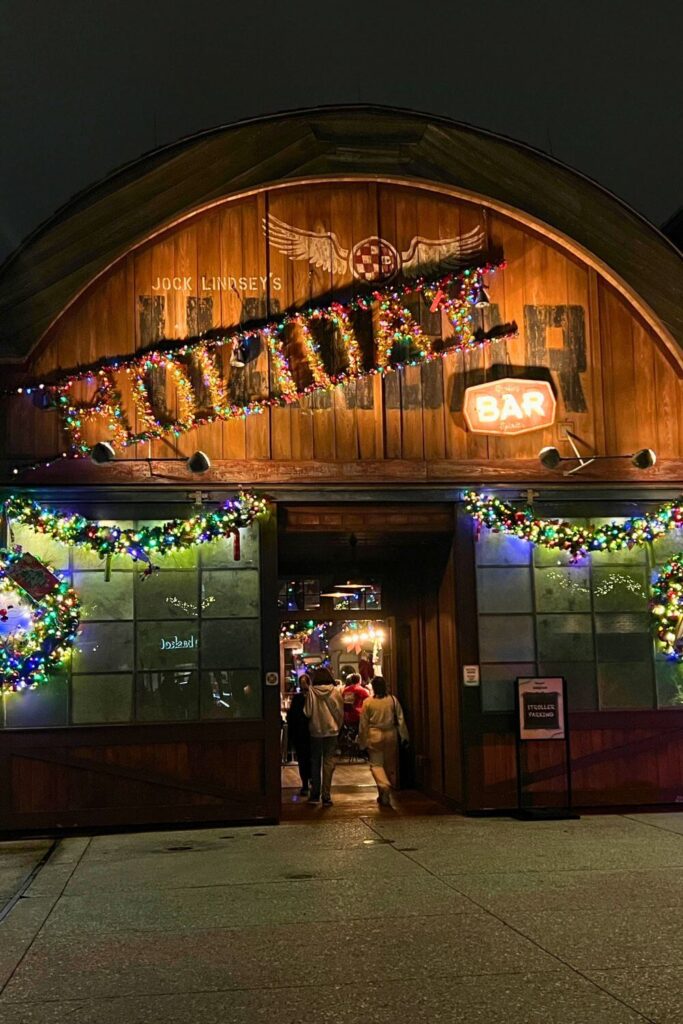 After your done completing the trail, make your way to Jock Lindsay's in The Landing, which transforms into a winter wonderland during the holiday season. In fact, it's called Jock Lindsay's Holiday Bar this time of year!
In addition to the Christmas decor, there's also a holiday-inspired menu with fun appetizers like deviled eggs, cranberry meatballs, pigs in a blanket, and yummy cocktails.
Buy ornaments for YOUR tree
Head to World of Disney, as well as Disney's Days of Christmas, to stock up on new ornaments for your Christmas tree.
Maybe you'll feel inspired to recreate one of the trees on the trail or the experience will spark an idea for your own Disnified Christmas tree!
Christmas trees I'd love to see in the future
I love that this experience has a mix of trees from years past, as well as new ones. Here are a few ideas I'd love to see in the future.
Disney transportation tree with Skyliner gondolas, ferry boats, monorail cars, and resort bus ornaments.
Inside Out tree with all of the emotions and feelings represented. I have a feeling we'll see this one in 2024, as the sequel comes out in June 2024.
Disney Gingerbread tree with all of the iconic gingerbread houses, carousel, castles, etc. that appear at the deluxe resorts and DVC properties each holiday season.
A tree inspired by other Disney parks and resorts – either one tree per property or at least 1 tree with all the other properties represented.
A Loki "Yggdrasil" tree – if you're a fan of the show and have seen all of Season 2, then you definitely know what I mean! I don't know if Loki is allowed at Disney World, as many Marvel characters are not, but it will still be a beautiful sight to see.
What's your favorite tree on the Disney Springs Christmas Tree Trail?
Overall, this fun and free experience is worth taking the time to do. It's gotten better and better over the years since it first debuted and I have no doubt that it will continue to improve.
This year, my favorite tree is a tie between the Coco and Moana trees. How about you?
Let me know in the comments below what your favorite tree was this year or in years past.
For more tips on planning your WDW vacation during the Christmas season, check out these posts:
Merry Christmas and Happy New Year!
---
About the author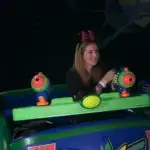 Meg Frost is the creator of The Park Pixie, where she covers Disney World, Disney+, and Disney fandom.
She holds an M.A. in Journalism from Northeastern University and B.S. in Communication & American Studies from University of Miami in Florida.
---