One of the newest and most exciting options for holiday entertainment at Walt Disney World is the Disney Jollywood Nights party at Hollywood Studios.
This new after-hours extra-ticketed event runs from 8:30 PM to 12:30 AM, although guests can enter as early as 7 PM. In other words, a park reservation is not needed, but a separate ticket is – even if you have an annual pass.
Geared more toward adults 21+, this event is a completely different vibe compared to Mickey's Very Merry Christmas Party, but it fits in well with Hollywood Studios' theme.
In this post, I'll run over everything Disney Jollywood Nights has to offer so you can decide if it's worth the extra ticket for you.
Dates and ticket prices for Disney Jollywood Nights
Disney Jollywood Nights runs on ten select nights between November 11 and December 20, 2023 at Disney's Hollywood Studios theme park.
Here are the exact event nights in 2023:
Saturday, November 11, 2023
Saturday, November 18, 2023
Monday, November 20, 2023
Monday, November 27, 2023
Wednesday, November 29, 2023
Monday, December 4, 2023
Wednesday, December 6, 2023
Saturday, December 16, 2023
Monday, December 18, 2023
Wednesday, December 20, 2023
Tickets range from $159-179 per person, but the exact price will depend on the date you choose.
Annual passholders and Disney Vacation Club members get a discount on tickets for most nights, so be sure to check your options before you buy if either of those apply to you!
Rides and attractions at Disney Jollywood Nights
Of course, no trip to Walt Disney World would be complete without a ride on your favorite attractions!
During Disney Jollywood Nights, many of the rides at Hollywood Studios will be open, so you can enjoy them without waiting in long lines.
Take a spin on the Tower of Terror, race through Andy's backyard on the Slinky Dog Dash, or try to sneak up on the ghosts in the Haunted Mansion.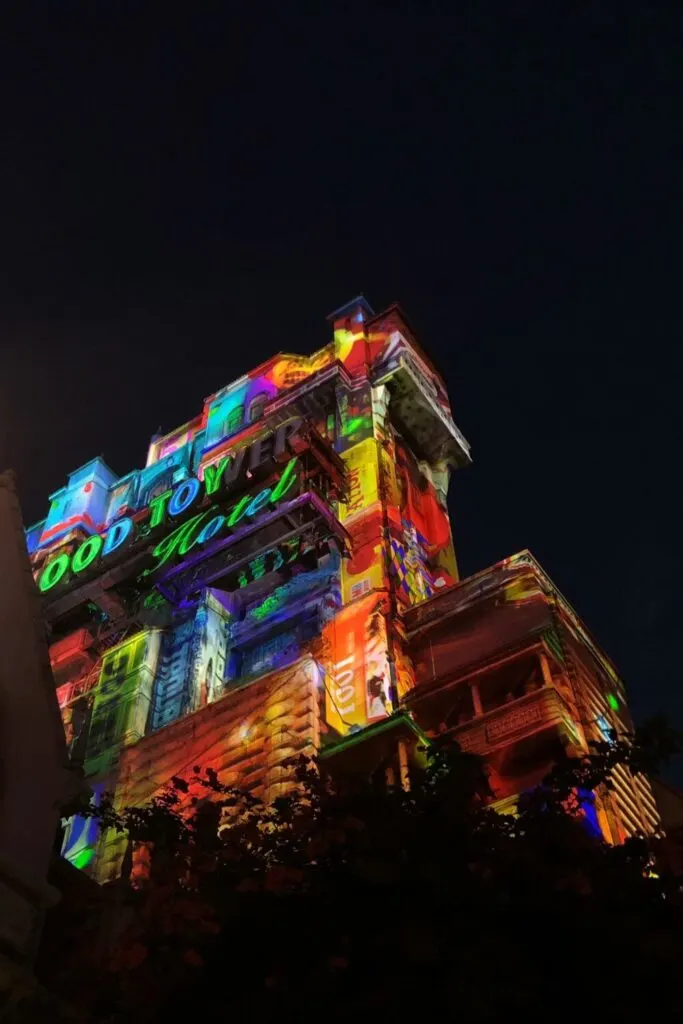 Echo Lake
Star Tours: The Adventure Continues
Hollywood Boulevard
Mickey & Minnie's Runaway Railway
Sunset Boulevard
Star Wars: Galaxy's Edge
Millennium Falcon: Smuggler's Run
*Rise of the Resistance will only be offered via virtual queue. The queue can be joined on the MDE app starting at 8 PM.
Toy Story Land
Alien Swirling Saucers
Toy Story Mania!
Character meet-and-greets at Disney Jollywood Nights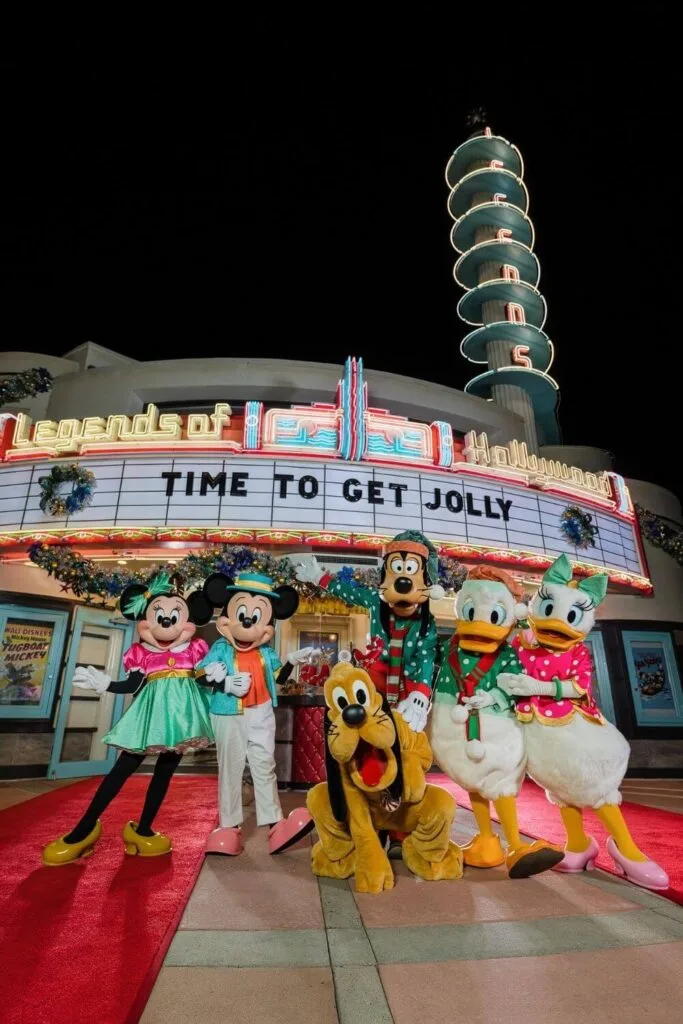 There will be several groups of characters doing meet-and-greets at Disney Jollywood Nights, including several who are a bit rare to see!
Mickey & Friends Holiday Greeting
Over in Animation Courtyard, you can meet the fab five: Mickey Mouse, Minnie Mouse, Donald Duck, Daisy Duck, Goofy, and Pluto – all in their best holiday outfits.
Echo Lake Holiday Celebration
At the Echo Lake Holiday Celebration, you can meet some of the more rare characters, such as Phineas & Ferb, Powerline Max, and Rescue Rangers Chip & Dale.
I think I know where I'll be hanging out! Disney is clearly targeting adults because this is a Millennial's dream character line up!
Holidays à la Mode
Over in Pixar Place, you can meet Edna Mode and Frozone.
I'm a bit perplexed as to why other characters from The Incredibles won't be there, as they usually are during regular park hours.
Shows at Disney Jollywood Nights
One of the big draws to Disney Jollywood Nights are the event-exclusive shows and sing-alongs that will be available.
Disney Holidays in Hollywood
Location: Theater of the Stars on Sunset Boulevard
Time(s): 8:45 PM, 9:45 PM, 10:45 PM, 11:45 PM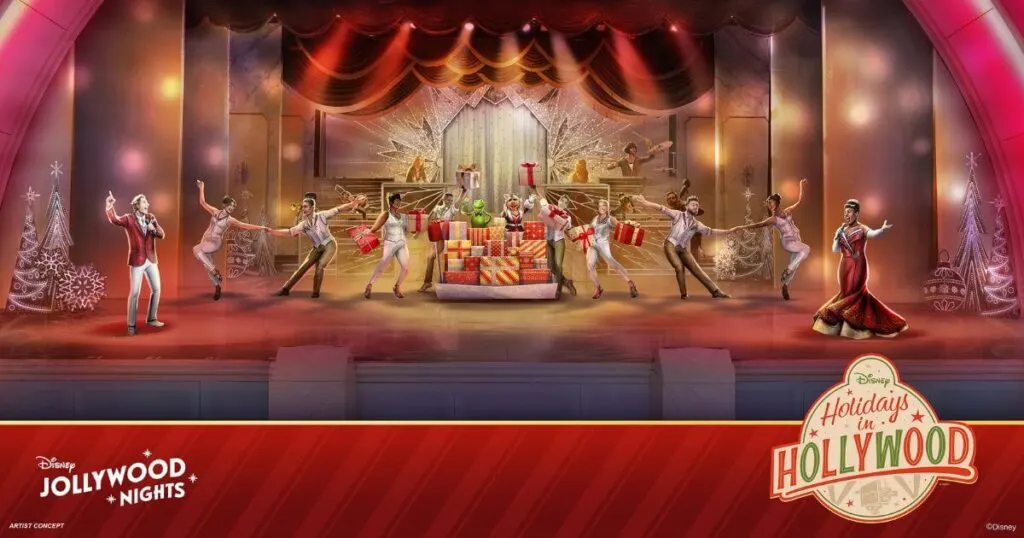 First up on the entertainment roster is Disney Holidays in Hollywood, starring Kermit the Frog, Miss Piggy, Mickey Mouse, Minnie Mouse, Tiana, and Belle, among others.
This show is said to be a bit like an old time variety show but not much else has been released about this, so more info to come soon!
The Nightmare Before Christmas Sing-Along
Location: Hyperion Theater in Echo Lake
Time(s): 8:30 PM, 9:30 PM, 10:30 PM, 11:30 PM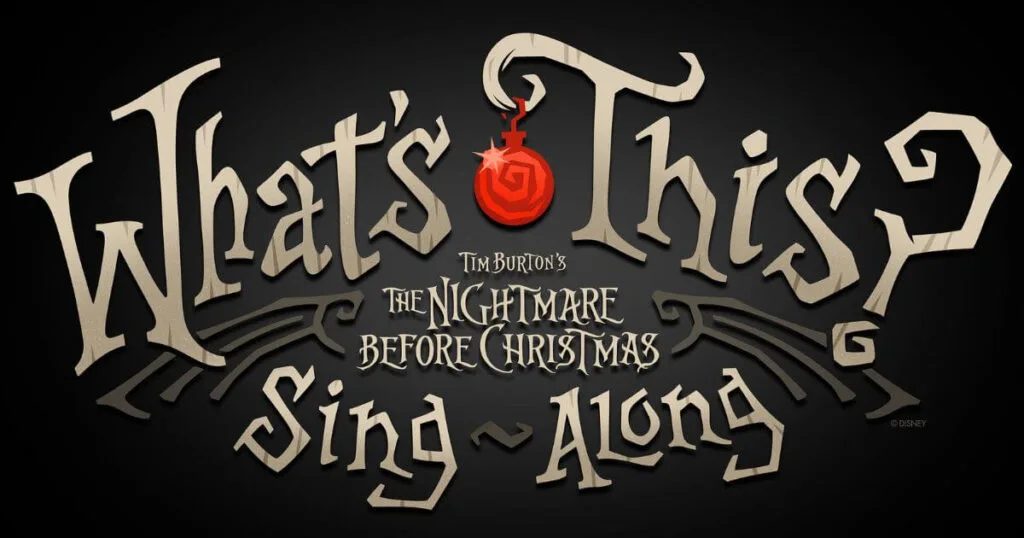 Oh my Sandy Claws!
Over at the Hyperion Theater, where the Frozen Sing-Along takes place, guests can join in on some fun wit the What's This? Tim Burton's The Nightmare Before Christmas Sing-Along Show.
I can just picture all of the adults in their nicest holiday outfits, singing along to this movie's best songs! How fun!
Jingle Bell, Jingle BAM!
Location: Chinese Theater on Hollywood Boulevard
Time: 12:30 AM
Jingle Bell, Jingle BAM! used to be available to all Hollywood Studios guests as part of the Christmastime entertainment in the park. But this year it's exclusive to Disney Jollywood Nights!
This projection show with fireworks takes place on the Chinese Theater at the end of Hollywood Boulevard, where the entrance to Mickey & Minnie's Runaway Railway is.
It is expected to run at the end of the party, as 12:30 AM.
Lounges & parties at Disney Jollywood Nights
One of the biggest draws, aside from the event-exclusive shows, are the lounges and parties that will take place across the park during Disney Jollywood Nights.
D23 Fa La La La Lounge
Perhaps one of the most exclusive offerings at Disney Jollywood Nights is the D23 Fa La La La Lounge at Pizzerizzo.
This lounge is only available on November 27 and 29 to D23 Gold Members, plus it requires a separate event ticket.
The lounge will have appetizers, drinks, charging stations (!!!), and photo ops. But best of all, it comes with access to a separate viewing area for Jingle Bell, Jingle BAM!
Unfortunately, as of publication time, tickets are SOLD OUT for this exclusive lounge.
However, if you're already dreaming up plans to visit Walt Disney World during Christmas in 2024, keep this in mind in case it's offered again next year!
Hollywood Boulevard
As you stroll into the party, a DJ will be spinning holiday music to get you in the spirit – as if you wouldn't be already, ha!
Holiday Fiesta en la Calle
Commissary Lane turns into a Latin-inspired holiday party with lots of food and drink from various Latin American cultures, as well as live music.
Jazzy Holidays at the Hollywood Brown Derby Lounge
If you love Jazz music, you'll definitely want to stop in to the Hollywood Brown Derby Lounge for appetizers, drinks, and jazz.
You can reserve a spot on the My Disney Experience app, so there's no need to go to the restaurant to see if there's room and when. So easy!
Twilight Soirée at the Tip Top Club
In the Hollywood Tower Hotel courtyard, you can sip cocktails and dance to a live band playing holiday songs. Just maybe do it after you go on the Tower of Terror!
Festive food and drink at Disney Jollywood Nights
There are a variety of exclusive food and drinks only available at Disney Jollywood Nights.
First up, any of the open bars, such as the Hollywood Brown Derby Lounge or the Twilight Soiree at the Tower of Terror, you can get a sugar cookie martini or non-alcoholic gingerbread spritzer. YUM!
In addition, most of the food stands will be selling plant-based gingerbread bites. I will definitely be partaking in those!!
Now let's get into the items that are only available at a single spot.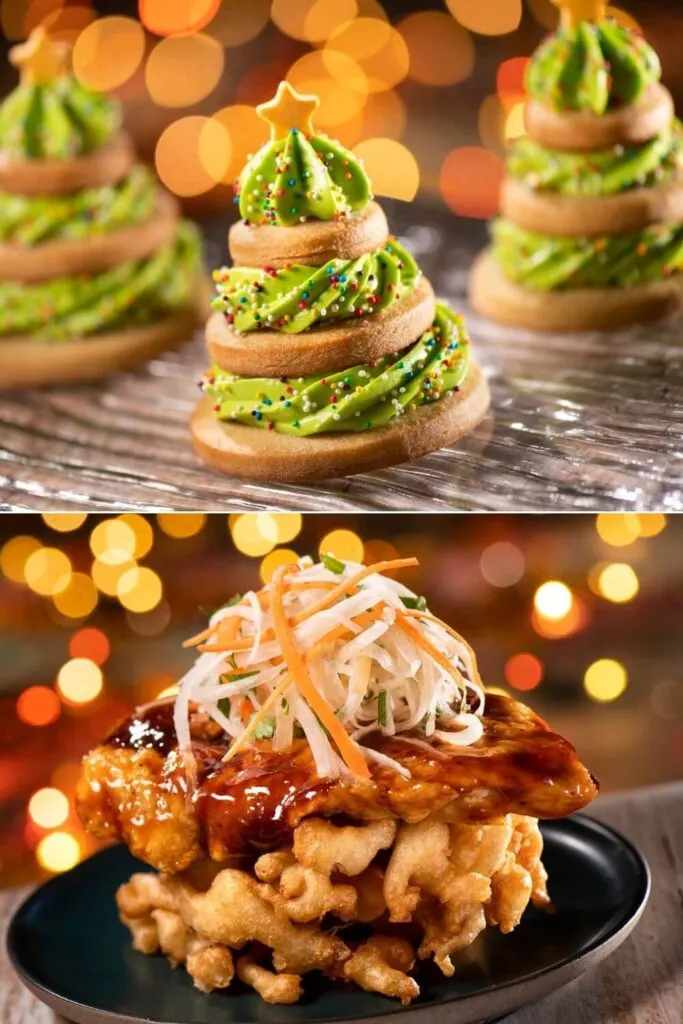 Commissary Lane (aka Holiday Fiesta en la Calle)
At ABC Commissary, location of the Latin-inspired Holiday Fiesta en la Calle party, there's quite an impressive lineup of Latin-inspired food and drink.
I'm most looking forward to the Birria Short Rib Taco, Oaxaca Old Fashion cocktail, the Mangonada Slushy, and the Mexican Hot Cocoa Cheesecake.
At Baseline Taphouse, there will be a few event-exclusive appetizers and drinks, such as a charcuterie cup, which you know will be good as they have similar items on their daytime menu.
Echo Lake
Dockside Diner, Epic Eats, and Gertie's Ice Cream of Extinction all have event exclusive items.
At (Santa) Gertie's Ice Cream of Extinction, there an adorable Santa Gertie cookie with mint icing that you can also get with mint soft-serve. It's almost too adorable to eat!
Next, at Dockside Diner, I'm most looking forward to the Christmas Tree Cookie Stack (pictured above), Sandy Claws hot cocoa with cherry whipped cream, and the poutine tater tots.
Then at Epic Eats, they've got a few exclusive funnel cakes, as well as the Samuel Adams Winter Lager. I've got my eye on the spicy fried Korean chicken mini funnel cake and the beer.
Sam Adams beer is based in Boston (where I'm from!) and that winter lager is freaking delicious!!! If Christmas was a beer, it'd be Sam Adams Winter Lager with all of its nutmeg and cinnamon, among other flavors.
Grand Avenue
Over in the land of the Muppets, aka Grand Avenue, there's a variety of delicious Italian-based offerings at PizzeRizzo, such as a tiramisù puff, giant meatball with polenta, antipasto flatbread, and plenty of wine and beer.
Hollywood Boulevard
There are two spots open on Hollywood Boulevard during the party: The Trolley Car Café and the Hollywood Brown Derby.
Aside from your usual Starbucks drinks, you can also get a dark chocolate-cherry flavored ornament-shaped mousse at the Trolley Car Cafe.
For something a bit more upscale, if you can get into the Jazzy Holidays lounge at the Hollywood Brown Derby, there will be a variety of fancy schmancy food and drink available.
Options include oyster rockefeller, shrimp cocktail, Korean BBQ pork belly bao, and lots more.
Pixar Place
In Pixar Place, the little alley nearby Toy Story land, stop by Market for some fun snacks, like buffalo chicken spring rolls (!!!), spiced apple cider, Frozone's snowball macaroons, and other yummy treats.
Sunset Boulevard
Down Sunset Boulevard, there are a ton of eateries that will be open and serving party exclusive items.
At Joffrey's near the Tower of Terror, you can get the Tinseltown Tini Cold Brew with cream, Kahlúa, Grey Goose vodka, whipped cream, and cocoa. This sounds like it might be my first stop at the party!
Then at Fairfax Fare, you can get holiday-themed popovers, a mistletoe martini, PB&J donut, or a frozen banana shake with matcha whipped cream.
Over at the Twilight Soirée at the Tip Top Club in the courtyard of the Hollywood Tower Hotel/Tower of Terror, there will be a handful of fun drinks, both alcoholic and non-alcoholic.
I can't decide between the 5th Dimension Royale, which has tequila, Cointreau, agave nectar, desert pear syrup, lime juice, and champagne and the Twilight Daiquiri, which as coconut rum, ube, and lime juice.
Desert pear is one of the secret ingredients in the super popular violet lemonade and violet sake drinks at Epcot, so I feel like this one has to happen! On the other hand, ube makes me think of my visit to Aulani. Decisions, decisions!
Toy Story Land
At Joffrey's in Toy Story land, you can get the Round 'Em Up Latte with cookie butter syrup, dulce de leche sauce, whipped cream, animal crackers, and sprinkles. This latte can be made hot or iced!
Photo ops and magic shots
First things first, photopass is included with your party ticket, so you don't have to worry about getting the Memory Maker package for the day.
This will give you access to digital downloads from the party for up to 45 days from the party date.
Disney PhotoPass photographers will be stationed all around the park to help capture all of your holiday party memories.
This includes magic shots, which are special surprises that will only appear in your photo, like a digitally added character. As soon as I learn more about what magic shots are available, I'll be sure to update this post!
In addition to the holiday themed magic shots, there are a few special options available like the camera array magic shot, which will capture a boomerang or gif-like file. Plus some photographers will capture video, not just photos!
Lastly, in the My Disney Experience app, you'll find event-exclusive photopass lenses so you can take your own magic shots!
Disney sure knows how to make us all feel like we're the celebrities with all of these fancy photo and video extras!
7 top tips for attending Disney Jollywood Nights
So, you've decided to go to Disney Jollywood Nights, right? Before you do, here are 7 top tips to consider before you go.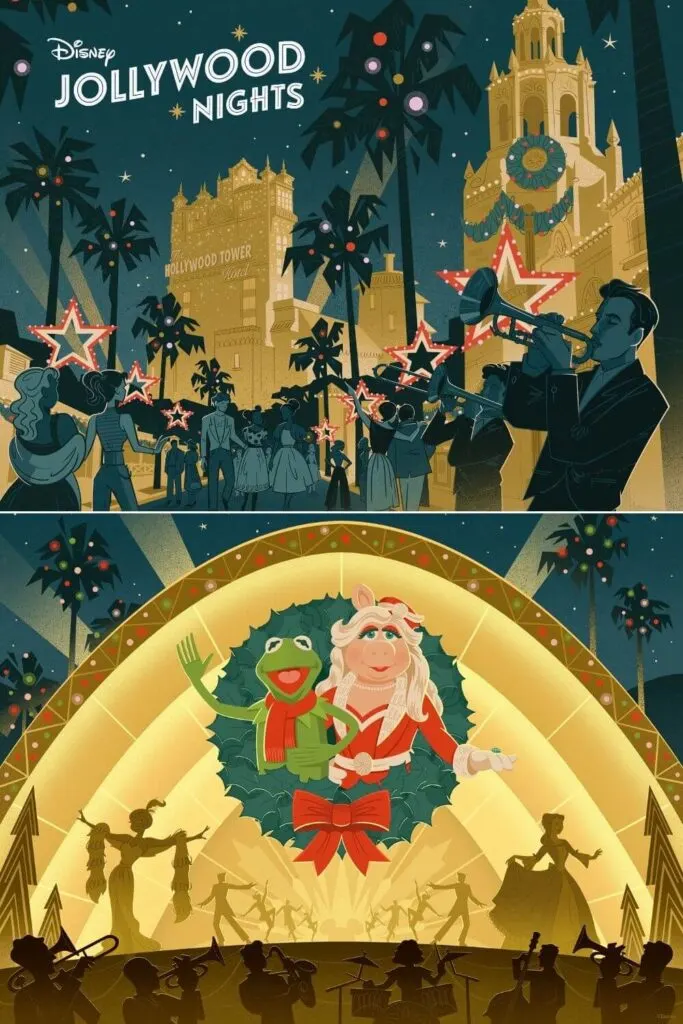 Buy your tickets ASAP
Like many of Disney's holiday after hours events, tickets will sell out.
In fact, the party hasn't started up yet and it has already sold out 3 of the 10 nights! And I bet after the first party or two, more dates will sell out after people get wind of how the parties went.
So if you're thinking of going, I'd jump on tickets as soon as you can.
Make it a rest day
If you're not an annual passholder, I wouldn't bother with buying a park ticket for this day. Instead I recommend making it a rest day.
Sleep in, maybe do a leisurely brunch at a resort or Disney Springs, have some pool time, and rest your feet. By the afternoon, you'll want to start getting ready to head over for early entry at 4 PM!
All that said, if you have an annual pass or have a park hopper ticket for that day, you can enter at any time.
However, you'll need to get a party lanyard over by the Olaf Meet-and-Greet so the cast members know you're there for the party.
And of course, you could exit the park and reenter, but that's a whole lot of waiting in line that seems unnecessary.
Plan ahead
Before you get there, use my guide to plan out your evening. You may not get to experience everything there is to offer, but if you plan ahead, you can maximize your time and get a lot done!
Download the My Disney Experience app
You'll want to download the app in order to reserve a spot at the Hollywood Derby Lounge, as well as for the Photopass Lenses. Plus, you'll be able to check out wait times and show times!
Dress to impress
Guests are encouraged to dress in their holiday best, as long as they follow rules.
That means no gowns dragging on the ground or impersonating characters. Disneybounding is ok, though!
Think sequins, glitter, satin, brocade, tulle, and so on. Maybe a little hollywood glamour inspired?
I know some of y'all will be rocking heels and dress shoes, but I'll probably be showing up in sneakers along with my dress! I'll just make sure they're extra cute, like metallic or rhinestone-studded.
And if you're not sure what to wear, check out Rent the Runway. It's a clothing rental service that I've used for nearly 8 years now and swear by.
They have tons of gorgeous dresses, jumpsuits, pants, cute tops, and accessories. You can rent single items or sign up for a monthly subscription (that's what I do!).
Bring a power bank
With everyone dressed to impress, you'll probably be taking tons of photos all night. Couple that with the app and you'll quickly run out of juice on your phone.
So be sure to pack a Fuel Rod or some other kind of power bank to keep your phone running all night.
Kids are welcome!
Although this party is geared toward adults 21+, it's not exclusive to adults. Kids are very much welcome!
However, if you are visiting with kids and trying to decide between Disney Jollywood Nights and Mickey's Very Merry Christmas Party, I'd go with MVMCP.
Stay nearby
Whether you're planning to drink or not, I recommend staying nearby and taking advantage of Disney's free transportation options.
The Walt Disney World Swan or Dolphin, BoardWalk Inn, Beach & Yacht Club are all within walking distance, as well as easily accessed via the Skyliner.
In addition, the Riviera Resort, Caribbean Beach Resort, Pop Century, and Art of Animation are also on the Skyliner.
If you stay elsewhere, you'll be totally fine, you'll just have a longer commute to and from Hollywood Studios on the free park buses.
Will you be attending Disney Jollywood Nights?
Between all the delicious food and drink, holiday character meet-and-greets, live entertainment, sing-alongs, magic shots, and more, Disney Jollywood Nights at Hollywood Studios is gearing up to be a fabulous night out.
Let me know if you'll be heading to the party in the comments below. Be sure to book your tickets soon, because this event is sure to be a sell-out!
Happy holidays!
---
About the author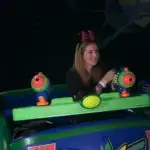 Meg Frost is the creator of The Park Pixie, where she covers Disney World, Disney+, and Disney fandom.
She holds an M.A. in Journalism from Northeastern University and B.S. in Communication & American Studies from University of Miami in Florida.
---