Looking for something to transport you to another world? Disney+ has a great selection of space-themed movies and shows that are sure to take you on an out-of-this-world adventure.
From documentaries about space exploration to light-hearted kids movies about aliens, we've got you covered.
So put on your space helmet and get ready to blast off with our guide to the best Disney space movies and shows on Disney Plus.
NOTE: This post may contain spoilers to movie or show plots. These movies and shows are available to stream on Disney+ in the US as of publication time, unless otherwise noted. Availability can change at any time.
Among the Stars (2023)
Get ready for lift off because the docuseries Among the Stars is coming at you faster than a shuttle launch.
This epic new show follows the incredible journey of Captain Chris Cassidy, an astronaut with NASA.
You'll see behind-the-scenes of the training, the tough moments, and the out-of-this-world adventures that come with living among the stars.
This series doesn't launch until October 2023, but add it to your watch list so you don't forget!
Apollo: Back to the Moon (2019)
This two-part documentary takes a closer look at NASA's Apollo moon program with a big focus on what it would take to go back.
Apollo: Missions to the Moon (2019)
This documentary takes a thrilling look at the Apollo missions, including previously unseen footage and interviews with the astronauts who made history.
Area 51: The CIA's Secret (2014)
What really happened at Area 51? This NatGeo documentary explores the infamous site that has long been rumored to hold evidence of alien life and technology.
Avatar (2009)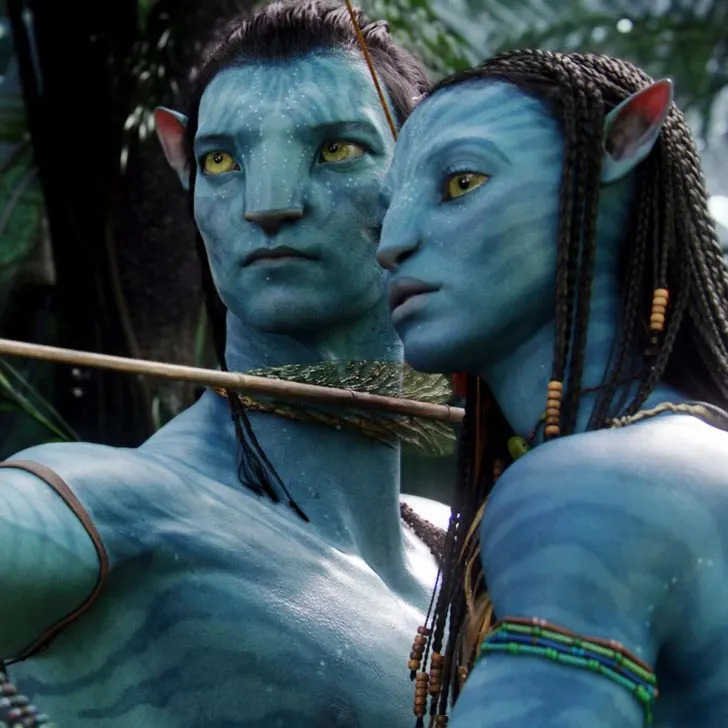 This stunning film takes place on a distant fictional planet called Pandora.
It follows the story of a US Marine sent to negotiate with the native Na'vi people – but he ends up falling in love with their way of life.
Avatar: Way of Water (2022)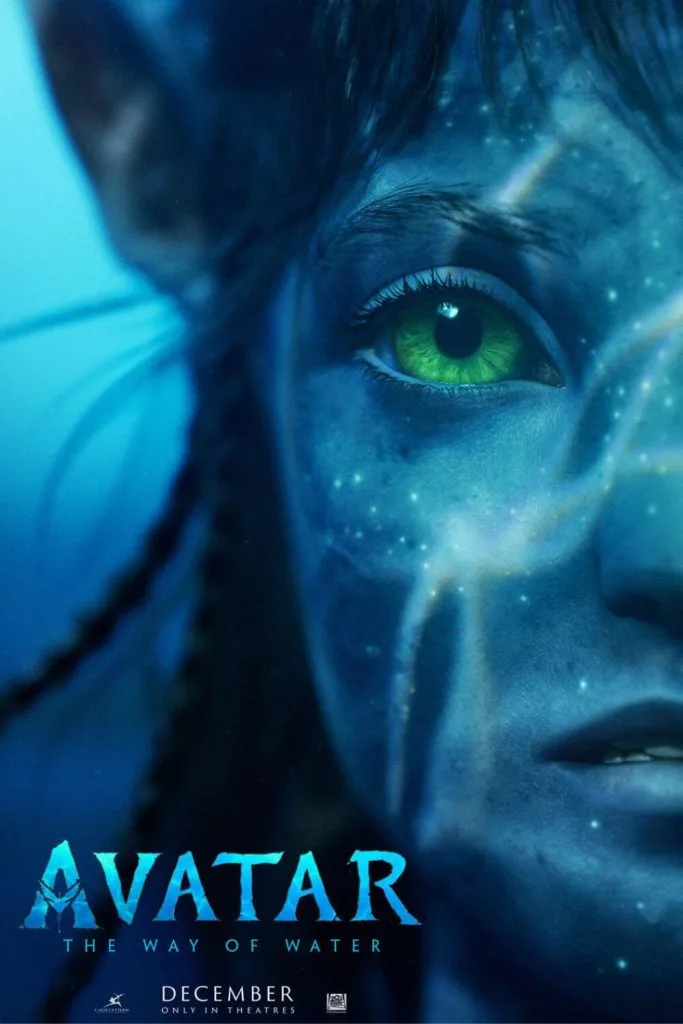 The highly anticipated sequel to Avatar takes us back to the world of Pandora for a new story where we meet new characters and explore a new part of Pandora
The Black Hole (1979)
This classic 1979 flick takes us on a wild ride aboard the USS Cygnus, a ship on a one-way trip to the darkest depths of the universe.
Things get a little hairy when the ship's crew discovers that the Cygnus isn't exactly run by the friendliest bunch of robots.
The Brave Little Toaster Goes to Mars (1998)
This intergalactic adventure follows our hero, the Toaster, and his trusty companions as they journey to the red planet to rescue Robbie, his family's baby.
Along the way, Toaster and his friends encounter all sorts of extraterrestrial obstacles, including a giant, carnivorous flower and a team of malfunctioning military robots.
Built for Mars: The Perseverance Rover (2021)
Take a closer look at NASA's latest mission to Mars and the high-tech rover used to explore the planet's surface.
Burn-E (2008)
Burn-E is a short film from the world of WALL-E (who makes an appearance!). It follows the trials and tribulations of a welding bot named, you guessed it, Burn-E.
Can of Worms (1999)
Can of Worms is a light-hearted kids movie about a disgruntled boy named Mike who is unhappy on Earth and wishes to live in space.
He never thought his wish would come true until aliens actually show up!
Captain Marvel (2019)
In Captain Marvel, we see the transformation of Carol Danvers (Brie Larson) from a human pilot to an alien-infused badass fighter.
Joined by the legendary Samuel L. Jackson as Nick Fury, the two embark on a journey to save Earth from an intergalactic war between two alien races.
But wait, there's more! Enter Goose, the mysterious feline who turns out to be a Flerken with some pretty unique powers of its own.
The Cat from Outer Space (1978)
The Cat from Outer Space is a fun family movie about a cat from outer space who gets stuck on Earth and must fix his spaceship before he is captured by the military or a greedy businessman.
Chicken Little (2005)
Chicken Little caused quite a stir in his small town when he thought the sky was falling. But little did anyone know, he was actually right – sort of.
When the town is invaded by aliens, it's up to Chicken Little and his unlikely group of friends to save the day.
Cosmos: Possible Worlds (2020)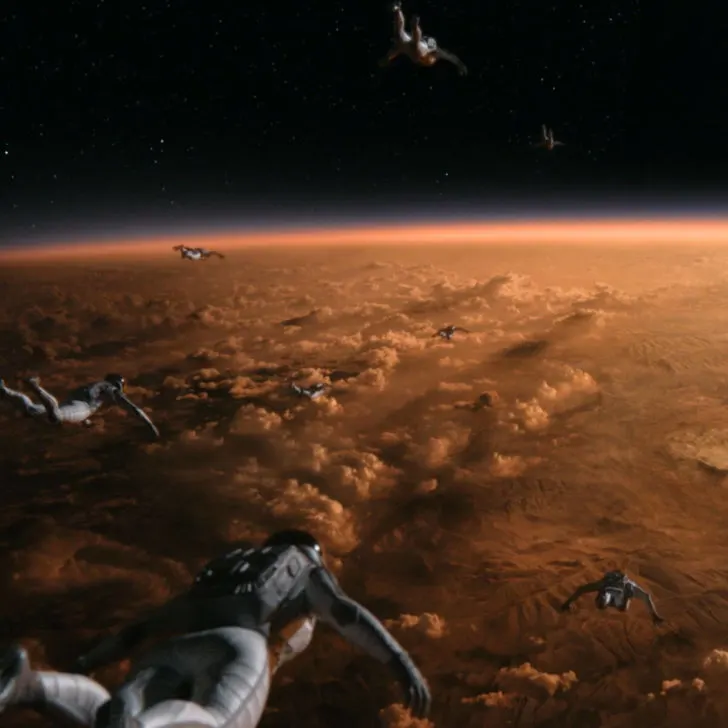 Follow Neil deGrasse Tyson on a journey through space and time, exploring some of the biggest mysteries of the universe, exploring current and future worlds.
Crater (2023)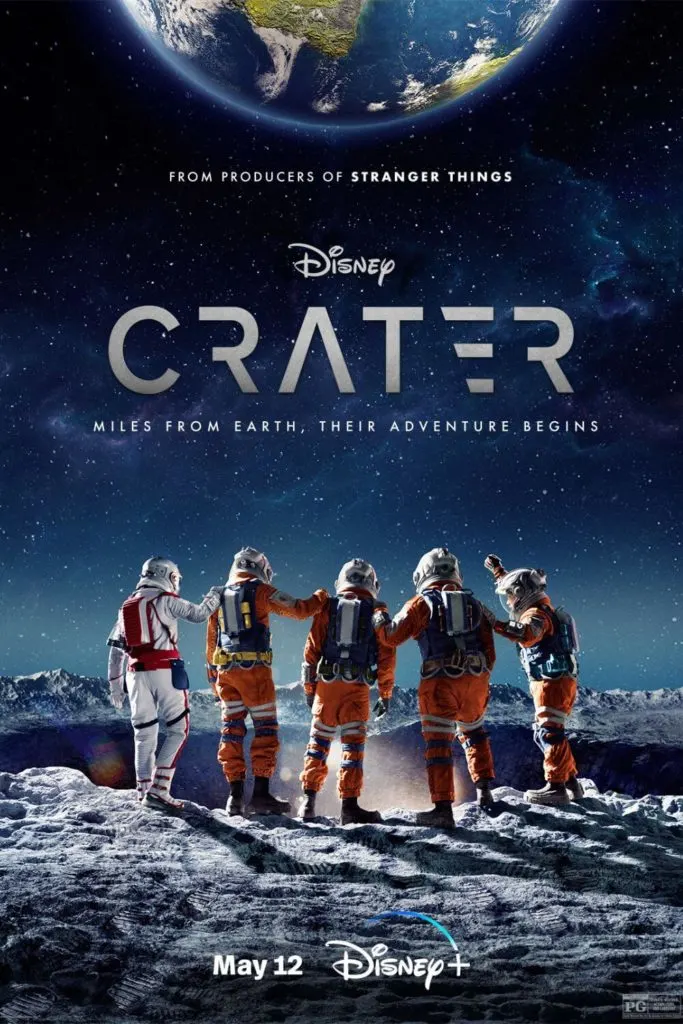 Crater follows the story of a boy, Caleb, whose raised on a lunar mining colony, is about to be sent to a new planet after his father dies.
So he and his friends steal a rover to have one last joy ride to explore an odd crater.
NOTE: After less than 2 months on the service, this film was pulled off Disney+ on June 30 without notice. I'm going to leave this here until I get official word from Disney that it won't be back.
Elio (2024)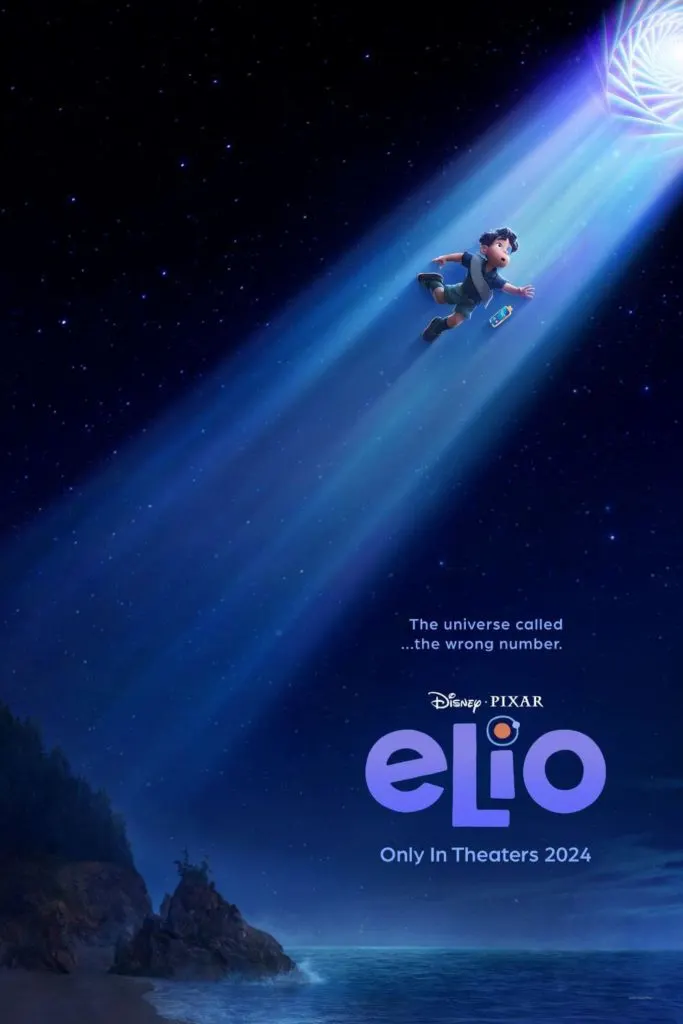 Pixar just released a trailer for their upcoming film, Elio, about a boy who is mistakenly abducted by aliens because they think he's the leader of Earth.
The full plot remains to be seen, but judging by the trailer, it looks like it'll be super cute. Release date isn't set yet, other than that it'll be some time in Spring 2024.
And while this one isn't on Disney+ yet and won't be for some time, it's definitely fun to look forward to movies you'll want to see in the theater too!
Escape to Witch Mountain (1975)
Escape to Witch Mountain follows Tony (Ike Eisenmann) and Tia (Kim Richards), two siblings with magical powers who are on the run from people trying to exploit their abilities.
Along the way, they meet a kind-hearted man named Jason O'Day (Eddie Albert), who helps them evade their pursuers and escape to the safety of Witch Mountain.
Also available to stream is the sequel, Return from Witch Mountain (1978).
Eternals (2021)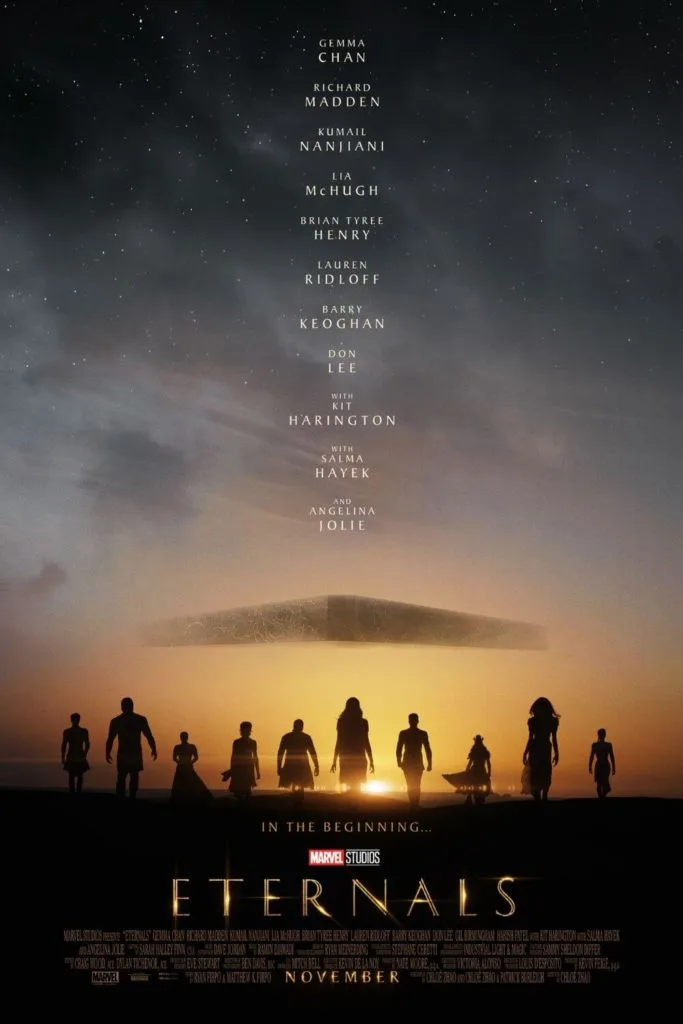 Eternals follows a group of super-powered beings known as The Eternals who are sent to Earth to protect humans from The Deviants, another super-powered group that wants to do us all harm.
As the story unfolds, we see the Eternals struggle with their own identities and how they fit into the human world.
Expedition Mars: Spirit & Opportunity (2016)
Learn about the successful Mars mission of NASA's Spirit and Opportunity rovers in this informative NatGeo documentary.
My Favorite Martian (1999)
My Favorite Martian stars Jeff Daniels as an unsuspecting human and Christopher Lloyd as a friendly, yet strange martian.
Add in Elizabeth Hurley as a sassy reporter, Daryl Hannah as a lovestruck scientist, Wallace Shawn as a conniving businessman, and Christine Ebersole as an eccentric actress and you've got yourself an all-star cast.
Flight of the Navigator (1986)
This Disney gem tells the story of David Freeman, a 12-year-old who suddenly disappears for eight years, only to mysteriously reappear with no recollection of what happened.
Soon, David discovers he's been taken aboard an alien spacecraft, who is, shall we say, less than forthcoming about their rendezvous.
With the help of the ship's AI, voiced hilariously by Paul Reubens (aka Pee Wee Herman), David embarks on a journey through time and space to uncover the truth.
Gabby Duran & The Unsittables (2019-21)
This fun sci-fi comedy series follows the life of a teen girl who becomes a babysitter to some unusual children – who happen to be aliens.
Guardians of the Galaxy movies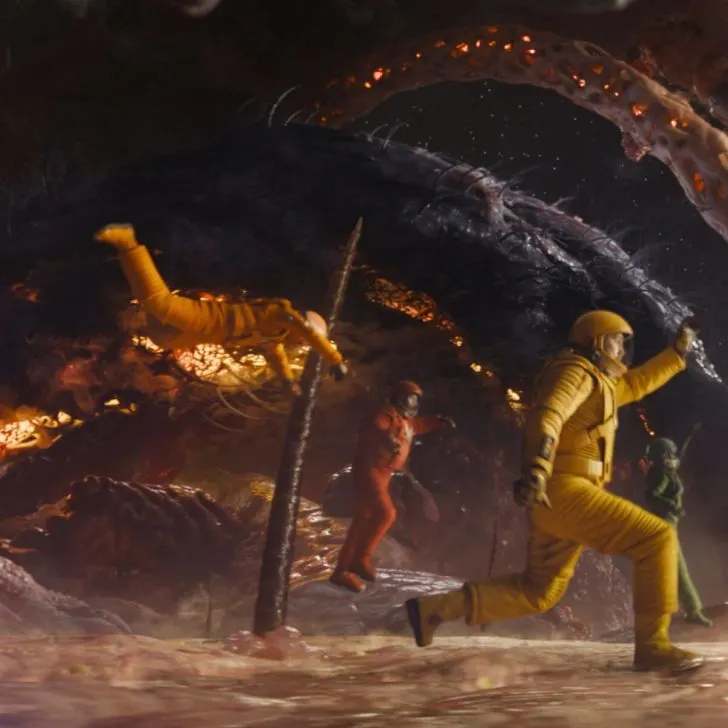 Our favorite fictional ragtag galactic space heroes, the Guardians of the Galaxy, have helped save the day more times than I can count!
Follow along in 3 separate films (Guardians of the Galaxy, Vol. 1-3), as well as The Guardians of the Galaxy Holiday Special.
NOTE: Guardians of the Galaxy, Vol. 3 isn't on Disney+ yet as it is still enjoying its run in movie theaters.
Hidden Figures (2016)
Based on the true story of Katherine Johnson (Taraji P. Henson), Mary Jackson (Janelle Monáe), and Dorothy Vaughan (Octavia Spencer), three Black women who worked at NASA in the early 60s and played a key role in the space race.
Hubble's Cosmic Journey (2015)
This documentary takes a look at the awe-inspiring Hubble Space Telescope and the stunning images it has captured in the 25 years since its launch in 1990.
John Carter (2012)
Based on the novel by Edgar Rice Burrough, John Carter is a former Confederate soldier who finds himself transported to Mars or as the locals call it, Barsoom.
There, he discovers that he's got superhuman strength thanks to the planet's lower gravity.
Oh, and did I mention that there are giant alien creatures and a fierce battle for the fate of the planet? Yeah, John Carter's got a lot on his plate.
Lightyear (2022)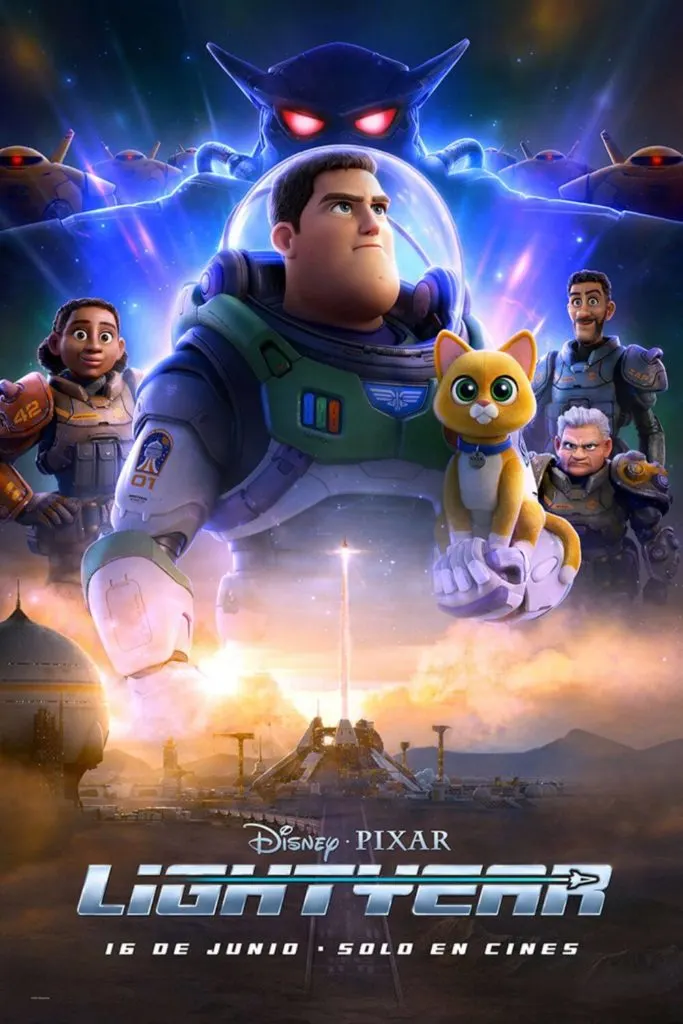 Disney's 2022 film Lightyear tells the origin story of Buzz Lightyear (Chris Evans), the person (who later inspires the space ranger toy in Toy Story).
Alongside Evans, we've got the vocal talents of the incomparable Keke Palmer, the hilarious Taika Waititi, the talented Uzo Aduba, and the unforgettable Efren Ramirez.
Lilo & Stitch (2002)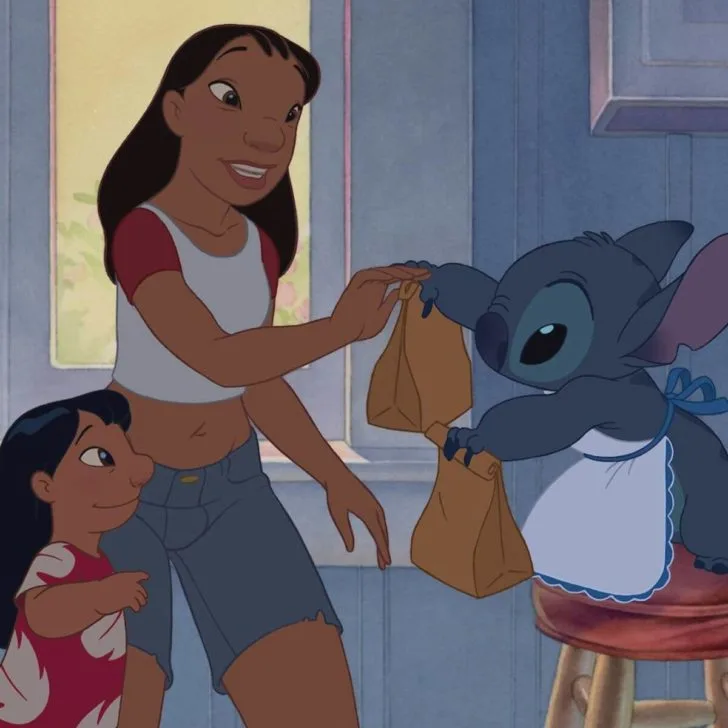 This now-classic Disney film tells the story of an orphaned girl named Lilo who adopts a strange pet named Stitch, who turns out to be an alien experiment.
Man in Space (1955)
Learn more about rocketry and the challenges of space travel (at least back in the 50s!) in this animated special.
Mars (2016)
This docudrama series imagines what the first human mission to Mars might look like.
Mars and Beyond (1957)
Another animated look at space, the universe, and what life could be on Mars (from the 1950s mindset).
Mars: Inside SpaceX (2018)
National Geographic takes a behind-the-scenes look at Elon Musk's SpaceX and their goal of colonizing Mars in this documentary, filmed over the course of 3 years.
Mars Needs Moms (2011)
In this fun animated adventure, Milo (Seth Green) must save his mom (Joan Cusack), who has been abducted by aliens.
Mars: One Day on the Red Planet (2020)
This National Geographic documentary shows off the red planet of Mars using footage from previous space missions that haven't been seen before!
Meet the Robinsons (2007)
Meet the Robinsons follows the adventures of young orphan Lewis, who's a total whiz when it comes to inventing things.
But his genius gets him into trouble when a sneaky bowler hat-wearing villain steals his time machine and wreaks havoc on his past, present, and future.
With the help of the zany Robinson family, Lewis must race against the clock to set everything right.
Mission Force One (2017)
Mission Force One is an animated show about 5 pint-sized superheroes who are on a mission to save the universe from all sorts of cosmic baddies.
The team is made up of Leo, leader of the pack and ultimate captain of the Tomorrowland Transit Authority.
He's joined by his trusty sidekicks, Miles, Loretta, and Haruna, as they navigate the outer space and keep the galaxy safe from harm.
Miles from Tomorrowland (2015-16)
Disney Junior's Miles from Tomorrowland follows the space adventures of Miles and his family as they traverse the galaxy, meeting new creatures and having fun.
It's like Star Trek, but with more robots and a younger cast.
Mission Pluto
Pluto might not technically be a planet anymore, but that doesn't mean NASA has stopped studying it!
In this documentary, we follow NASA's historic mission to explore and photograph Pluto.
Mission to the Sun (2018)
Explore our closest star in this informative National Geographic documentary about NASA's Parker Solar Probe mission.
Moon Mater (2010)
Our lovable friend of Cars fame, Tow Mater, becomes the first tow truck in space as he attempts to tow the Impala XIII back to Earth in this short Pixar film.
Mkhuzi: The Spirit Racer (2023)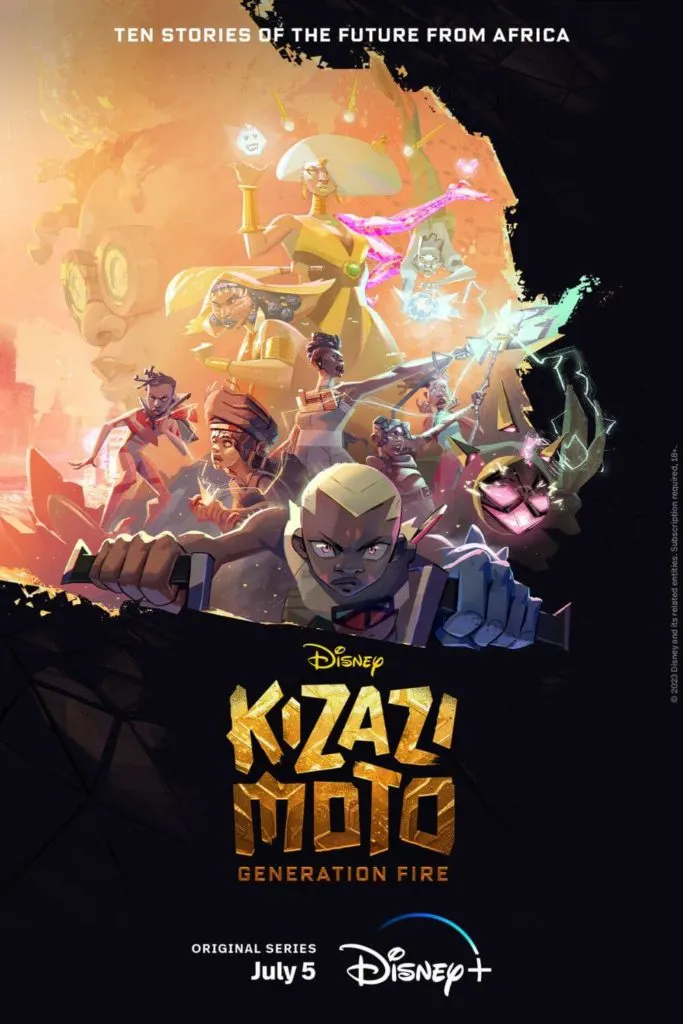 Coming July 5 are a series of short films from various African animation houses under the banner of Kizazi Moto: Generation Fire. All of the short films tackle what the future might be like.
One such film, Mkhuzi: The Spirit Racer, follows the story of a half-alien, half-human teenager who longs to become a racer, like his mom.
I'll definitely be tuning in, how about you?
One Strange Rock (2018)
Will Smith hosts this fascinating documentary about the many ways that Earth is unique in the universe.
It poses an important question: why is Earth the only inhabitable planet? And while it is not about outer space, several NASA astronauts join the conversation to discuss it.
The Orville (2017-22)
This interstellar adventure is the brainchild of Seth MacFarlane, who not only directs, but also stars as Captain Ed Mercer.
Mercer is set to lead a new space ship, The Orville, and puts together a rag tag group to operate it.
Phineas and Ferb: Candace Against the Universe (2020)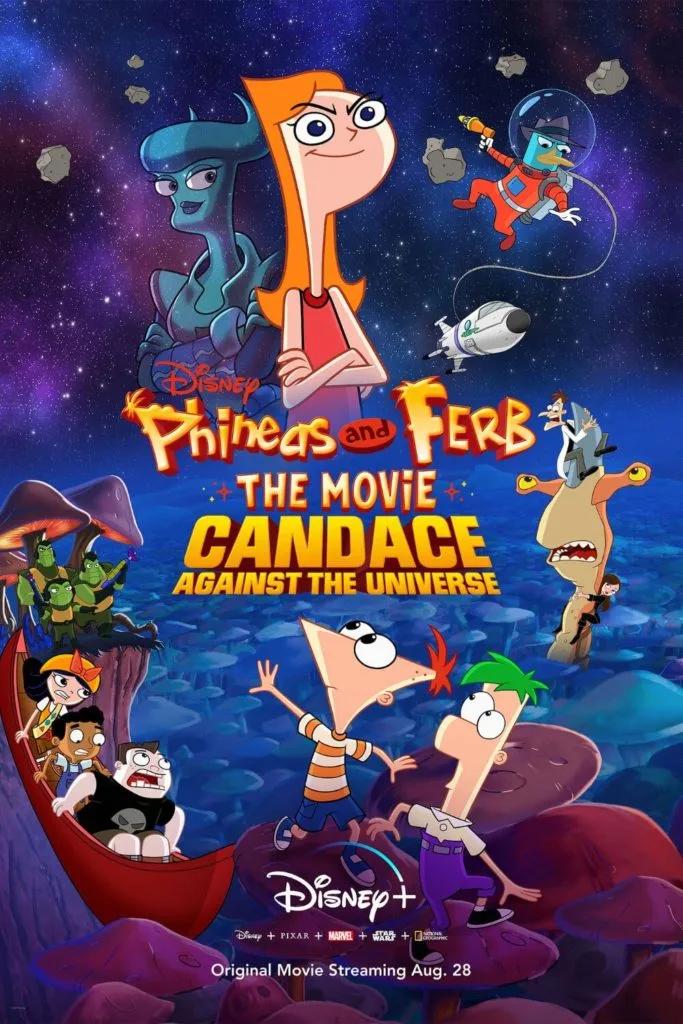 The beloved sister of everyone's favorite kid inventors, Phineas and Ferb, is at it again in the 2020 Disney movie, Phineas and Ferb: Candace Against the Universe.
This time, she's determined to finally bust her brothers and their wild inventions. But when she gets abducted by aliens and taken to a faraway planet, she realizes that maybe she should have left well enough alone.
Race to Witch Mountain (2009)
This action-packed sci-fi adventure follows two alien siblings, Sara (AnnaSophia Robb) and Seth (Alexander Ludwig), who are on a mission to save their planet from destruction.
They enlist the help of a Las Vegas cab driver, Jack Bruno (Dwayne Johnson), to take them to their spaceship which is hidden in the mysterious Witch Mountain.
The trio must race against time and evade government agents to save the world.
Roving Mars (2006)
Follow the journey of two of NASA's rovers across the surface of Mars in this informative documentary using footage direct from the rovers.
Skyrunners (2009)
Skyrunners tells the tale of two teenage twins who stumble upon a UFO and end up with intergalactic powers.
But things aren't all sunshine and rainbows as our heroes soon find themselves battling aliens and keeping their newfound abilities a secret from the world.
Space Buddies (2009)
In this fun kids movie, a group of doggie astronauts head to outer space to explore the moon, but the mission doesn't turn out the be as easy as they thought!
Space Camp (TBD)
This 1986 film tells the story of 4 kids who go to NASA space camp during their Summer break.
It was one of the first films for many well-known actors, Kate Capshaw, Tate Donovan, Kelly Preston, and Lea Thompson.
Space Camp isn't on Disney+, but that's probably because they are reportedly working on a remake (source)! No word yet on when it will debut, but a script is supposedly in the works.
Spaced Out (2018)
This docuseries aimed at kids teaches about the Hubble telescope, the Milky Way, and other cosmic topics.
Star vs. the Forces of Evil (2015-19)
Star Butterfly, a princess from another planet, makes her way through the universe, battling villains to protect her magic wand.
Everything from Star Wars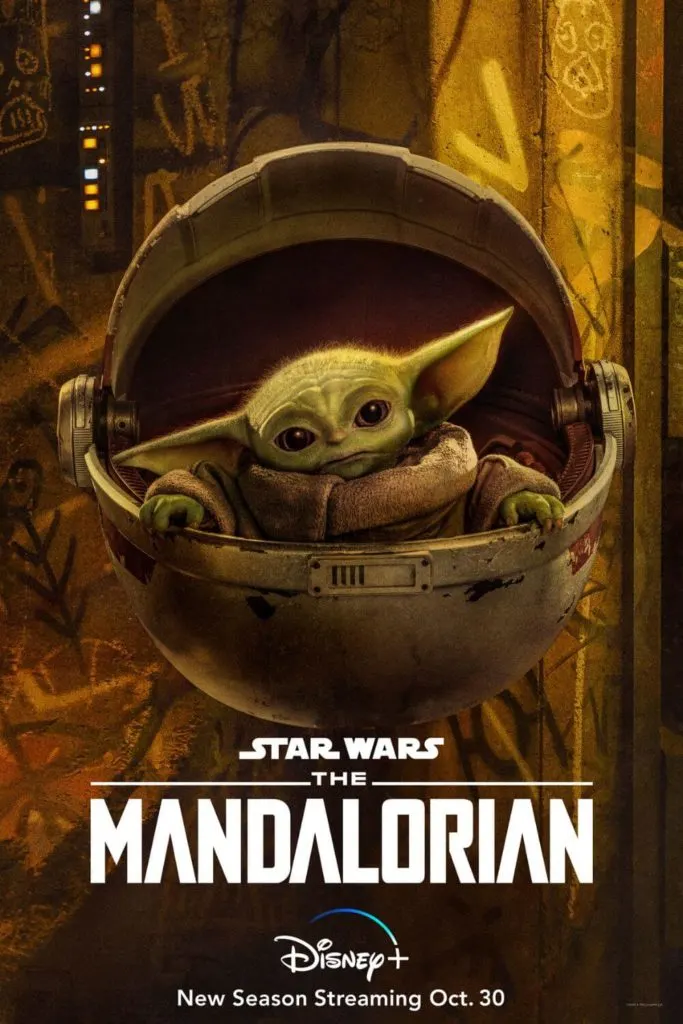 Blast off into outer space to fictional planets like Corcusant, Naboo, and Tatooine with seemingly endless hours of entertainment.
Between all the shows and movies on Disney+ and plenty of new ones on the way, you'll never run out of space inspired sagas to watch.
Stepsister from Planet Weird (2000)
In this fun Disney Channel Original Movie, a teenage girl discovers her soon-to-be stepsister is actually an alien from another planet and the two join forces to stop their parents from getting married.
Treasure Planet (2002)
Treasure Planet stars the likes of Joseph Gordon-Levitt, Emma Thompson, and Martin Short, and it's a seafaring adventure that blends classic pirate tales with science fiction.
The story follows a young lad named Jim Hawkins as he searches for a legendary treasure on a distant planet, and along the way, he encounters a motley crew of characters, including a cyborg and a feline alien.
UFM (2009)
In this cute Pixar short film, Mater befriends a UFO and must rescue him after the military captures him.
Unidentified Flying Oddball (1979)
Unidentified Flying Oddball follows the out-of-this-world journey of a 14th-century knight and his trusty robotic sidekick.
They travel to the moon and unintentionally stir up a bit of trouble with a group of aliens. Hilarity ensues as the bumbling duo tries to navigate their way back to Earth while avoiding giant, boulder-throwing lunar creatures.
Wall-E (2008)
Wall-E is a trash compacting robot, living out his days cleaning up Earth after humanity trashes the planet beyond repair.
But never fear, our lil' metal hero isn't alone for long. When a sleek, white robot named EVE arrives on the scene, Wall-E's rocky road to love and adventure begins.
Will they find a way to save Earth and keep their budding romance alive? You'll have to watch to find out.
A Wrinkle in Time (2018)
A Wrinkle in Time stars none other than the queen herself, Oprah, along with Mindy Kaling and Reese Witherspoon.
The story follows a young girl named Meg (Storm Reid) as she embarks on an epic adventure through space and time in search of her missing father.
Zenon: Girl of the 21st Century (1999)
Zetus Lapetus, this movie is a must-watch!
Zenon: Girl of the 21st Century follow the life of Zenon (Kirsten Storms), a spunky teen living in a space station in the year 2049.
With her buddy Nebula (played by Raven-Symoné), Zenon uncovers a plot to sabotage her home and must use her quick wit and futuristic gadgets to save the day.
Zenon the Zequel (2001)
It's the year 2054 and Zenon Kar (Kirsten Storms) is back and better than ever.
In this Disney Channel Original Movie, Zenon travels to Earth to save her space station, Protozoa, and her crush, Andrew.
Oh, and did I mention she also has to save the world from a "mega-virus"? Casual.
Zenon Z3 (2004)
Kirsten Storms reprises her role as the spunky and fearless Zenon Kar, who finds herself competing in the Galactic Teen Supreme Contest against her arch nemesis, Sage.
But the competition takes a wild turn when Zenon discovers a conspiracy to sabotage the space station Selena.
Can Zenon save the day and prove herself as the true Galactic Teen Supreme? You'll just have to watch and see!
ZOMBIES 3 (2022)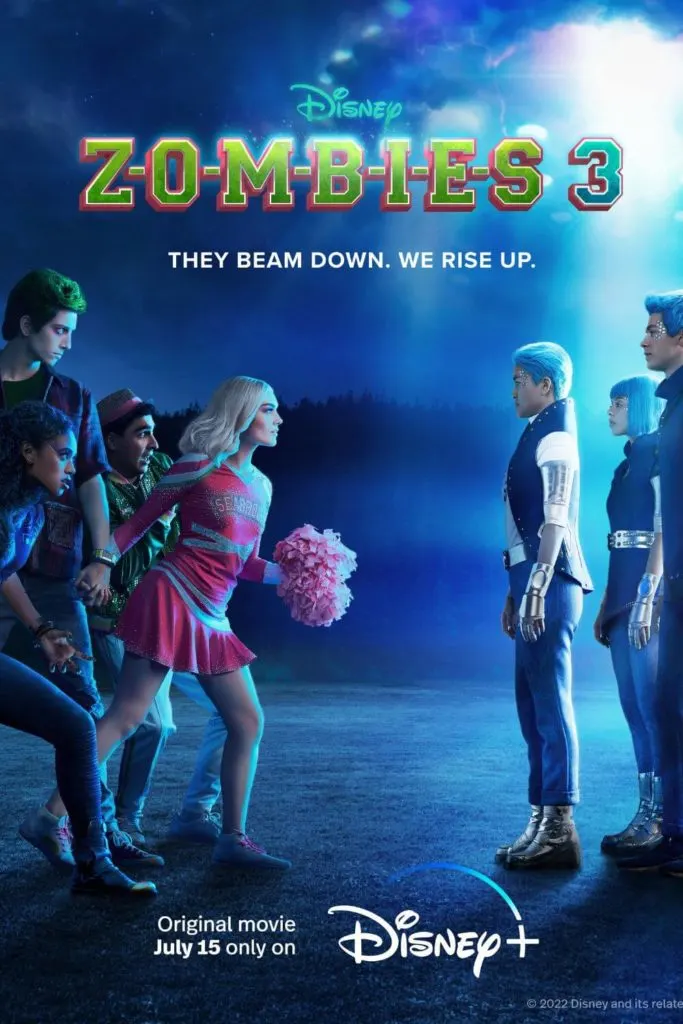 Get ready to groove and shake with Disney's ZOMBIES 3, the latest installment of the Disney Channel Original Movie series.
The series features the adventures of your favorite zombie-human hybrid friends from Seabrook.
This time, they are facing their biggest challenge yet.
It's senior year for Zed, Allison, and friends. Allison sets up a cheer competition – and some alien friends come to join. But that might not be all they're there for…
What are your favorite Disney space movies and shows?
If you're a fan of all things space, Disney+ has a great selection of movies and shows for you to explore.
Whether you're looking for a family-friendly comedy about aliens or a thrilling documentary about space exploration, there's something for everyone in our list.
So grab some popcorn and get ready to blast off to new worlds.
Next up, check out these posts:
---
About the author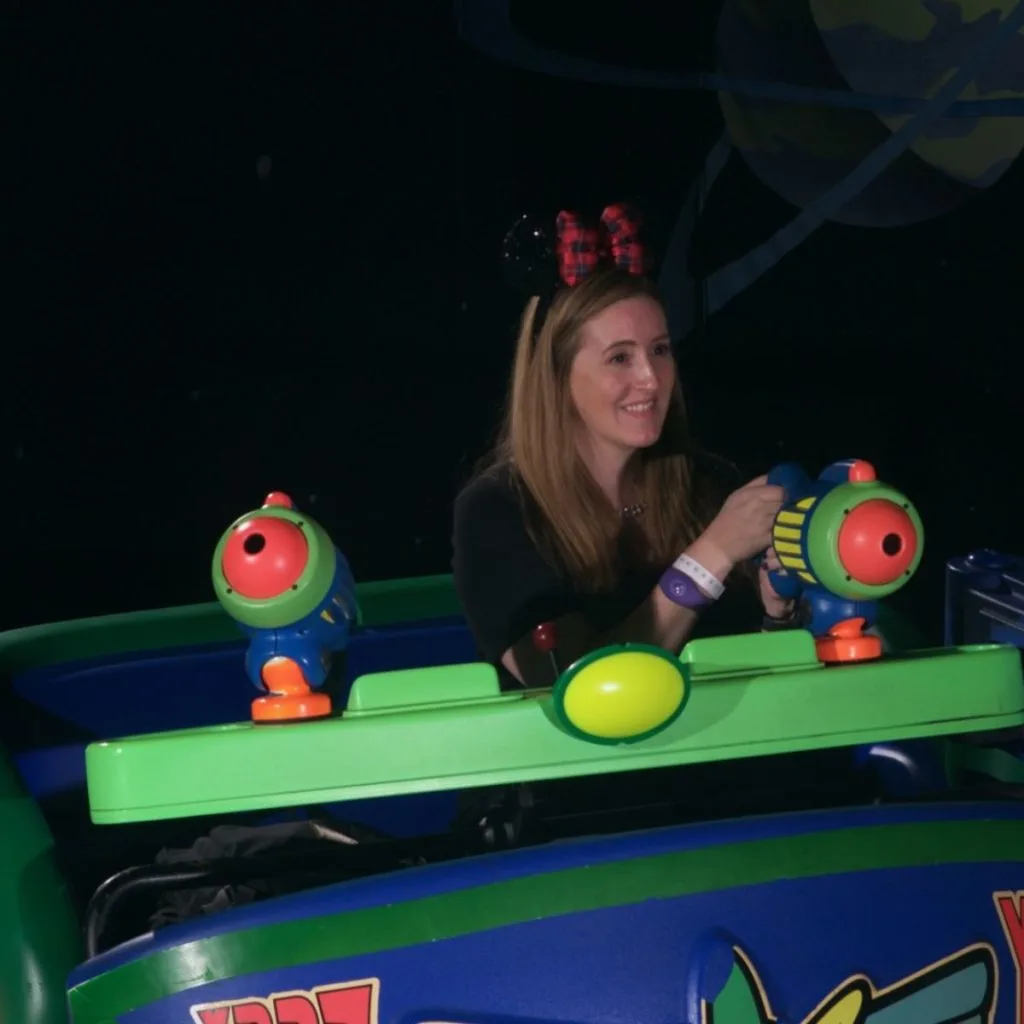 Meg Frost is the creator of The Park Pixie, where she covers Disney World, Disney+, and Disney fandom.
She holds an M.A. in Journalism from Northeastern University and B.S. in Communication & American Studies from University of Miami.
---
This post was originally published June 15, 2023. It was last updated July 5, 2023.