Love is in the air: whether you're an eternal optimist, a hopeless romantic, or just looking for a little inspiration this Valentine's Day, Disney has your back!
From classic to contemporary quotes from some of your favorite films and characters, this blog post is here to help you find the perfect words to express those feelings!
No matter the reason, I hope you feel the love tonight!
Sorry, I couldn't help myself!
So grab your Minnie Mouse ears and get ready feel all warm and fuzzy inside as I uncover 125 enchanting Disney quotes about love.
Disney quotes about love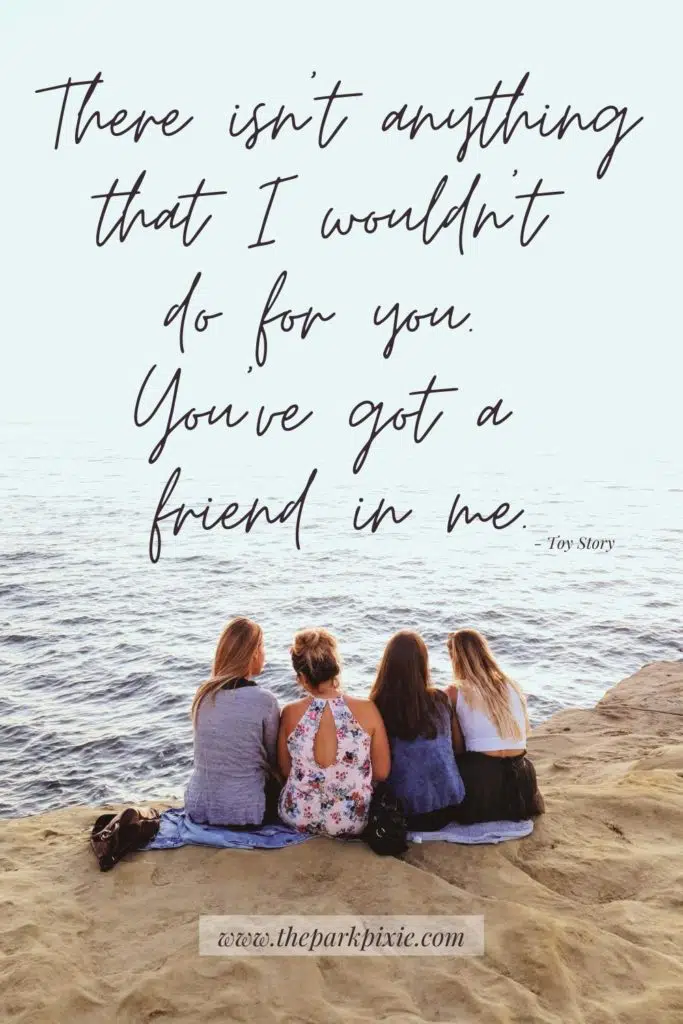 Ah, love. The feeling that can make us sappy, silly, and downright ridiculous. And who better to remind us of this than the one and only Disney?
Throughout their many animations and films, Disney has given us some of the most iconic and beloved quotes about love.
From the sappy to the cheesy, the romantic to the comedic, we've got them all in this section.
So grab a box of tissues (or a bucket of popcorn) and prepare to fall in love all over again with these Disney quotes.
---
I have just met you and I love you. – Dug, Up
Happiness is where you are. – as sung in Moana
Love is a song that never ends. – as sung in Bambi
…I look at you and I'm home. – Dory, Finding Nemo
A mother's love is the ultimate comfort. – as sung in Dumbo
Never forget how much your family loves you. – Mama Imelda, Coco
You don't meet a girl like that every dynasty. – Emperor of China, Mulan
Listen with your heart. You will understand. – Grandmother Willow, Pocahontas
I put a spell on you, and now you're mine! – The Sanderson Sisters, Hocus Pocus
Every minute spent in your company becomes the new best moment of my life. – Bolt, Bolt
There isn't anything that I wouldn't do for you. You've got a friend in me. – as sung in Toy Story
To face the future with another who means more than any other is to be loved. – The Rescuers
Let these lads try and win her heart before they win her hand, if they can. – Lord MacGuffin, Brave
When you love something, you protect it. It is the most natural thing in the world. – Thena, Eternals
If you close your eyes and let the music play. Keep our love alive, I'll never fade away. – Miguel, Coco
A true hero isn't measured by the size of his strength, but by the strength of his heart. – Hercules, Hercules
Maleficent doesn't know anything about love, or kindness, or the joy of helping others. You know, sometimes I don't think she's really very happy. – Fauna, Sleeping Beauty
The greatest treasures are not gold, nor jewels, nor works of art. They're held within your heart. – Tinkerbell, Tinkerbell and the Lost Treasure
Romantic quotes from Aladdin
Ah, Aladdin. The classic tale of love, adventure, and a genie with some serious attitude.
The movie gave us unforgettable characters like the charming street rat turned prince and the feisty Princess Jasmine, who knew how to stand up for herself.
But let's not forget about the swoon-worthy romantic quotes that still make our hearts skip a beat.
From Aladdin's declaration that Jasmine is more than just a prize to be won, to his promise to show her the world, these quotes will have you feeling all the feels.
So buckle up, lovebirds, and get ready for some seriously romantic words from the one and only Aladdin.
---
Well, there's this girl… – Aladdin
If I do marry, I want it to be for love. – Princess Jasmine
No matter what anybody says, you'll always be a prince to me. – Genie
Let me share this whole new world with you. – Aladdin and Princess Jasmine
Jasmine, I do love you. But I gotta stop pretending to be something I'm not. – Aladdin
This is love. You're not gonna find another girl like her in a million years. Believe me, I know. I looked. – Genie
Genie, I have decided to make my final wish. I wish for Princess Jasmine to fall desperately in love with me. – Aladdin
Beauty and the Beast love quotes
Get ready to fall in love all over again because we're about to dive into the most enchanting Beauty and the Beast love quotes.
If you've ever swooned over how effortlessly Belle tamed the Beast with just one flick of her hair, then you're in for a treat. (OK, maybe it took more than that…)
These quotes prove that even a grumpy, furry creature can find love. It's time to whip out your best rose petal filled candle and get ready to feel all warm and fuzzy.
Get ready for some serious heart-eyed emojis as we explore the magical world of Belle and the Beast's love.
---
Please don't leave me, I love you. – Belle
I let her go, because I love her. – The Beast
I would risk anything to kiss you again. – Lumiere
Love looks not with the eyes, but with the mind. – Belle
When the moment is right, confess your love. – Lumiere
I never felt this way about anyone. I wanna do something for her. – The Beast
If she is the one who will break the spell, you must finally learn to love. – Rosalind
You are the wildest, most gorgeous thing I have ever seen! Nobody deserves you. – Gaston
Tale as old as time. True as it can be. Barely even friends, then somebody bends unexpectedly. – Mrs. Potts
Think of the one thing you've always wanted. Now find it in your mind's eye and feel it in your heart. – The Beast
Cinderella quotes about love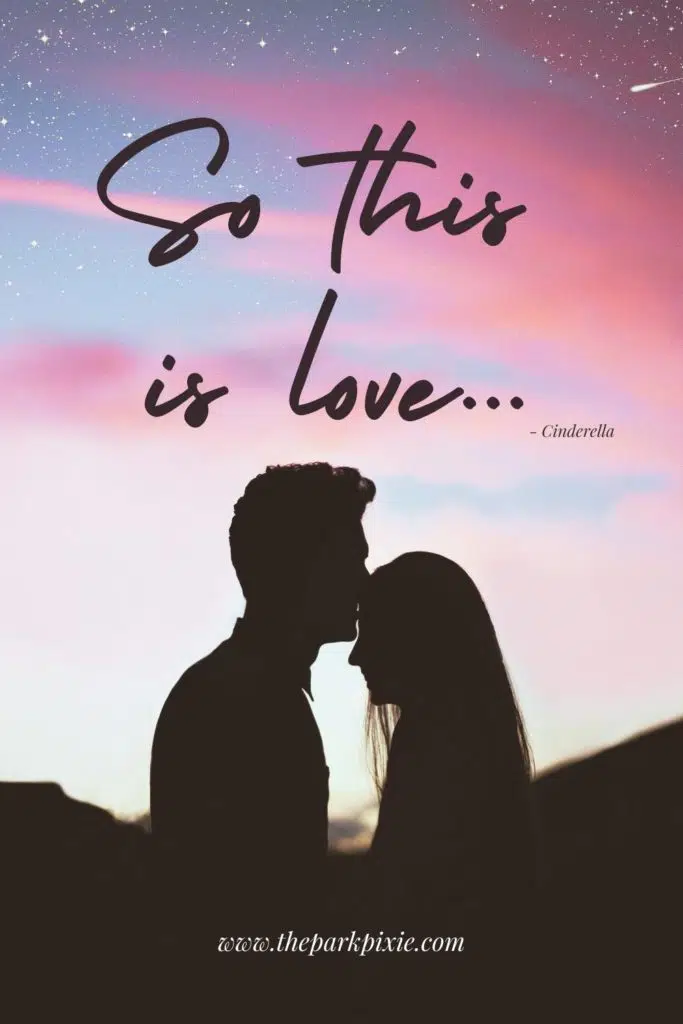 Ah, Cinderella and Prince Charming. The classic fairy tale couple that has made us all swoon at some point in our lives.
And what could be more romantic than some heartwarming Cinderella quotes about love?
It's time to grab your glass slippers and get ready for some serious aww's and giggles, because I'm about to dive into some of the most charming (pun intended) quotes about love from everyone's favorite underdog turned princess.
---
My heart has wings and I can fly. – Cinderella
This is the miracle I've been dreaming of. – Cinderella
So this is love…so this is what makes life divine… – Cinderella
So I'll trust my heart. What else can I do? I can't live in dreams if my dreams are to come true. – Cinderella
No matter how your heart is grieving, if you keep on believing, the dream that you wish will come true. – Cinderella
Frozen love quotes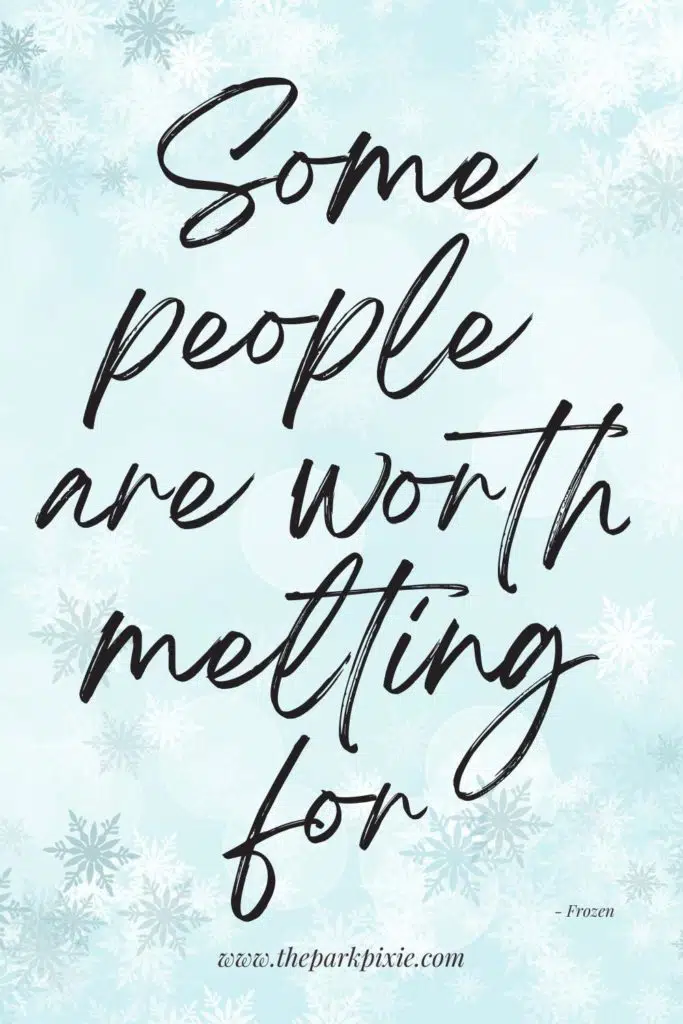 Alright folks, time to grab your tissues and brace yourselves for some Frozen love quotes.
We all know Anna and Elsa have captured our hearts with their sisterly bond, but what about the men in their lives?
Enter Hans, the supposed charming prince who turned out to be a total jerk, and Olaf, the lovable snowman who wouldn't hurt a fly.
Get ready to swoon, cringe, and giggle your way through some of the most memorable love quotes in the Frozen franchise.
Don't worry, we won't judge if you end up singing "Love is an Open Door" at the top of your lungs in the shower.
Let's get started, shall we?
---
Love is an open door. – Anna and Hans
Some people are worth melting for. – Olaf
Let's go kiss Hans. Who is this Hans? – Olaf
Ew, Anna, kissing won't save the forest. – Elsa
An act of true love will thaw a frozen heart. – Olaf
We finish each other's sandwiches. – Anna and Hans
I just thought of one thing that's permanent: love. – Olaf
Love is putting someone else's needs before yours. – Olaf
Who cares when there's danger when there is love? – Anna
Anna, you are the most extraordinary person I've ever known. I love you with all that I am. Will you marry me? – Kristoff
Lion King love quotes
Ah, The Lion King. A timeless classic that had us all singing "Hakuna Matata" for months on end.
But let's not forget about the love story that tugged at our heartstrings: Simba and Nala.
From playful cubs to matured royalty, their love blossomed in a way that had us all swooning.
And what better way to relive their romance than through some of the most iconic Lion King love quotes?
So grab a tissue – or a whole box, I won't judge – and get ready to feel all the feels.
---
Love is never wrong and so it never dies. – as sung in The Lion King 2
They'll fall in love and here's the bottom line: our trio's down to two. – Timon
Love will find a way, anywhere we go. We're home if we are together. – Simba
Can you feel the love tonight? You needn't look too far. Stealing through the night's uncertainties, love is where they are. – as sung by Elton John
It's the circle of life and it moves us all. Through despair and hope, through faith and love, 'til we find our place on the path unwinding. – as sung by Elton John
More Disney love quotes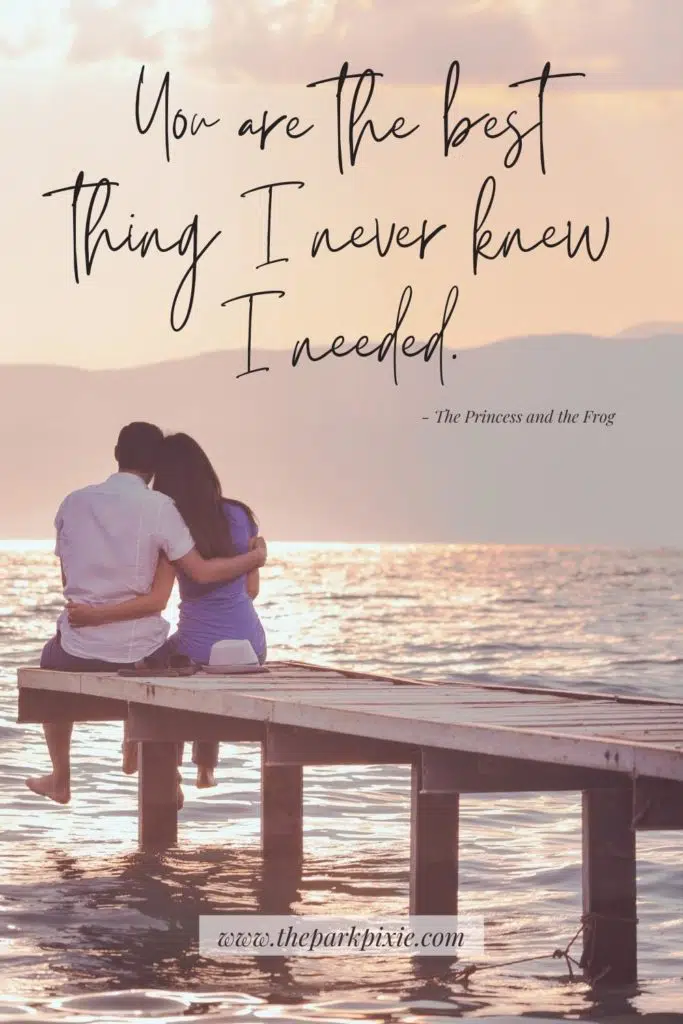 Alright, hold on to your tiaras and glass slippers because we're diving deep into the world of Disney love quotes once again.
Brace yourselves for an overdose of romance, cuteness, and all things magical. From classic couples like Cinderella and Prince Charming to newer favorites like Anna and Kristoff, we've got you covered.
Get ready to swoon, giggle, and maybe shed a tear or two as we explore More Disney love quotes.
Fair warning, you may want to have a box of tissues at the ready, just in case. (Yes, again. Just keep it nearby, ok?)
---
I love you, Jerkface. – Dani, Hocus Pocus
Practically perfect in every way. – Mary Poppins
I was hiding under your porch because I love you. – Up
I think she's pretty. – The Flowers, Alice in Wonderland
You'll be in my heart. From this day on, now and forever. – Tarzan
You're the best thing I never knew I needed. – The Princess and the Frog
I'll be your candle on the water. My love for you will always burn. – Pete's Dragon
Together there's no end to what our dream can start. – Pocahontas: Journey to a New World
I've been dreaming of a true love's kiss, and a prince I'm hoping comes with this. – Enchanted
Not all treasure is silver and gold, mate. – Jack Sparrow, Pirates of the Caribbean: The Curse of the Black Pearl
When you're the best of friends, having so much fun together, you're not even aware you're such a funny pair. – The Fox & the Hound
If you choose to lock your heart away, you'll lose it for certain. – Captain Jack Sparrow, Pirates of the Caribbean: At World's End
Remember me, though I have to say goodbye. Remember me, don't let it make you cry. For ever if I'm far away, I hold you in my heart. I sing a secret song to you each night we are apart. – Coco
Attachment is forbidden. Possession is forbidden. Compassion, which I would define as unconditional love is essential to a Jedi's life. So you might say that we are encouraged to love. – Anakin Skywalker, Star Wars: Episode II – Attack of the Clones
The Little Mermaid love quotes
Ahoy there! Welcome to a treasure trove of love quotes from none other than our favorite under-the-sea sweetheart, Ariel, and her human Prince Charming, Eric.
Oh, the things we do for love!
From flippant quips to heartfelt declarations, we've got them all here for you to swoon over.
So sit back, relax, and indulge in the romantic escapades of these star-crossed lovers.
Who knows, you might just find the perfect line to impress your own "fish out of water" love.
Let the sappy sea tales begin!
---
So long, lover boy! – Ursula
But daddy, I love him! – Ariel
So much for true love! – Ursula
You're the one! The one I have been looking for. – Prince Eric
I don't know when, I don't know how, but I know something's starting right now. – Ariel
If everybody got somebody by the hand, maybe everybody could learn to understand. – Sebastian
Now listen, this is important. Before the sun sets on the third day, you've got to get dear ol' princey to fall in love with you. That is, he's got to kiss you. Not just any kiss. The kiss of true love. – Ursula
Maleficent love quotes
Move over, Sleeping Beauty, there's a new queen of darkness in town.
Maleficent has captured our hearts and imaginations with her cunning wit and devilishly charming demeanor.
But it's not all about causing chaos and destruction for this mistress of evil, she's got a softer side too.
In fact, I've rounded up the most Maleficent love quotes from the films that will have you swooning.
Don't be surprised if you find yourself falling for the villain of the story.
---
True love does not exist. – King Phillip
Love doesn't always end well, Beastie. – Maleficent
Haven't you ever heard of love at first sight? – Knotgrass
We are not defined by where we're from, but by who we love. – Priest
She really loves that boy, you know. You're doing her a great kindness. – Diaval
I fell in love with a girl in the forest. Only her. I don't want you to change. – Prince Phillip
I love you very much, but it's time to say goodbye. You've been very good to me, except the time you accidentally fed me spiders. – Princess Aurora
Romantic quotes from Marvel
Ah, love is in the air, and what better way to celebrate than with a collection of romantic quotes from our favorite Marvel heroes and villains?
Whether you're a die-hard fan of Tony Stark's wit or Captain America's unwavering sincerity, there's bound to be a line that makes your heart flutter.
So grab your significant other (or your trusty comic book) and settle in for some sweet talk from the likes of Spider-Man, Black Widow, and maybe even Loki.
After all, who needs flowers and chocolates when you've got these swoon-worthy one-liners?
Let's dive into the mushy-gushy world of romantic quotes from Marvel.
---
I love you, 3000. – Morgan & Tony Stark, Avengers: Endgame
What is grief, if not love persevering? – Wanda Maximoff, WandaVision
But a thing isn't beautiful because it lasts. It's a privilege to be among them. – Vision, Avengers: Age of Ultron
Love is a dagger. It's a weapon to be wielded far away or up close. You can see yourself in it. It's beautiful until it makes you bleed. – Loki, Loki
When you're ugly and someone loves you, you know they love you for who you are. Beautiful people never know who to trust. – Drax, Guardians of the Galaxy, Vol. 2
You, Vision, are the piece of the mind stone that lives in me. You are a body of wires, and blood, and bone, that I created. You are my sadness and my hope. But mostly, you are my love. – Wanda Maximoff, WandaVision
Monster's, Inc. love quotes
Are you ready to explore the romantic side of Monsters, Inc.?
Don't be fooled by their fur and fangs, because even these fearsome creatures know a thing or two about love.
In fact, Mike and Sully's bromance could rival any meet-cute in a rom-com.
Whether it's their banter over scare tactics or their unwavering loyalty to each other, these two show us that sometimes the unlikeliest pairs make for the strongest bonds.
So grab a box of tissues and get ready to swoon over some of the sweetest quotes from Monsters, Inc. that will make you believe in love again (even if it's with a monster).
I told you to keep those tissues handy!
---
Go get 'em, googly bear. – Monsters, Inc.
I love you, schmoopsie-poo! – Monsters, Inc.
I wouldn't have nothing if I didn't have you. – Monster's, Inc.
You know, I am so romantic. Sometimes I think I should just marry myself. – Monsters, Inc.
Romantic quotes from Snow White and the Seven Dwarfs
Mirror, mirror on the wall, who's the fairest of them all?
That's right, it's me, here to introduce you to some of the most romantic quotes from Disney's Snow White and the Seven Dwarfs.
Move over, Prince Ferdinand, because these quotes are sure to make you swoon.
From sweet nothings spoken by Doc and Grumpy to the charming words of the Prince himself, get ready to fall head over heels for the magical world of Snow White and her adorable companions.
---
She's beautiful, just like an angel. – Bashful
There's nobody like him, anywhere at all. – Snow White
I'm wishing for the one I love to find me today. – Snow White
One song. My heart keeps singing of one love, only for you. – The Prince
He will carry me away to his castle, where we will live happily ever after. – Snow White
Tangled love quotes
Hello everyone, and welcome to the section where we get all tangled up in lovey-dovey goodness!
That's right, we're talking about none other than the Disney power couple, Rapunzel and Flynn Rider.
From frying pans to floating lanterns, these two have stolen our hearts and set the bar high for all other fairy tale romances.
And what better way to celebrate their love than with some of the most iconic Tangled quotes out there?
So sit back, let down your hair, and get ready to feel all warm and fuzzy inside as we dive into some of the best Tangled love quotes around.
---
Each happy ending's a brand new beginning.
Did I ever tell you I have a thing for brunettes? – Flynn Rider
All at once everything is different, now that I see you. – Flynn Rider and Rapunzel
Flynn: You were my new dream.
Rapunzel: And you were mine.
Mother Gothel: I love you very much, Dear.
Rapunzel: I love you more.
Mother Gothel: I love you most.
Winnie the Pooh on love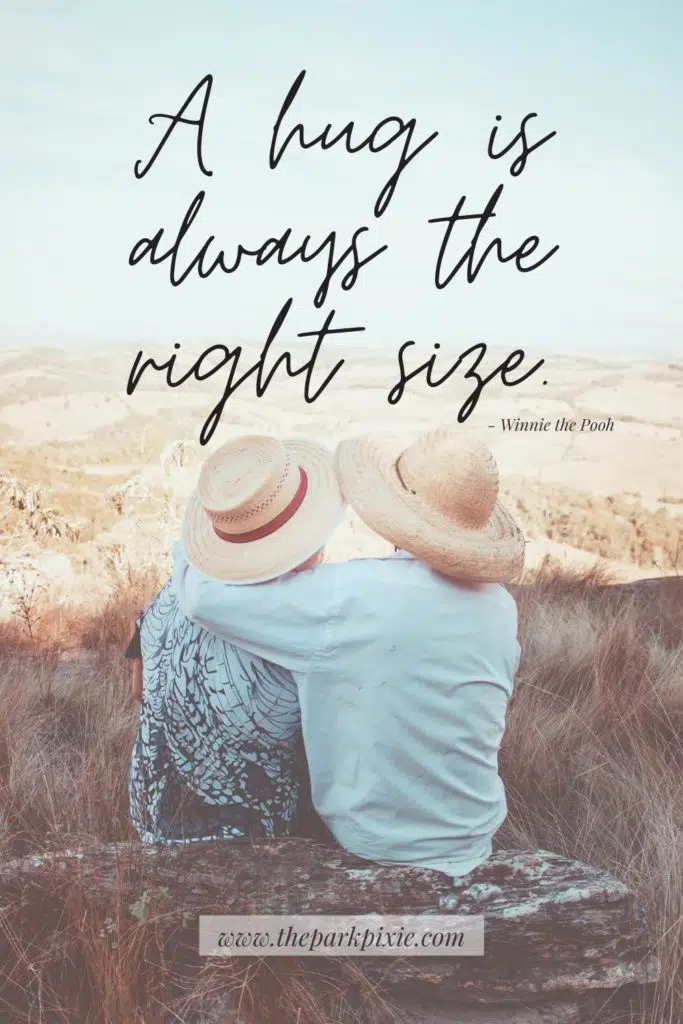 Love is a many-splendored thing, just like Winnie the Pooh and his never-ending appetite for honey.
From the Hundred Acre Wood to our own hearts, Pooh has taught us a thing or two about the power of love.
Whether it's his unrelenting passion for his favorite snack or his unconditional love for his friends, Pooh knows how to tug at our heartstrings while keeping his sense of humor intact.
In this section, I'll explore all the ways in which the little bear with a big heart has captured our affections and become a symbol of love and friendship for generations to come.
So grab a jar of honey and settle in for the sweetest ride of your life with the one and only Winnie the Pooh.
---
A hug is alway the right size. – Winnie the Pooh
Some people care too much. I think it's called love. – Winnie the Pooh
Piglet: how do you spell love? Pooh: You don't spell it, you feel it. – Piglet and Pooh
Sometimes the smallest things take up the most room in your heart. – Winnie the Pooh
You may be gone from my sight, but you are never gone from my heart. – Winnie the Pooh
But the most important thing is, even if we're apart, I'll always be with you. – Winnie the Pooh
Any day spent with you is my favorite day. So, today is my new favorite day. – Winnie the Pooh
If you live to be 100, I want to live to 100 minus one day so I never have to live without you. – Winnie the Pooh
Love is taking a few steps backward, maybe even more, to give way to the happiness of the person you love. – Winnie the Pooh
I think we dream so we don't have to be apart for so long. If we're in each other's dreams, we can be together all the time. – Winnie the Pooh
Romantic Disney quotes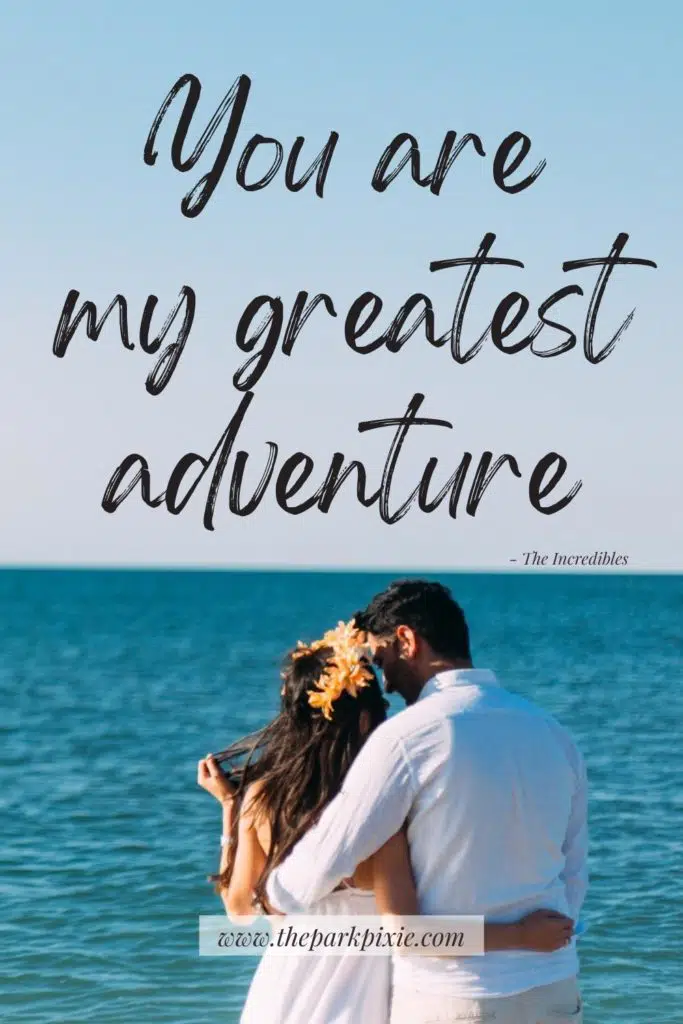 Whoever said that romance is gone clearly hasn't watched a Disney movie lately.
Believe it or not, these animated adventures are chock-full of mushy lines and heartwarming sentiments that just might make you believe in love again.
And let's be real, who doesn't need a little bit of that these days? Whether you're a die-hard Disney fan or just looking for a little inspiration in the love department, look no further than these romantic Disney quotes.
From classic films like Peter Pan to modern favorites like The Princess and The Frog, we've got plenty of swoon-worthy dialogue to get your heart racing.
So sit back, grab some popcorn, and get ready to fall even more in love with the wonderful world of Disney.
---
Love goes on and on. – Maid Marian, Robin Hood
Boy, your eyes are like sapphires! – Thomas, The Aristocats
People do crazy things when they're in love. – Meg, Hercules
You are my greatest adventure. – Mr. Incredible, The Incredibles
Trust your heart. Let fate decide. – as sung by Phil Collins in Tarzan
As sure as rivers flow, I'll never let you go. – as sung in Pete's Dragon
Je t'adore, Je t'aime Evangeline. You're my queen of the night. – Ray, The Princess & the Frog
You mean more to me than anyone in this whole world. – Peter Pan, Peter Pan
Love always finds a way, it's true. And I love you. – Ray, The Princess & the Frog
My dream wouldn't be complete without you in it. – Tiana, The Princess and the Frog
I'd rather die tomorrow than live a hundred years without knowing you. – John Smith, Pocahontas
To spend a life of endless bliss, just find who you love through true love's kiss. – Giselle, Enchanted
For it is plain as anyone can see, we're simply meant to be. – Jack Skellington and Sally, The Nightmare Before Christmas
If my heart keeps singing will my song go winging to someone who'll find me and bring back a love song to me? – Aurora, Sleeping Beauty
Side by side with your loved one, you'll find enchantment here. The night will weave its magic spell when the one you love is near. – as sung in Lady & the Tramp
What are your favorite Disney quotes about love?
Drop your favorite love quotes from Disney movies and shows in the comments below.
For more Disney quotes, check out my post with Disney Instagram caption ideas.
Next up, check out more of our Disney quotes and captions posts:
---
About the author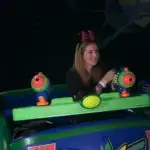 Meg Frost is the creator of The Park Pixie, where she covers Disney World, Disney+, and Disney fandom.
She holds an M.A. in Journalism from Northeastern University and B.S. in Communication & American Studies from University of Miami in Florida.
---
This post was originally published February 8, 2022. It was last updated June 30, 2023.