Hollywood Studios is one of the most thrilling parks at Disney World, with Toy Story Land and Star Wars: Galaxy's Edge, fantastic shows, and mouth-watering food, it's no wonder why you're planning a visit there!
However, if you're traveling with toddlers, any theme park visit can quickly become overwhelming, with endless distractions and stimulation vying for their short attention span.
But fear not, as I've been there and done that with a tot in tow and lived to tell the tale! Keep reading for my top tips on visiting Hollywood Studios for toddlers.
Tips for visiting Hollywood Studios with toddlers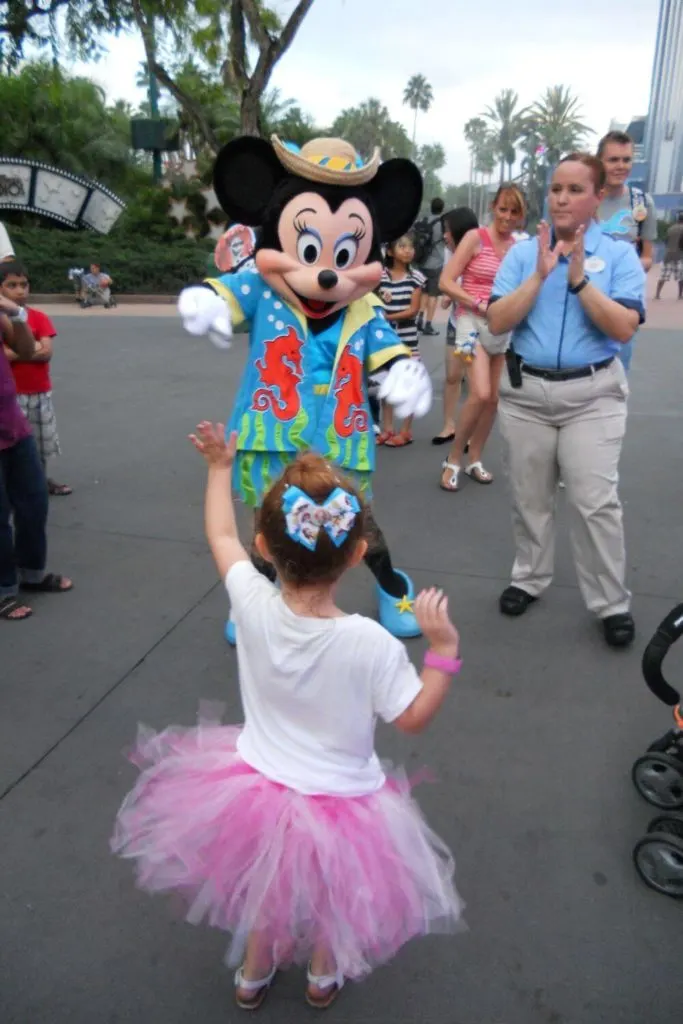 Many families think Hollywood Studios is more for older kids and adults, but that couldn't be further from the truth.
In fact, there are lots of attractions there geared specifically for toddlers. So before you go, check out these general tips for visiting with your mini sidekick in tow.
May the Force be with you.
Book table service meals ahead of your trip
A lot of the special dining experiences at Hollywood Studios are table service meals, so if that's on your agenda, the sooner you book reservations, the better.
If you're staying at a Disney resort, you can book dining reservations starting at 60 days from the start of your trip for up to 10 days of your entire trip.
If you're not, you can book 60 days ahead of each day that you'd like to make a reservation.
Bring small toys or other distractions
A few small toys, like a stuffed animal, book, or fidget of some type, will go a long way in entertaining tots while waiting in line for an attraction or waiting for a show to start.
My suggestions include a small stuffed animal or action figure, a mini busy book, or an activity book with simple games like tic tac toe.
We went the extra mile and brought glow necklaces, wands, and glasses from home to play with while waiting for Fantasmic! or other nighttime shows to start.
Don't forget the snacks
Avoid a hangry tot by having ready-to-go snacks. While you can certainly hop in line to buy something, sometimes you need something NOW without having to wait in line to avoid meltdowns.
Stay hydrated
Be sure you and your kiddo drink plenty of water throughout the day. Yes this means lots of pee breaks, but it's better than wearing yourself sick due to dehydration.
Keep cool (or warm!)
The majority of the year at Disney World is hot and humid. Dress accordingly, even if it means leaving the cutesy, layered outfit at home.
Bring a rechargeable fan or cooling towel in case either of you start to overheat. Plus be sure to take breaks at shops or air conditioned attractions.
Wear sunscreen
No matter what time of the year it is, slap on some sunscreen to protect your skin from the sun's harmful rays. Be sure to reapply throughout the day, too.
Don't let a sunburn or sun poisoning ruin your vacation!
You might also want to bring a hat or sunglasses for extra protection. I find that Galaxy's Edge and Toy Story Land are extra bright compared to other parks.
I'm not sure if it's lack of shade or the type of stone or cement they used for the ground, but I find that I have to double up with a hat AND sunglasses or avoid both areas entirely until the evening.
Utilize the Baby Care Center
If you need a private place to nurse or change your toddler, there's a baby care center on site with private nursing and changing rooms.
They also have a kitchenette and microwave if you need to prepare special foods.
The center is located near the main entrance of the park, on the right hand side if you're leaving the park (or left side if you're just entering), next to Sid Cahuenga's One of a Kind shop.
Take a ride on the Skyliner
The Skyliner is the newest form of transportation at Disney World and it's like a ride and transportation all in one!
If you didn't get a chance to take it to Hollywood Studios, hop on and take a ride to Epcot or another resort (perhaps for a character meal!).
Toddlers will surely get a kick out of the character decals on the sky gondolas and the thrill of "flying" through the sky.
Best restaurants in Hollywood Studios for toddlers
There are plenty of restaurants at Hollywood Studios with toddler-friendly food, even those with allergies.
But if you're looking for an extra-special experience, these are the top 3 spots to consider when it comes to meal time with your tot.
Disney Junior Play n' Dine Breakfast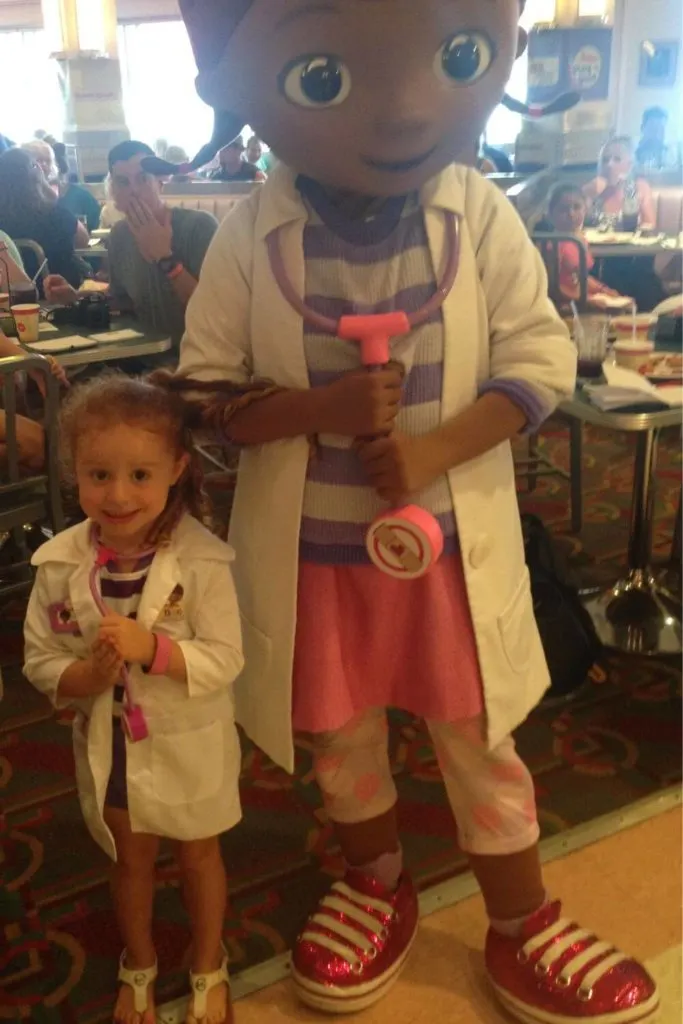 The Disney Junior Play n' Dine Breakfast is an excellent opportunity for your toddler to meet their favorite Disney Junior characters while enjoying a fantastic breakfast.
The breakfast experience is designed to make your toddler feel at home, with character interactions and engaging activities making it a lively experience.
Your little one will undoubtedly be captivated with the likes of Vampirina, Doc McStuffins, and Fancy Nancy, in addition to the delectable food.
We had the pleasure of attending this character meal with my toddler niece and she was thrilled to meet Doc McStuffins (and even dressed up like her), as well as Handy Manny.
Mama Melrose's Italiano Restaurante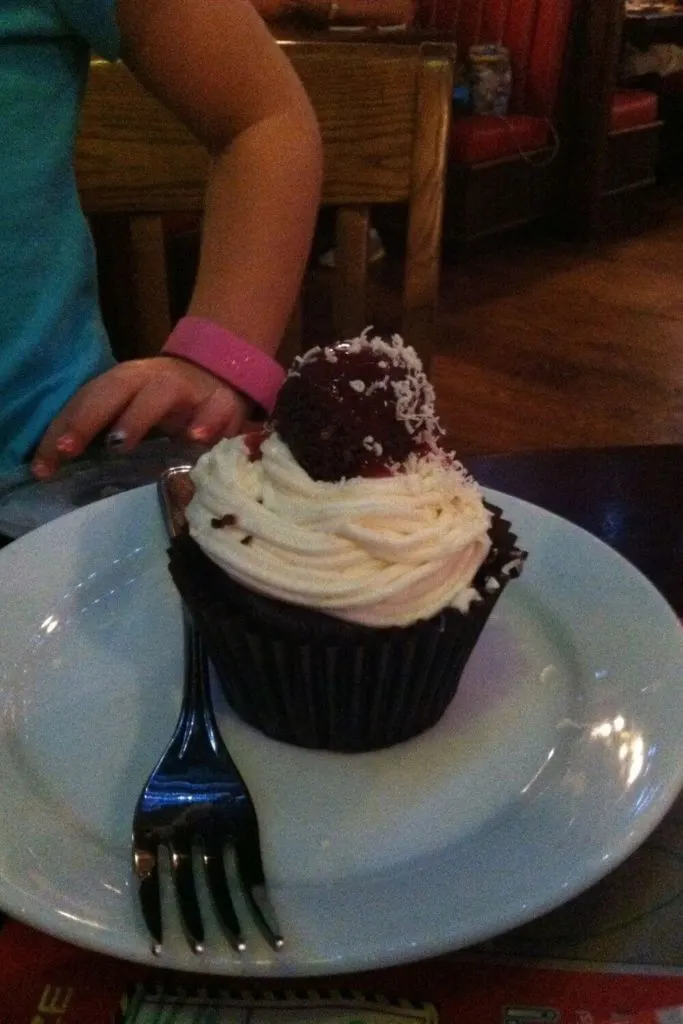 This delicious table-service restaurant has all your standard Italian dishes – and even wine flights.
There's also a fun menu for kids that includes a "spaghetti and meatballs" cupcake on the dessert menu. My toddler niece was definitely thrilled by this and I bet your tot would be too!!
Roundup Rodeo BBQ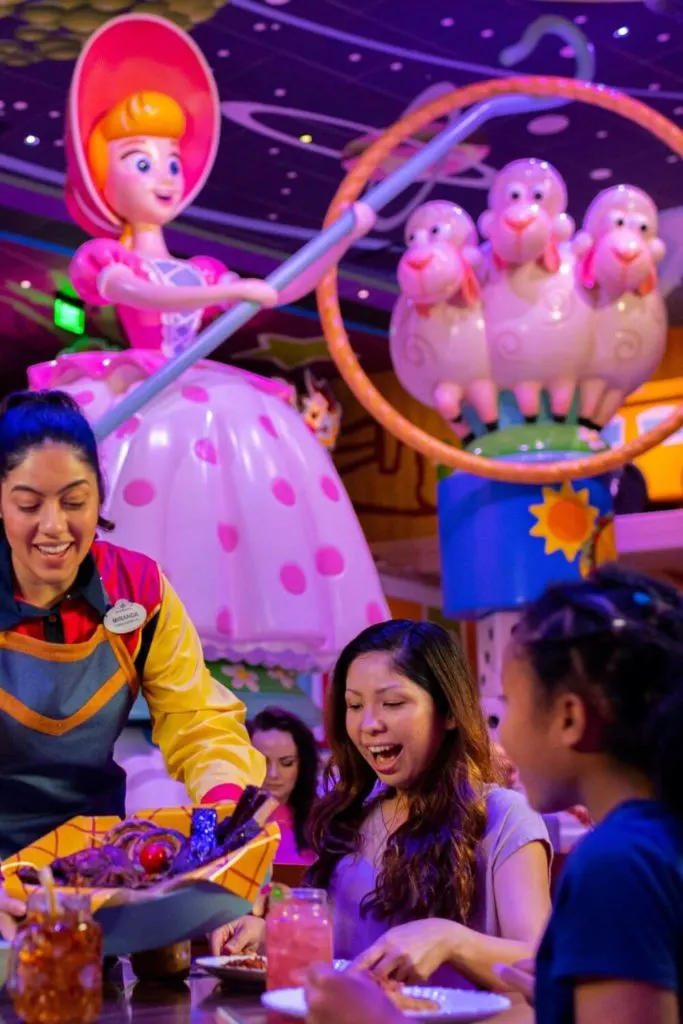 The Roundup Rodeo BBQ is the ideal spot to take your toddlers for lunch or dinner. The kid-friendly setting and delicious food make it an attractive option for families.
The restaurant's ambiance is inspired by Toy Story, with the famous characters adorning the walls and some of the menu items named after characters.
The live music and entertainment will keep the toddlers captivated while the grownups enjoy the delicious ribs or chicken nuggets with tots.
And a word to the wise – if you hear "Andy's coming!," it's time to freeze just like the toys do in the movies!
Seasonal character dining with Minnie & friends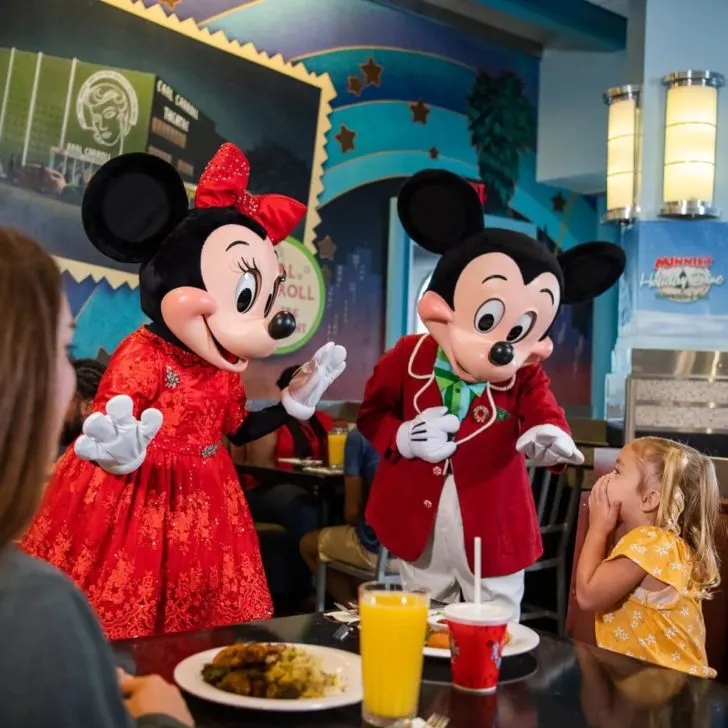 For lunch and dinner, Hollywood & Vine is home to a seasonal character dining meal, hosted by Minnie Mouse.
The theme changes throughout the year, with past themes including spring, summer, Halloween, Christmas, and a general Hollywood theme.
This is a great way to meet characters, as well as celebrate whatever season it is!
Woody's Lunch Box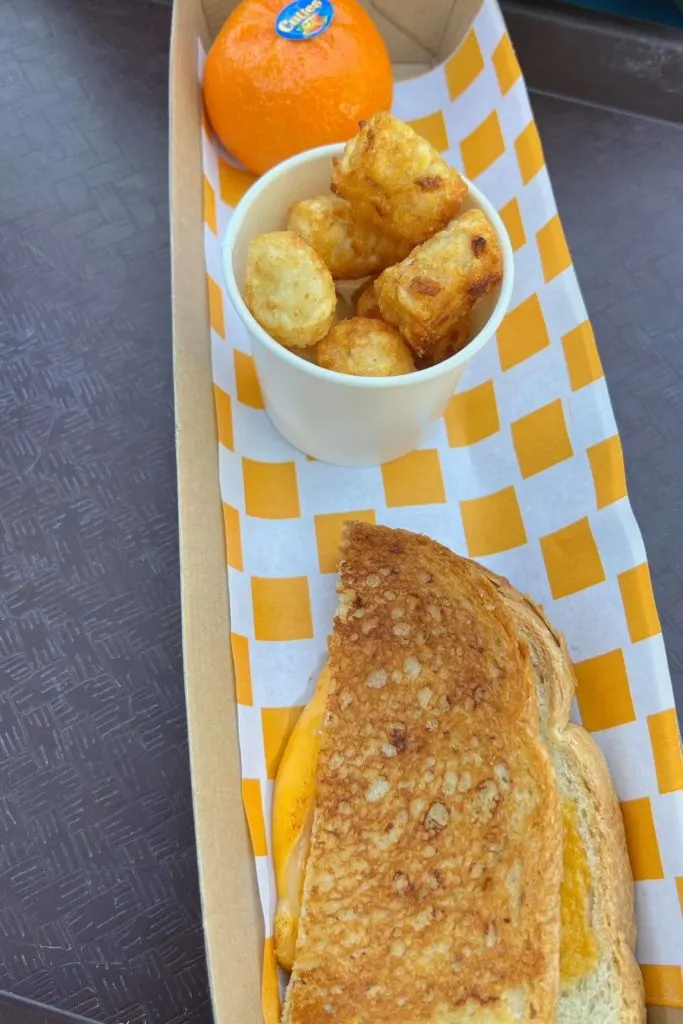 For a more casual and quick meal, hit up Woody's Lunch Box in Toy Story Land.
The food is delicious for even the pickiest of eaters. Plus, the theming is on point for all the little Toy Story fans out there.
Wondering what to get? My favorite meal here is the grilled cheese with potato barrels (aka tater tots) with a lunch box tart for dessert!
Best things to do with toddlers at Hollywood Studios
Let's face it, no matter where you go with toddlers in tow, you need to be strategic with your choices for a lot of reasons.
Fear not, I've got you covered with the best things to do at Hollywood Studios that will keep your little ones entertained and happy.
From rides that won't scare their pants off to shows that will make them giggle and character meet-and-greets that they will never forget, you'll find it all here.
Alien Swirling Saucers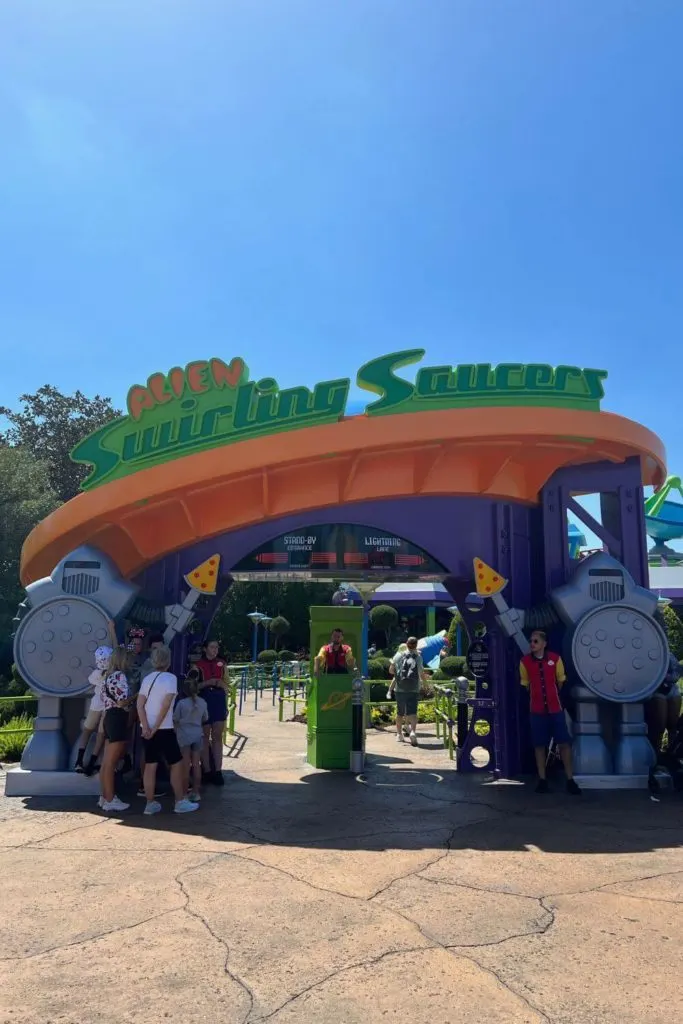 The Alien Swirling Saucers is an exciting ride in Toy Story Land that features the silly green aliens from Toy Story.
The ride's design is intended for young children, with gentle, swirling motions that is not too intense for your little ones.
Riders must be at least 32″ tall to ride, which is short enough for most toddlers to be able to ride.
Beauty & the Beast – Live on Stage
Beauty and the Beast – Live on Stage is a retelling of our favorite tale as old as time.
Toddlers will love seeing their favorite Disney characters come to life, as well as the catchy tunes and colorful costumes. Plus it's a great way to introduce them to the performing arts!
Build a droid or lightsaber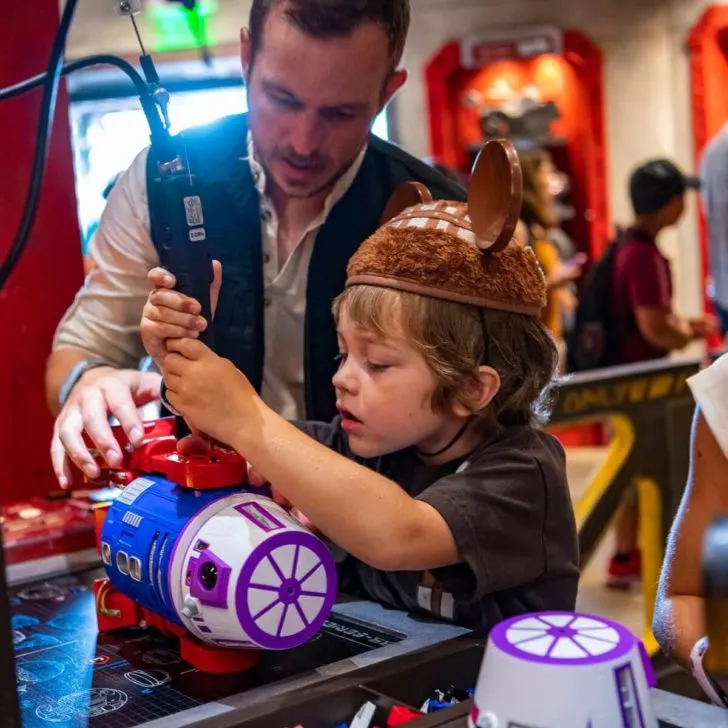 Encourage future engineers by booking a build-your-own experience at Galaxy's Edge.
At Savi's Workshop, guests can build their own lightsaber for $249.99. It's admittedly pricey, but if they are Star Wars fans, it might be worth the experience!
Another option is building a droid at The Droid Depot for $119.99. Personally I think this option is more tot-friendly, whereas the lightsaber is best for older kids and adults.
Prices subject to change at any time and do not include tax. Last confirmed August 9, 2023.
Disney Junior Play and Dance!
If you're looking for a way to tire out your little ones while you sneak in a moment of relaxation, Disney Junior Play and Dance! is your answer.
This attraction is like the toddler version of a rave or dance club, complete with all their favorite Disney Junior characters leading the way.
Let them shake it off with imaginative dance moves while you sit back and enjoy the show.
Plus, what better way to tire out the little ones for bedtime than by letting them dance their hearts out to Mickey and the gang?
My niece LOVED this (and any other dance party we happened upon throughout the parks) and couldn't help but join in on twirling and jumping around with the characters.
Disney Movie Magic
Don't miss out on this fun-filled show that is projected onto Grauman's Chinese Theater (also home to Mickey & Minnie's Runaway Railway).
The Disney Movie Magic show at Hollywood Studios is not only a treat for toddlers, but for anyone with a love for the magic of Disney.
The show lasts 12-minutes and typically only runs once a night. Check the My Disney Experience app for the show time for the day you plan to visit.
Fantasmic!
Fantasmic! is like a Disney fever dream come to life. And let's face it, toddlers love a good fever dream or at least their wild imaginations make it seem like they do.
Between the pyrotechnics, water projections, and classic Disney characters, there's enough visual stimulation to keep little ones entertained for the length of the show (which is just under half an hour).
Plus, let's not forget the enchanting soundtrack mashup that will have your tots bopping along.
This ended up our favorite nighttime show when we visited when my niece was still a toddler – so much so that we moved our plans around to ensure we saw it more than once during our stay!
For the First Time in Forever: A Frozen Sing-Along Celebration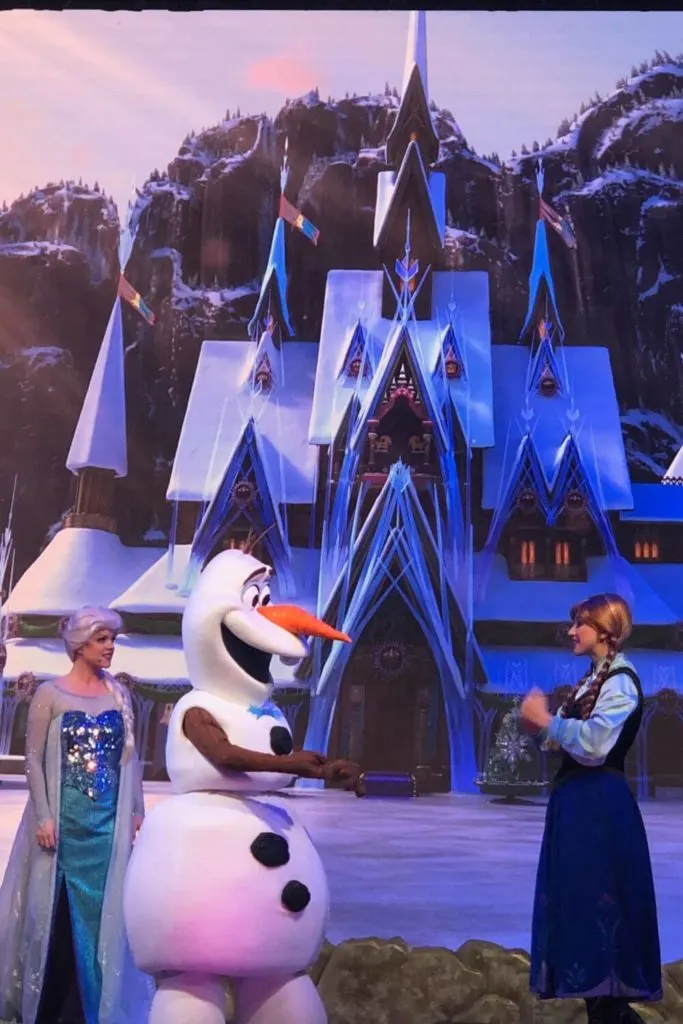 For the First Time in Forever: A Frozen Sing-Along Celebration is the perfect way to introduce your little one to the magical world of Anna and Elsa. That is, if they haven't already watched every single Frozen movie, show, and special on Disney+!
Anyway, with catchy tunes, punny jokes, and interactive elements, your toddler will be singing Let It Go like it's nobody's business by the end of the show.
The show is an hour long, so it's a good stop to rest your feet and cool off in the breezy air conditioning, too.
Indiana Jones Epic Stunt Spectacular!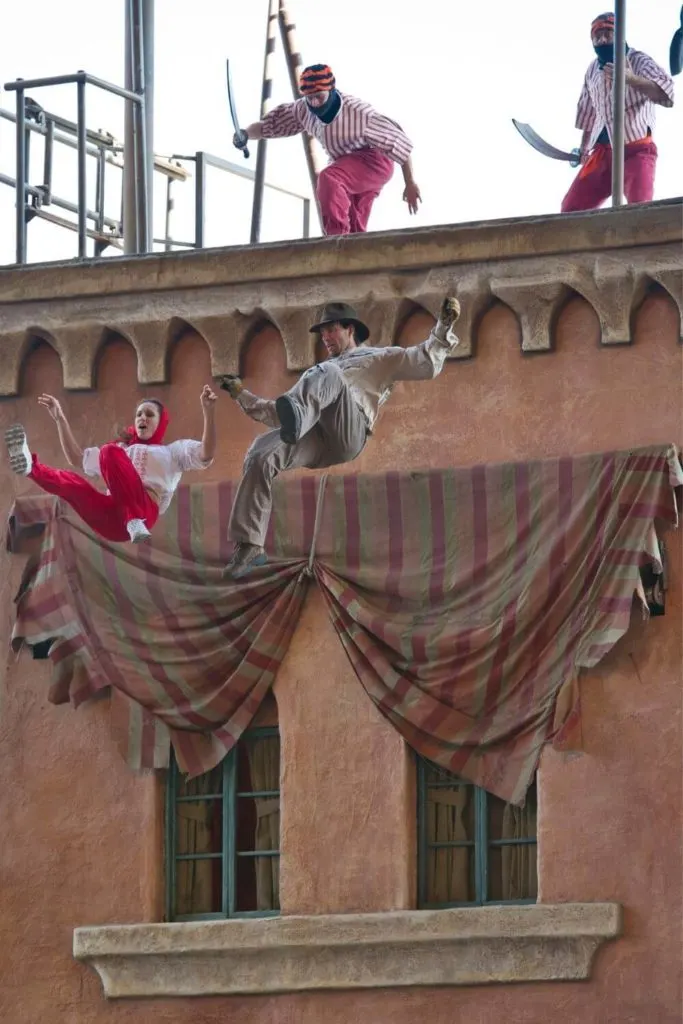 The Indiana Jones Epic Stunt Spectacular! is sure to keep your toddlers on the edge of their seats.
It also features action-packed stunts that'll make you think you're watching the real Indiana Jones in action.
Trust me, you won't be disappointed and neither will your little ones. It's the perfect combination of thrills and laughs.
And the best part? You get to sit back and enjoy the show without worrying about keeping your toddler entertained.
Lightning McQueen's Racing Academy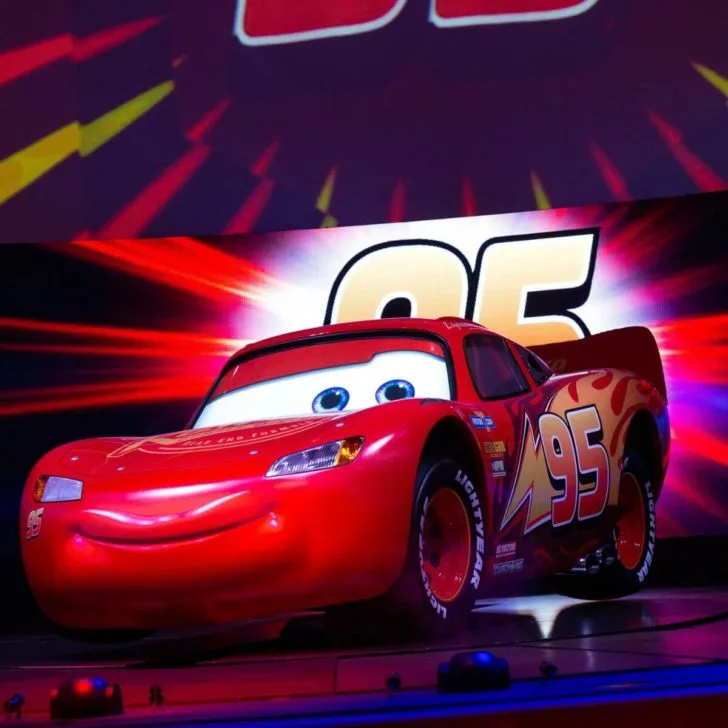 If you've got a tiny speedster on your hands, then you don't want to miss Lightning McQueen's Racing Academy.
They'll sit mesmerized as Lightning McQueen himself takes the stage and teaches them all about racing.
With appearances from other Cars characters and a healthy dose of humor, this show is sure to be a hit with anyone under the age of five.
Meet characters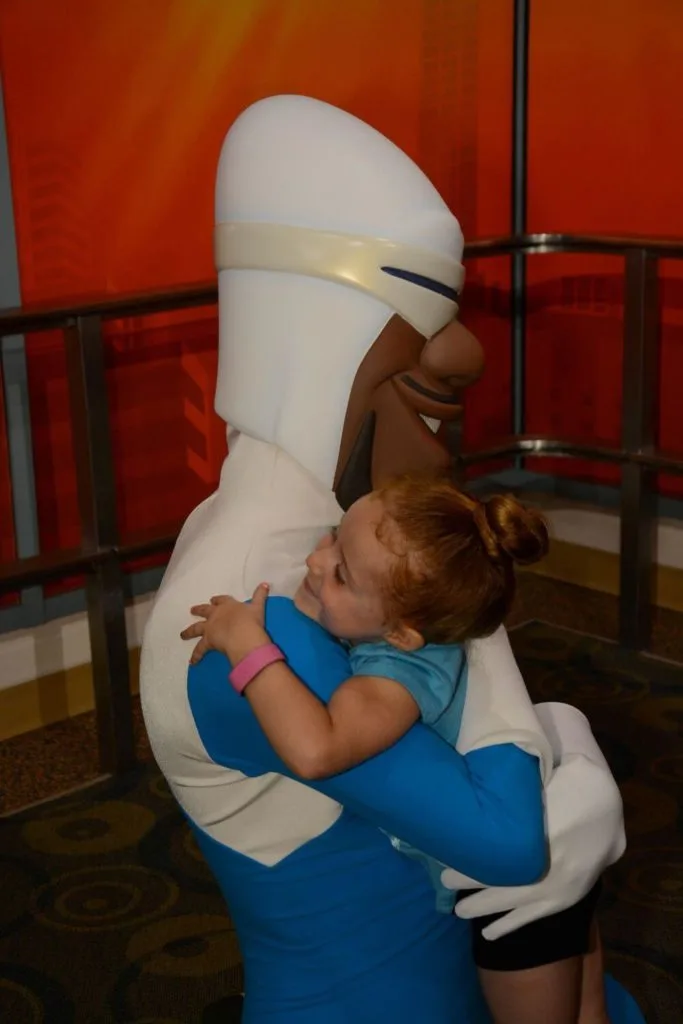 Hollywood Studios has a vast selection of characters ready for hugs, photos, and autographs throughout the park.
If your little one is a fan of Disney Junior, Pixar, or Star Wars, then you'll definitely want to set aside time for character meet-and-greets at this park.
For a limited time, you can meet live-action Ariel over at Walt Disney Presents. No word yet on how long she'll be meeting with guests, so meet her while you can!
At Celebrity Spotlight, you can meet everyone's favorite summer-lovin' pal, Olaf.
In Toy Story Land, Woody, Buzz, and Jessie regularly meet, as well as the Green Army Men. I've also seen Bo Peep, every now and then!
Plus, at Pixar Place, you can meet Edna Mode, Frozone, Mr. & Mrs. Incredible, and Sulley from Monsters, Inc.
For Disney Junior characters, head to Animation Courtyard where you can usually meet Doc McStuffins, Fancy Nancy, and Vampirina.
At Star Wars Launch Bay, you can meet BB-8, Chewbacca, and Darth Vader. Plus, every once in a while, The Mandalorian and Grogu wander around Galaxy's Edge.
Last, but not least, at Red Carpet Dreams, you can meet Sorcerer Mickey and Hollywood Star Minnie.
Be sure to check the My Disney Experience apps for times, as the characters take a break every now and then.
Plus, there are sometimes pop-up meet-and-greets of other characters throughout the park. We got to meet Phineas & Ferb when my niece was a toddler and on another visit, I stumbled upon a Goofy and Max meetup!
Mickey & Minnie's Runaway Railway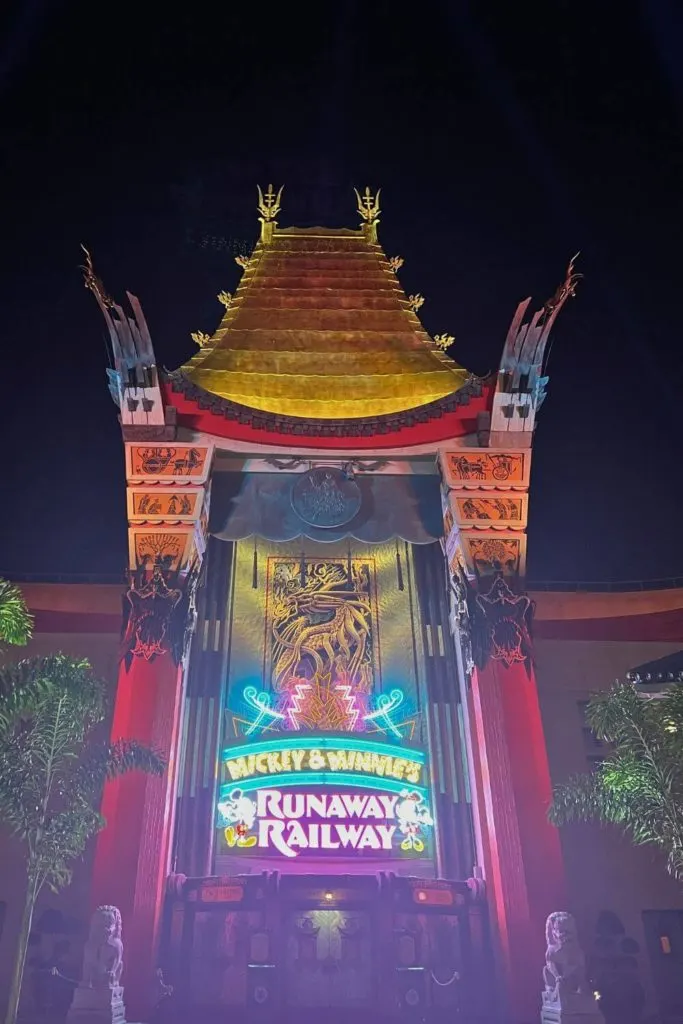 This latest addition to Hollywood Studios will get your toddlers excited about going on a train ride with Mickey and Minnie Mouse.
This ride features our favorite duo in a captivating story filled with twists and turns that will be sure to keep everyone engaged.
The ride's soundtrack is upbeat and the animation is impressive, so everyone will enjoy this ride – not just the tots!
Muppet*Vision 3D
This show is more than just puppets and silly jokes. It's a 3D adventure that will have your toddler reaching out to touch Waldorf and Statler's wrinkly faces.
Plus, who wouldn't want to see Miss Piggy and Kermit the Frog up close and personal (along with some air conditioning)?
It really makes me wish they did more with the Muppets in this park (or any of the parks for that matter)!
Toy Story Mania!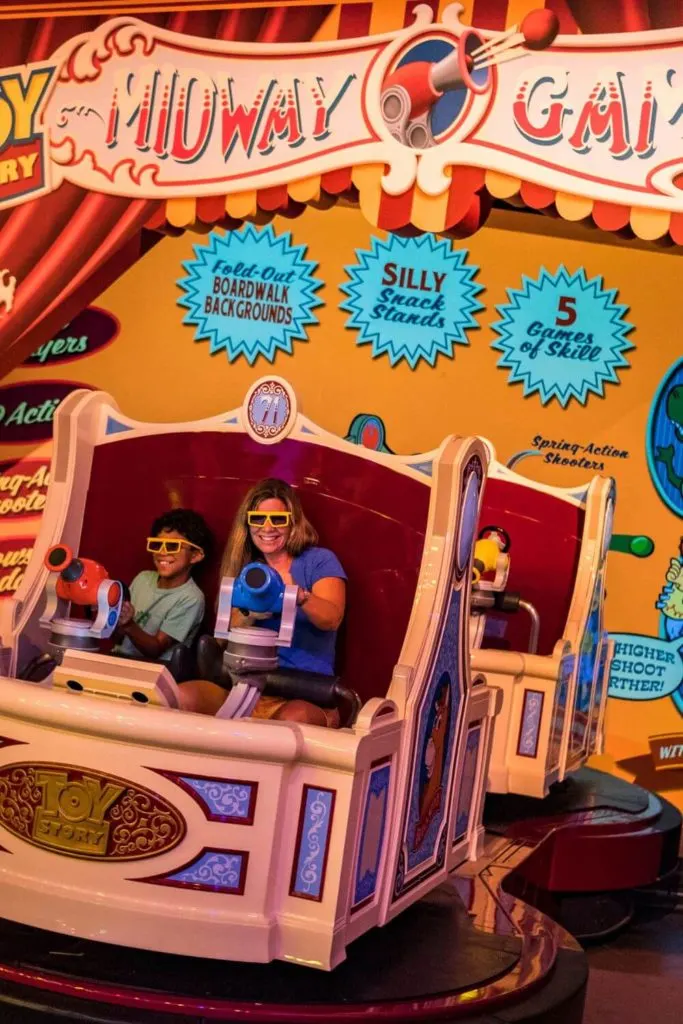 One of my niece's favorite rides in the park is Toy Story Mania! and I bet your tot will love it, too.
This ride takes you on a 4D shooting game adventure through Andy's room and beyond.
The colorful sights and sounds are sure to keep your toddlers entertained (and maybe even distracted from asking for snacks every five minutes). And you may just find yourself having a blast too!
Vacation Fun – An Original Animated Short with Mickey & Minnie
Vacation Fun is an animated short film starring everyone's favorite mouse duo, Mickey and Minnie.
Your minis will surely be captivated by the colorful animation and thrilling storyline that takes them on a ride around the world through scenes from Mickey & Minnie's vacation adventures.
Walt Disney Presents
Enter into a world of imagination where you can learn about Walt Disney and see real-life artifacts, like sketches, costumes, photos, and more.
Plus there's a short film about Walt that sometimes features a sneak peek of an upcoming Disney or Pixar movie!
TIP: This is one of my go-to spots at Hollywood Studios if it starts to rain or I need a quick air-con break.
Wonderful World of Animation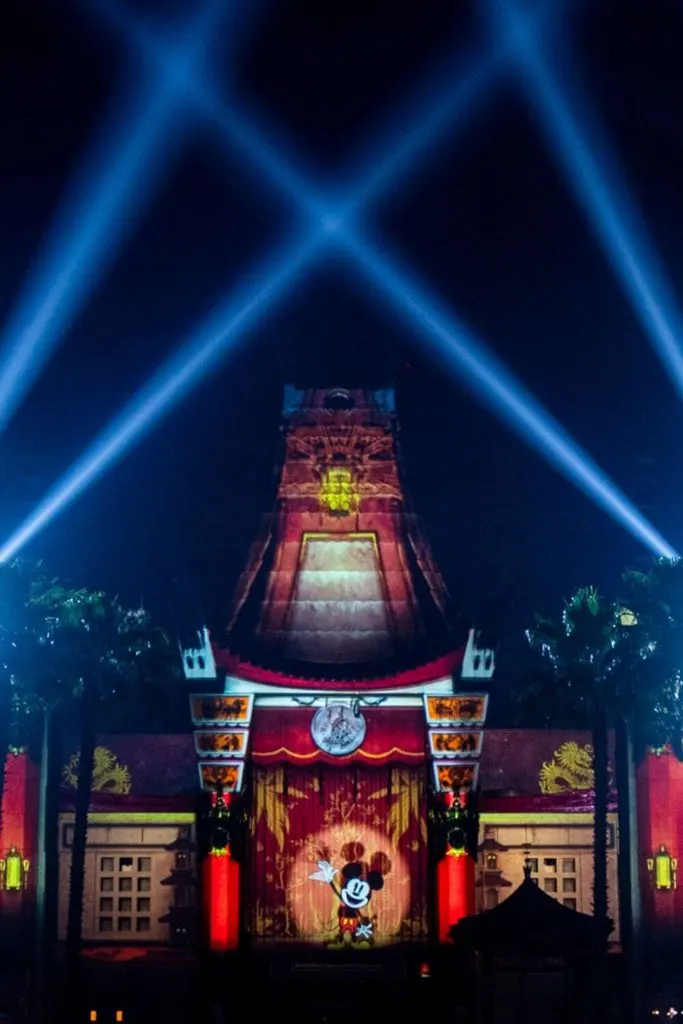 From the classics like Mickey Mouse to the latest Pixar favorites like Toy Story, this 12-minute projection show has it all.
It's like a giant, animated lullaby that will make even the most energetic toddler want to sit still and enjoy.
This show runs only once a night, just before park close, on Grauman's Chinese Theater. Check the My Disney Experience app for your preferred night's showtime.
What are your favorite things to do at Hollywood Studios with toddlers?
There you have it, my top tips and tricks for tackling Hollywood Studios with toddlers!
From the Disney Junior Play n' Dine Breakfast to the thrilling ride at Mickey & Minnie's Runaway Railway, and meeting their favorite characters, your toddlers are sure to have a blast at this park.
Remember to take advantage of rider swap services, bring a stroller, and pack snacks, and you'll be well on your way to a fun and memorable visit to Hollywood Studios.
Enjoy the magic of Disney with your little ones!
For more tips on visiting Disney World with toddlers, check out these posts:
---
About the author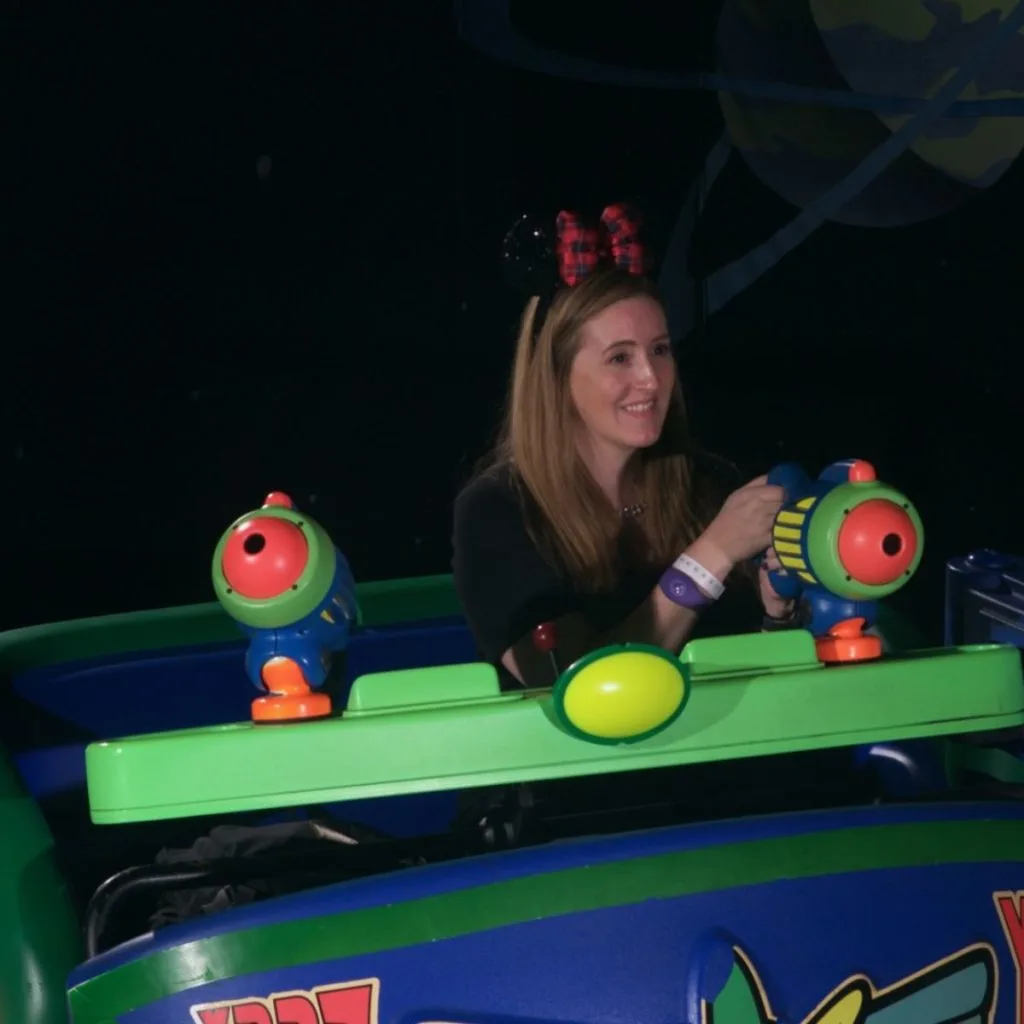 Meg Frost is the creator of The Park Pixie, where she covers Disney World, Disney+, and Disney fandom.
She holds an M.A. in Journalism from Northeastern University and B.S. in Communication & American Studies from University of Miami.
---