If you are planning to visit Epcot with toddlers, you've come to the right place!
Epcot is a unique park where you can experience different cultures, indulge in exquisite food, and learn about science and technology – all while having a blast with your little ones.
As a seasoned Epcot visitor, I know all the tricks and tips for enjoying this park, especially with the little ones.
I've also had the pleasure of visiting this wonderful theme park several times with my niece when she was a toddler (and beyond!).
Many people think Epcot is just for adults or older children, but that couldn't be further from the truth.
With some planning and tips, families with toddlers can definitely enjoy Epcot just as much.
Let's dive right into how to have the best time at Epcot for toddlers!
Tips for visiting Epcot with toddlers
Before we get into food and attractions, lets start with a few general tips for visiting this park with tots in tow.
Make use of the Baby Care Center
No matter how careful you are, accidents happen, especially with young ones in tow.
So if you need a place to change your little one's pull-up or clothes, there's a better option than the nearest restroom.
Epcot has a Baby Care Center with private changing and nursing rooms, a kitchenette and feeding area, as well as a shop with all the necessarily toddler gear like pull-ups, sunscreen, etc.
The Baby Care Center is located in the Odyssey pavilion, which is between the Mexico pavilion and Test Track.
Use the My Disney Experience app
Before you visit, download the My Disney Experience App. It's like having a personal guide for the parks!
You can use this app to check wait times, look up performance schedules, find character meet-and-greets, make dining reservations, and book Genie+ or lightning lane reservations.
Bring a stroller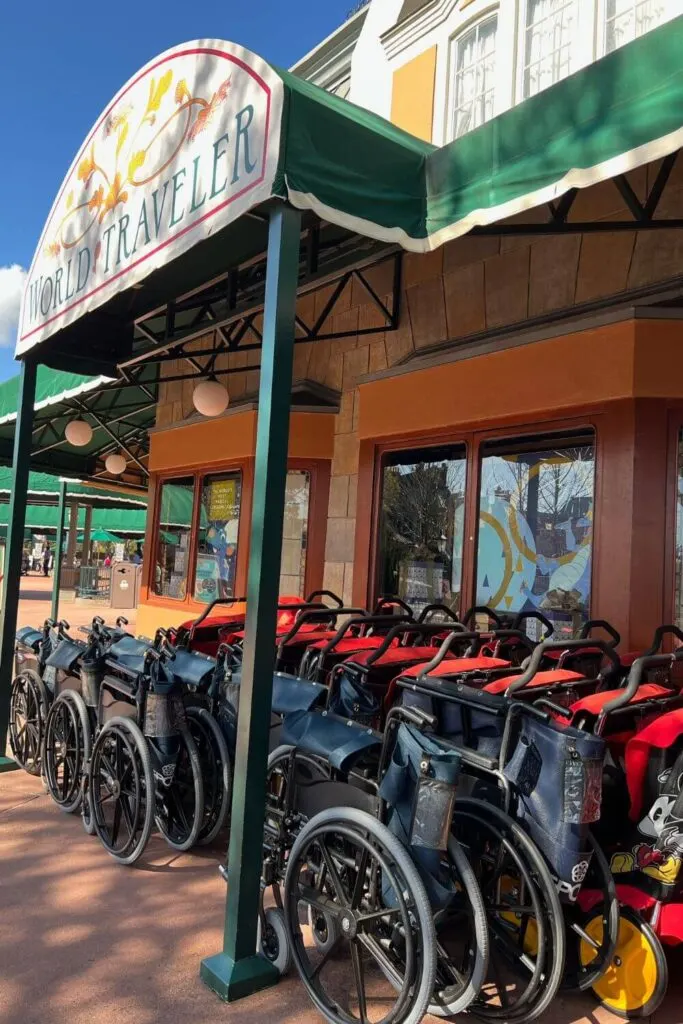 Even if your toddler walks, a stroller is a lifesaver for when they are tired (and cranky). If you didn't bring one, you can rent one near both the main entrance and International Gateway.
Bring your own snacks and drinks
Pack plenty of snacks and drinks that your toddler enjoys so you don't have to wait in line when hunger strikes. I'm sure I don't need to tell you what hunger and thirst can do to a toddler!
Pack an extra outfit
In case of messes or a run through the wet path at Journey or Water, you'll want an extra outfit for you toddler to change into.
Alternatively, have your toddler change into a swimsuit before Journey of Water, especially if you'll be doing the wet path to cool off.
Branch out via Monorail or Skyliner
Take a break from the crowds by hopping to another park or resort via the Monorail or Skyliner. It's also a great way to access additional dining options.
The Skyliner can be accessed by the International Gateway and the Monorail can be accessed from the main entrance. Toddlers will love these fun modes of transportation and a change of scenery!
The Monorail can take you to several different resorts with character dining, like Chef Mickey's at the Contemporary.
The Skyliner can take you to other resorts, also some with character dining, like Topolino's Terrace at the Riviera Resort.
Visit during a festival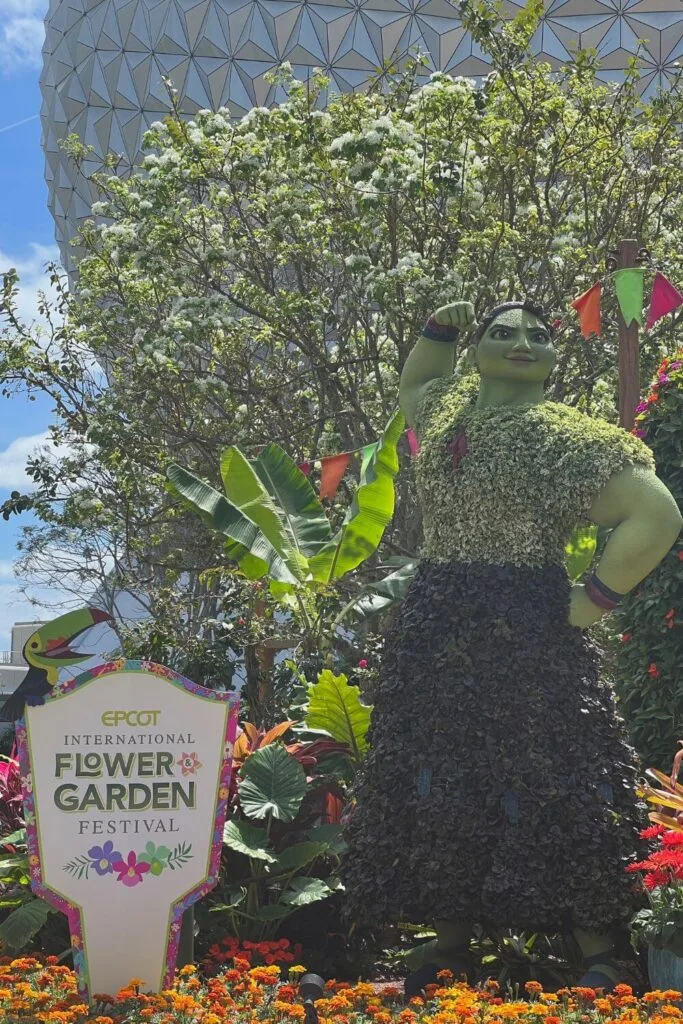 Epcot hosts several festivals throughout the year, offering different themes, activities, and food.
If you are lucky to visit during one of the festivals, your toddlers will love the energy and playful atmosphere.
Check out these guides for more information on each festival:
Best places to eat for toddlers at Epcot
As with each park at Disney World, I highly recommend booking character meals when visiting with toddlers.
It's a great way for your little one to meet their favorite characters without having to wait in long lines.
Themed restaurants are another great option, especially if your little one is interested in that theme.
Luckily Epcot has several awesome options in both categories, so you won't miss out here.
Akershus Royal Banquet Hall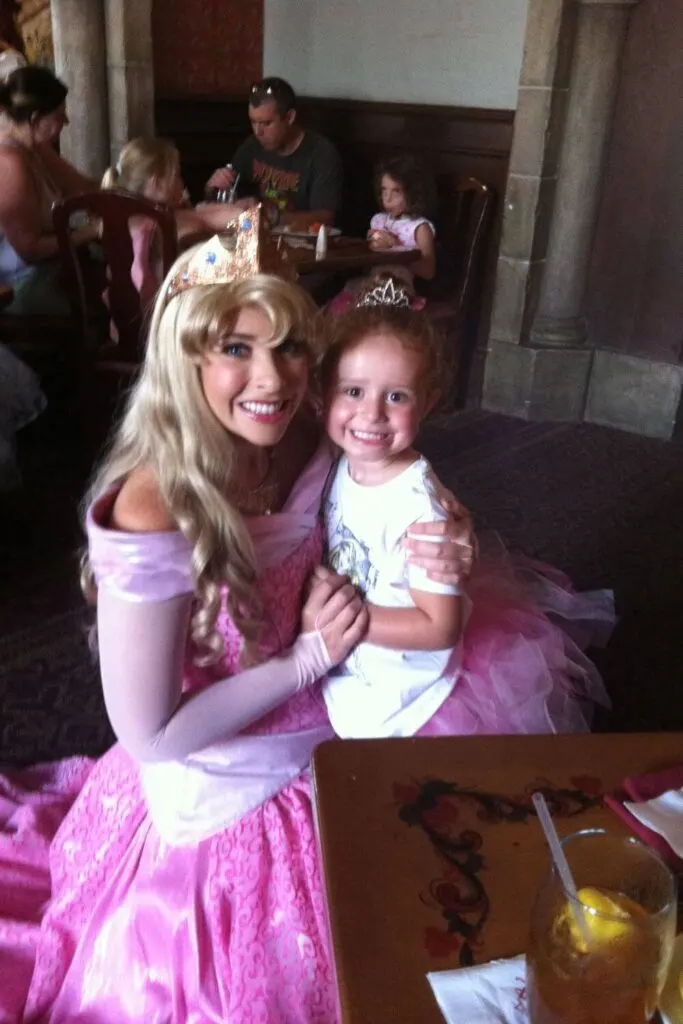 If your little one loves Disney princesses, the Akershus Royal Banquet Hall in the Norway pavilion is a must-do.
This restaurant offers a delicious breakfast buffet and a lunch or dinner sit-down meal. If you're there for lunch or dinner, I highly recommend the Norwegian meatballs. They are absolutely delicious!
Several princesses, such as Aurora, Snow White, Belle, and Ariel, interact with the kids, offering autographs and photos.
There's even a princess parade that the kiddos can participate in, so don't forget to wear your favorite princess or prince outfit.
My niece was chosen to lead the parade and she had so much fun and felt very proud of herself. It was a joy to see!
Coral Reef Restaurant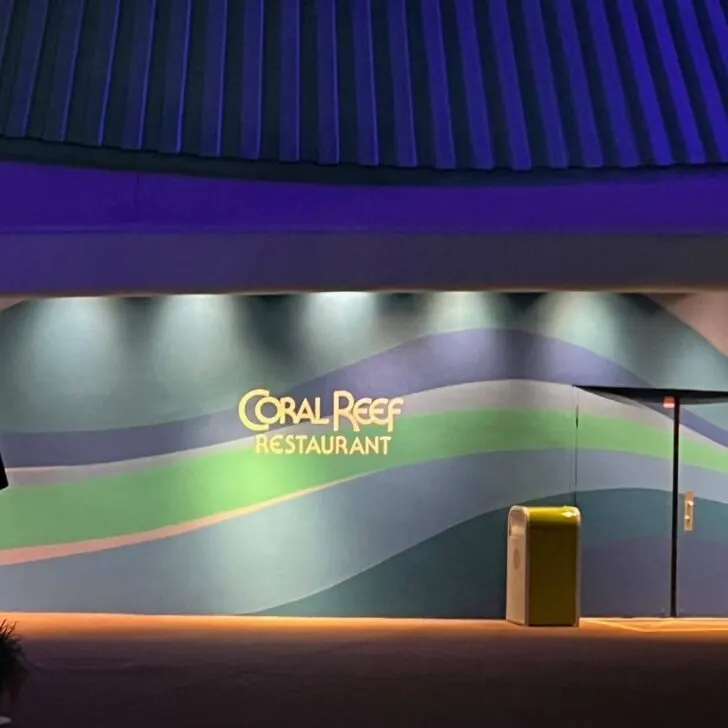 The Coral Reef Restaurant, located in World Nature near the Nemo ride, offers a unique dining experience.
The restaurant has massive aquariums filled with different kids of fish, sharks, sea turtles, and sometimes even a scuba diver!
The food is delicious, and the atmosphere is serene. Your toddlers will love pointing and naming the different sea creatures they see swimming by.
The restaurant is quite dark, so it might not be the best option if your little one is afraid of the dark.
Chip 'n' Dale's Harvest Feast at Garden Grill Restaurant
The Garden Grill Restaurant has character dining with Mickey Mouse, Pluto, Chip 'n Dale, and Goofy.
Plus, the restaurant rotates slowly, so you get to see different scenes from the Living with the Land boat ride.
The food is served family style, so you and your littles can taste a little bit of everything.
Space 220 Restaurant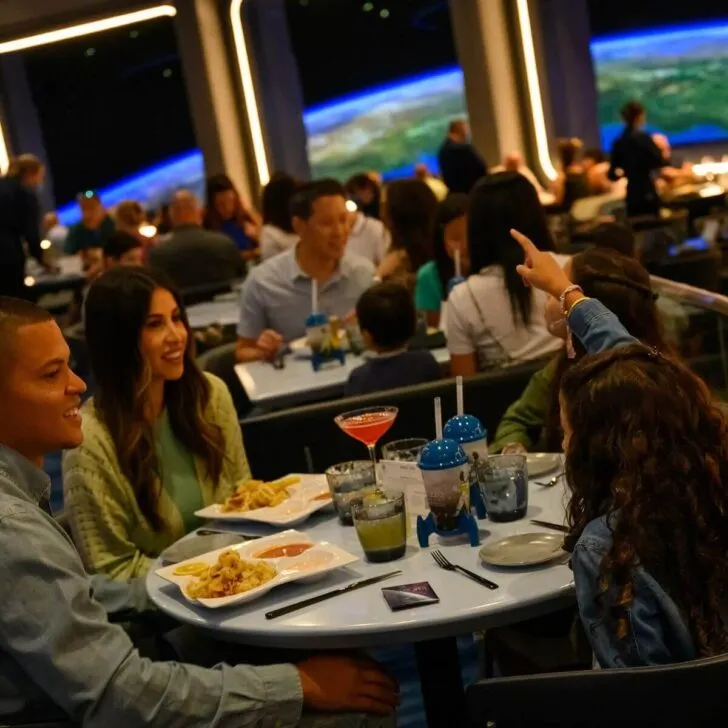 Located next to Mission: SPACE, the Space 220 Restaurant offers a unique dining experience with a ride to "space" and panoramic views of the solar system and galaxy.
Your toddlers will love the immersive atmosphere and the intergalactic food. This is a must-do for future astronauts!
Best things to do at Epcot for toddlers
Now onto the biggest question – what are the best attractions and rides at Epcot for toddlers?
Awesome Planet
Located in the land pavilion, this 10-minute film focuses on planet Earth and the need for humans to protect it.
Kids that are interested in conservation and outdoorsy stuff will enjoy the beautiful footage, as well as the sensory effects of wind, water, and other weather-like effects.
Beauty and the Beast Sing-Along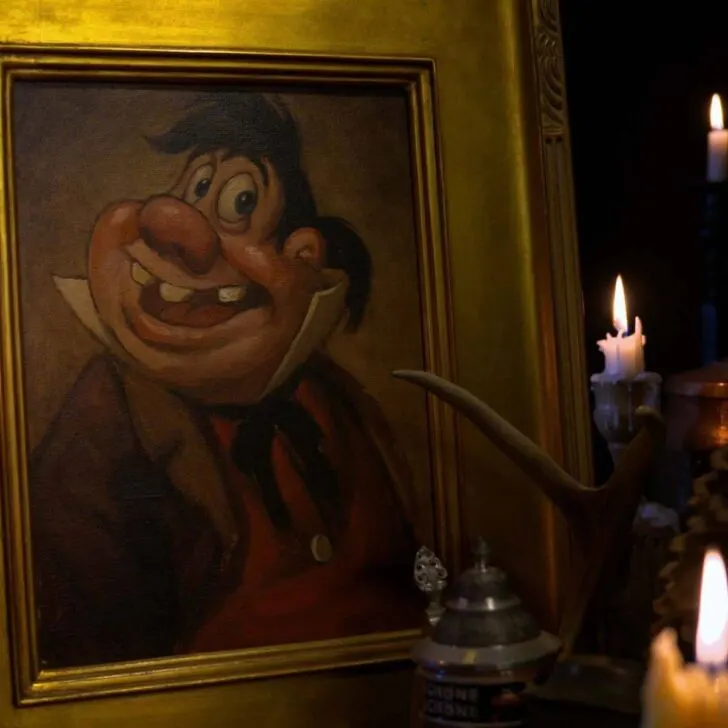 The Beauty and the Beast Sing-Along, located in the France pavilion, is a fun way to watch scenes from the classic animated film.
The 15-minute film is packed with popular songs from the movie with the lyrics captioned along with it, encouraging viewers to, well, sing along.
Your toddlers will love seeing Beauty and the Beast on the big screen, as well as participating along with the songs.
Browse the galleries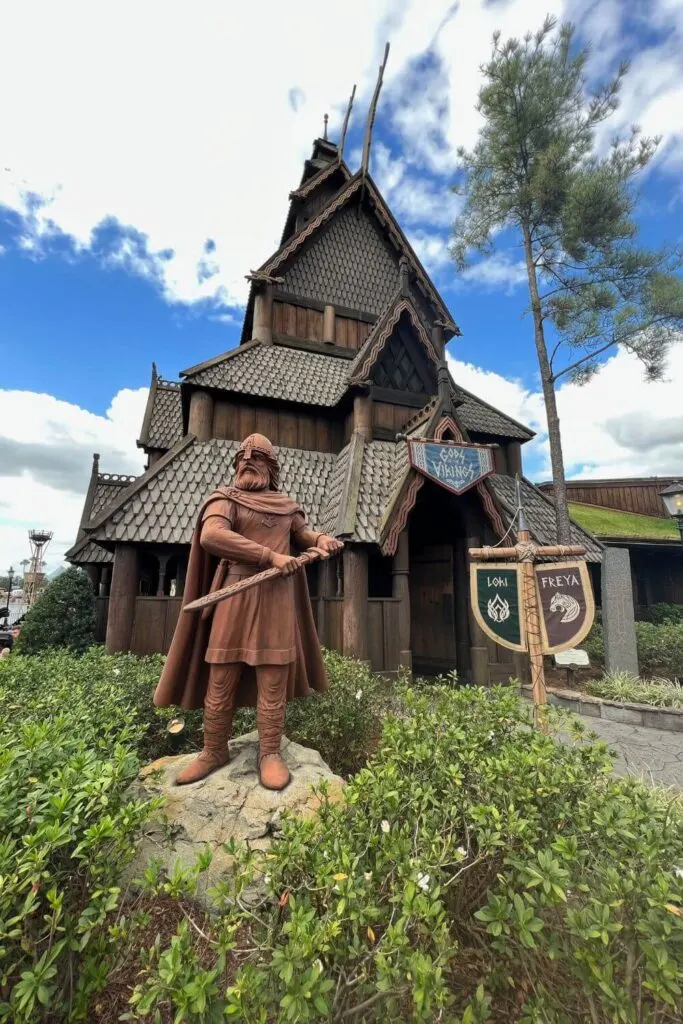 Several of the pavilions in the World Showcase have art and cultural galleries that some toddlers will enjoy visiting.
At the Bijutsu-Kan Gallery in the Japan Pavilion, there's an exhibit on Japan's kawaii craze, complete with lots of Hello Kitty and Sanrio characters.
Marvel tots will enjoy the Stave Church Gallery in the Norway pavilion. It teaches about the mythology behind some of the characters like Loki and Thor.
The American Heritage Gallery in the USA pavilion has some fascinating artifacts from a variety of indigenous populations in the US.
At the China pavilion is the House of Whispering Willows gallery, where you can see artifacts from Shanghai Disneyland.
Tots who enjoyed Pixar's Coco will love the Mexican Folk Art Gallery in the Mexico pavilion and all of its colorful statues and artwork.
At the Gallery of Arts and History in the Morocco pavilion, tots can learn more about Moroccan art, life in the Sahara desert, and extreme races in the desert.
Bruce's Shark World
Bruce's Shark World, located in The Seas with Nemo & Friends, offers a fun and interactive space where tots can learn about sharks.
Plus there's usually a Photopass photographer set up to help take photos in guests peeking out of Bruce's mouth.
My niece was so busy checking everything out that it took us a few minutes to convince her to stop for a bit to snap a few photos!
Disney and Pixar Film Festival
The Disney and Pixar Film Festival shows classic and new shorts featuring our favorite characters – all in 4D.
Tots will love being able to experience their favorite short films in a new way!
The "festival" is 18 minutes long, so it's a great spot when you need an air conditioning break, as well.
Disney Kidcot Puzzle Hunt
Another fun Play Disney Parks app game is the Disney Kidcot Puzzle Hunt.
Each World Showcase pavilion has a Kidcot Fun Spot where kids can get a free activity card that teaches them about that country's culture.
It's a fun way to get kids excited about learning about different cultures around the world in between rides and character meet-and-greets.
DuckTales World Showcase Adventure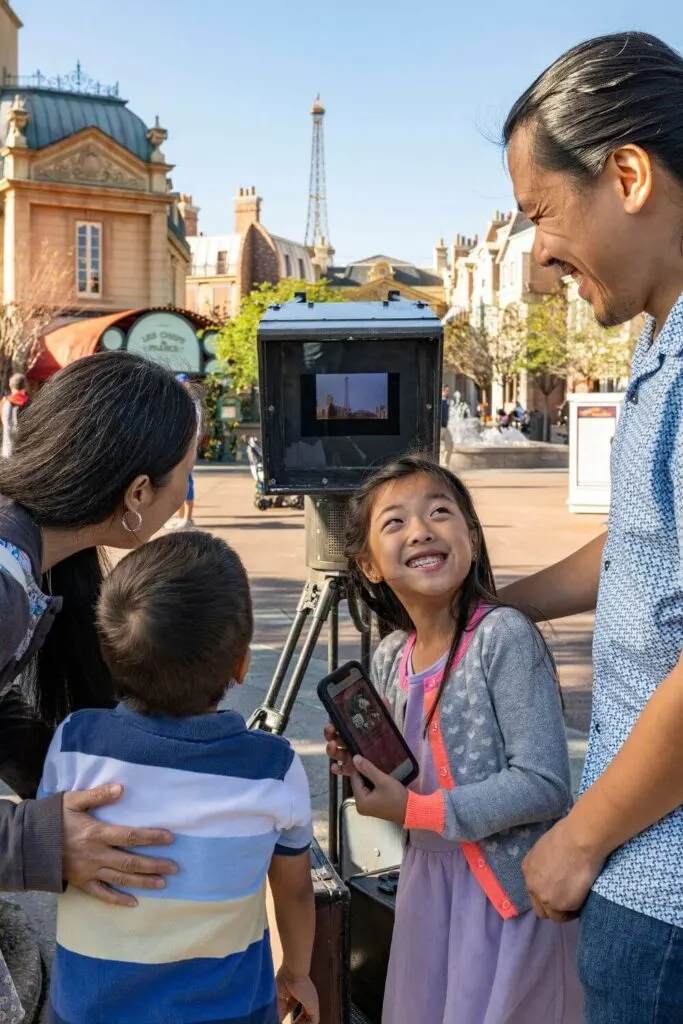 The DuckTales World Showcase Adventure is an interactive scavenger hunt around the World Showcase pavilions with Scrooge McDuck, Huey, Dewey, Louie, and Webby.
The game is played using the Play Disney Parks app and finding treasure in seven of the World Showcase pavilions by figuring out clues.
Think of it like Blues Clues, but Disney's version!
EPCOT Forever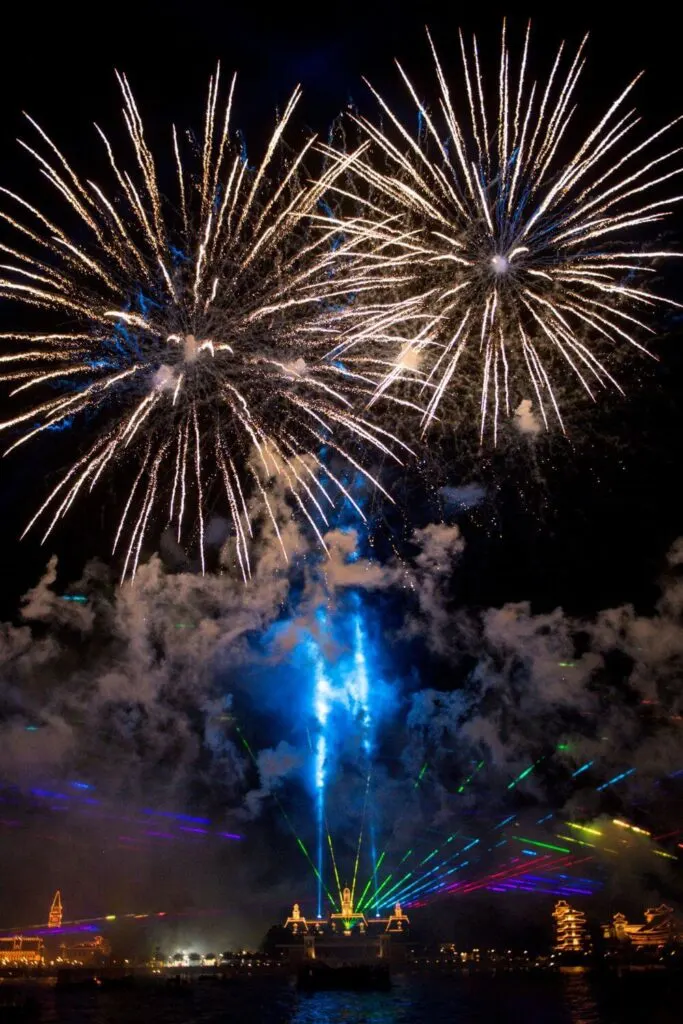 The EPCOT Forever show features fireworks, lasers, and music celebrating Epcot's history and future.
This nighttime show only takes place once a night, shortly before the park closes, so many tots will miss this due to bedtime. But those that are able to stay up for it will sure enjoy this colorful show!
Frozen Ever After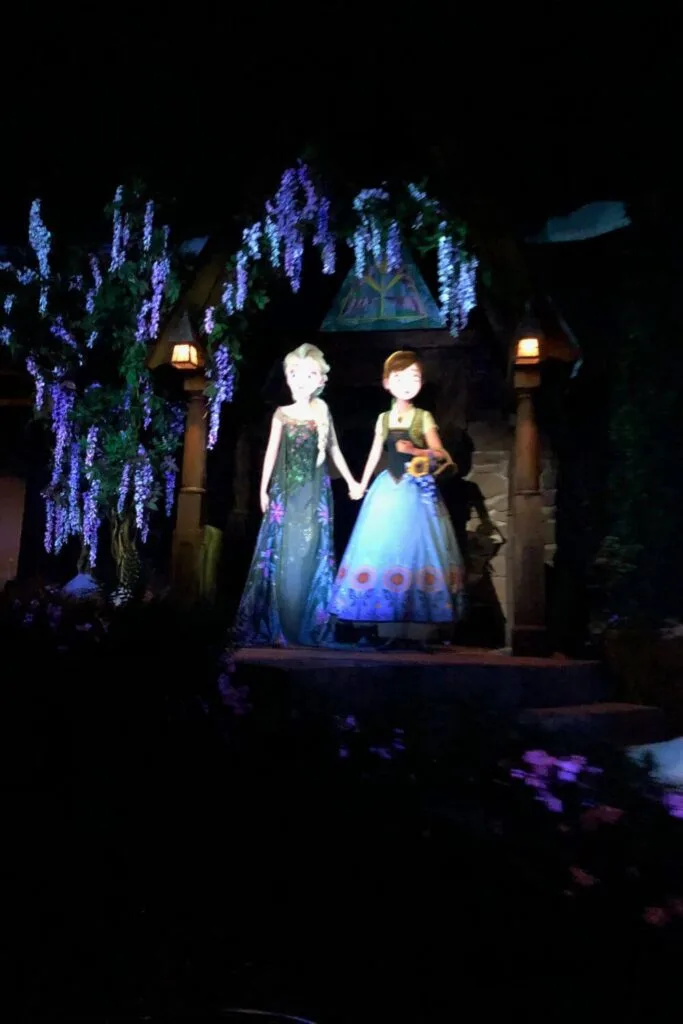 Frozen Ever After is a boat ride located in the Norway pavilion that features the Frozen characters and songs.
Your toddlers will love seeing Anna, Elsa, Olaf, and friends in an icy and magical adventure.
The ride itself is slow and dark, so some tots might be a little apprehensive if they are afraid of the dark. But I bet once they see their Frozen pals, all will be forgotten about the dim lighting!
ImageWorks – The "What If" Labs
Located in the exit area after Journey into Imagination with Figment, this space includes different kids of games and experiences that test your senses and, of course, your imagination.
It's a great way to let toddlers take the lead in exploring what interests them.
Journey into Imagination with Figment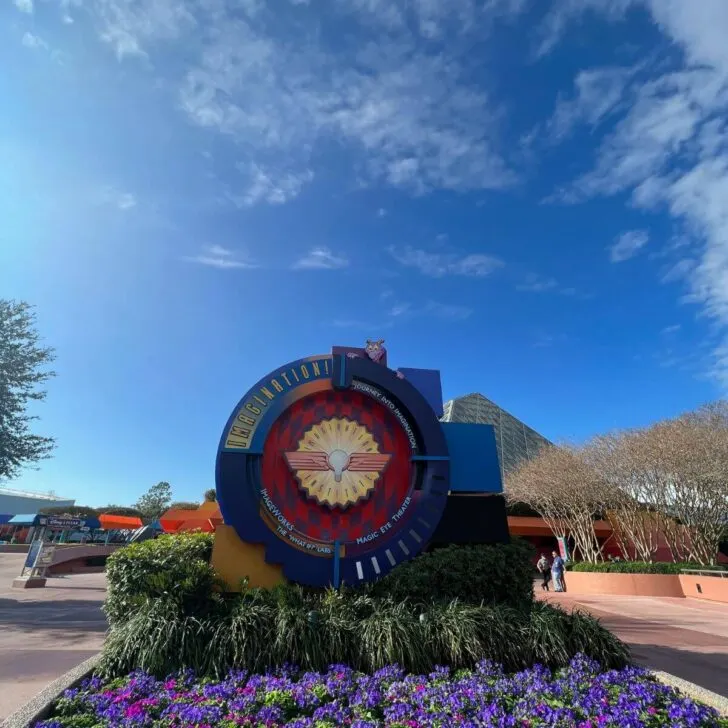 Located in the Imagination pavilion, this fun ride teaches guests about the 5 senses and how they play into imagination.
It features a character that is unique to Disney World, Figment the purple dragon, that toddlers are sure to obsess over (like my niece did when she was first introduced to him as a tot)!
Journey of Water – Inspired by Moana
This attraction is not open to the public yet, but has been running previews for cast members and invited guests. However, it is scheduled to open by the end of this year!
Luckily the previews don't prevent any filming or sharing on social media, so I've seen quite a few videos of it so far – and it looks like a toddler gold mine!
It's a walk-through attraction that teaches you about water with a dry path and a wet path (as in, you'll get wet!).
I can't wait for this to open so I can explore it on my own and bring you more information!
Living with the Land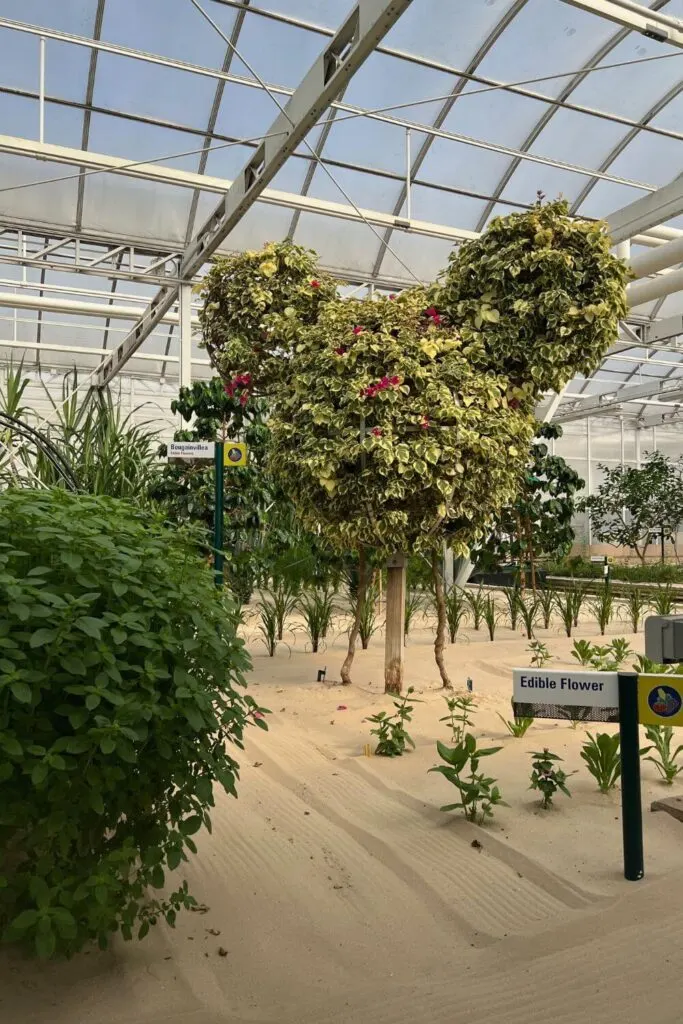 One of the most underrated rides at Epcot is Living with the Land.
Located in the Land pavilion in World Nature, this slow boat ride showcases different agricultural innovations and technologies.
You even get to see different plants, fruits, and vegetables that are grown for use by restaurants throughout the resort, such as Garden Grill.
Mission: SPACE Advanced Training Lab
While Mission: SPACE itself is not a ride for toddlers, the Advanced Training Lab is open to all heights and ages.
This space includes all kids of fun activities and games themed around space. It's perfect for a budding astronaut!
Project Tomorrow
Located in the exit area after the Spaceship Earth ride, Project Tomorrow is filled with games and activities that each about different technology and inventions we might see in the future.
Tots will love the chance for a few minutes of imaginative play while at the parks.
Remy's Ratatouille Adventure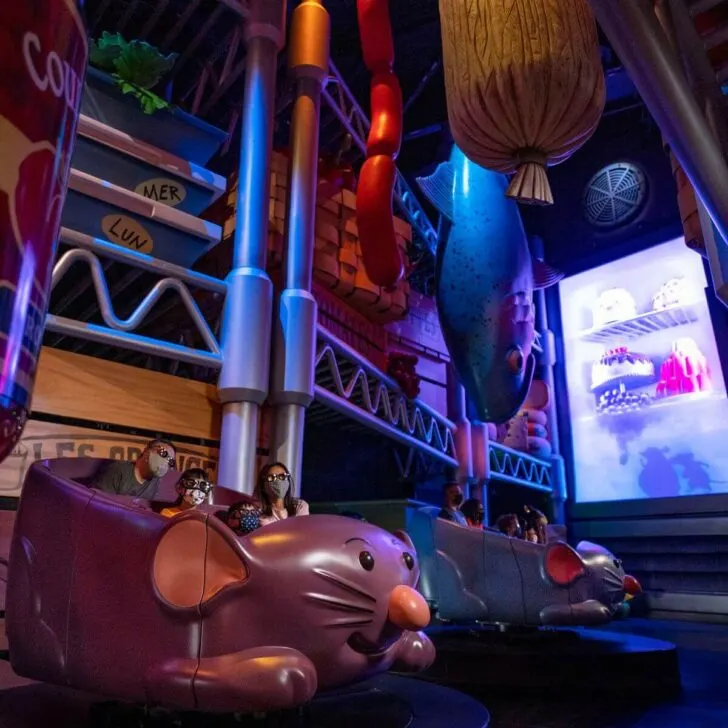 One of Epcot's newest rides is Remy's Ratatouille Adventure in the France pavilion.
This fun ride takes you on a wild ride through Gusteau's restaurant, giving the illusion that you've shrunk down to the size of Remy and his friends!
It's super imaginative and toddlers will absolutely love the silliness of this ride.
SeaBase Aquarium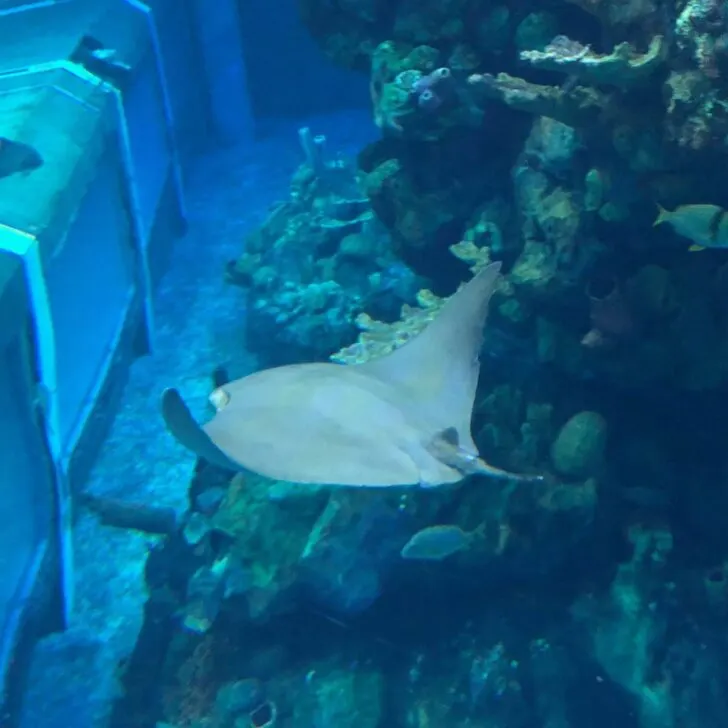 SeaBase Aquarium is a 5.7 million gallon aquarium that showcases a variety of different marine animals, such as sea turtles, sharks, manatees, and many different types of fish.
Plus, several times a day you can catch cast members feeding some of the animals. Times vary for this activity, so ask a cast member at SeaBase as it is not posted in the My Disney Experience app.
Spaceship Earth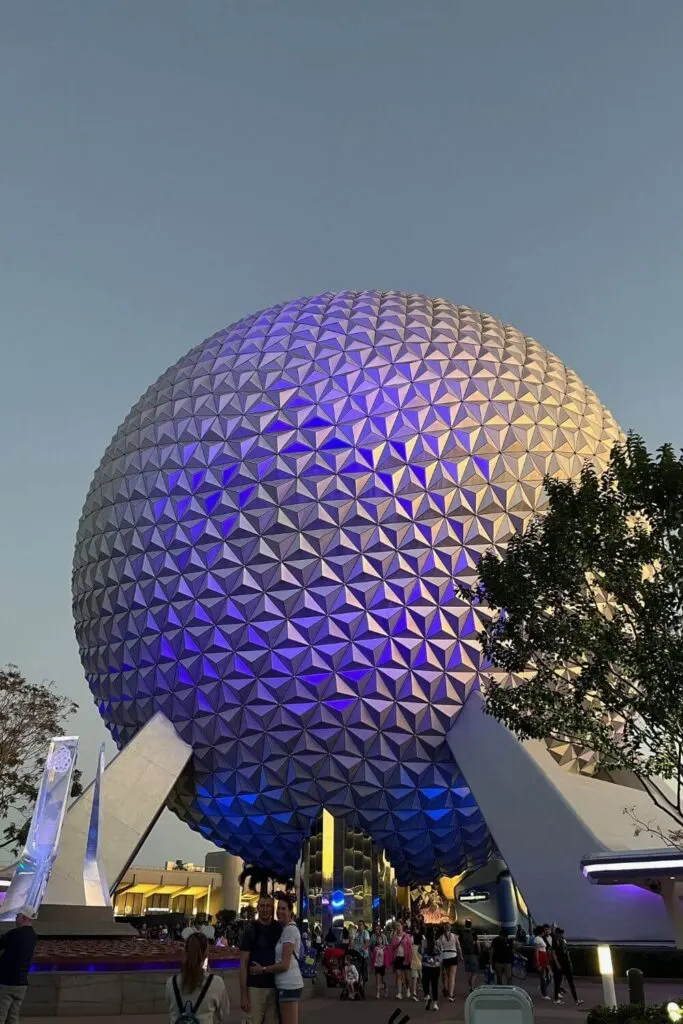 Spaceship Earth is a slow-moving ride that takes you on a journey through the history of human communication.
The subject matter might be too old for most tots, but sometimes they really just enjoy sitting on a ride and looking at things, even if they don't fully understand it.
Turtle Talk with Crush
Turtle Talk with Crush is an interactive show where Crush, the sea turtle from Finding Nemo, talks and interacts with the audience.
This one is an absolute hit with toddlers that love to ask Crush silly questions.
Meet characters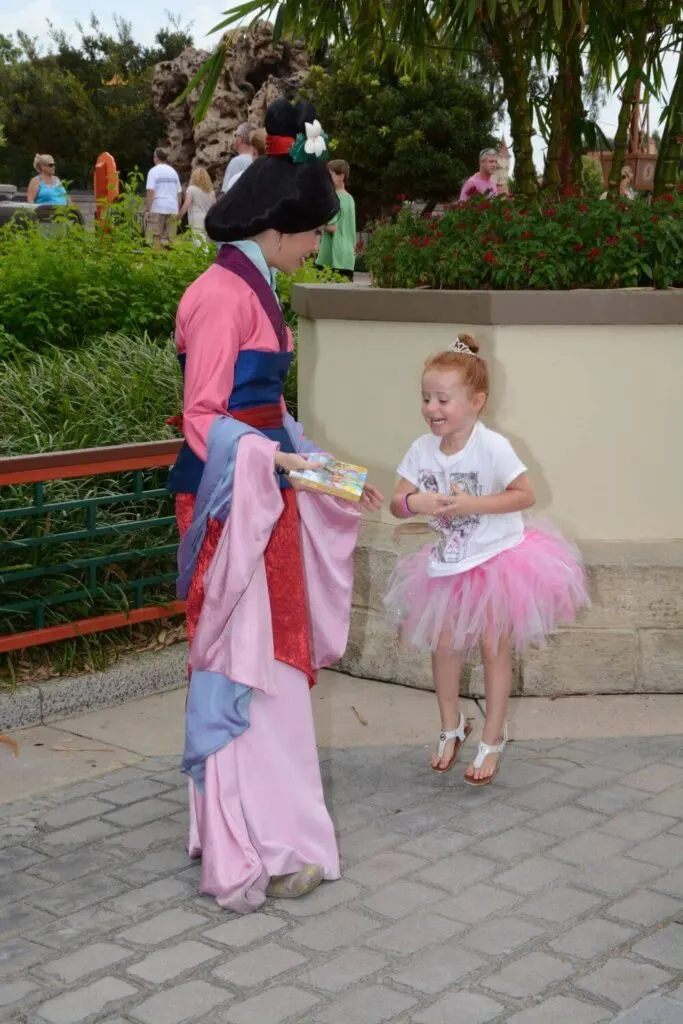 Epcot has several character meet and greet spots, where your toddlers can hug and take photos with their favorite Disney and Pixar characters.
Many of the characters meet up in the World Showcase that best represents their culture, which is a fun way for kids to connect what they learn about at the Kidcot Fun Spots.
All character meet-and-greet times are posted in the My Disney Experience app. Be sure to check them as many of these meetups run in short spurts, rather than all day.
Epcot World Showcase characters
At the UK pavilion, you can meet Alice from Alice in Wonderland. I've seen Mary Poppins meet up there, as well, and rumor has it that she'll be back again at some point this year.
At the France pavilion, you can meet Princess Aurora from Sleeping Beauty, as well as Belle (in her provincial dress!) from Beauty & the Beast.
In the Morocco pavilion, you can meet Princess Jasmine. Sometimes Aladdin will join her, too!
At the Germany pavilion, you can meet Snow White, and at the China pavilion you can meet Mulan. When my niece was a toddler Mulan was one of her favorite meet-and-greets!
In the Norway pavilion, you can meet the royal sisters, Anna and Elsa, from Frozen.
And lastly, you can meet Donald Duck in his outfit from The Three Amigos.
Other character meet-and-greets at Epcot
There are also meet-ups outside of the World Showcase!
Inside the Disney and Pixar Short Film Festival, you can meet a classic character. It's usually Mickey Mouse, but occasionally it's a different character.
Throughout the day, you can meet Minnie Mouse and Goofy near the main entrance.
Inside Image Works, you can meet Joy from Pixar's Inside Out. We've also met Sadness from Inside Out and Baymax from Big Hero 6 here, but unfortunately they are no longer a permanent meet-and-greet.
Just before the World Showcase begins, you can meet Pluto under the gazebo with the different pavilion artwork.
Lastly, Disney has announced that Figment will be joining Epcot's roster of meet-and-greets in Summer 2023 at the Imagination Pavilion.
Considering it's August 23 as I write this, it's possible that it will open without an official date announced ahead of time – or it could even be pushed to fall.
But as soon as I hear more, I'll be sure to update this post. My niece fell head over heals with that silly purple dinosaur during her first visit to Epcot as a toddler – and I bet your tot will love him too!
Watch a performance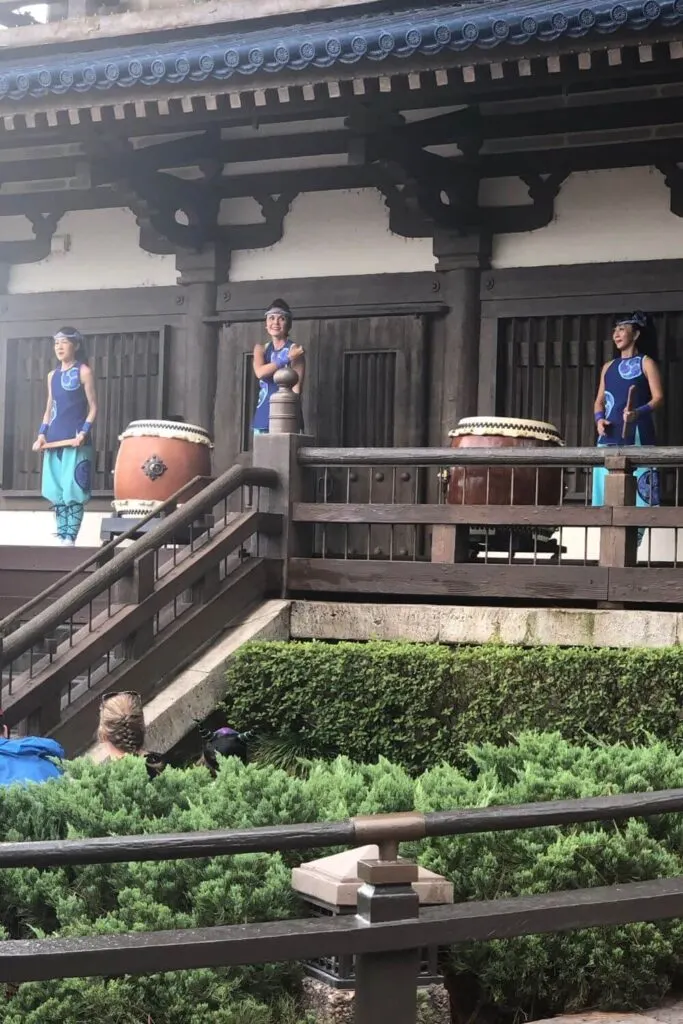 Throughout the park you can catch a variety of musical and theatric performances. Some are available year-round, while others are specific to an ongoing festival.
At the Canada pavilion, you can catch various Canadian musical acts at the Canada Mill Stage.
The Japan pavilion is home to Matsuriza, a group performing a type of Japanese drumming known as Taiko. This show is currently on hold, but expected to return!
In the USA pavilion, you can watch the a cappella group known as Voices of Liberty.
At the Italy pavilion you can watch Sergio the juggling mime provide entertainment and laughs several times a day.
In the Germany pavilion, you can listen to musicians playing German hits at the gazebo stage.
Over at the Mexico pavilion, you can listen to Mariachi Cobre play Mexican folk music or Marimba de las Américas play music from a variety of Latin American countries.
Last but not least, over in World Discovery, you can watch a group of drummers known as JAMMitors use trash cans and other unconventional items as instruments. This one always draws a big crowd – especially families with little kids!
Watch an educational film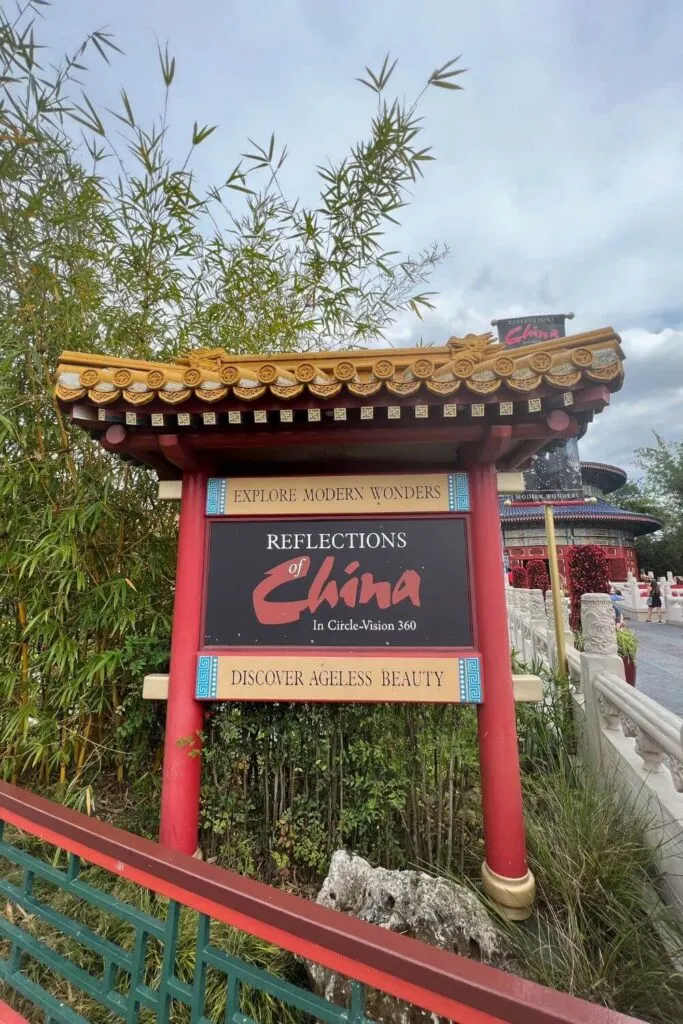 Several of the pavilions in the World Showcase have educational films about their people, land, and culture. It's a relaxed, but informative way to learn more about the country you're visiting.
Older tots might enjoy watching if they are already expressing an interest in the other attractions the pavilion has to offer.
Currently the educational films offered are Canada Far and Wide, Impressions de France, and Reflections of China.
What are your favorite things to do at Epcot with toddlers?
As you can see, visiting Epcot with your toddlers is a memorable and fun experience. It's definitely not just a park for adults!
With a little bit of planning and creativity, you can enjoy all the attractions, shows, and delicious food this park has to offer with tots in tow.
Whether you want to meet Disney characters, explore different cultures, or immerse yourself in space or under the sea, Epcot has something for every kiddo.
For more tips on visiting Disney World with toddlers, check out these posts:
---
About the author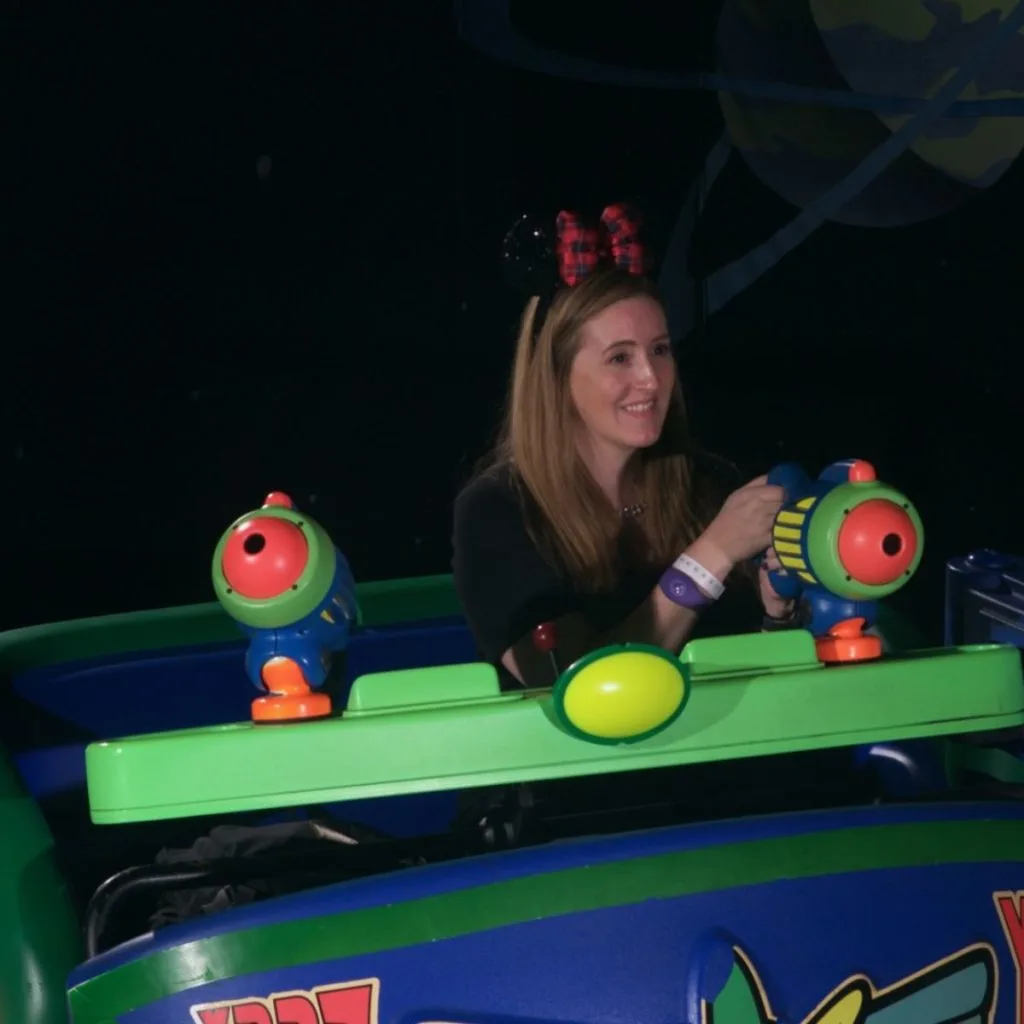 Meg Frost is the creator of The Park Pixie, where she covers Disney World, Disney+, and Disney fandom.
She holds an M.A. in Journalism from Northeastern University and B.S. in Communication & American Studies from University of Miami.
---