Whether it's your first time or fifteenth trip to Walt Disney World resort's Epcot theme park, you may not know about its secret entrance gate.
The Epcot International Gateway entrance is key to having a magical day at this park, so let's jump into everything you need to know about this hidden gem.
What is the Epcot International Gateway?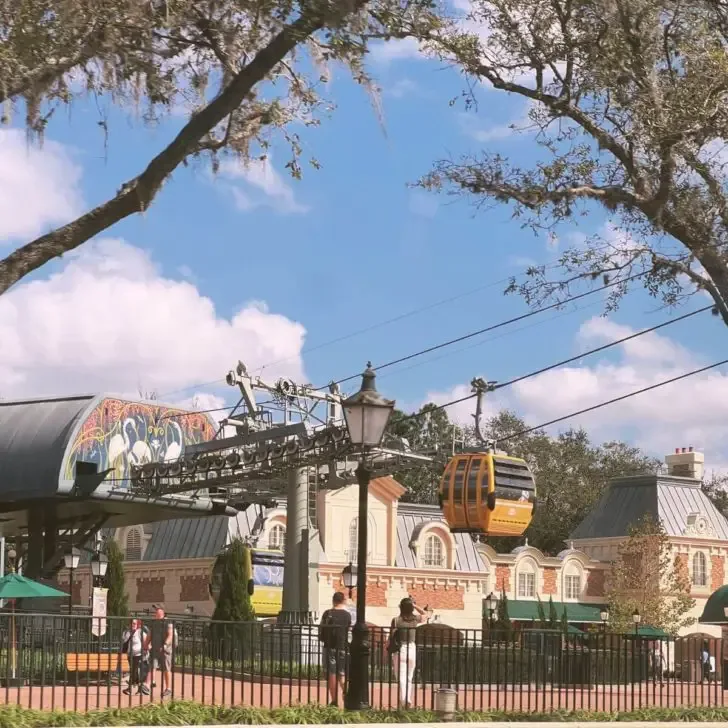 The Epcot International Gateway is a secret entrance gate for Epcot that's located opposite the main entrance.
It is nestled between the France pavilion and the World Traveler gift shop in Epcot's World Showcase.
The Epcot International Gateway is available from opening hours to approximately 1 hour after closing time. Therefore, hours vary daily.
But to give an example, if the park opens at 8 AM and closes at 9 PM, the Epcot International Gateway will be open from 8 AM to 10 PM.
Pros and cons for the Epcot International Gateway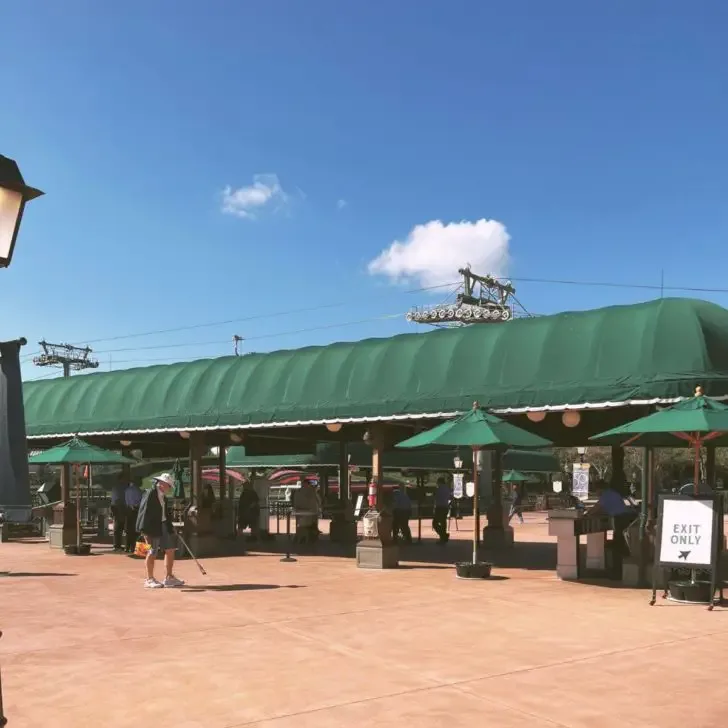 One of the biggest pros of the Epcot International Gateway is its proximity to the France pavilion in Epcot's World Showcase.
If you're keen to ride Remy's Ratatouille Adventure, you'll be able to quickly get in line from this entrance gate.
For an optimal experience, line up at this gate up to an hour before it opens so you can make a bee line for Remy as soon as the park opens!
It's also perfect for dipping out of the park after the evening fireworks or nighttime show, assuming you post up somewhere along the World Showcase Lagoon near France.
Yet another benefit is that there is a walkway from this entrance to several hotels, as well as Disney's BoardWalk entertainment area.
So if you're not done drinking around the world or haven't stuffed yourself with enough delicious food, there will be some options at the BoardWalk, even after the park closes.
Lastly, if you're planning on park hopping to or from Hollywood Studios, you can do so via the Skyliner or friendship boats, both of which are right outside the gateway.
One of the cons is that the gateway is small, so it does get crowded during peak hours, such as rope drop and close.
Another con is that it's located on the opposite side of the park from Epcot's hottest ride at the moment: Guardians of the Galaxy: Cosmic Rewind.
For now, this shouldn't pose an issue since you can only access this ride via virtual queue and lightning lane.
However, if Disney ever opens up a standby line, you'll want to use the main entrance so you can get in line quickly after rope drop.
Walt Disney World Resorts near the Epcot International Gateway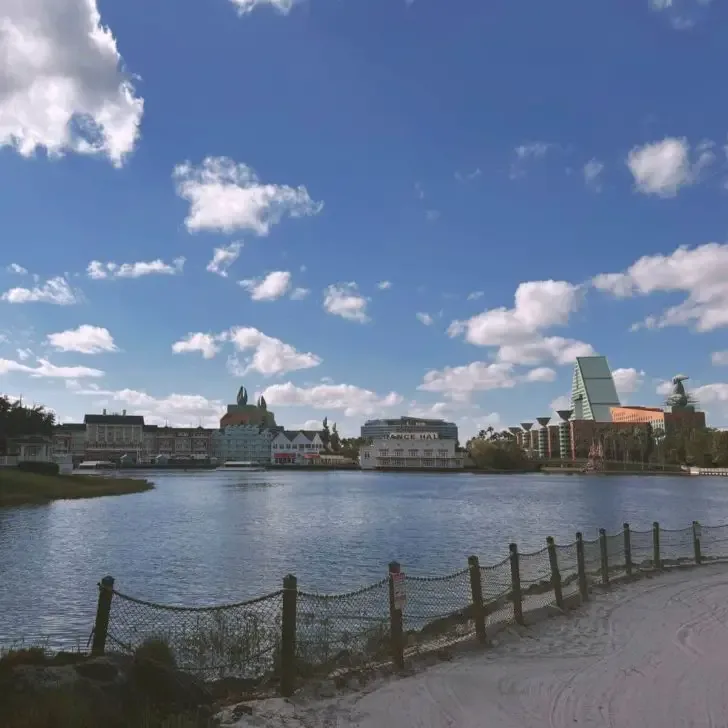 The Epcot International Gateway is within walking distance from the following resorts:
Disney's BoardWalk Inn & Villas
Disney's Yacht & Beach Club Resorts
Walt Disney World Swan & Dolphin resorts
Walt Disney World Swan Reserve
Guests staying at any of these resorts will be able to take advantage of extra evening hours.
Extra evening hours for Epcot usually happen on Wednesday nights, but are subject to change so be sure to check park hours before making plans.
This back entrance also has Skyliner access, so it can be easily reached from resorts on the Skyliner, such as:
Art of Animation Resort
Disney's Caribbean Beach Resort
Disney's Pop Century Resort
Disney's Riviera Resort
Transportation options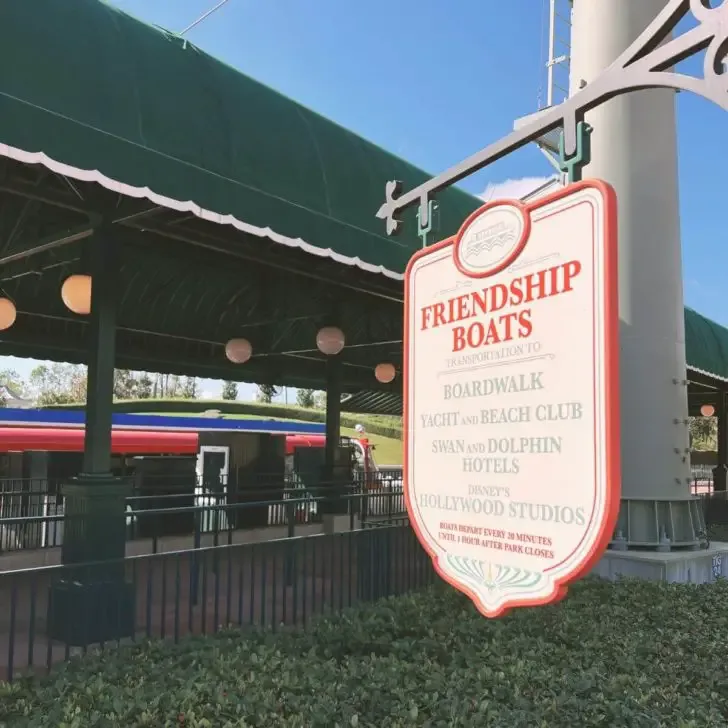 Epcot's International Gateway transportation options include the Friendship boats, Disney Skyliner, and walking.
There is no parking at this gate, nor can it be accessed directly by ride share or taxi.
However, if you are arriving by car or Minnie van, you can head to one of the Epcot area resorts and then make your way on foot or boat.
Once you arrive, you'll need to walk up a slight hill that will drop you into the World Showcase.
Friendship boats
The Friendship boats are a FREE ferry service that take you from the Epcot International Gateway to several locations, such as Disney's Hollywood Studios, Disney's Beach Club resort, and Disney's BoardWalk.
They run every 20 minutes, so if you're not in a rush, this can be a fun way to get around!
Disney Skyliner
The Skyliner is an air gondola system that connects Epcot, Disney's Hollywood Studios and several resorts.
One of the Skyliner stations is directly outside the Epcot International Gateway, making the Skyliner a great way to get to Epcot!
To learn more about this mode of transportation, check out my post about the Disney Skyliner transportation system.
ECV, wheelchair, and stroller rentals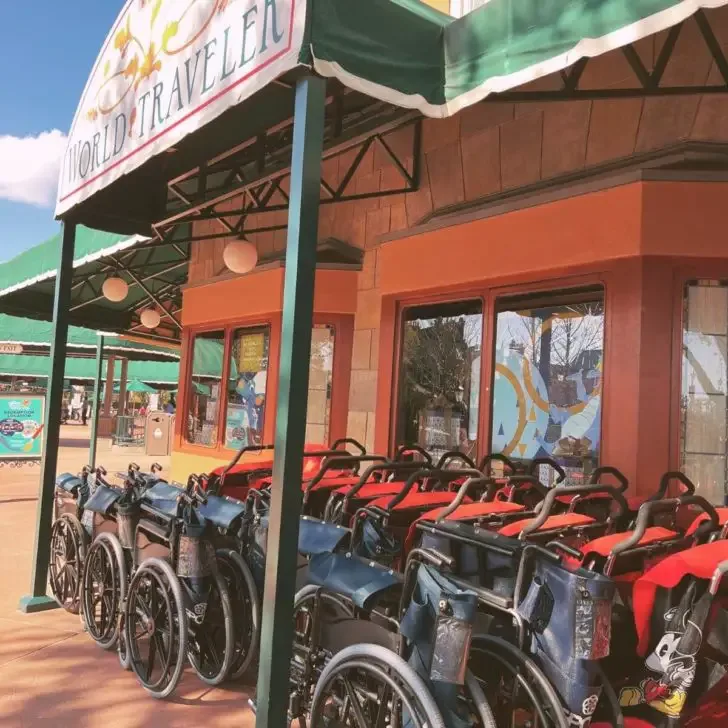 Although it is not the main entrance, it is possible to rent electric conveyance vehicles (ECVs), wheelchairs, and strollers at the Epcot International Gateway.
If you're planning on renting wheelchairs or strollers from here, please note that these rentals are first-come, first-served. They are limited in availability so if you see one available then rent it quickly!
Wheelchair rental prices start at $12 per day. If you rent for the duration of your stay, you'll get a discount at $10 per day.
ECVs are available to rent at $50 per day, plus a $20 deposit. There is no length-of-stay discount for ECVs.
Lastly, single and double strollers are also available for rent at this gate.
Single strollers are $15 per day or $13 per day if you pay for your length of stay. Double strollers are $31 per day or $27 per day if you pay for your length of stay.
Locker rentals
Guests can rent lockers to the left of the entrance gate. The cost is $10-$15 per day and can be paid in person using cash, credit card, MagicBand, or Disney gift card.
If paying by cash or credit card, you can pay at the kiosk next to the lockers.
However, if you wish to pay by MagicBand or Disney gift card, you'll need to pay inside the World Traveler gift shop.
Prices are as follows:
Small lockers are 12 x 10 x 17 inches and cost $10 per day
Large lockers are 15.5 x 13 x 17 inches and cost $12 per day
Jumbo lockers are 17 x 22 x 26 inches and cost $15 per day
Will you use the Epcot International Gateway entrance on your next visit?
We hope that you've enjoyed reading about our favorite hidden entrance gate at Epcot and learned some fun facts.
Before you go, check out these posts to help you plan your Walt Disney World vacation:
---
About the author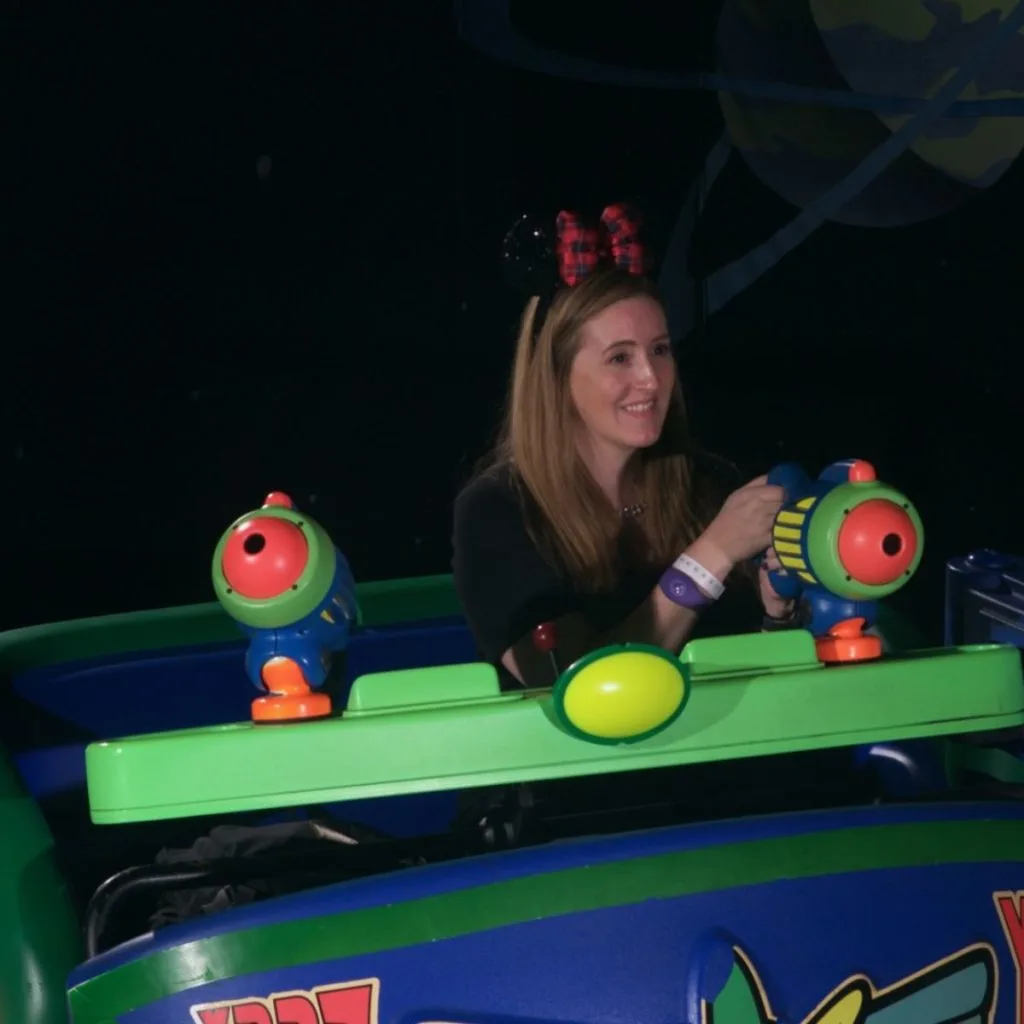 Meg Frost is the creator of The Park Pixie, where she covers Disney World, Disney+, and Disney fandom.
She holds an M.A. in Journalism from Northeastern University and B.S. in Communication & American Studies from University of Miami.
---