Planning a trip to Magic Kingdom with toddlers? Get ready for a wild adventure!
With so many attractions and activities to choose from, it can be challenging to pick and choose which attractions to visit, especially with little ones in tow.
Worry not! This guide to Magic Kingdom for toddlers will help you avoid meltdowns, make the most of your visit, and most of all, create lifelong magical memories.
Tips for visiting Magic Kingdom with toddlers
Magic Kingdom might be the most magical place on Earth, but that doesn't mean it's without challenges – especially with tots in tow.
Before I get into the best places to eat and must-do attractions, let's go over a few tips to help your visit go smoothly.
Use Genie+
To help plan your day and avoid long lines, use Genie+. While it is an added cost on top of park admission, it gives access to shorter lines.
And we all know lines are a toddler's favorite place for a meltdown. So if you have specific attractions you want to do, budget for this extra add-on.
Use sun protection
Bring sunscreen and hats to protect your little one's skin from the sun. If they are used to them, a pair of sunglasses might be a good idea too.
Stay cool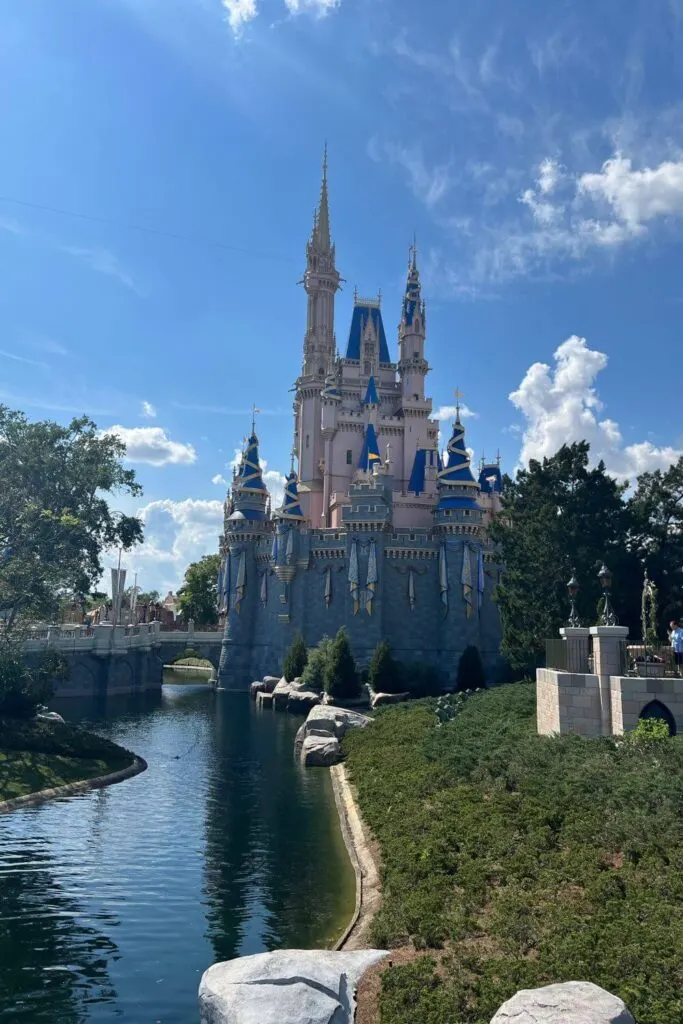 Stay cool with misting fans or cooling towels, like Frogg Toggs.
My niece had her own misting fan to help keep her cool and honestly, it kept her busy sometimes, too! Obviously only give a misting fan to your toddler if they are mature enough to hold on their own.
Take advantage of indoor attractions, even if they might seem boring, as they all have air conditioning.
Bring snacks and water
Bring snacks and water to keep your little ones fueled and hydrated throughout the day.
While there are plenty of places to buy snacks, having them on hand will help avoid hangry-ness from your little one.
I can't even count the number of times this came in handy with my niece's first visit as a tot!
Also bring a change of clothes and a swimsuit
Usually I recommend bringing a change of clothes in case of spills, splashes, or accidents.
But at Magic Kingdom, there's a splash pad, so a swimsuit and towel might also come in handy.
Plus, if you time it right, you can use the towel to sit on during parade times and then hit up the splash pad later in the day.
Utilize the Baby Care Center
Make use of the baby care centers located just off Main Street, next to The Crystal Palace. They offer a comfortable place for diaper and pull-up changes, nursing, and feeding.
Pace yourself
Pace yourself! Don't try to see everything all in one day or you'll end up wearing yourself (and your tot) out.
Instead, focus on a few must-see attractions and take breaks in between.
We made it a point to take a break in the middle of the day for a swim back at our hotel, as well as a nap.
It helped avoid crankiness and meltdowns and kept everyone energized. That applies for tots and adults!
Take advantage of rider swap
Take turns with your partner or group to ride the thrill rides, while the other stays with the little ones. This is a great way to get in some rides for the adults while your little one is napping in their stroller.
Alternatively, we took turns splitting up so that we each got one-on-one time with my niece while the other adults got to go on non-toddler friendly rides like Space Mountain.
Take time to resort hop
The Magic Kingdom is connected to several resorts on the monorail, making it super easy to visit some of Disney's nicest resorts without needing to stay there.
Take a break from the crowds and hit up a restaurant at one of the resorts, such as Chef Mickey's at the Contemporary, Best Friends Breakfast at 'Ohana in the Polynesian Village Resort, or 1900 Park Fare at the Grand Floridian, all of which are character meals!
We made it a point to hit up breakfast at Chef Mickey's before heading to Magic Kingdom one day.
It was a great way to ease into the day, fuel up, and avoid the rope drop craziness while still getting to the parks early enough to avoid super long lines.
Best restaurants for toddlers at Magic Kingdom
I'm sure I don't need to tell you that toddlers LOVE meeting characters at the park. Unfortunately it often means long waits in line no matter who you're meeting.
Character dining is a fabulous way to meet characters, eat some yummy food, and rest your feet.
Of all the restaurants and food carts in Magic Kingdom, the ones with character dining are my top recommendations on where to eat with tots.
So let's get into all that the Magic Kingdom has to offer in the way of character dining.
Be Our Guest
This fanciful spot boasts magnificent decor straight out of the beloved Beauty and the Beast tale and the food is just as extra!
Be Our Guest is open for lunch and dinner, but dinner is the prime time to go since it features the Beast. But in typical Beast fashion, you have to go to him instead of him making the rounds.
Some kids might be scared of the Beast, as my niece was, so keep that in mind if you decide to eat here.
On that note, I wish they would add Belle and perhaps other characters from the film, like Lumiere, Mrs. Potts, Chip, Gaston, and Lefou.
But I think it isn't done since Belle has a meet and greet attraction at the other end of Fantasyland. Perhaps in the future!
Cinderella's Royal Table
What better way to make your toddler's dream come true than taking them to dine in Cinderella's Castle?
Located in the heart of Fantasyland, Cinderella's Royal Table is not only a restaurant, it's an experience fit for your little prince or princess.
With its regal atmosphere and enchanting decor, your child will feel like they're living their very own fairytale.
Plus, the menu is perfect for tiny taste buds and the Disney princesses that make an appearance during the meal will leave your little one starry-eyed.
We took my niece here on her very first trip to Disney World as a toddler and she absolutely loved meeting so many princesses in one spot.
My mom, sister, and I, on the other hand, enjoyed the delicious food and resting our feet!
Our only mistake was booking our dining slot during Mickey's Not-So-Scary Halloween Party, when we should have been enjoying the party itself. At least we know for next time!
The Crystal Palace
For Winnie the Pooh fans, be sure to check out The Crystal Palace for breakfast, lunch, or dinner.
You'll enjoy a buffet-style meal while meeting Pooh, Tigger, Piglet, and Eeyore. How fun!
The Crystal Palace is centrally located just off of Main Street, behind Casey's Corner.
Best attractions and rides at Magic Kingdom for toddlers
Now that we have general tips and food out of the way, let's talk about the rides.
In my opinion, Magic Kingdom is the best when it comes to rides and attractions for tots between all the parks. So let's go over all there is to offer that your little ones will love.
Astro Orbiter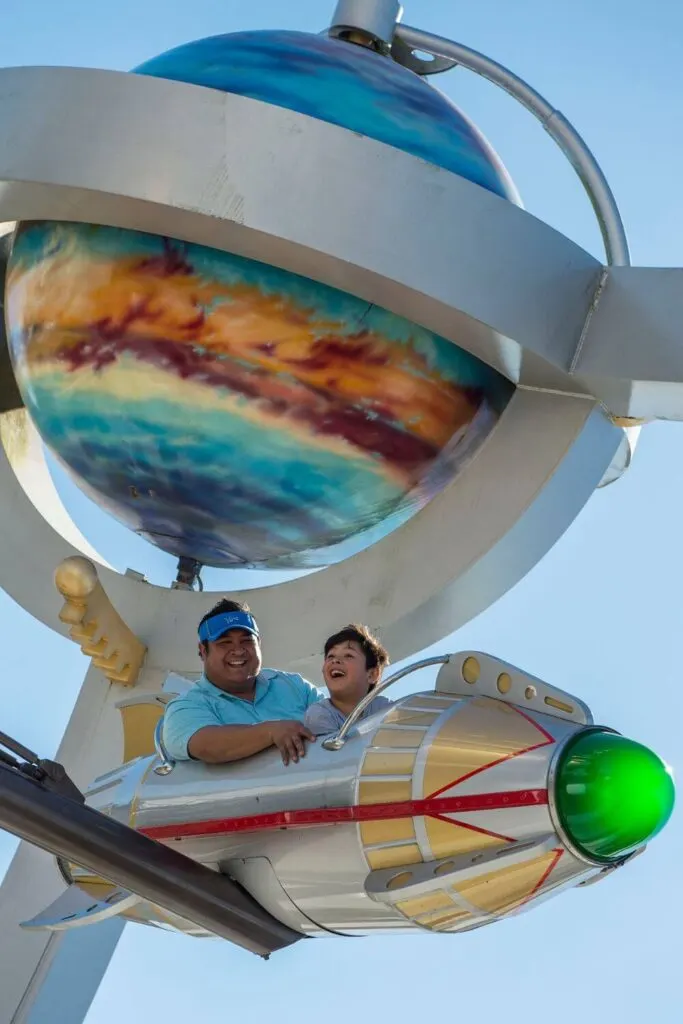 The Astro Orbiter is a thrilling ride that offers a panoramic view of the park from Tomorrowland.
Toddlers will love pretending to be astronauts as they soar above the park's skyline in a rocket ship.
Plus, there's no height restriction, so toddlers of any age can ride.
The Barnstormer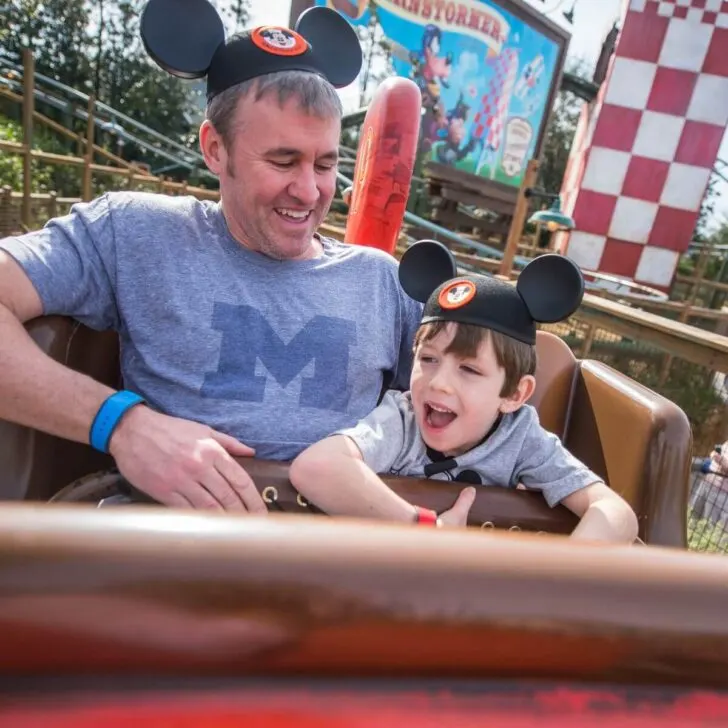 If your toddler is interested in thrill rides, the Barnstormer is the perfect first roller coaster for them.
They'll enjoy going fast on tiny hills, basically replicating the thrill of a coaster but on a tot's level.
Riders must be at least 35″ tall, so this one's for older tots, but I think most younger toddlers aren't quite ready for rides like this anyway.
Buzz Lightyear's Space Ranger Spin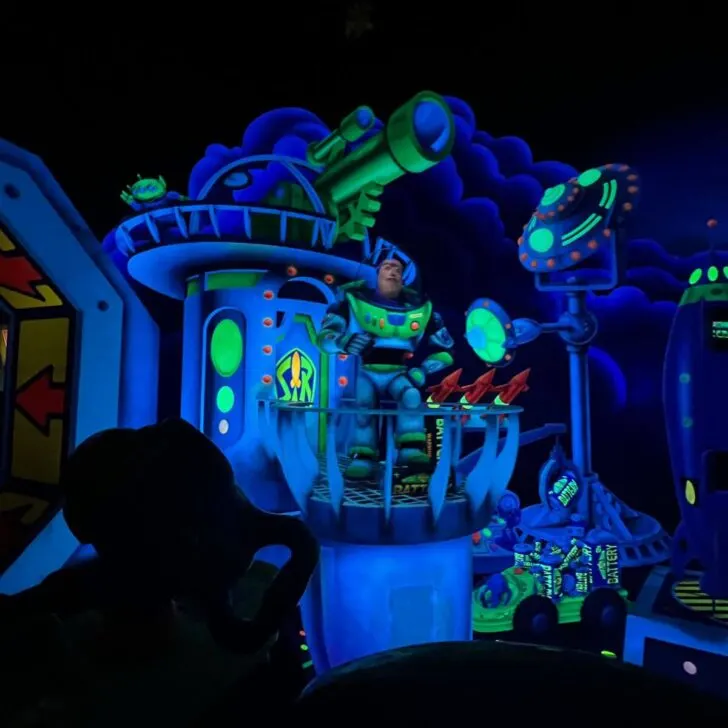 Buzz Lightyear's Space Ranger Spin is another popular ride in Tomorrowland that toddlers will love.
They'll get to ride through space and shoot lasers at targets, making it an entertaining and interactive experience.
The best part? Toddlers can ride with a parent or guardian, so they won't feel scared of the dark atmosphere or loud blaster noises.
I wish I could share a good picture from my niece's first time on this ride, but you can barely see her head over the controllers, haha.
Casey Jr. Splash 'n' Soak Station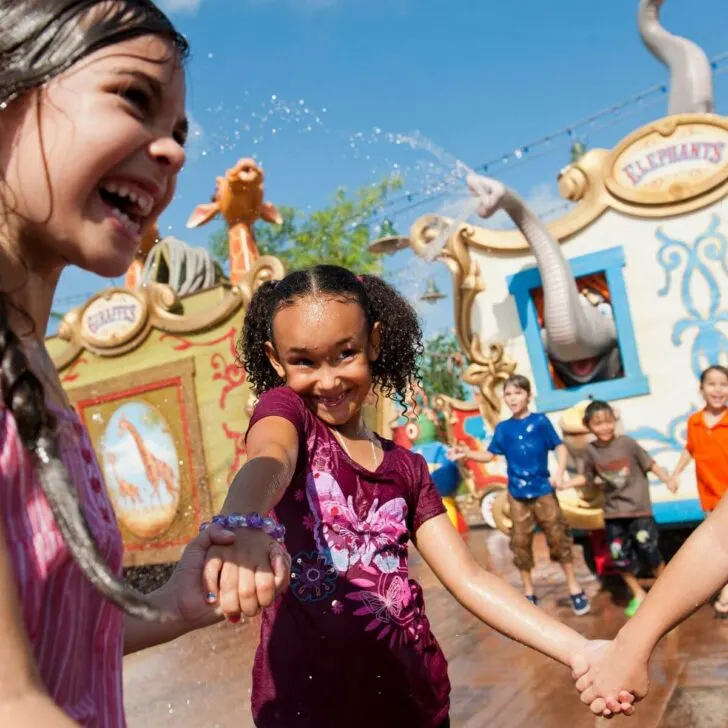 On a hot day, head over to Casey Jr. Splash 'n' Soak Station in Fantasyland. Toddlers will love splashing around in the water and getting refreshed.
This is where the swimsuit comes in handy or at the very least, an extra change of clothes! My niece is a little fish, so she really liked running around on the splash pad.
Casey's Corner Pianist
Just outside Casey's Corner on Main Street, you'll sometimes see a pianist playing classic tunes.
Grab some mini corn dogs and a refreshing drink and sit back while enjoying some live music.
Whether they groove in their seat while munching on their food or dance down Main Street, toddlers are sure to enjoy the performance.
Country Bear Jamboree
The Country Bear Jamboree in Frontierland is a fun audio-animatronic show that features a group of bears singing and playing music.
Toddlers will love the lively songs and colored lights. It's a great indoor activity that's perfect for when it's too hot or raining outside, too.
The Dapper Dans
The Dapper Dans are a barbershop quartet that performs all sorts of classic tunes. Toddlers will be captivated by their beautiful harmonies and stunning, colorful outfits.
The shows take place around the Main Street area. Check the My Disney Experience app for show times
Disney Adventure Friends Cavalcade
The Disney Adventure Friends Cavalcade is a parade that features all the beloved Disney characters.
Toddlers will love waving at Mickey, Minnie, and their favorite Disney friends as they parade through the park.
Check the My Disney Experience app for parade times.
Disney Festival of Fantasy Parade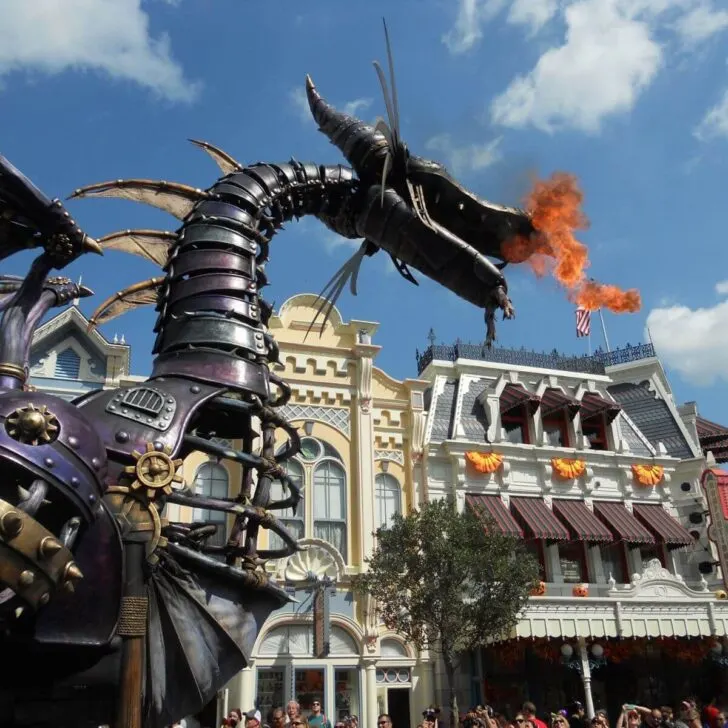 The Disney Festival of Fantasy Parade is a fantastic event that showcases stunning floats and characters.
Toddlers will love watching their favorite Disney characters come to life on the elaborate floats and they may even get to see a fire-breathing dragon!
This parade is longer and more elaborate (and crowded) compared to the Disney Adventure Friends Calvacade, but both are great for tots!
Check the My Disney Experience app for parade times.
Dumbo the Flying Elephant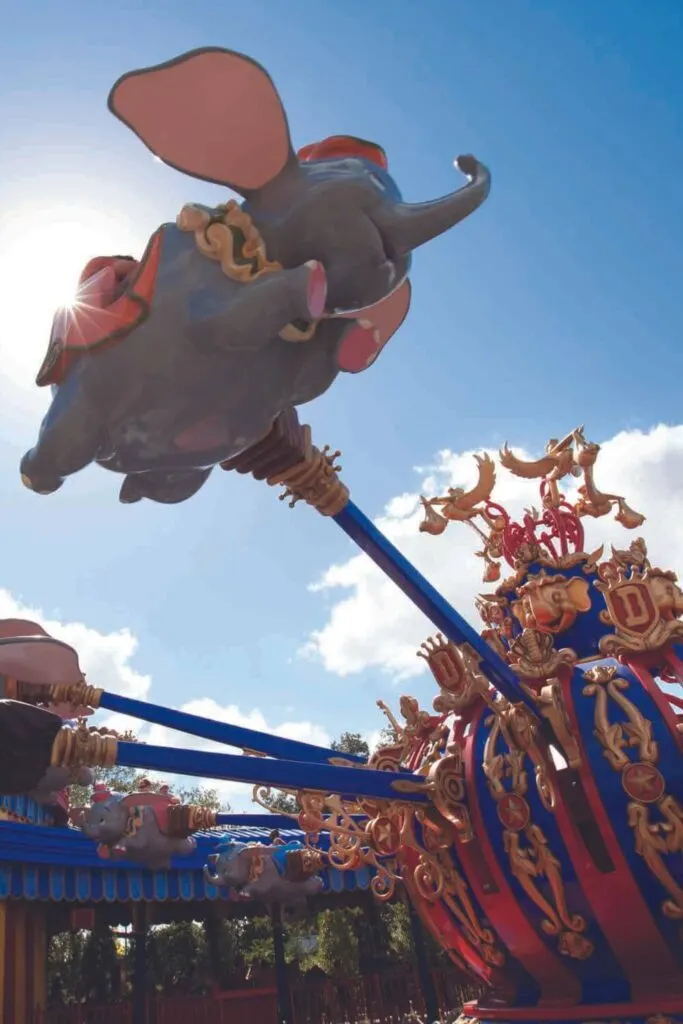 Dumbo the Flying Elephant is a classic ride in Fantasyland that toddlers will love.
They'll get to fly around on their own mini elephant, creating amazing memories in the meantime.
It's also one of the few rides in Magic Kingdom that doesn't have a height requirement, making it perfect for little ones.
Enchanted Tales with Belle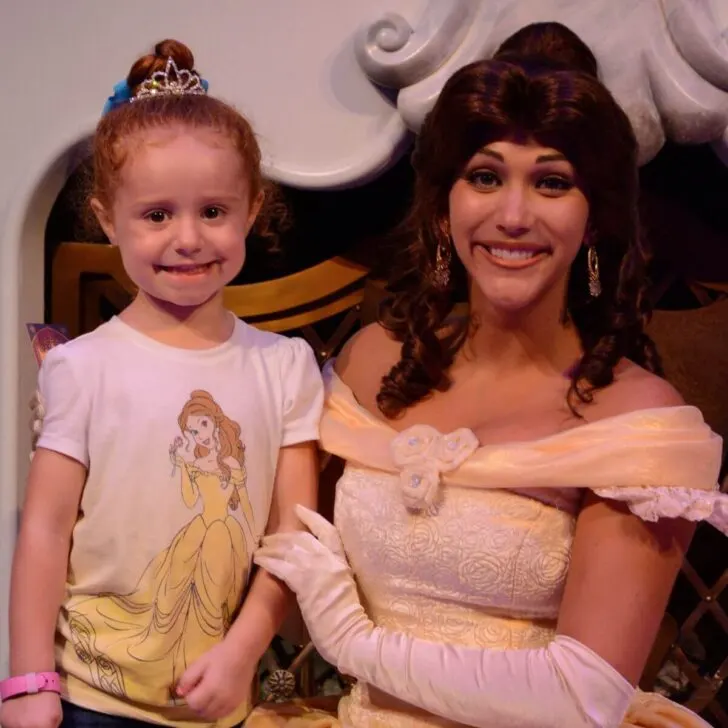 Enchanted Tales with Belle is another popular attraction in Fantasyland that toddlers will enjoy.
They'll get to participate in a storybook adventure as they journey through Belle's world and meet her enchanted friends.
Or if they are too shy or tired to participate, they can just sit back and watch the show.
Plus, they'll get a chance for a one-on-one photo with Belle after the show is done.
Frontierland Shootin' Arcade
Frontierland Shootin' Arcade is a fun activity for toddlers (and adults!) who love shooting games.
It's an interactive experience that lets you test your aim and compete against others.
There is a small fee to play, but if you're into these types of attractions, it's likely worth the cost for you.
The Hall of Presidents
Visiting the Hall of Presidents is a great way to teach toddlers a bit of American history while watching an impressive animatronic show.
Toddlers will love the grandiose setting and beautiful displays and parents are likely to enjoy the air conditioning!
Happily Ever After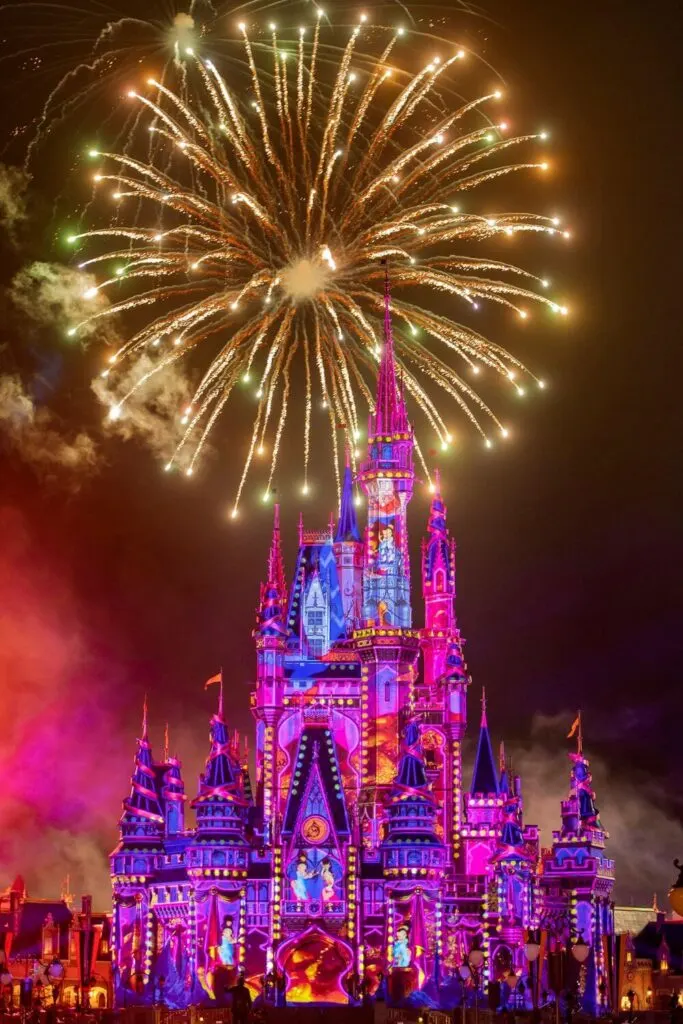 Want to end the day on a high note? Don't miss the Happily Ever After show, a spectacular fireworks display that lights up Cinderella Castle.
Toddlers will love the colors and music and it's a beautiful way to wrap up your day.
That said, my niece was scared of the fireworks at first due to the loud sound. Once we assured her it was ok, she watched the show.
We like to take a break in the middle of the day for a swim in the resort pool and a nap. Then we come back in the evening for dinner, a few more rides, and fireworks.
This is a great way to keep tots on their nap schedule while not missing out on any of the fun or risking tantrums from being tired.
Haunted Mansion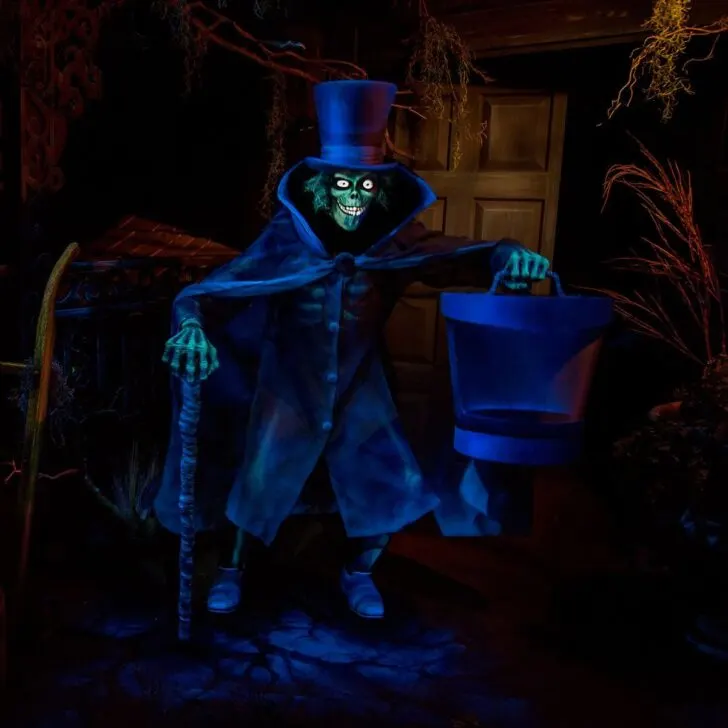 The Haunted Mansion's dark and eerie atmosphere provides just the right amount of thrill for toddlers without terrifying them into tears.
It might sound like it's not for tots, but many actually enjoy it, especially if they are into movies and shows like The Ghost and Molly McGee or Spooky Buddies.
Plus, the elaborate animatronics and special effects will have their eyes bugging out of their heads with wonder. I bet they'll even love the ride photo that features a few extra guests, too!
It's a Small World!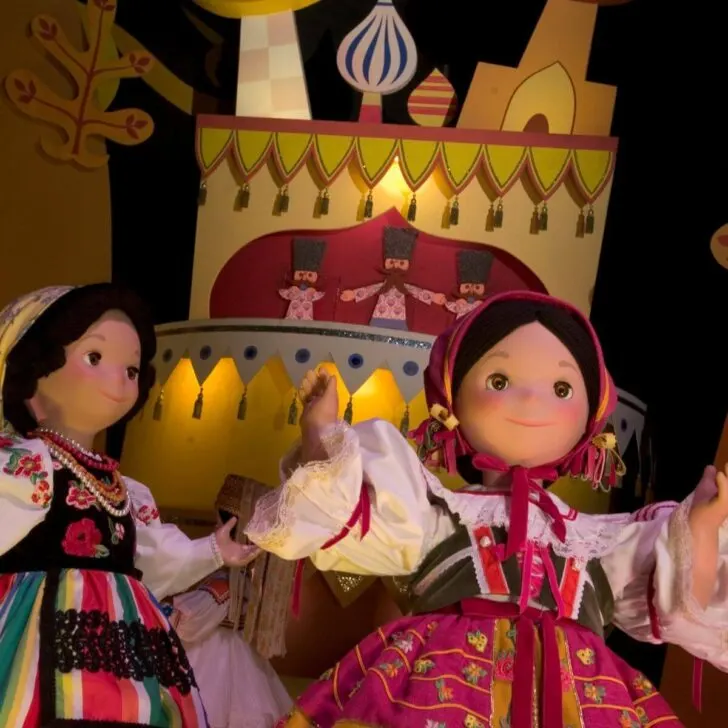 This classic attraction is a slow boat ride that will keep toddlers entertained with animatronic dolls and vibrant colors, not to mention the music.
Personally I don't think the long lines are worth it, but if you happen upon it when there isn't too much of a wait, give it a whirl.
Jungle Cruise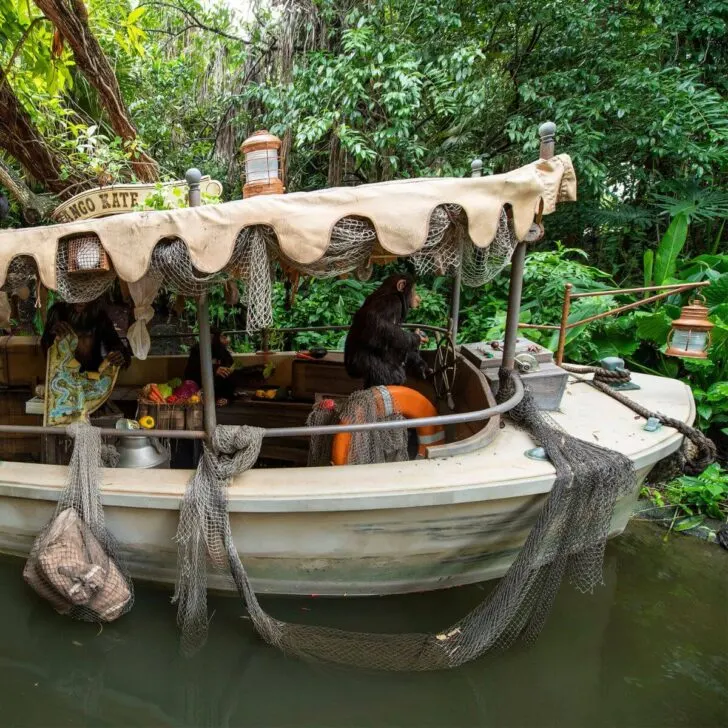 If you're looking for a wild adventure that'll entertain your little ones, hop aboard the Jungle Cruise in Adventureland.
This fun boat ride is filled to the brim with punny jokes that will have everyone laughing, even adults! It's one of my niece's favorite rides, even to this day.
Let the Magic Begin
Mickey and friends put on a show in front of Cinderella Castle to welcome guests to the park.
This show only runs once a day, shortly after the park opens. So if you're planning to rope drop the park, add this to your itinerary.
You'll likely be able to hit up a ride or two before it starts if you get there early enough!
Start time varies according to when the park opens, so check the My Disney Experience app for show time for the day you want to visit.
Liberty Square Riverboat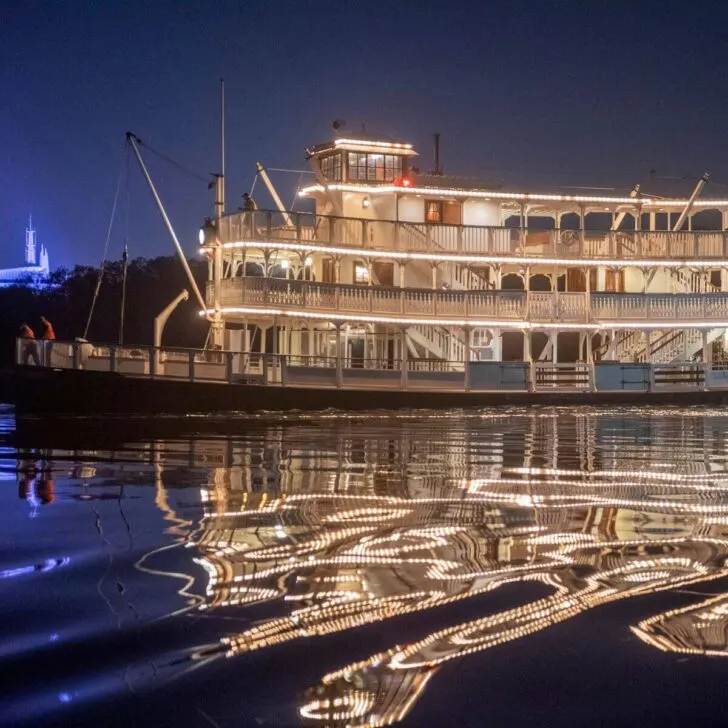 If boat rides are your tot's jam, definitely add this classic attraction to the list.
This paddleboat ride is perfect for even the littlest of buccaneers, providing a calm and relaxing journey along the Rivers of America.
While adults may enjoy taking in the scenery and learning a thing or two about American history, the little ones will be thrilled to see all the wildlife along the way.
Mad Tea Party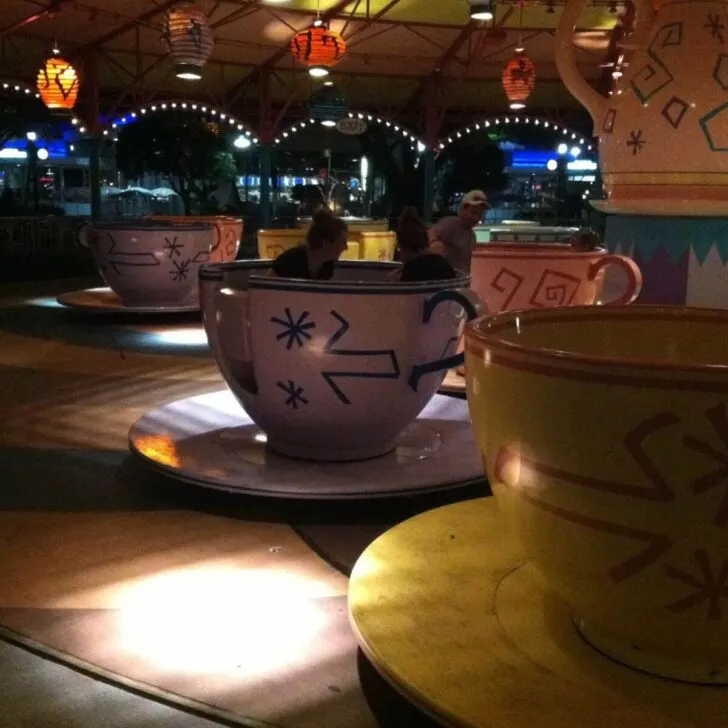 Inspired by Alice in Wonderland, this spinning tea cup ride is perfect for toddlers who want to take a break from stroller life and let their inner wild child out.
With colorful, oversized teacups and a whimsical setting, your little ones will feel like they've fallen down a rabbit hole and landed in a world of fun.
Trust us, this ride will have your toddlers giggling, twirling, and feeling like the ultimate tea party host or hostess.
My toddler niece loved this ride. She was a bit anxious at the beginning but eventually really enjoyed it, so we went a few times during our visit.
The Magic Carpets of Aladdin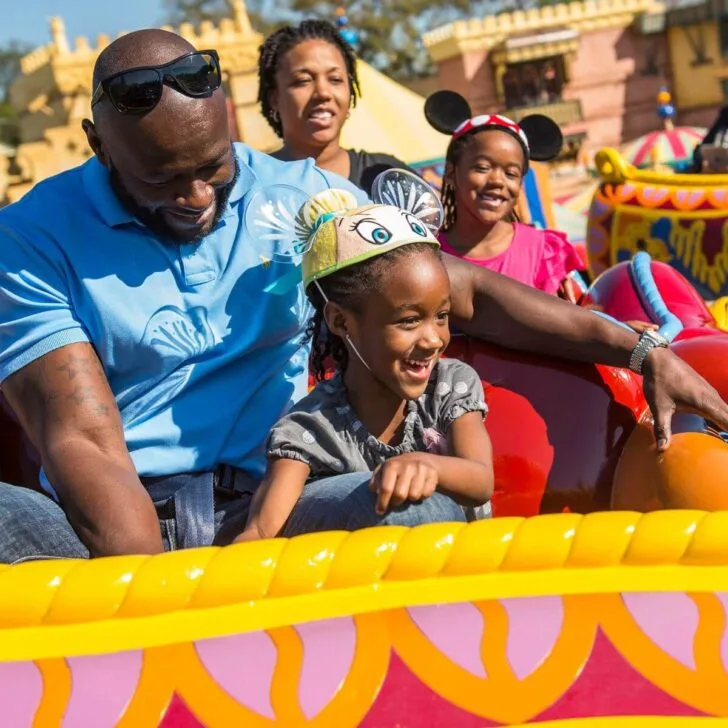 On this ride, Aladdin's colorful magic carpets soar through the air, giving your toddlers a bird's eye view of the surrounding attractions and foliage of Adventureland.
And let's be real, who doesn't love the story of Aladdin? As the carpets spin and twist, your young ones can pretend they are soaring through the kingdom of Agrabah.
With just the right amount of thrills and whimsy, the Magic Carpets of Aladdin will surely become a new favorite for your little ones (and possibly for you, too!).
And if this ride sounds familiar, that's because it's very much like the Dumbo the Flying Elephant in Fantasyland and TriceraTop Spin in Animal Kingdom!
The Many Adventures of Winnie the Pooh
This ride is perfect for those little nuggets who are just discovering the magic of Pooh bear and friends.
The ride takes you through scenes from the classic Winnie the Pooh film that'll leave you giggling and bouncing like Tigger in no time.
Meet characters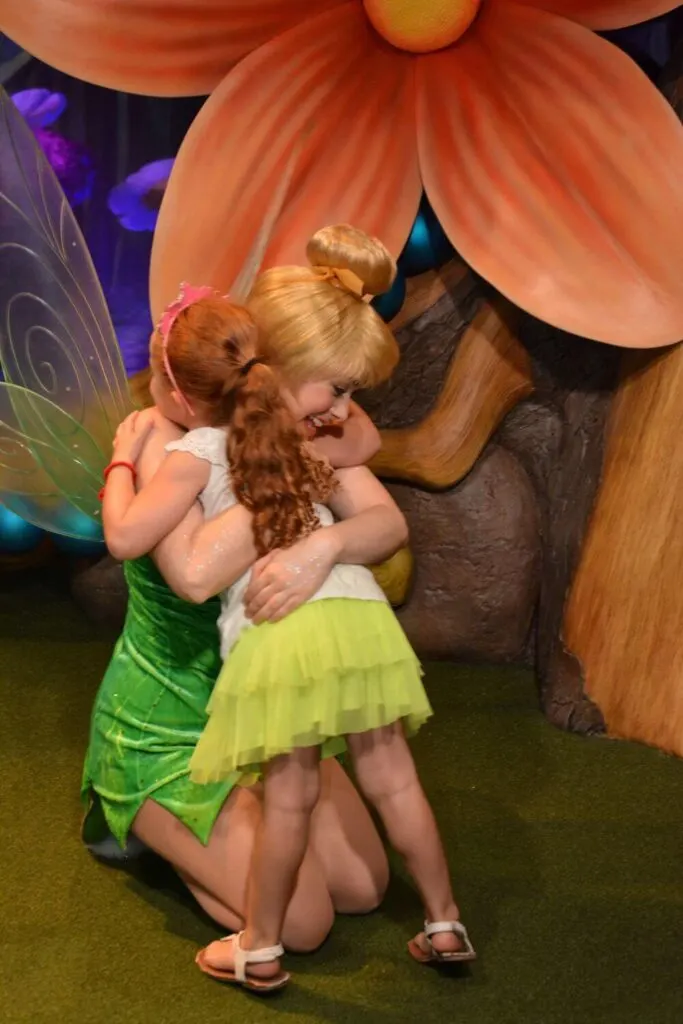 What's a trip to Magic Kingdom without meeting some of your favorite characters?
Luckily, Magic Kingdom has plenty of opportunities for your toddlers to meet their favorite Disney characters.
These meet-and-greets are a must-do for toddlers who want to meet their favorite Disney characters up close and personal.
If your little ones love princesses, be sure to check out Princess Fairytale Hall, where a rotating cast of princesses have meet-and-greets.
As I write this, Cinderella and Tiana are the regular meet-and-greets here, but there's usually two additional princesses that meet. Check the My Disney Experience app to see who's meeting on the day of your visit.
If your toddlers are fans of Mickey Mouse, head over to Town Square Theater near the entrance of the park to meet him.
To meet more of the classic Disney characters, like Donald and Daisy, make your way to Storybook Circus to meet characters dressed up in circus outfits at Pete's Silly Sideshow.
Pooh and friends meet nearby their ride at the Thotful Spot, while Ariel meets in her grotto outside the Little Mermaid ride in Fantasyland.
Jasmine and Aladdin meet up in Adventureland, not far from the Magic Carpet ride, while you can meet characters from Toy Story (usually Buzz) in Tomorrowland.
Mickey's Magical Friendship Faire
Another fun stage show at Magic Kingdom that toddlers are sure to enjoy is Mickey's Magical Friendship Faire.
This show is the perfect dose of whimsy and wonder for your little ones, plus it's centrally located in front of Cinderella's Castle at the end of Main Street.
Mickey's PhilharMagic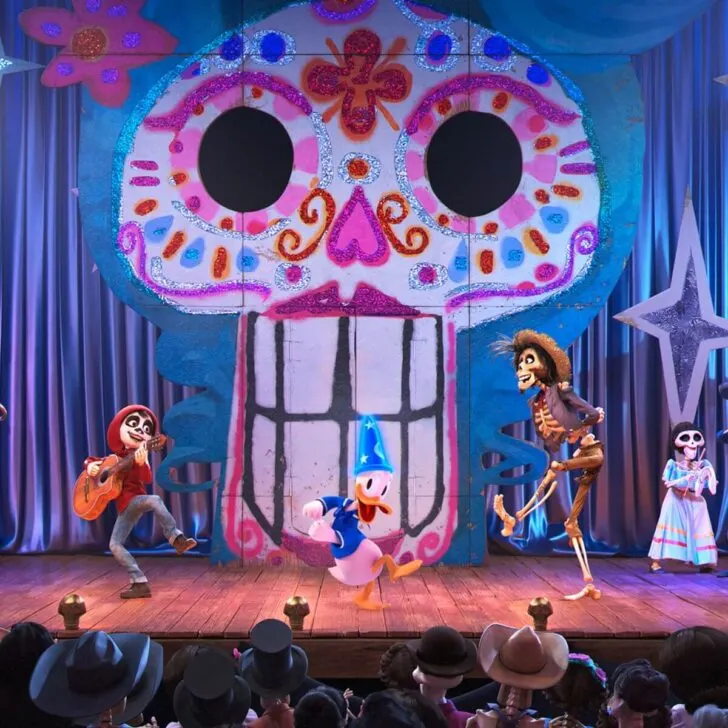 Keeping toddlers entertained can be a daunting task, but this show in Fantasyland is a game changer.
Your little ones will be mesmerized by the vibrant colors, catchy tunes, 3D effects, and iconic characters that flood the screen.
Plus, it's a great chance for them to cool off from the Florida heat while still enjoying all the magic that the park has to offer.
Monster's Inc. Laugh Floor
If you're looking for a laugh riot, head on over to Monster's Inc. Laugh Floor in Tomorrowland.
Mike Wazowski and his monster pals are sure to amuse even the most difficult tots in this interactive comedy attraction.
And don't worry parents, the jokes are G-rated, so you won't have to cover anyone's ears.
Peter Pan's Flight
If you're looking for a magical adventure for your mini-me in Fantasyland, look no further than Peter Pan's Flight.
With a dash of pixie dust, you'll soar through the starry skies of Neverland, past the iconic landmarks like Big Ben and the Jolly Roger.
What makes it extra special? Your little one will feel like they're flying with Peter Pan himself, the ultimate childhood hero.
A Pirate's Adventure ~ Treasures of the Seven Seas
If you're looking for a swashbuckling good time with your tiny tykes, look no further than A Pirate's Adventure ~ Treasures of the Seven Seas.
This interactive scavenger hunt takes your little ones on a search for hidden treasures throughout Adventureland. Who doesn't love a good treasure hunt?
Your mini pirates will get to wield a pirate map and solve riddles to uncover loot.
The experience is completely free and lasts around 20-30 minutes – the perfect amount of time to keep your little buccaneers entertained without overwhelming them.
Pirates of the Caribbean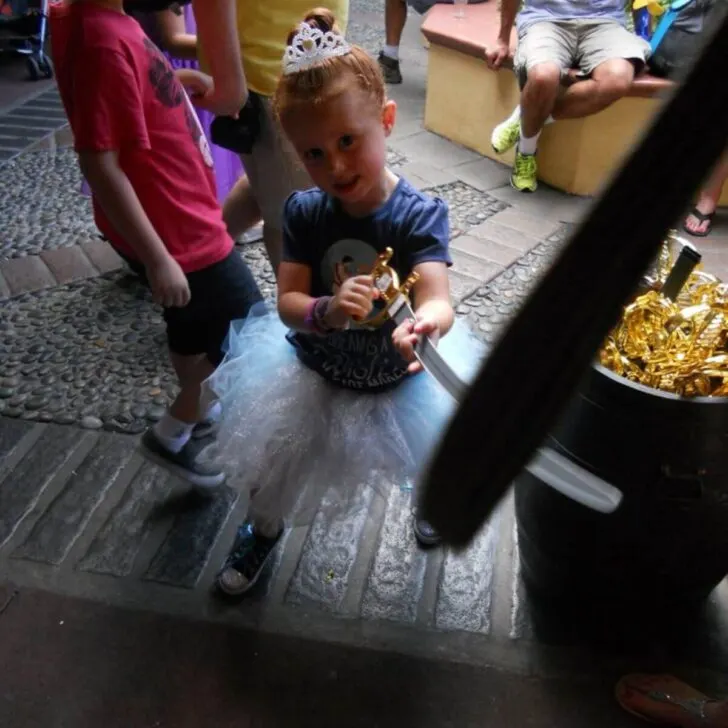 Located in Adventureland, this slow boat ride will have you and your youngster navigating through pirate-infested waters and dodging cannonballs like a true seafarer.
They'll spot hidden treasures and maybe even come face-to-face with Captain Jack Sparrow himself.
With its vibrant scenery and classic pirate theme, this ride is sure to leave your child feeling like they just sailed the seven seas (like my niece in the photo above) – and you feeling like a proud pirate parent!
Prince Charming Regal Carousel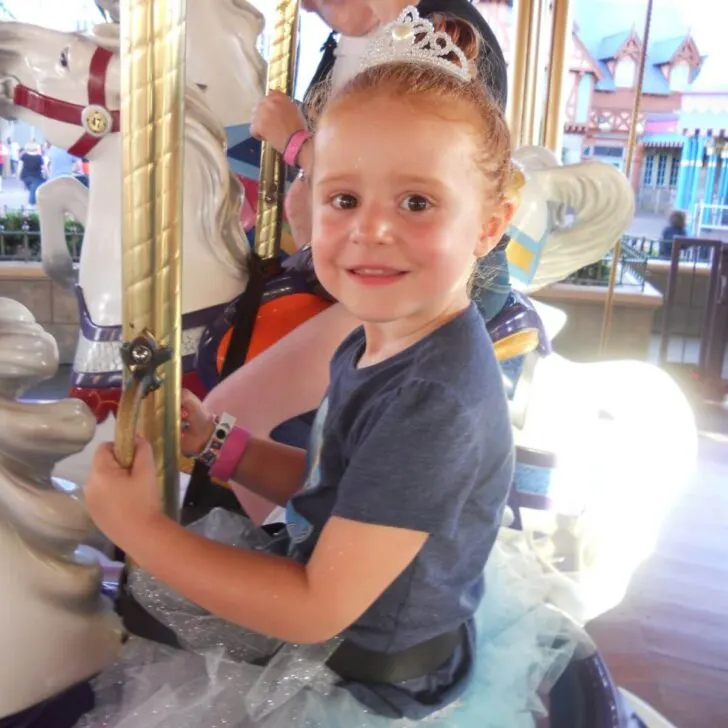 Ah, Fantasyland – the land of make-believe and dreams come to life!
And what better way to keep those dreams alive than by taking your little prince or princess for a spin on the Prince Charming Regal Carousel at Magic Kingdom?
This majestic ride is perfect for your tiny tots and is sure to bring a smile to their faces as they ride atop their very own majestic horse or fancy carriage seat.
Swiss Family Treehouse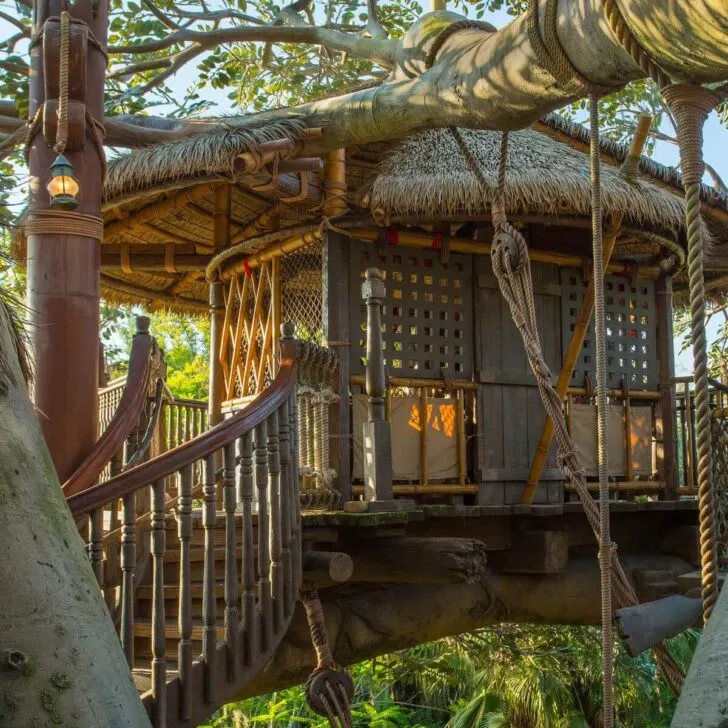 This treehouse extravaganza is the perfect spot to let your kiddos' imaginations run wild as they climb up the branches and explore the tropical island inspired home.
Not only will your tots feel like the kings and queens of the treehouse, but they'll also get to see some gorgeous vistas of Adventureland.
A lot of people overlook this attraction, but I think it's great for toddlers!
I took my tot niece on this to explore while her mom and grandma went on a roller coaster. It was a great way to let her explore at her own pace and keep her distracted while mom was away.
Sword in the Stone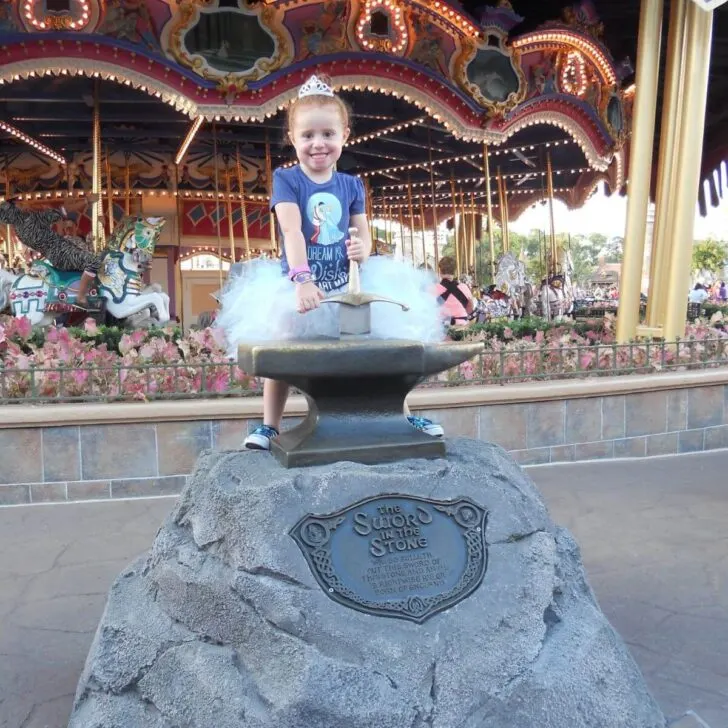 Just outside Prince Charming's Regal Carousel is the infamous sword in the stone.
Have your toddler give a try at pulling the sword out. You never know who the sword will choose!
Even if your tot isn't able to pull the sword out, it'll still make for a fun photo.
Tom Sawyer Island
Want to entertain your tiny tots with a little mischief and adventure? Look no further than Tom Sawyer Island at Magic Kingdom!
First, catch a ferry over to this secret hideaway. Then, let your little ones explore the island's trails and buildings at their own speed.
This attraction is perfect for toddlers, but is often overlooked. Don't skip out on this!
Tomorrowland Transit Authority PeopleMover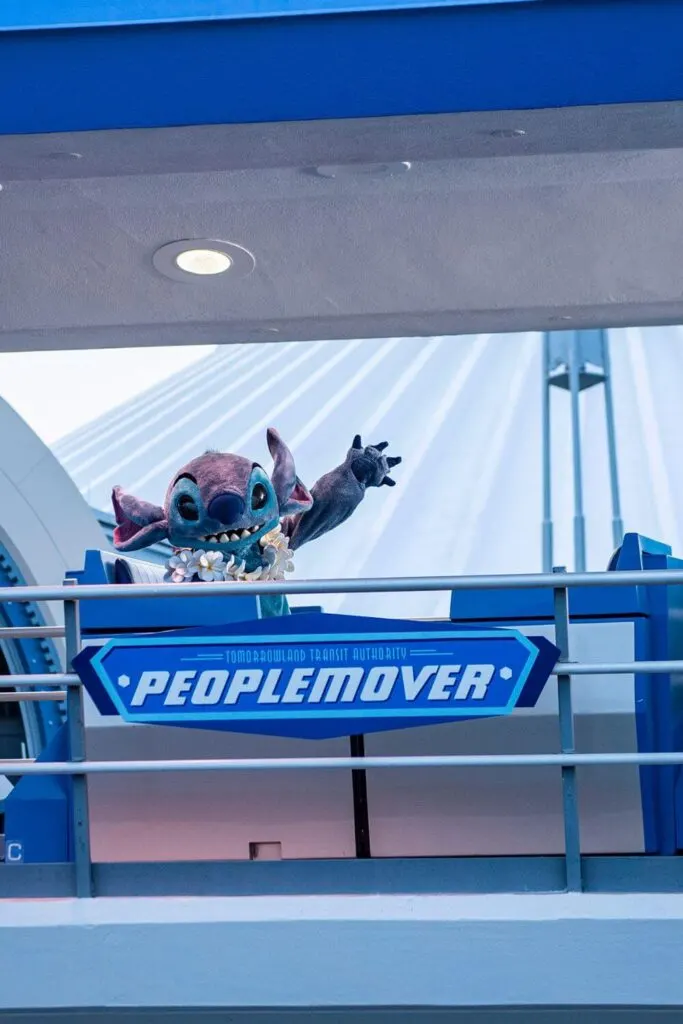 This futuristic ride takes you on a slow and steady tour around Tomorrowland, which means your tots won't be jostled around or scared by any sudden drops.
Plus, they get an up-close look at the inner workings of Space Mountain.
Or if you're trying to get your toddler sleepy for naptime, this ride often does the trick, too!
Under the Sea ~ Journey of the Little Mermaid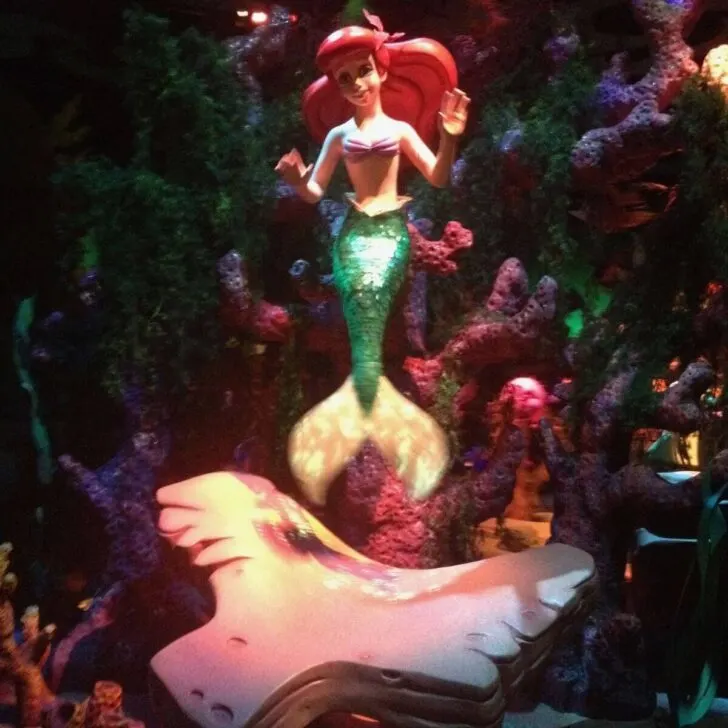 Join Ariel and her underwater pals on a whimsical journey through her enchanted world, complete with catchy tunes and colorful scenes.
Your little ones will love singing along and pointing out all their favorite sea creatures and mer-characters.
Walt Disney World Railroad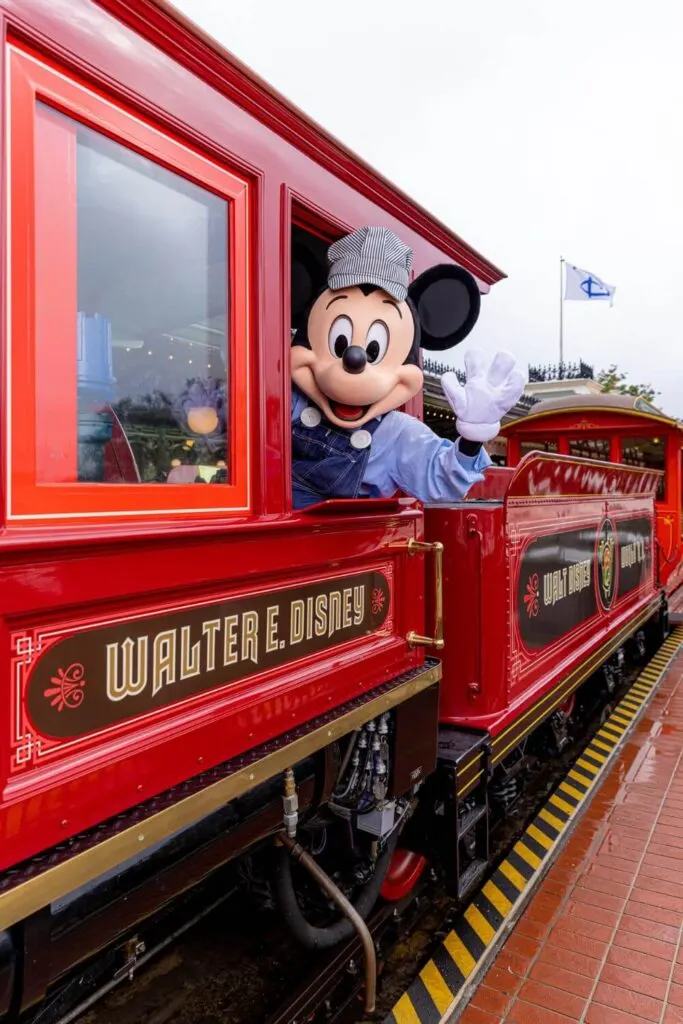 This train ride is the perfect way to chill out with your little ones while taking in the sights of the Magic Kingdom.
Whether you're starting at Main Street USA, exploring Frontierland, or heading to Fantasyland, the Railroad has got you covered. Plus, let's be real, what toddler doesn't love a good choo-choo train?
You can even catch a relaxing nap while taking a ride on this classic attraction or rest your feet while trying to get from one end of the park to the other.
Walt Disney's Carousel of Progress
Ah, the Carousel of Progress – the iconic ride and hidden gem of Tomorrowland.
Many people think this ride is boring, but I think it is a great ride for your little toddlers.
Not only is it a nice break from more intense rides, but it's also packed with educational fun.
Your kiddo will learn about the history of technology and how it's evolved over the years without even knowing they are learning!
Who knew a theme park ride could double as a learning experience?
Walt Disney's Enchanted Tiki Room
This is the perfect show to keep your toddlers engaged and entertained! They can bop along to the catchy tunes and marvel at the colorful animatronic birds that come to life.
Plus, who doesn't love a good dose of tropical charm and sweet, cold air conditioning?
Tomorrowland Speedway
Why settle for plain old car rides when you can zoom around in a speed machine that puts you in control?
Toddlers will love the feeling of independence as they steer their mini race car around the track, feeling like the next big racer on the circuit.
Plus, the vibrant Tomorrowland setting adds that extra bit of excitement to the experience.
This was one of my niece's favorite rides as a toddler because it gave her the feeling of independence and made her feel proud of being able to steer the car (unbeknowst to her with the help of grandma).
What are your top tips for navigating Magic Kingdom for toddlers?
With a little bit of planning, visiting Magic Kingdom with toddlers can be an unforgettable experience for the whole family.
Now that I've highlighted all the top activities and places to eat, it's time for you and your little one to create magical memories that will last a lifetime.
Remember, the key is to pace yourself, take breaks, and most of all, enjoy the moment. After all, that's what visiting the happiest place on earth is all about – making magical memories.
For more tips on visiting Disney World with toddlers, check out these posts:
---
About the author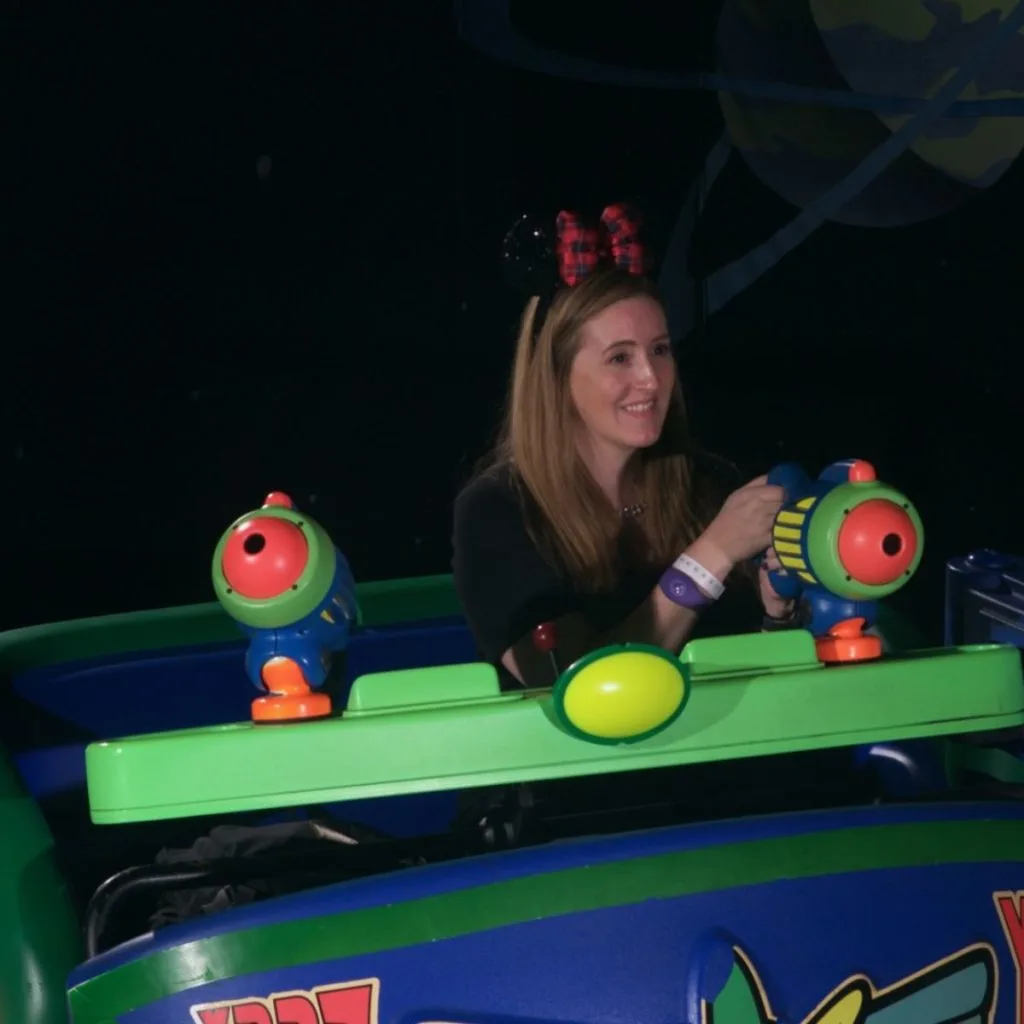 Meg Frost is the creator of The Park Pixie, where she covers Disney World, Disney+, and Disney fandom.
She holds an M.A. in Journalism from Northeastern University and B.S. in Communication & American Studies from University of Miami.
---