Disney World is a magical place for everyone, but taking your little ones can be quite an adventure – and a challenge.
With so much to see and do, you'll want to make the most of your trip without overwhelming your tiny tots.
That's why I've put together a list of my top tips and tricks, so your trip to Disney World with toddlers will be filled with fun memories.
Plan ahead
Planning a Disney World trip can be overwhelming, but planning as much as you can ahead of time goes a long way – especially when it comes to traveling with little ones.
Choose the best time of the year for your needs, identify your must-do attractions, and choose a fun, comfortable hotel with lots of easy transportation options.
Kids age 2 and under are FREE
Toddlers on the younger end of the age group can get into the parks for FREE.
So if you're thinking of going when they're a tot, why not save some money and go before they turn 3? Seems like a no brainer to me!
Best Disney World park for toddlers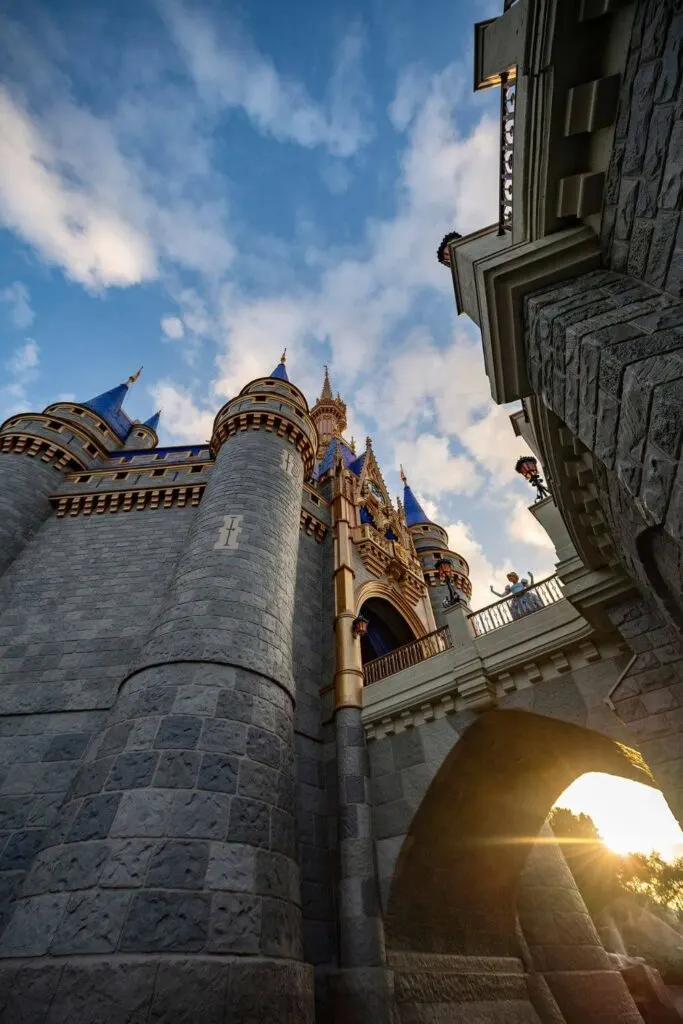 In my opinion, all of the parks at Disney World are great for toddlers. There are pros and cons to each.
To help you decide, check out my posts dedicated to visiting each Disney park with toddlers, including the best Disney rides for toddlers.
Make time for Blizzard Beach or Typhoon Lagoon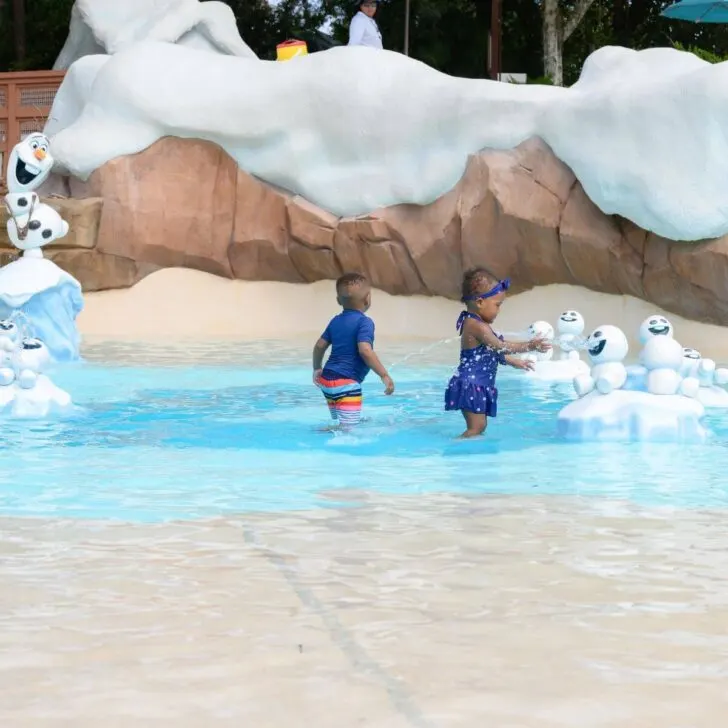 Blizzard Beach and Typhoon Lagoon are great water parks with tons of activities for toddlers and preschoolers.
Plus, if you're visiting during the warmer months, splashing around at a water park is the perfect way to cool off.
Best Disney hotels for families with toddlers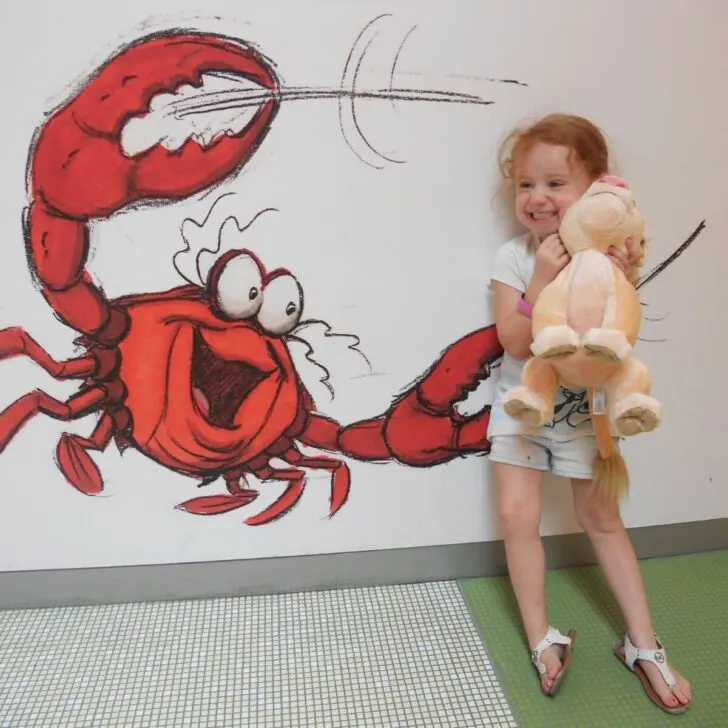 My favorite Disney hotel for families with toddlers and young kids is the Art of Animation Resort.
However, there are lots of great hotels at Disney World that toddlers will enjoy. Check out my post about the best hotels for kids at Disney World for more tips on which hotel to pick.
Visit during the school year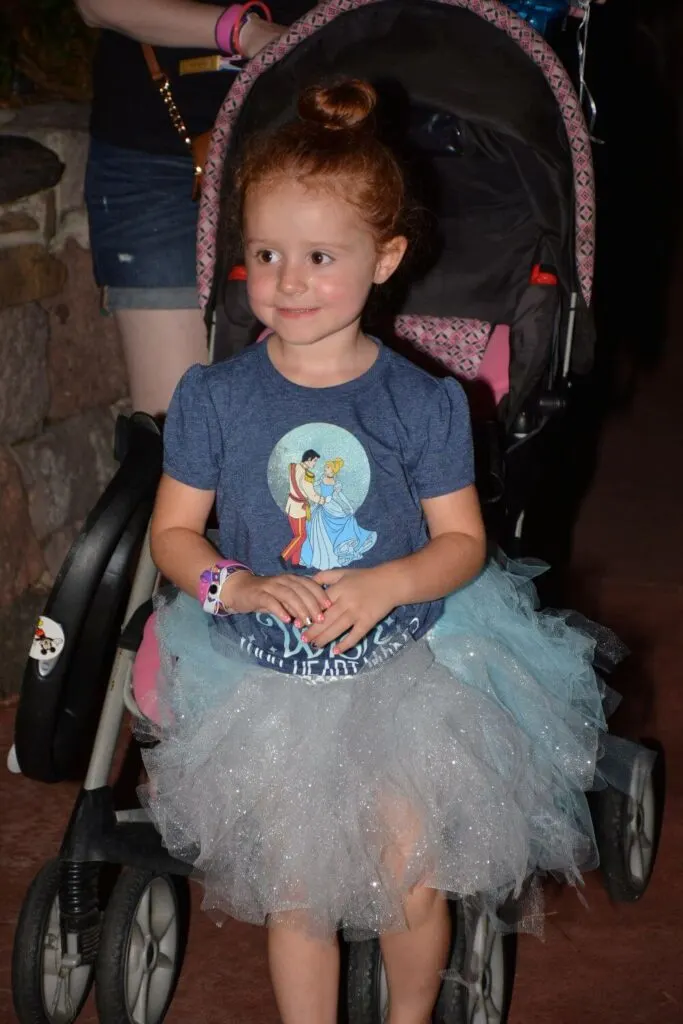 Take advantage of lower crowds by visiting at the beginning of school terms and just before school ends.
Overall, you'll avoid the throngs of crowds, long wait times on rides, and can move more comfortably throughout your day.
September, January, and May (before Memorial Day weekend) are all top months to visit if you have toddlers and kids that aren't in school yet. September is also great for getting tickets to Mickey's Not-So-Scary Halloween Party!
October and February are also nice, but some school districts have breaks during that time, so you'll have to be strategic about which week you visit.
When my family and I visited with my niece when she was a toddler, we went in September for this very reason!
The only downside to September is that it's the tail-end of hurricane season, so we had 1 big rainy day while we were there. Luckily it's super easy to have fun at Disney World in the rain!
Purchase the Memory Maker package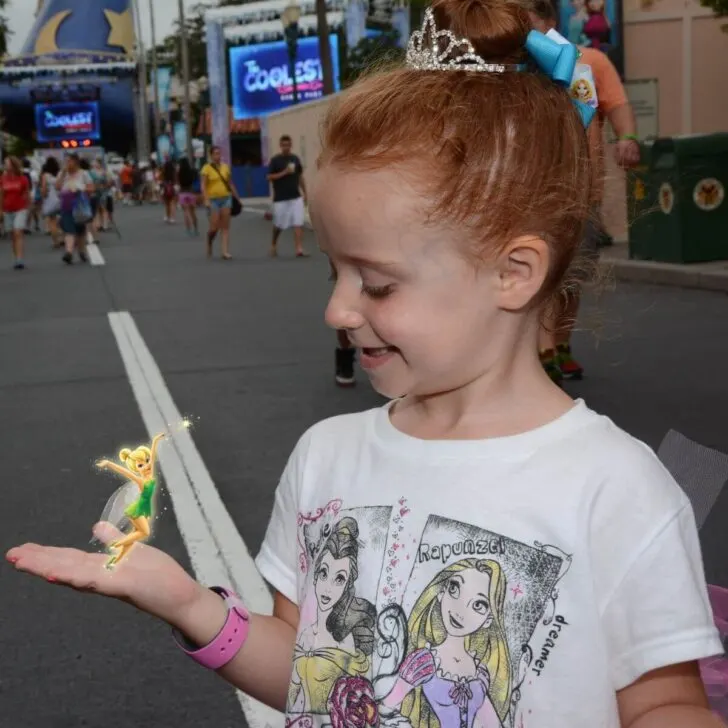 I cannot recommend the Memory Maker package highly enough!
This pass gives you free, unlimited downloads of all ride and PhotoPass photos for 45 days after they are taken.
Memory Maker is a great way to get everyone in the photo, as well as to get professional photos.
It also includes Magic Shots, where PhotoPass photographers can add in a secret element like Tinkerbell in your hand or Stitch busting out of the ground.
You can also add cool borders and stickers to the photos before you download them.
Book dining reservations 60 days ahead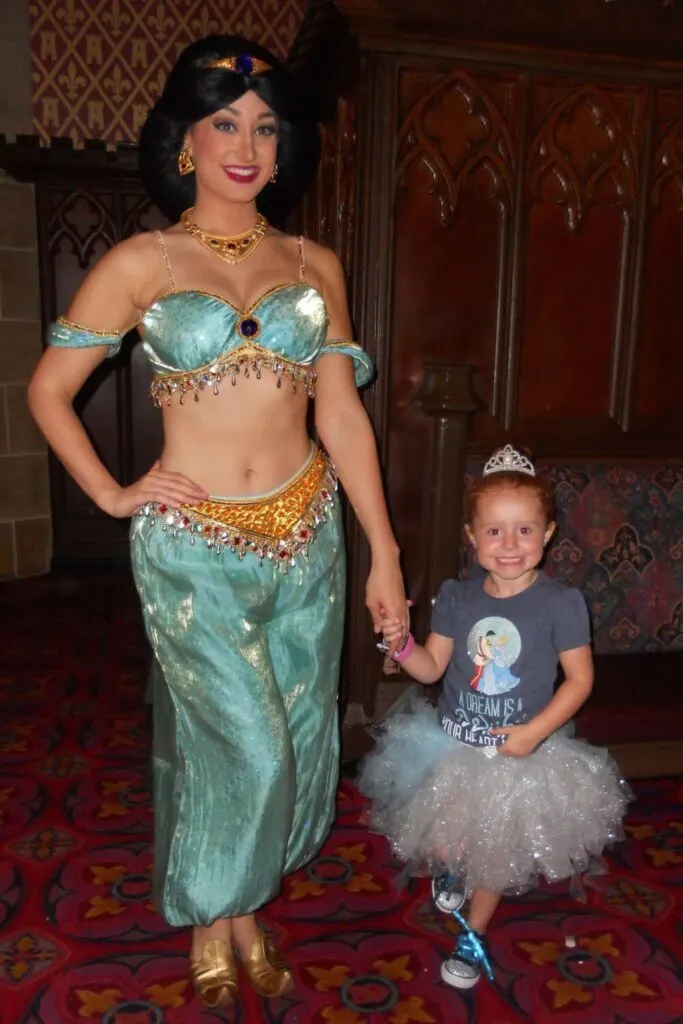 Character meals are a great way to meet your toddler's favorite Disney characters without a long wait in line. Plus it leaves more time for rides, shows, and swimming in the resort pool!
And that's probably why they are the most sought-after dining reservations at Disney World! Luckily, you can book a reservation ahead of time.
If you're staying at a Disney resort and select neighboring hotels, you can book your dining reservations 60 days ahead of the first day of your trip. Everyone else can book reservations 60 days ahead of the desired date.
Themed restaurants are also a ton of fun, especially for kiddos, so if you can't get a character meal (or just aren't interested), aim for something with a theme your kid is interested in, like space (Space 220), fish (Coral Reef), or Sci-Fi (Sci-Fi Dine In).
Get your tot their own luggage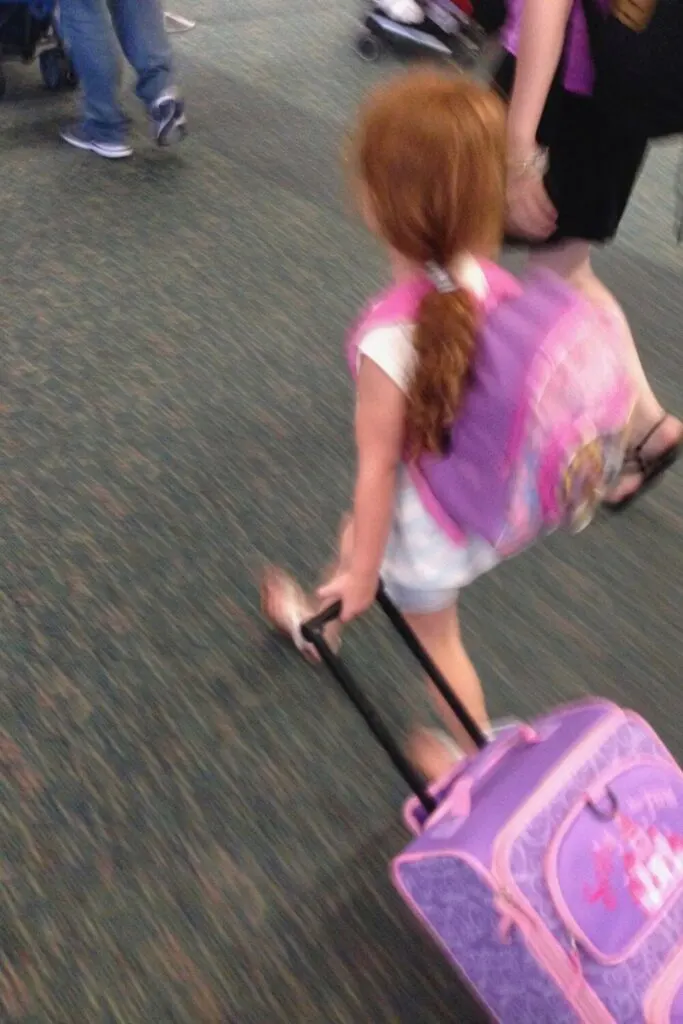 Toddlers love imaginative play and carrying their own luggage at the airport definitely falls within that!
My niece felt so grown-up with her own suitcase and backpack. She insisted on carrying both, even though she didn't have to carry either.
The backpack was stuffed with things to do and other comfort items for the flight, while the carry-on had a change of clothes and swimsuits for the 4 of us.
For more Disney luggage recs, check out my post about the best Disney luggage and travel accessories.
Visit other resorts for meals & other fun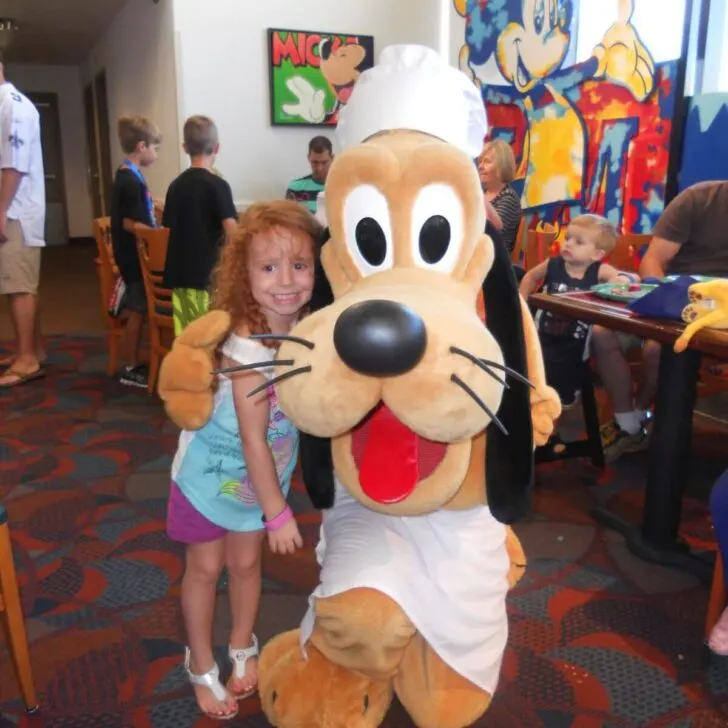 While the easiest option for meals are to eat at restaurants from your resort or the parks, if you don't mind going to other resorts, you'll open up your options for some delicious dining.
Plus, you might find a fun souvenir shop or cool photo ops to add to your collection.
To make it more convenient, choose a hotel that is on the Monorail or Skyliner, so you can easily hop to and from one of the parks on whichever mode of transportation you chose.
So if you were planning on Epcot or Hollywood Studios, you could hop on the Skyliner to go to Topolino's Terrace at the Riviera Resort or visit Art of Animation for fun photos.
Or if you were going to the Magic Kingdom, you could start with breakfast at Ohana's at the Polynesian or Chef Mickey's at the Contemporary. I love the gift shops at both of these resorts, too!
Another option is to walk to the BoardWalk area, which is quite easy to get to from the International Gateway at Epcot.
There you can access restaurants at the BoardWalk, BoardWalk Inn, Beach & Yacht Club Resorts, as well as the Swan & Dolphin.
Use the My Disney Experience app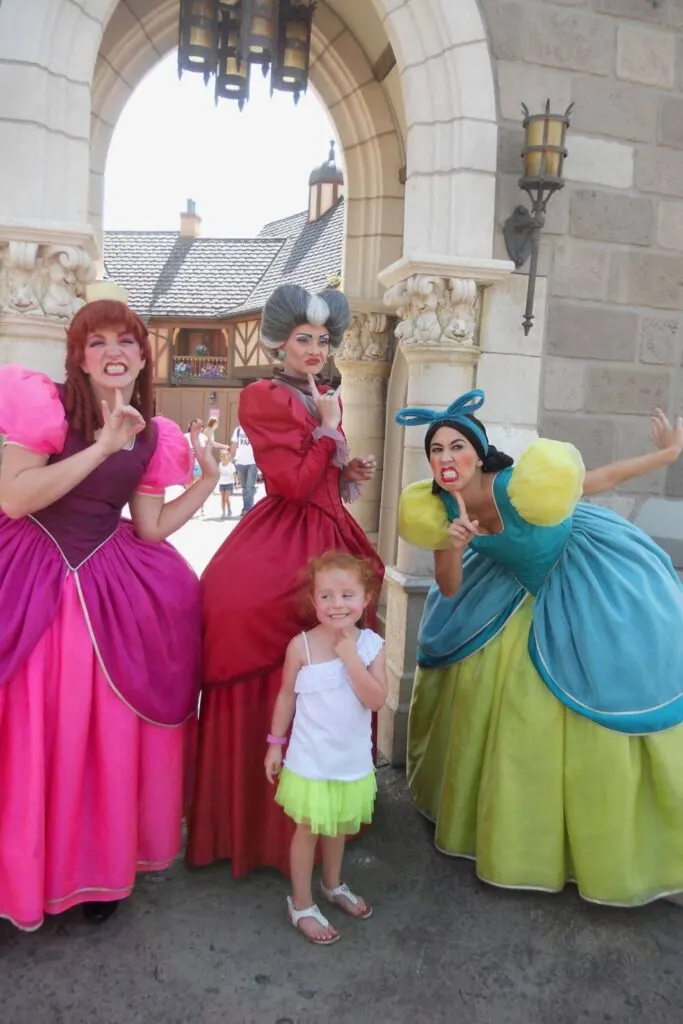 It's nearly impossible to visit Disney World without using the My Disney Experience app.
Can it be done? Sure.
Will you get more out of your time and money if you use the app? Yes.
This app can do it all: book dining reservations, select Genie+ or lightning lanes, unlock your hotel room, find performance times, look up character meet-and-greets, and so much more.
Do yourself a favor and download it before you leave and have an account set up and signed in. That way you can hit the ground running as soon as you get there!
Buy Genie+
Investing in Genie+ pass can make your day at the park run smoothly and ensure you get all your must-do attractions done.
You can skip the long lines, book your rides ahead of time, and leave more room for exploring.
Plus, you'll get free downloads of your ride photos for 45 days after the photos are taken.
So if you don't want to get the Memory Maker package, this is a great alternative.
What to pack in your park bag
Visiting Disney World with a toddler can be a bit like going anywhere with a baby. That is, you're gonna need to pack a bag with some essentials to ensure a smooth, meltdown-free day.
Firstly, definitely bring some snacks for your little one to munch on. While there are plenty of places to get food at the parks, sometimes you just can't wait or your little one will start to fuss.
The same goes for a water bottle or sippy cup to help ensure they stay hydrated. No one wants a sick kiddo!
Next, a small toy or stuffed animal is great for keeping busy in long lines, if they are feeling anxious, or for snuggling during nap time. My niece always had a small Pascal stuffed toy or a baby Rapunzel (or both!) with her all day!
A portable charger will definitely come in handy, as you'll likely be using the My Disney Experience app to book Genie+ selections, mobile order food, or find the nearest bathroom.
Sunscreen and other sun protection, like a hat or sunglasses, are also a must-have in your park bag. If you're not used to the heat and humidity, I recommend bringing a hand-held fan or cooling towel, as well.
Next up, an extra outfit in case of spills, water rides, or other messes will help avoid wasting time running back to the hotel room to change.
And while you're at it, depending on which park you're going to, you may even want to bring their swimsuit.
A towel is great for drying off after water rides or sitting on during a parade.
Lastly, a if you'll be at the park into the evening, bring a light jacket or sweatshirt that can easily layer over their clothes so they can keep warm.
For more tips on what to pack, check out my ultimate packing list for Disney World.
Utilize the baby care centers
At Disney World, you don't have to worry about changing your toddler in just any old bathroom.
They have baby care centers available to change, feed, and rest with your little one. There are even private nursing rooms with rocking chairs, if you toddler is still nursing.
Plus, if you run out or forget any essentials like pull-ups, toddler snacks, and kid-friendly sunscreen, they've got a shop stocked with everything you need.
I list the location of each baby center in my toddler guide for each park, but in a pinch, you can also use the My Disney Experience app to locate it.
Bring or rent a stroller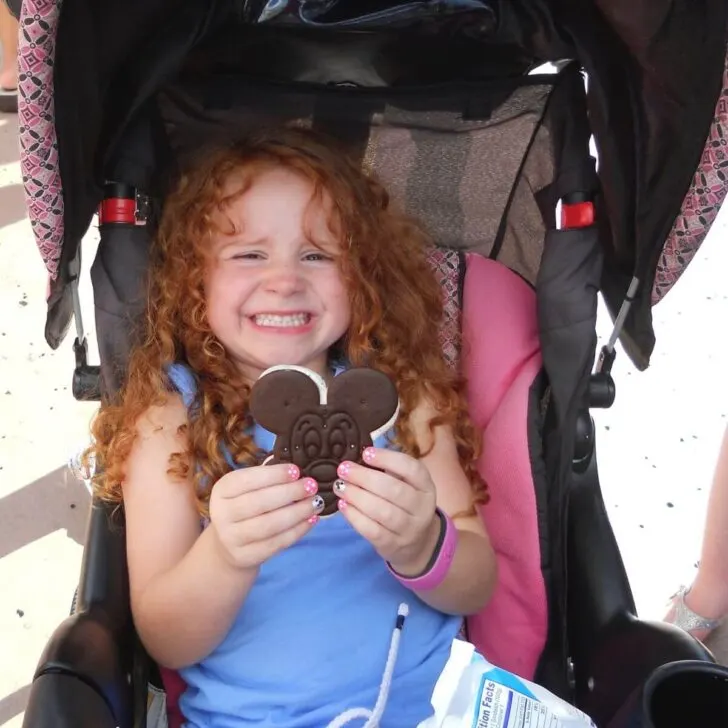 Renting a stroller can save a lot of trouble and help avoid tantrums or crankiness. Your toddler can rest when they get tired and you can avoid having to carry them for long distances.
Plus, let's be honest, no one wants to carry a heavy bag with stuff for the day – so just add it to the basket under the stroller.
Get a balloon on your first day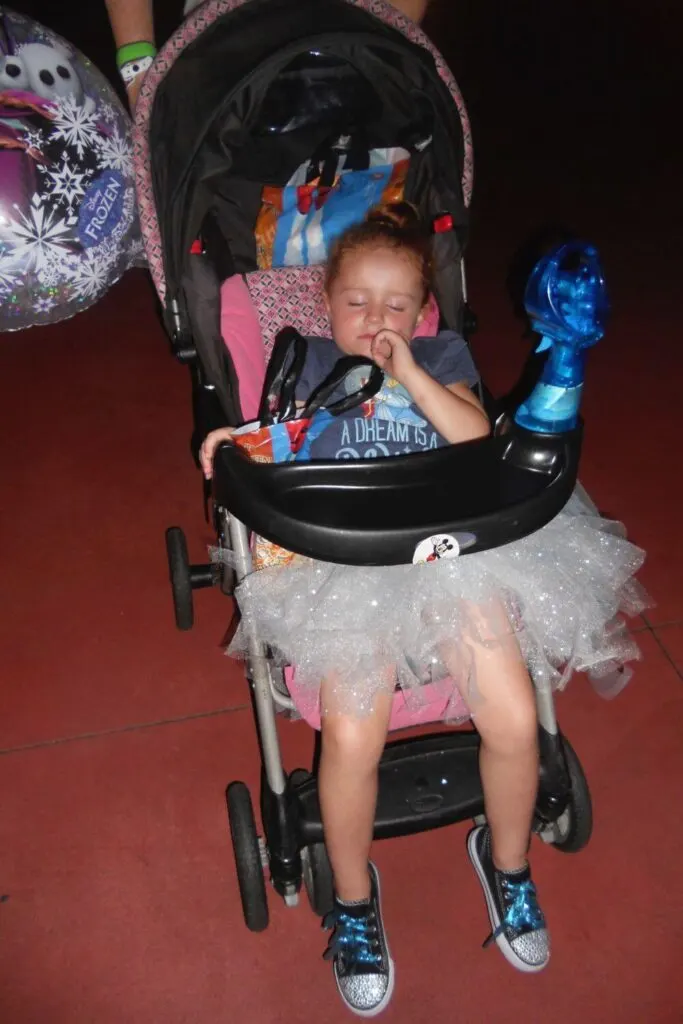 Your toddler is probably going to beg for a balloon as soon as they see the cast member holding an Up-sized bundle of colorful Mickey head balloons and mylar balloons with characters.
We caved and got a Frozen themed one for my niece. It was actually helpful for quickly finding her stroller when we had to park it in a giant sea of similar strollers.
The only park where you can't do this is Animal Kingdom, but other than that, it was a time saver for sure!
Also get an autograph book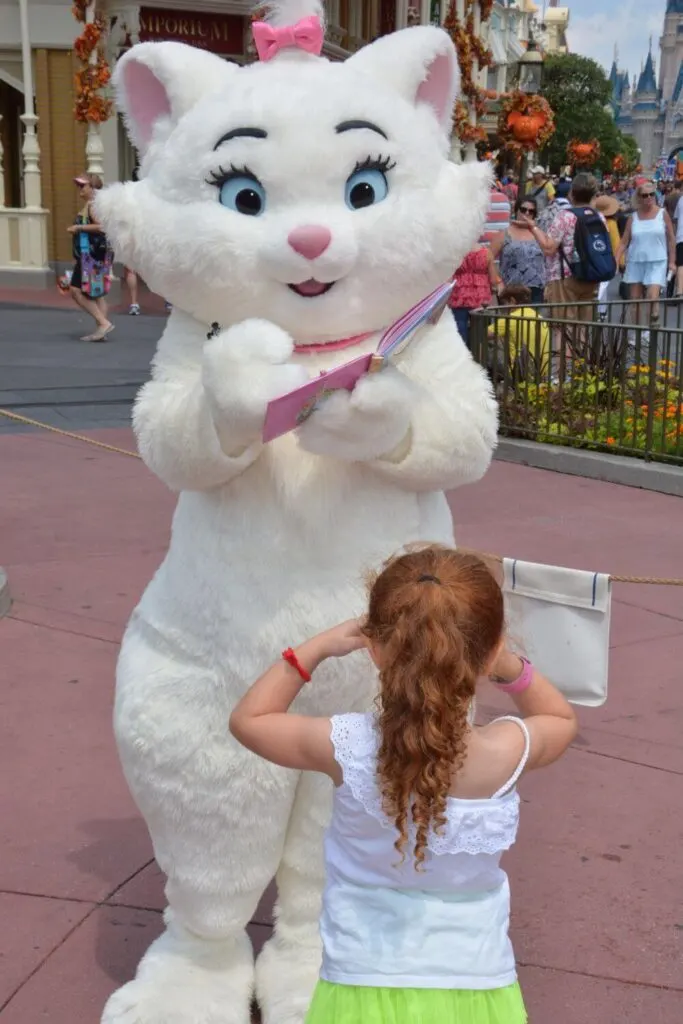 Without a doubt, your toddler will be begging to meet as many characters as possible. My niece was so excited to meet her favorite princesses, as well as some non-princess characters, too.
Either before your trip or as soon as you get there, pick up an autograph book and big-barreled pen or Sharpie marker. I prefer the books that have space for photos.
Just print out some fun character photos after your trip and you have a fun souvenir for your tot to flip through when they are missing Disney.
Take advantage of rider swap
Worrying about who'll watch the tot while you hit your favorite ride? Fear not – with rider swap, you can take turns swapping spots.
One adult goes on the ride, while the other watches the toddler – and then you switch. It's the perfect solution for families with young ones.
Join a dance party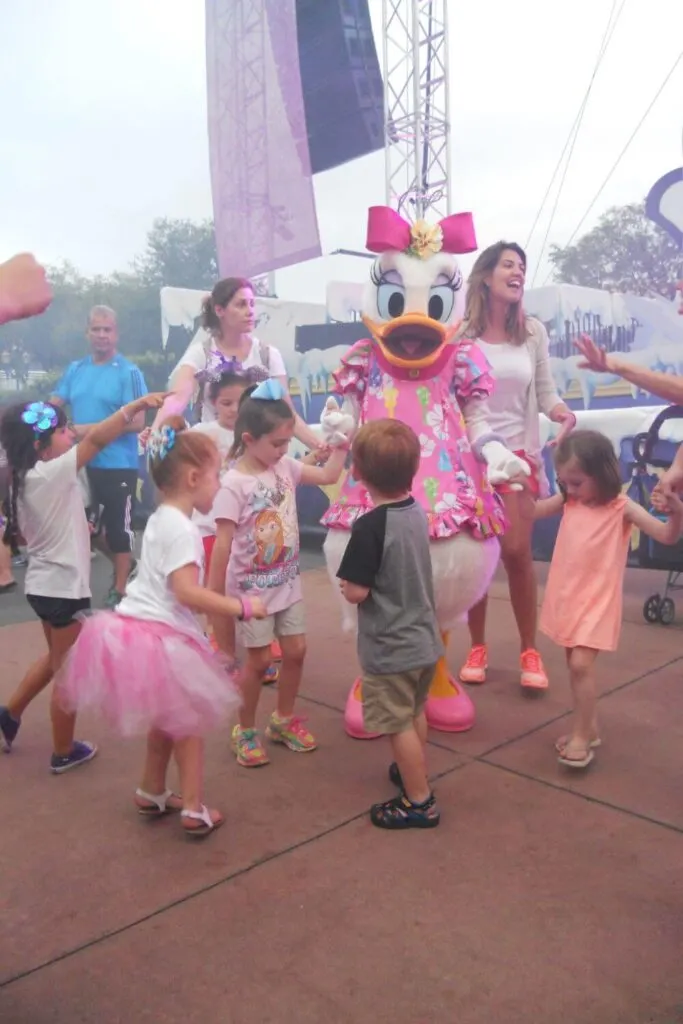 I don't know what it is, but toddlers love to dance! That's probably why you'll often find a dance party or two at the parks, often geared toward the Disney Junior crowd.
For example, there's the Disney Junior Play and Dance! at Hollywood Studios, located in the Animation Courtyard.
However, you can sometimes find pop-up dance parties at the other parks, especially during special events.
If your tot has some energy to get out, a dance party is a great way to do it – plus they might even make a new friend or two!
Take a break in the afternoon
Taking a break in the afternoon will help keep you and your toddlers from getting overwhelmed by all the excitement.
So take a midday nap, have a quiet meal, or go for a swim back at your hotel. By the time dinner rolls around, you'll be ready for a delicious meal, perhaps with a few of your favorite characters, and a few more rides before bed!
Consider the Minnie Van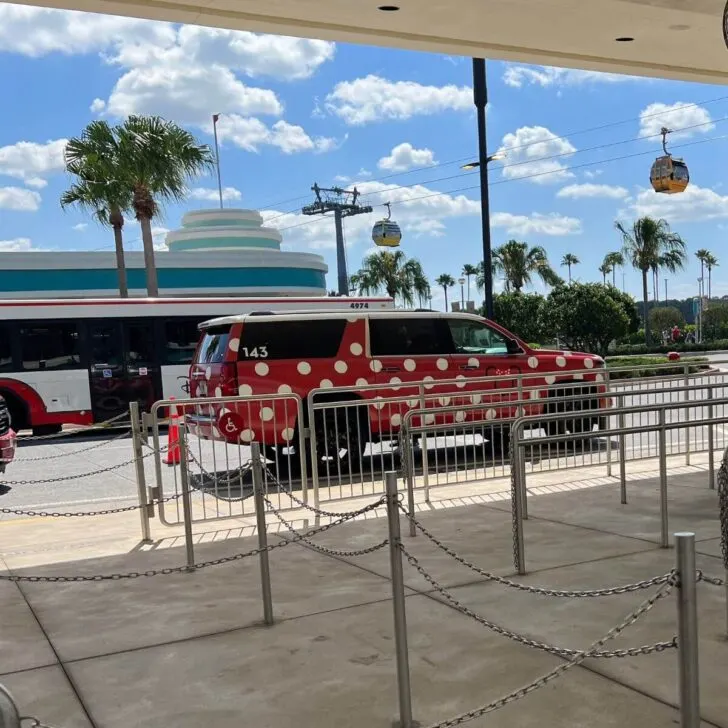 While the public transportation at Disney World is well-run, it can get crowded at key times, like in the morning at resorts and at park close.
If you don't want to deal with long commutes or crowds, especially with kids, budget for a few Minnie Van rides.
This private transportation is available via the Lyft app. It's a bit more expensive than other Lyft options, but these cars are allowed closer to park entrances than regular ride shares.
Plus there's the added Disney magic sprinkled in, like watching Disney cartoons during your ride. What toddler wouldn't be entranced by that??
Consider doing Bibbidi Bobbidi Boutique
If budget permits, Bibbidi Bobbidi Boutique is a magical experience for kids age 3-12.
Basically, your kiddo can get a princess or prince makeover, with packages that might include hair styling, costumes, makeup, and more.
Afterwards, your mini will even get their own photo shoot!
This experience fills up super quick, so I highly recommend booking ahead.
If you're staying at a Disney resort, you can book 60 days in advance of the start of your trip for up to a 10 day stay.
If not, you can book 60 days ahead of the date you want – so there's a bit of an advantage for Disney resort guests.
What to do if your toddler gets lost at Disney World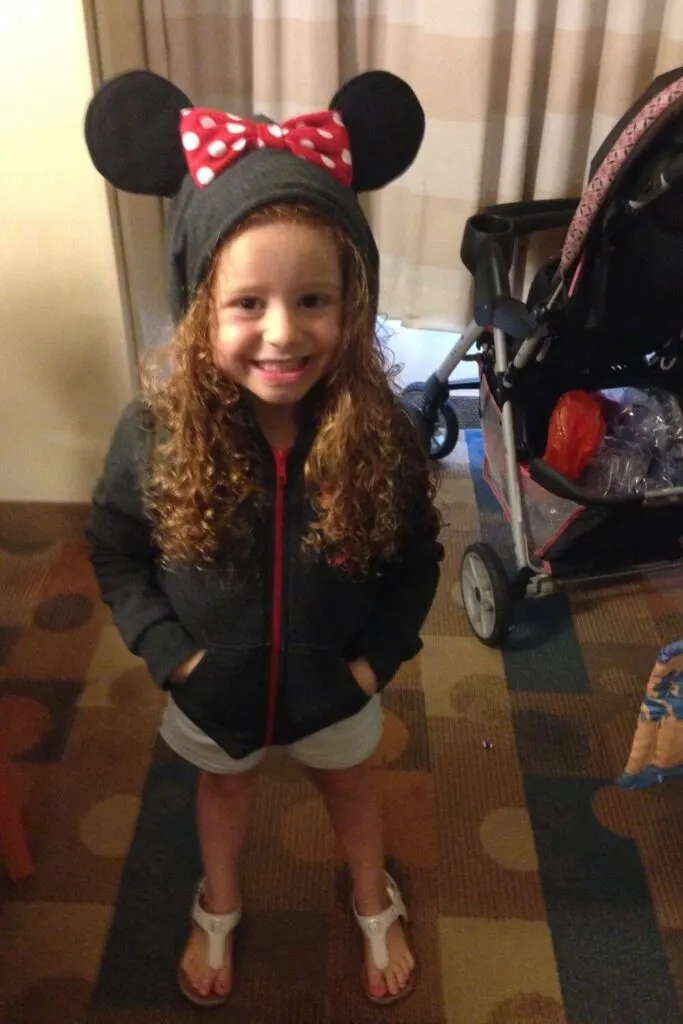 Just in case the unfortunate happens and your toddler wanders off, head straight to the Baby Care Center if you can't locate them right away.
Any time a cast member happens upon a lost kiddo, that is where they are taken to until they are reunited with a parent or guardian.
If you see a cast member on your way there, let them know so they can be on the lookout, as well.
In addition, consider adding a contact bracelet or lanyard to your kiddo with your name and cell phone number. I've also heard of people having their kiddos wear AirTag bracelets or necklaces.
That way the cast member at the Baby Care Center can call you immediately to let you know they are safe and can be picked up.
It might also help to take a picture of what your kid is wearing each day before you leave the resort. That way you can show a cast member what they look like if they haven't been located yet.
And remember – Disney World is a crowded place and toddlers are prone to wander. Please don't be too hard on yourself if it happens.
Make time for Disney Springs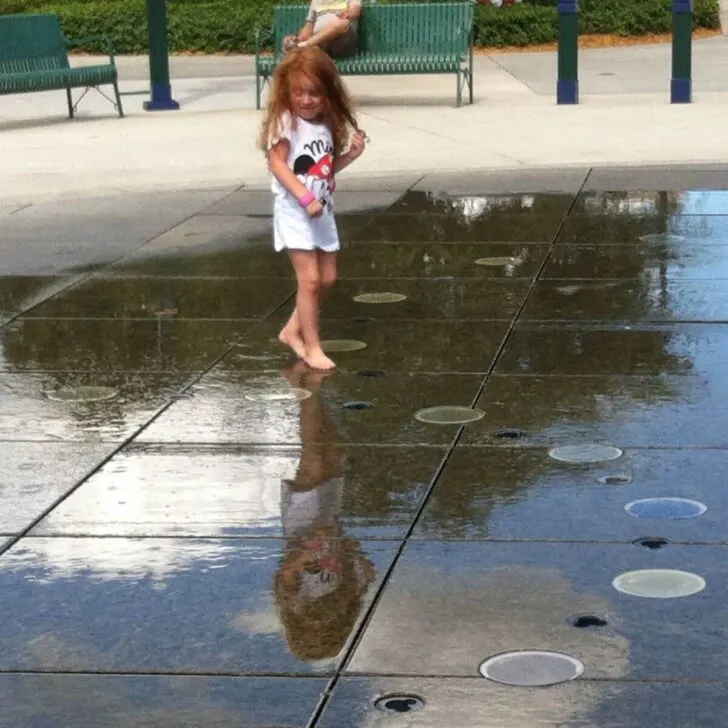 Disney Springs can be a great break from the park without leaving Disney itself. It's my favorite place to go on arrival and departure day!
It's a free entertainment with shopping, dining, performances, and even a few rides for the kiddos.
Rides include a carousel, small train, and a splash pad. The carousel and train rides are $5 per ride, but the splash pad is free!
There's also a massive LEGO store with giant LEGO statues outside that toddlers are sure to love. Plus, it's home to the world's biggest Disney Store!
Toddlers might also enjoy seeing the latest Disney movie at the AMC movie theater or dining at the T-Rex restaurant.
For more tips on things to do, check out my post on what to do in Disney Springs.
How do you manage Disney World with toddlers?
Disney World can be a place of wonder and delight for the whole family even with your little ones.
Just remember to plan ahead, utilize Disney magic, take breaks when needed, and above all, enjoy all the moments.
Hopefully, these tips and tricks will make your trip a memorable one. Have fun!
---
About the author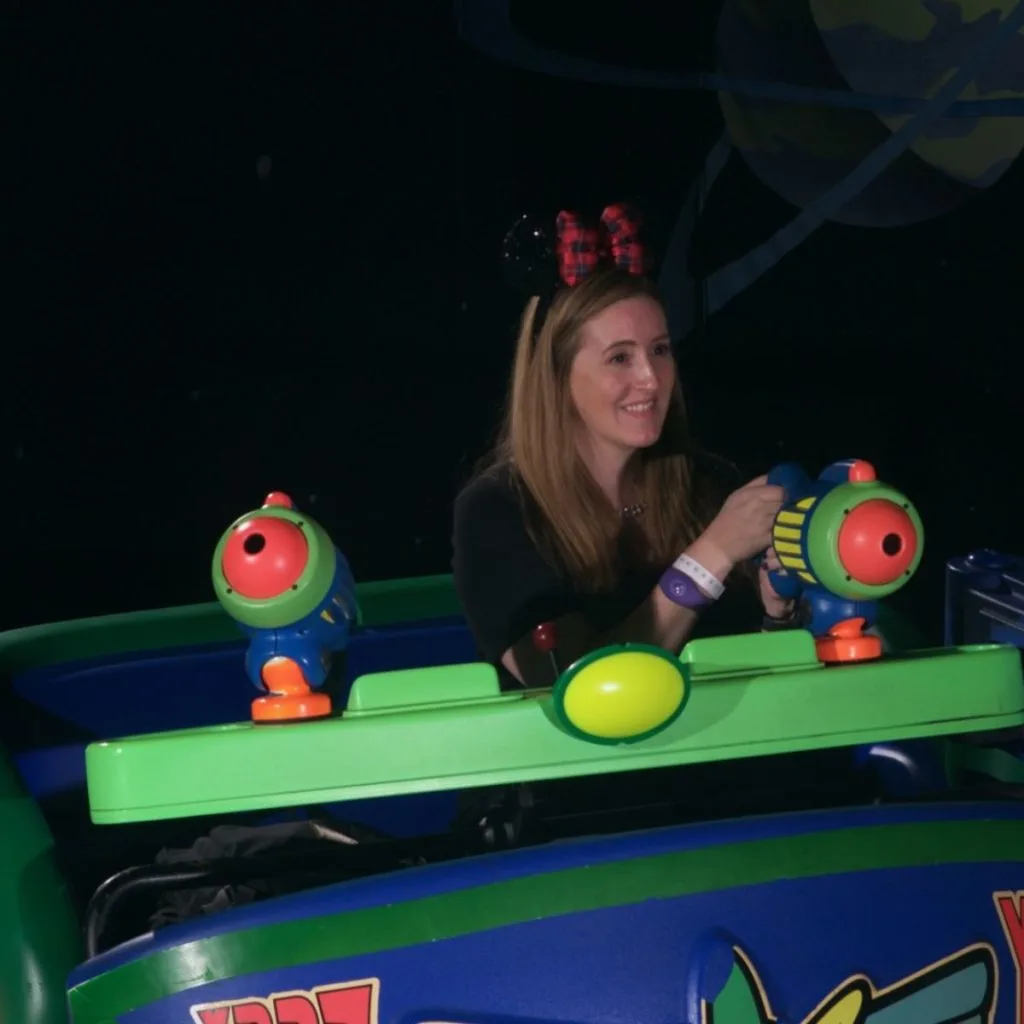 Meg Frost is the creator of The Park Pixie, where she covers Disney World, Disney+, and Disney fandom.
She holds an M.A. in Journalism from Northeastern University and B.S. in Communication & American Studies from University of Miami.
---