Disney's Animal Kingdom is a magical place for people of all ages. But when you're visiting with toddlers, there are some extra things to consider.
You want to make sure your little ones have a fun, but also safe time. My family and I were fortunate enough to visit when my niece was a toddler for her first trip and we loved visiting this park with her.
So, I've put together a guide on what to do, where to eat, and general tips for visiting Disney's Animal Kingdom with toddlers. Get ready for a wild adventure!
Tips for visiting Animal Kingdom with toddlers
We all know that Animal Kingdom can be a wild adventure, but throw a mini-human into the mix and things can get downright hairy.
Don't worry though, after visiting Animal Kingdom when my niece was a toddler, I've learned quite a few tips and tricks that will help make your visit a roaring success.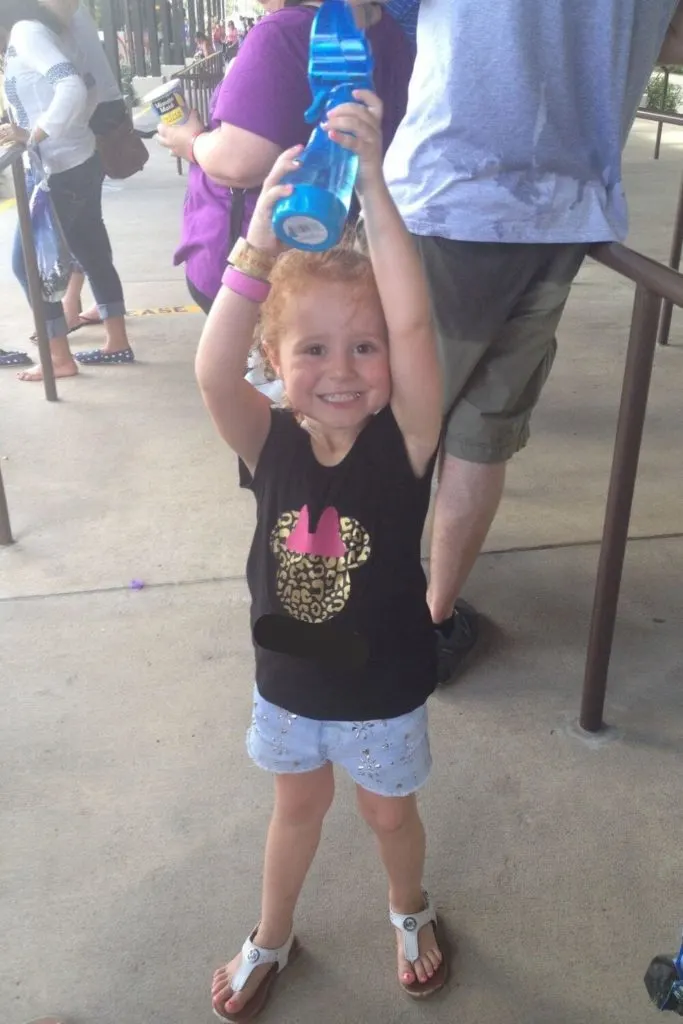 Skip the balloons
Balloons are a common souvenir sold at some of the other parks at Disney World, but at Animal Kingdom, they are banned due to being a safety risk for the animals.
So if you have one attached to your stroller or got one while at a different park earlier in the day, you'll need to stash it in your car or bring it back to your hotel room.
My niece begged for a balloon when we visited Magic Kingdom earlier in our trip and it doubled as an easy-to-spot marker for her stroller when we had to park it in a sea of nearly-identical strollers.
Fortunately I knew of this rule ahead of time, we left it in our hotel room that day, otherwise we would've been out on one expensive balloon!
Don't bring plastic straws
As with balloons, plastic straws are also banned here. So if your toddler is used to drinking with a straw, you'll get a paper straw instead.
Alternatively, you can bring reusable metal or bamboo straws or sippy cup.
Utilize the Baby Care Center
Located on Discovery Island next to the Creature Comforts souvenir shop, the Baby Care Center is not just for babies – it's for toddlers too!
There are private nursing rooms with rocking chairs, changing rooms, a kitchen with a microwave, and a shop carrying all the essentials like pull-ups, kid-friendly sunscreen, and more.
How to handle nap time
While some families will head back to their hotel for nap time, others use it to hit up the non-toddler friendly rides.
Over in the Asia section of the park, there is stadium seating that is perfect for nap time, as well as watching the character and street band flotillas.
If you have a comfortable stroller, your little could also nap away in their stroller while you tackle the non-toddler attractions, too.
Take advantage of rider swap
We utilized rider swap so two adults could go on a ride and then one would swap out to watch my niece while the other would swap in to go on the ride.
We weren't about to skip Expedition Everest just because my niece wasn't tall enough yet!
Typically we'd do this when my niece was napping in her stroller, so she wouldn't be bored or get fidgety.
Pack a change of clothes
Don't forget to pack a change of clothes. With the water rides and sandbox area, toddlers are bound to get a little dirty or wet at this park. Not to mention dripping ice cream!
We kept a full outfit for my niece stashed in a Ziploc bag at all times throughout our trip – and definitely had to use it a few times. So definitely have an extra outfit on hand just in case.
Store your stuff
If you don't want to lug your stuff around all day, rent a locker at Expedition Storage Lockers, directly across from Garden Gate Gifts, on the left side after the main entrance.
We had a big stroller with us, so we used the compartment underneath the stroller to hold bags, but on subsequent trips, definitely took advantage of the lockers.
Pack snacks
Sometimes crankiness can be solved with a little snack. Bring a few of your toddler's favorite snacks with you so you have quick access and don't have to wait in line at a restaurant or food kiosk.
It's also a great way to save money on food. This tip came in handy with my niece plenty of times!!
Bring a stuffie or small toy
Let them bring a stuffie or small toy – or budget to buy one there. Sometimes the parks can be sensory overload and having a small friend with them can be comforting.
It's also great for cuddling during nap time in a stroller or at the end of the day if it's close to bedtime.
My niece almost always had a tiny Pascal stuffie from Tangled with her or a new baby stuffie we picked up while there.
Rent a stroller
If you didn't bring a stroller with you, you can rent one at the park. Strollers can be rented at Garden Gate Gifts, which is located on the right hand side after going through the main entrance.
Rentals are $15 per day or $13 for length of stay. One perk to renting a strollers at the park is that you don't have to deal with it on Disney's buses, since you return it before you leave the park.
We opted to bring a stroller with us, but on a subsequent trip, we didn't and ended up regretting it and had to rent one.
Alternatively, you can rent from a third-party company if you'd prefer a more comfortable stroller and don't want to bring your own.
Kingdom Strollers, Magic Strollers, and ScooterBug Orlando are all great options.
Where to eat at Animal Kingdom with toddlers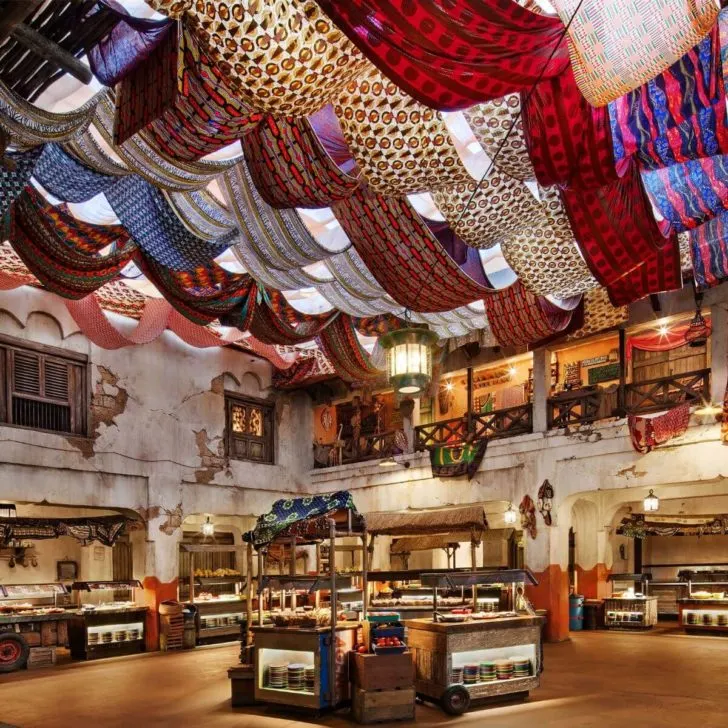 Not all restaurants at the Disney parks are toddler-friendly or might just be so-so experiences. If you're looking for something special, prioritize one of these spots.
Character dining at Tusker House Restaurant
One of our favorite ways to get character meet-and-greet times in when my niece was a toddler was character dining.
It was a great way to avoid the long waits in line and double up meal-time with character face time.
And luckily, Animal Kingdom has character dining at Tusker House Restaurant in the Africa section of the park.
Donald Duck is the star of the show here, all decked out in safari gear. Plus other characters will join him, such as Mickey and Goofy, but the exact line up is not a guarantee.
The menu includes a mix of pan-African fare, as well as American favorites, so both foodies and plain eaters will be pleased.
Rainforest Café
Located just outside the entrance to the park is Rainforest Café, an immersive restaurant with an Amazon rainforest theme.
The menu has lots of toddler-friendly foods, plus most kiddos will love the ambiance. It is a bit dark, though, so keep that in mind if your little one is afraid of the dark.
Restaurantosaurus
While the menu here is your typical quick-service park food, all of the kids meals come with a National Geographic "So Cool! Dinos" book! Who doesn't love free souvenirs?
Zuri's Sweet Shoppe
Over in the Africa section of the park is a delightful sweets shop that sells delicious candy, cookies, cupcakes, and other fun treats.
They always have the coolest themed cupcakes and treats, so if you're looking for something special, definitely check out this spot.
Best things to do at Animal Kingdom with toddlers
Whether you're a seasoned pro or a newbie to the wild world of Disney, there's no denying that planning your day can be overwhelming.
Fear not, my fearless friend, I'm here to guide you through the best things to do at Animal Kingdom with your tiny tots.
From thrilling rides to engaging attractions and captivating shows, I'll make sure your day is jam-packed with fun and adventure (and hopefully minimal tantrums).
Keep reading to check the best rides and shows at Animal Kingdom to add to your toddler's itinerary.
Affection Section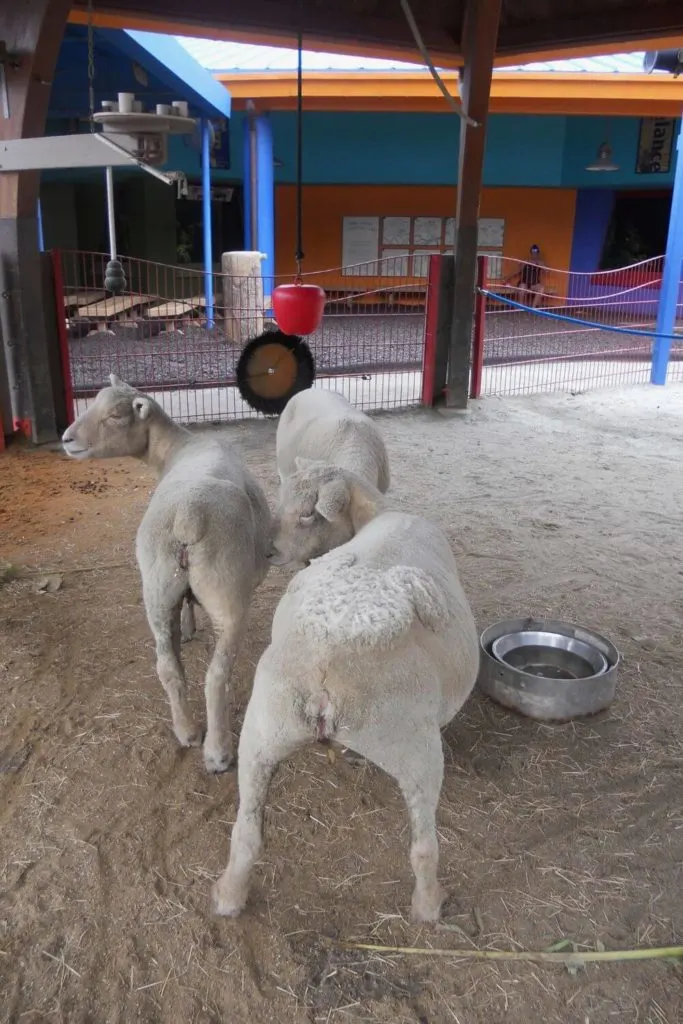 Located in Rafiki's Planet Watch, this petting zoo is a must-visit for toddlers. They can touch and feed animals like goats, sheep, pigs, and more.
Be sure to keep an eye out for hidden mickeys…on the animals!
As for our experience? My niece was a bit terrified of the animals, but I think it was crankiness from being tired!
But there were lots of toddlers there fully enjoying the hands-on experience with these gentle farm animals.
NOTE: This attraction can only be accessed via the Wildlife Express Train
The Boneyard Fossil Fun Site
Located in DinoLand USA, this sandbox-like play area is designed for kids to dig for dinosaur bones while pretending to explore the prehistoric world.
It's exclusively for kiddos 10 and under so you won't have to worry about older kids or adults taking up space.
Plus it'll give you time off your feet while your little one gets some sensory play in while burning off energy.
Conservation Station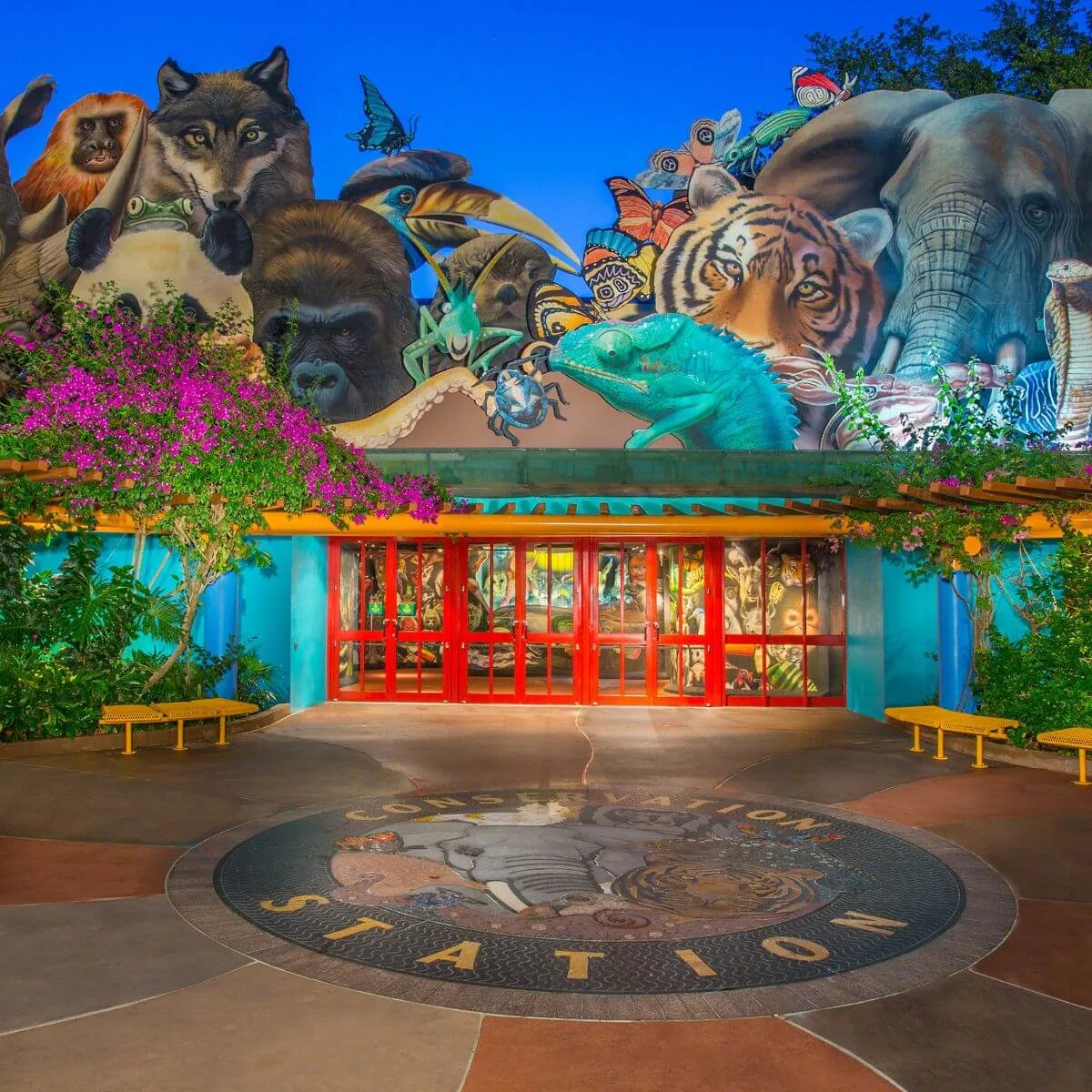 If your toddler is a budding veterinarian or Doc McStuffins fan, definitely make a point to head over to Rafiki's Planet Watch to check out the Conservation Station.
Here, you'll get a behind-the-scenes look at the care and conservation of animals at Disney's Animal Kingdom.
Your toddler might even get a chance to interact with live animals like snakes and lizards!
Dino-Sue
Over in DinoLand USA, check out a giant replica of the largest T-Rex skeleton ever found in the US. Don't forget to take some pictures!
Then, head over to The Boneyard playground for some playtime or Restaurantosaurus for some lunch.
Feathered Friends in Flight
One of two avian shows at Animal Kingdom, Feathered Friends in Flight gives guests a behind-the-scenes look at the free roaming birds at the park, including their care.
If your toddler is interested in birds, they're going to love this 25 minute show!
Feathered Friends in Flight takes place at Anandapur Theater in the Asia section of the park.
Festival of the Lion King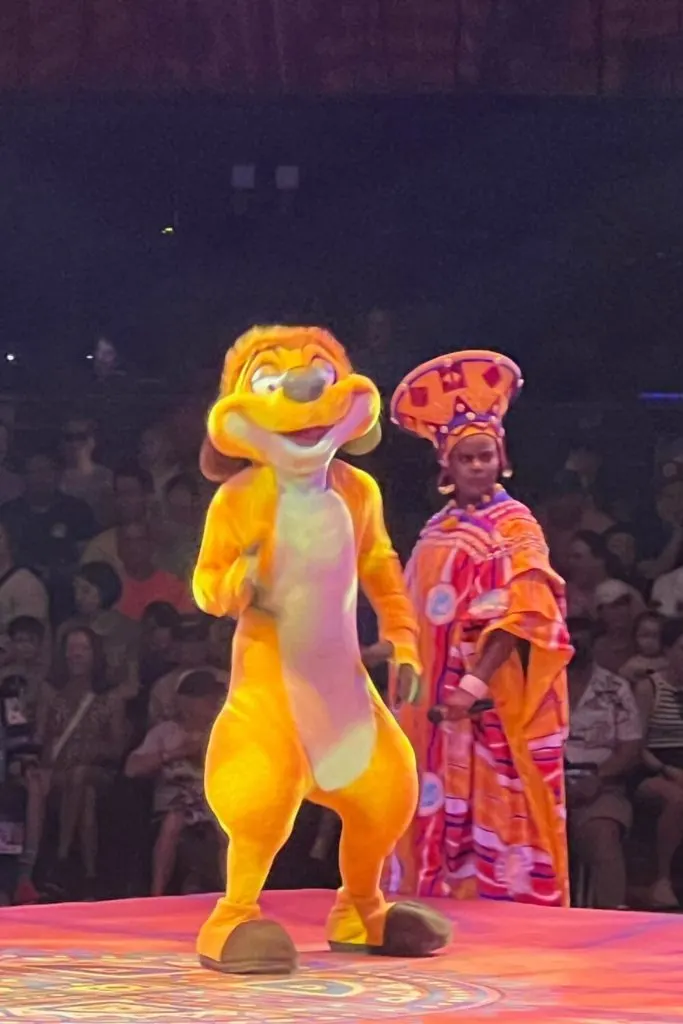 Located in the Africa section of the park, this 30-minute Broadway-style musical features singing, dancing, acrobatics, and all your favorite characters from The Lion King.
I love how this show gets the crowd to interact and participate in the show, too! It's a great time and the perfect AC or rain break.
This was one of our favorite shows. My niece loved the acrobat monkeys and all the colorful costumes – and of course, the appearances from her fave characters from The Lion King.
Finding Nemo: The Big Blue…and Beyond!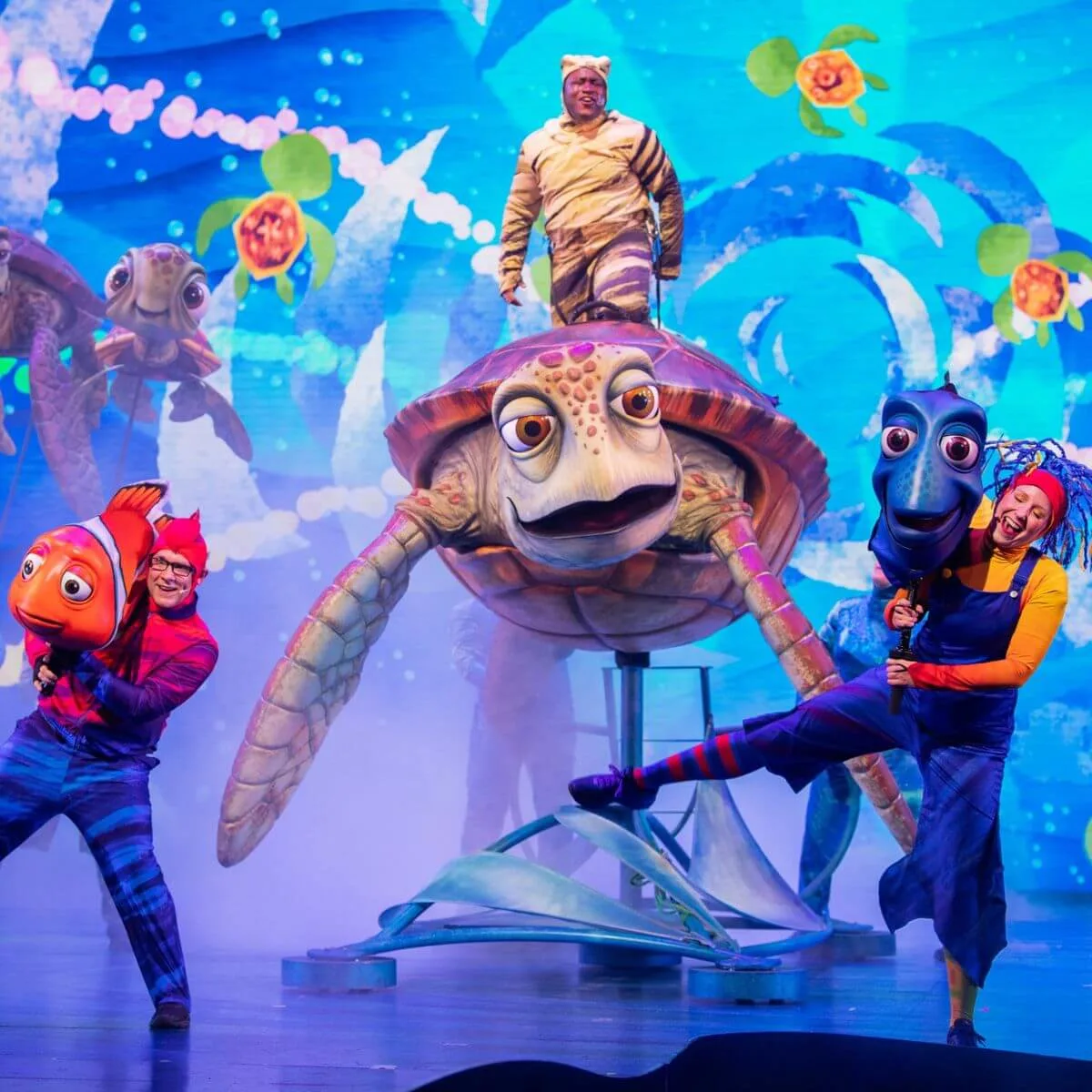 Don't let this puppet show fool you – it is way cooler than your typical puppet performance.
This 25-minute production in DinoLand USA is filled with singers, dancers, and gorgeous, larger-than-life puppets and their performers.
When we went with my niece, it was a different Nemo-themed puppet show and she adored it.
I'm absolutely certain toddlers will love the colors, music, and live performers in the new show, as well.
Gorilla Falls Exploration Trail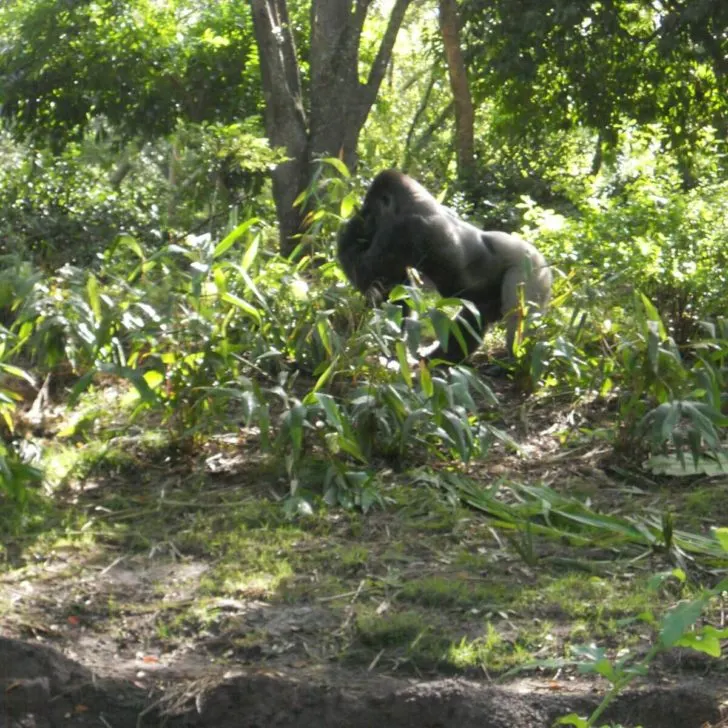 Take a walk through the Pangani Forest to see a variety of animals, such as birds, hippos, meerkats, zebras, and gorillas.
Your toddler will love spotting all the different animals, especially if they are doing something silly!
This walk-through attraction is located in the Africa section of the park.
Harambe Village Acrobats
Several times a day, a team of acrobats put on an energetic show over in Harambe Village in the Africa section of the park.
The show also includes African dance and drumming that will no doubt get your toddler moving and grooving!
Check the My Disney Experience app for the latest times, as they change from time to time.
It's Tough to Be a Bug!
This show in the base of the Tree of Life features characters from A Bug's Life.
It's a dark show with lots of immersive sensory experiences, so not all toddlers will like this – so you'll have to decide if your little one will enjoy it.
Personally, we laughed and found it to be silly and fun!
Kali River Rapids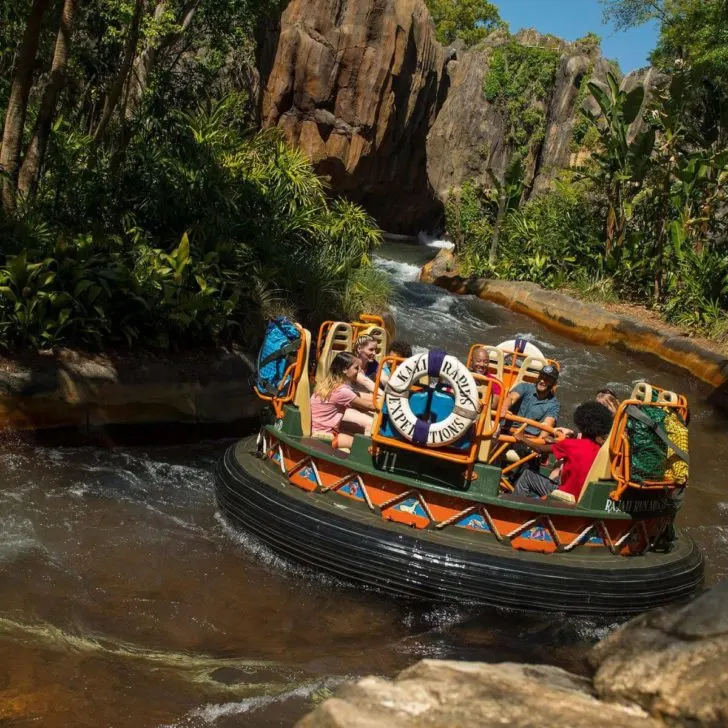 If you're looking for the perfect ride for your little ones to cool off in the midst of a hot Florida day, then look no further than Kali River Rapids.
This swashbuckling water ride will have your toddlers giggling with glee as they splash through twists and turns, and a thunderous waterfall that's sure to soak everyone onboard.
Lockers are nearby to put away any items you don't want to get wet. We like to hit up this attraction right before we take an afternoon break so we can change back at our hotel.
NOTE: This one's for the older toddlers that are at least 38″ tall, due to height restrictions.
Kilimanjaro Safari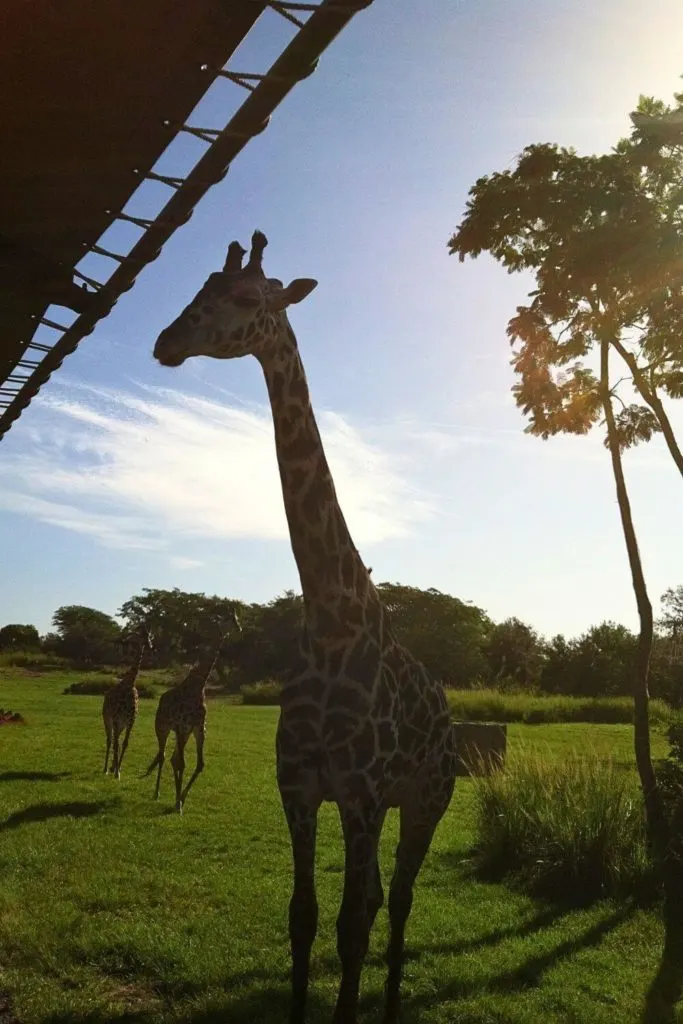 Take a ride through an African savanna and see all sorts of animals like giraffes, lions, and elephants.
Your toddler will be amazed by the sights and sounds and marvel at all the animals.
Sometimes the giraffes will come up to the safari car and while you can't touch them, they might poke their head in for a sniff.
This happened to us one time and my niece was feeling a bit apprehensive about it, so we just put her in the middle and that seemed to help!
Maharajah Jungle Trek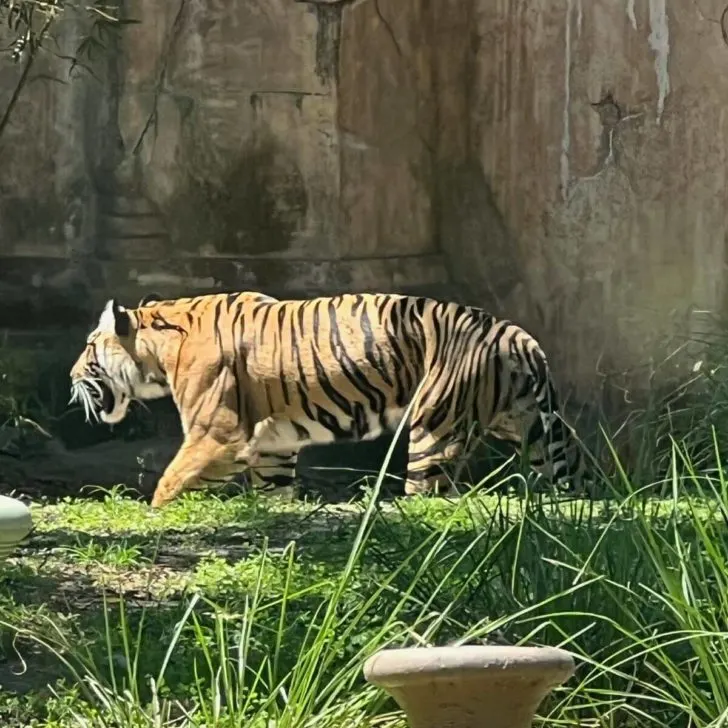 This walking trail is similar to Gorilla Exploration Trail, except it is home to animals that are native to Asia.
Here you can see a variety of animals like birds, water buffalo, a Komodo dragon, and tigers.
We loved watching the tigers roll around and play in their enclosure area!
Meet tons of characters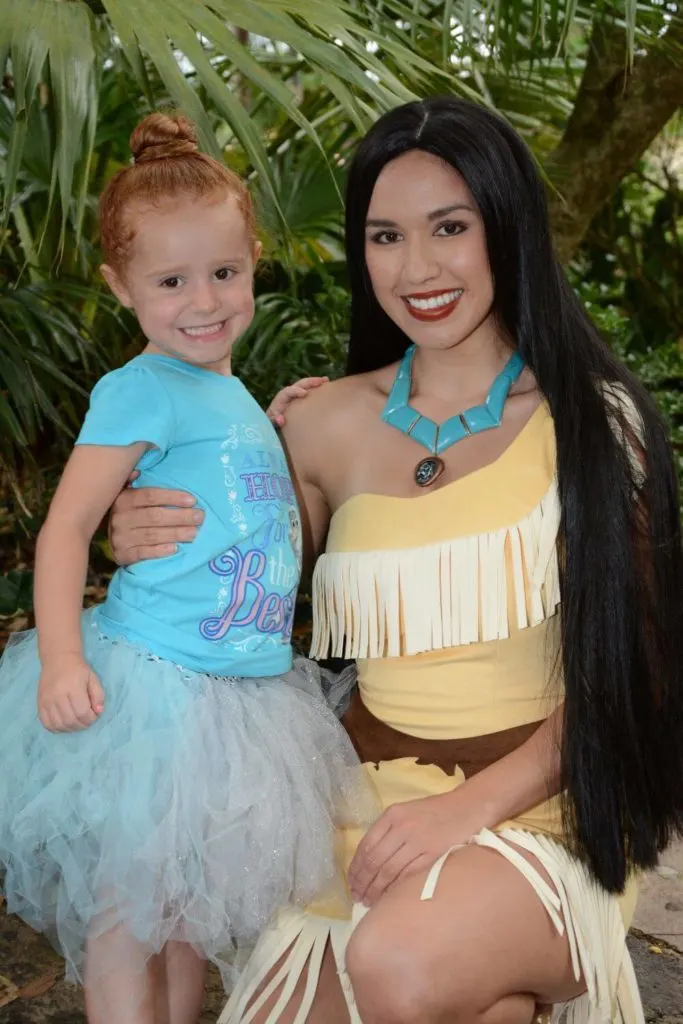 There are a variety of character meet-and-greets at Animal Kingdom that your toddler will love!
On Discovery Island, you can meet Mickey and Minnie, all dressed up in their safari gear.
Nearby at Character Landing, you can also meet Moana, who is new to the park as of 2023.
Next up is Donald's Dino Bash in DinoLand USA, where you can meet Donald Duck, as well as Chip and Dale.
There are also flotillas that circle the Discovery River with characters like Pluto, Goofy, Russell and Dug from Up, Launchpad McQuack and Scrooge McDuck from Duck Tales, and more.
While you can't meet these characters, you can snap some fun pictures or just enjoy the show – perhaps with a tasty snack in hand.
Lastly, there are occasionally pop-up meet-and-greets of other characters like Kevin from Up and Flik from A Bug's Life.
Sometimes these are listed on the My Disney Experience app, but not always, so keep and eye out!
Your toddler will love meeting all their favorite characters like Mickey, Minnie, Donald, and more. Check the Times Guide for locations and times.
Na'vi River Journey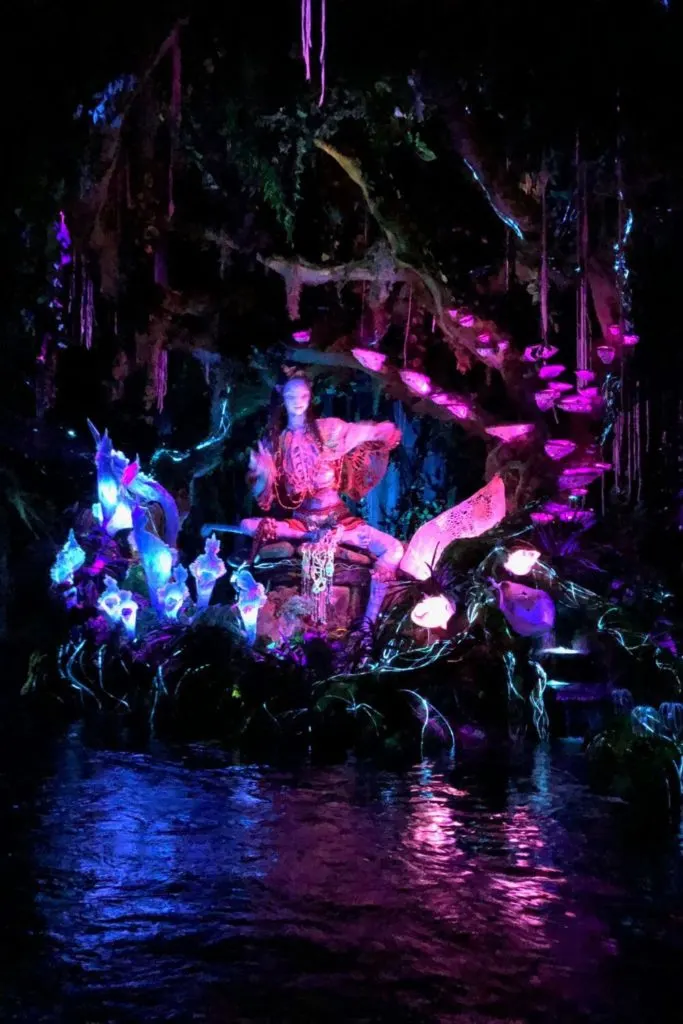 Pandora – A World of Avatar is spectacularly done, but most people think it's just for older kids and adults. That couldn't be further from the truth!
The Na'vi River Journey is a slow boat ride through the magical world of Pandora. Your toddler will be mesmerized by the colors and sights, and even the animatronics!
I will note, though, that it's a dark ride, so if they are afraid of the dark you might want to skip this one.
TriceraTop Spin
Located in DinoLand USA, this dinosaur-themed ride goes up in the air and flies around in a circle.
It is very similar to other toddler-friendly rides like Aladdin's Magic Carpet and Dumbo the Flying Elephant at Magic Kingdom.
Sure, it is simple, but for a toddler, it's super exciting!
Wilderness Explorers
This one is great for older toddlers and preschoolers. It's an interactive experience where you can complete challenges around the park and collect a badge – just like a real Wilderness Explorer in Up.
You can start at any time, with a variety of Wilderness Explorer stops throughout the park where you can pick up your challenge booklet or pick up a newly earned badge.
There's a troop stop in each section of the park, as well as the main one at the bridge between Discovery Island and Oasis.
This would be a fun tradition to start, with a goal of completing new experiences each time you visit. There are up to 25 badges to collect!
Wildlife Express Train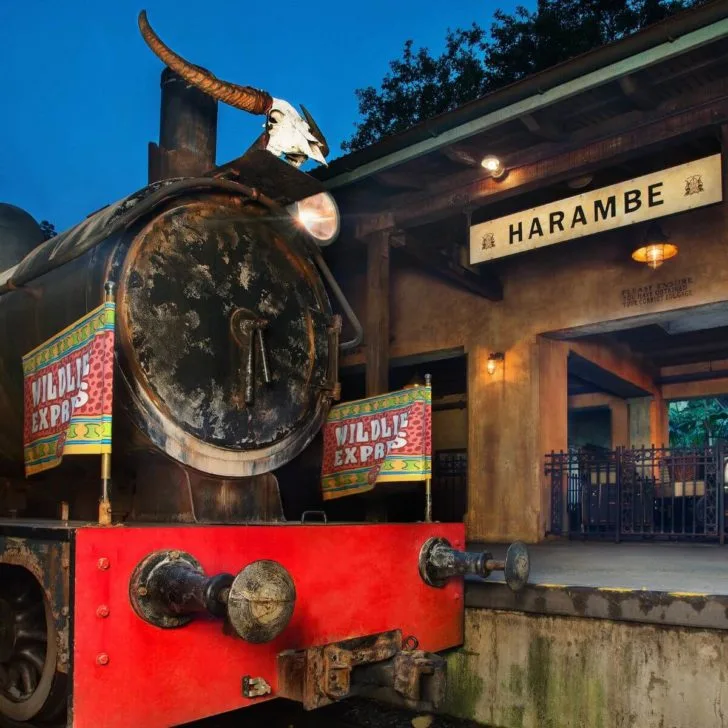 All aboard to the Wildlife Express!
Take a round-trip ride or hop off and explore Rafiki's Planet Watch at the mid-way stop, where the Affection Section petting zoo and Conservation Station exhibits are.
Your toddler will love the sights and sounds along the way and many will love the experiences at Rafiki's Planet Watch, too.
Winged Encounters – The Kingdom Takes Flight
Your toddler will be amazed by the sight of macaws soaring overhead in a beautiful display of color and flight.
As the birds show off, a cast member teaches them all about the six different species at the park: blue and gold, blue throated, green winged, hyacinth, and scarlet.
Viva Gaia Street Band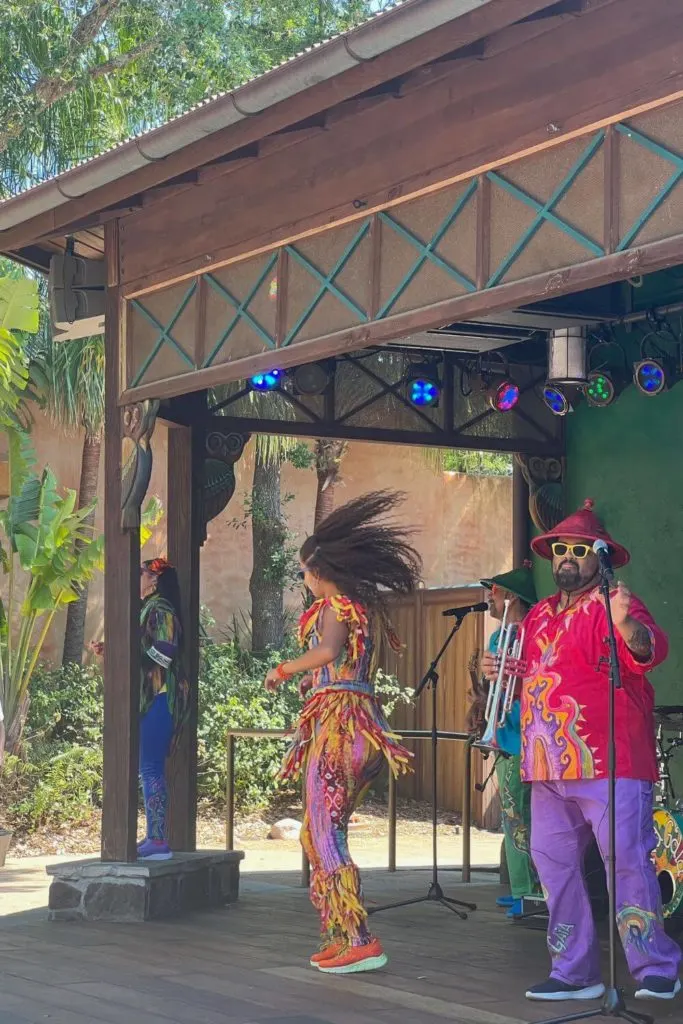 This lively musical performance features Caribbean music and it is an absolute blast!
Your toddler will love dancing along to the music, which is a great way to get some energy out.
Performances take place on Discovery Island, just before the entrance to DinoLand USA. Check the My Disney Experience app for accurate performance times.
What are your favorite things to do at Animal Kingdom with toddlers?
I'm sure you'll agree, Disney's Animal Kingdom is a great place to visit with toddlers. With so many fun and educational experiences, your little ones will be entertained all day long.
Just remember to take breaks, stay hydrated, and wear comfortable shoes. Enjoy your wild adventure at Disney's Animal Kingdom!
For more tips on visiting Disney World with toddlers, check out these posts:
---
About the author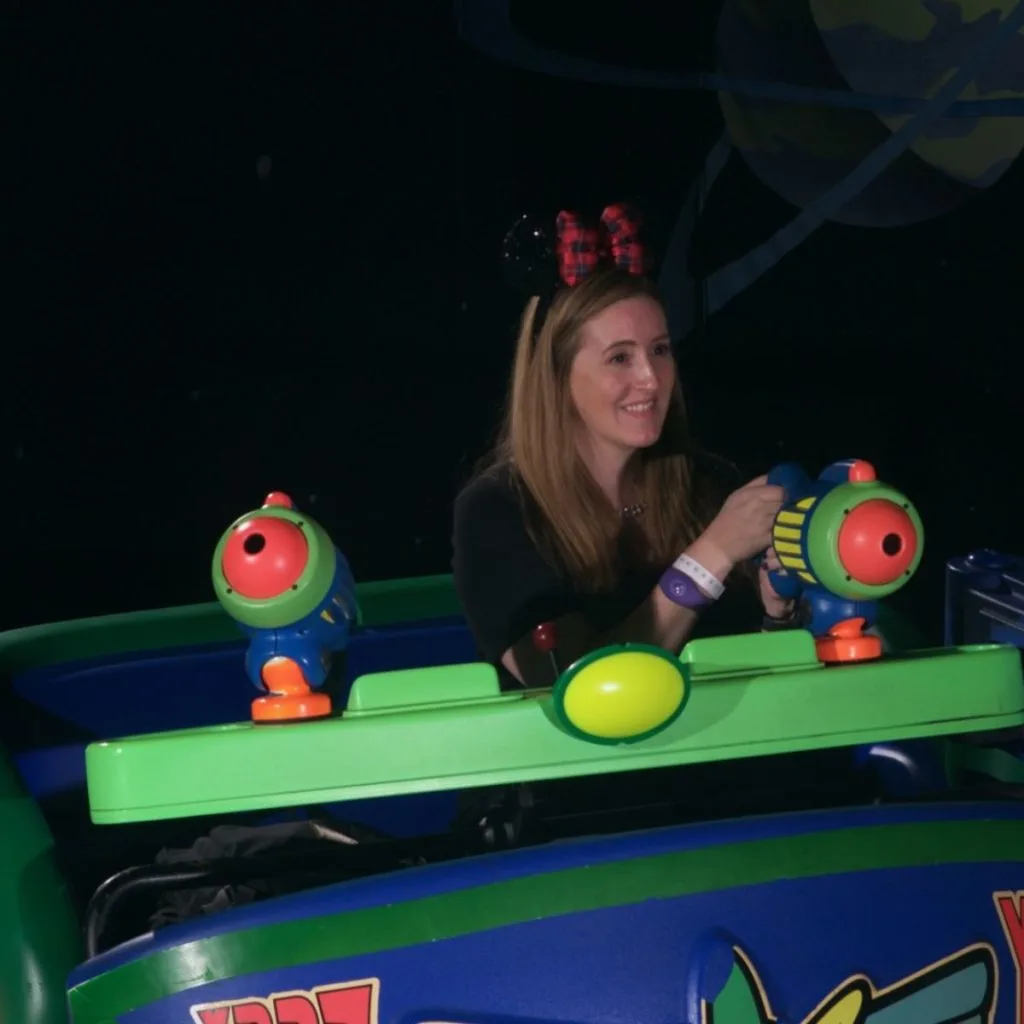 Meg Frost is the creator of The Park Pixie, where she covers Disney World, Disney+, and Disney fandom.
She holds an M.A. in Journalism from Northeastern University and B.S. in Communication & American Studies from University of Miami.
---