Disney's animated film, Moana, tells the story of a Polynesian princess who embarks on a journey to become a master navigator of the ocean. She seems like a pretty rad chick, if you ask me!
How FUN would it be to go on a Moana themed vacation at Disney World?
Even though Moana has only been around for a few years, Disney World already has tons of Moana inspired attractions, restaurants, and even resorts.
Keep reading for my itinerary tips on how to experience the spirit of Moana at Disney World, from where to stay, what to do, where to eat, and even some Disney bounding ideas.
Moana-inspired resorts at Disney World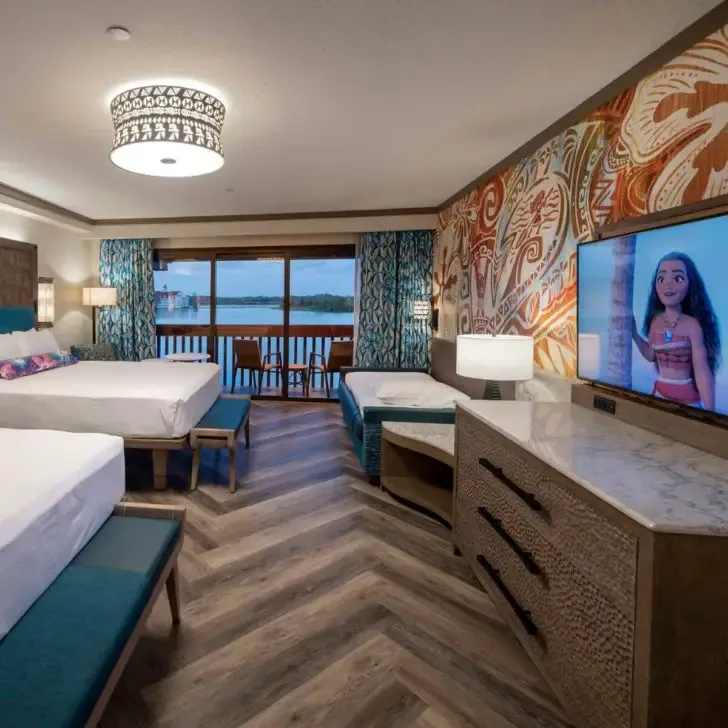 First things first, let's figure out where you're going to stay. There are a handful of Disney resorts that are Moana-inspired, some more so than others.
Disney's Art of Animation Resort
First up is Disney's Art of Animation Resort, which has a Skyliner station. While there isn't Moana-theming, there is lots of theming from The Little Mermaid and Finding Nemo.
I'd like to think that as creatures of the ocean, Moana is friends with Ariel, Sebastian, Flounder, Nemo, Dory, and their aquatic friends.
So if you're a big Moana fan but don't want to spend too much on your resort, this is going to be your cheapest option.
Disney's Caribbean Beach Resort
If you can stretch your money a bit more, opt for Disney's Caribbean Beach Resort, which is a moderate level hotel.
While it's Caribbean inspired, rather than Polynesian, it has plenty of beachy, oceany, and islandy vibes.
Disney's Polynesian Village Resort
For the ultimate Moana fan, a stay at Disney's Polynesian Village Resort is a must-do.
The resort has been around since 1971, offering up a slice of Polynesian life at Disney World since then. However, in 2021 they added Moana-themed rooms, too!
Disney's Polynesian Village Resort also includes a sand beach perfect for relaxing and watching the Magic Kingdom's nightly fireworks show.
Lastly, the resort is currently expanding to add a brand-new Disney Vacation Club tower and restaurant.
No word yet on whether it will also have Moana-theming, but at the very least, we know it will be Polynesian-inspired.
Moana Disney bounding ideas
If you're planning a Moana-inspired vacation, you may as well go all-out with some Moana Disney bounding.
Here are a few ideas for Disney bounding as a few Moana characters:
Moana
Kids are allowed to dress up in costume, so don't be afraid to let your little one wear their Moana costume to the parks!
For adults, or a non-costume kids look, pair an orange crop top or tank with a tan skirt or shorts.
Cargo shorts and skirts are very trendy right now, plus I also feel like they are very Moana since they are made for adventures.
You could also add a beachy necklace, such as puka shells or sea glass, similar to the heart of Te Fiti that Moana wears.
Hei Hei
Have a little bit of extra fun with this one!
Wear a yellow top with jade green or turquoise bottoms, plus a red hat, to mimic Hei Hei's feathers. Add ridiculously large sunglasses for Hei Hei's googly-eyed stare.
Tamatoa
Go for a chromatic look in head-to-toe light purple or even a iridescent purple that shimmers. You could even do a mix of pink and purple to mimic Tamatoa's shimmery shell.
Add a jacket that is encrusted with gold jewels on the back. I recommend avoiding gold spikes, as Disney security could see that as a safety risk for yourself and guests.
Overall make sure you don't add anything too pointy or anything that could be dangerous with your back up against a chair on a bumpy ride.
Bonus points for teeth jewels!
Te Fiti
A green, flowing dress or top and maxi skirt is perfect for emulating the Goddess Te Fiti.
Just make sure the dress or skirt isn't too long, as Disney has a policy against clothing that drags on the ground for safety reasons.
Pair the outfit with a flower crown with your hair down and you'll look just like the fictional goddess herself!
Shop the looks
Shop for your Moana Disney bounding outfit in the widget below.
Polynesian-inspired food and drink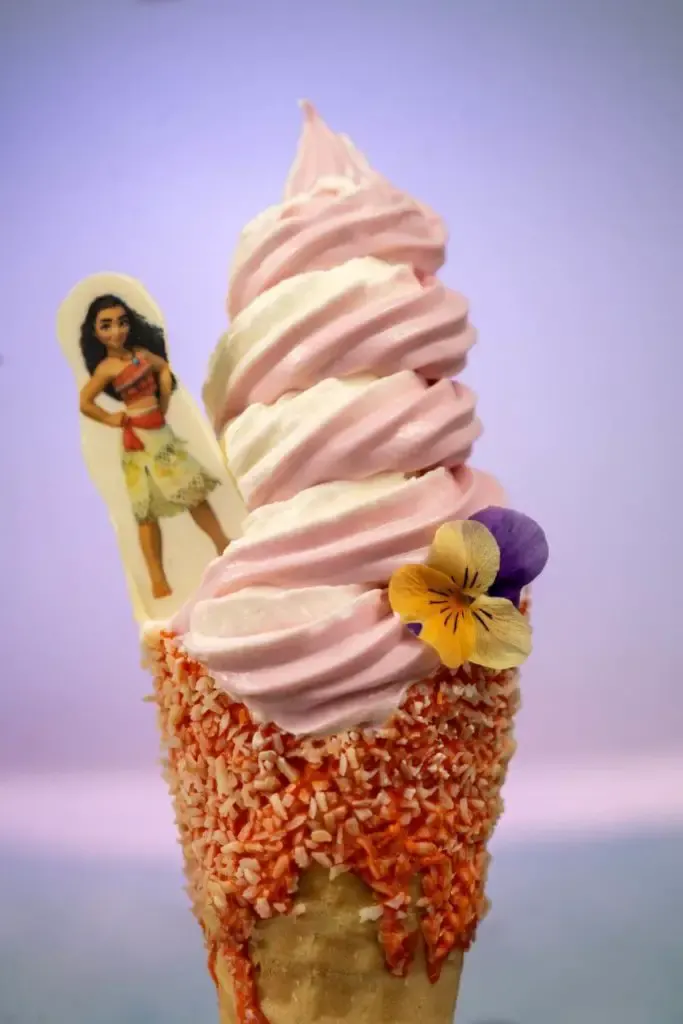 Now that we've covered where to stay, and what to pack, let's take a look at all the fun Polynesian-inspired food and drink available at Disney World so you can make your dining reservations.
Over at Disney's Polynesian Village Resort, you'll find several restaurants that fit the bill:
'Ohana (which has a Lilo & Stitch themed character breakfast)
Captain Cook's
Kona Cafe
Kona Island
Oasis Bar & Grill
Pineapple Lanai
Tambu Lounge
Trader Sam's Grog Grotto
Trader Sam's Tiki Terrace
All of these establishments feature delicious food and drink that will remind you of Polynesian life, such as Tonga Toast, tropical cocktails, pineapple Dole Whip® soft serve ice cream, and fish tacos.
Another great option is Coral Reef Restaurant at Epcot, where you can gaze upon giant aquariums filled with fish, sea turtles, and sharks while you dine. It's like dining under the sea (ha! see what I did there…)!
Sometimes during Epcot's festivals, such as the Epcot Food & Wine Festival, you can find a food booth dedicated to Hawaii, too.
If you are a big fan of Dole Whip® pineapple soft serve ice cream, check out my post about where you can find this delicious island-y treat.
Lastly, Disney World often has limited run snacks, such as the Moana Cone pictured above, or the Hei Hei Cone and Tamatoa Cone they've had in the past.
Keep an eye out – you never know when a new one might pop up!
Moana-inspired attractions
While there isn't a Moana attraction at Disney World yet, there is one opening to the public on October 16, 2023.
In the meantime, let's go over all the fun attractions that are around that give major Moana vibes.
Water parks & resort pool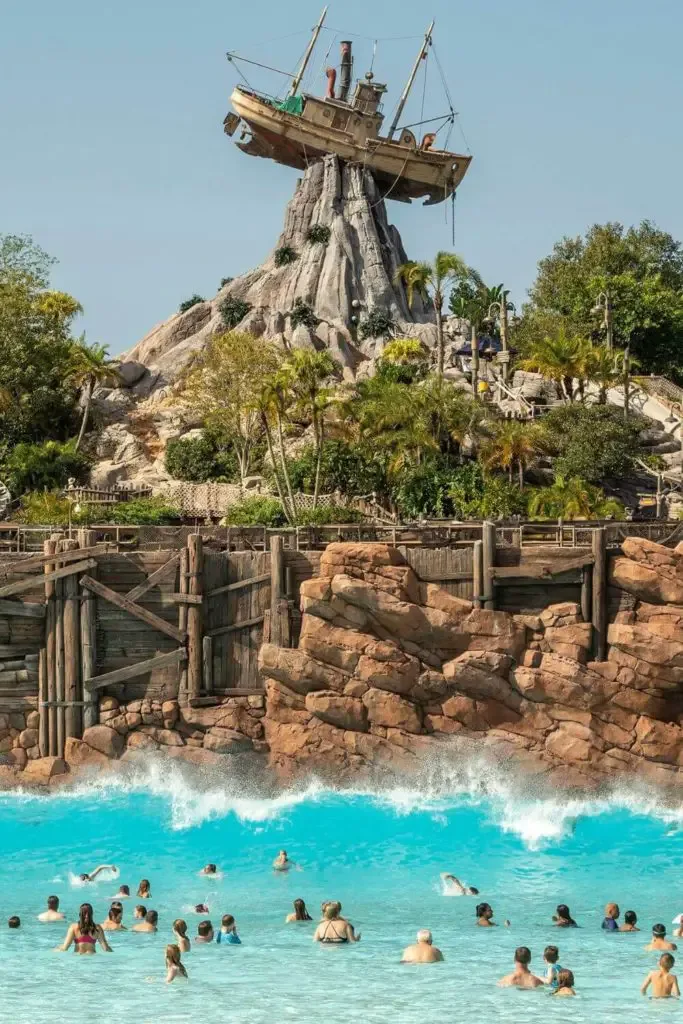 Make like Moana and spend some time in the water at your resort pool or one of Disney's water parks.
Lately, Disney World has been keeping one water park open and closing the other for refurbishment. So more than likely you won't have a choice on which one to attend!
But either way, you'll have lots of fun at the water slides and pools.
Hollywood Studios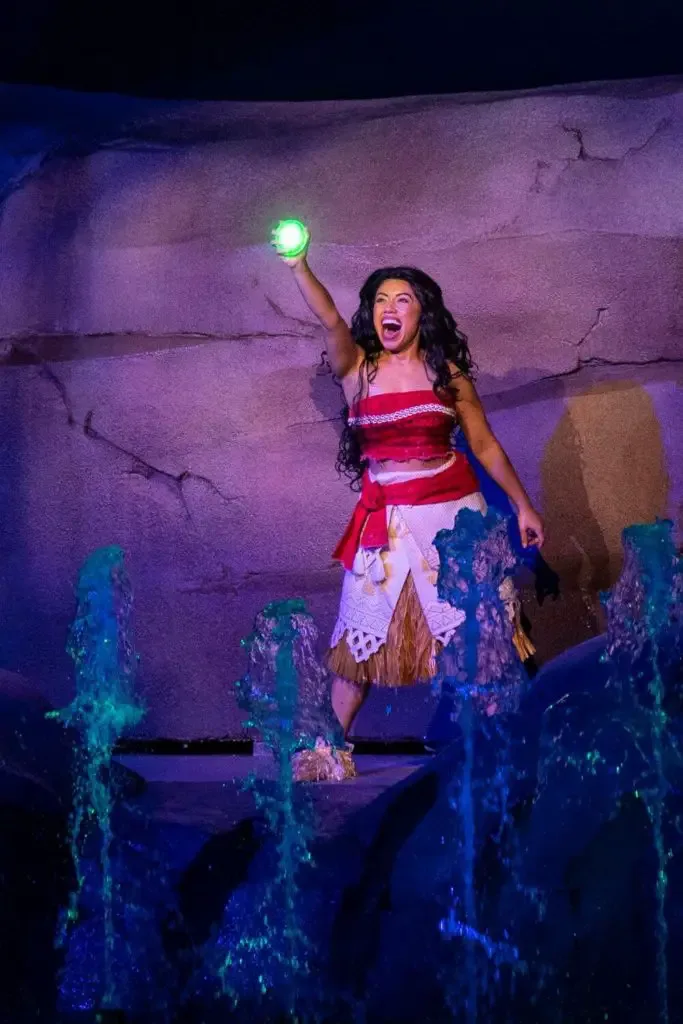 At Hollywood Studios, you can catch a glimpse of Moana and pals in their nighttime show, Fantasmic!
Magic Kingdom
At Magic Kingdom, head to the Enchanted Tiki Room for an interesting show featuring tropical birds that sing.
Not gonna lie, I personally think this show is boring. But I also strategically watch it when I need to rest my feet and take an air conditioning break!
While there, you'll be nearby Aloha Isle, so treat yourself to some pineapple Dole Whip®.
Animal Kingdom
At Animal Kingdom, learn all about conservation at the Conservation Station. This attraction can be a bit hard to find, as it's hidden.
To get there, take the Wildlife Express Train from Africa to Rafiki's Planet Watch, which is where you'll find this educational, yet fun, attraction.
Finding Nemo: The Big Blue…and Beyond! is great for seeing lots of ocean animals, like sea turtles, and everyone's favorite fish, Nemo and Dory.
Head to Kali River Rapids, where you can pretend you're navigating through choppy ocean waters, just like Moana and Maui.
Epcot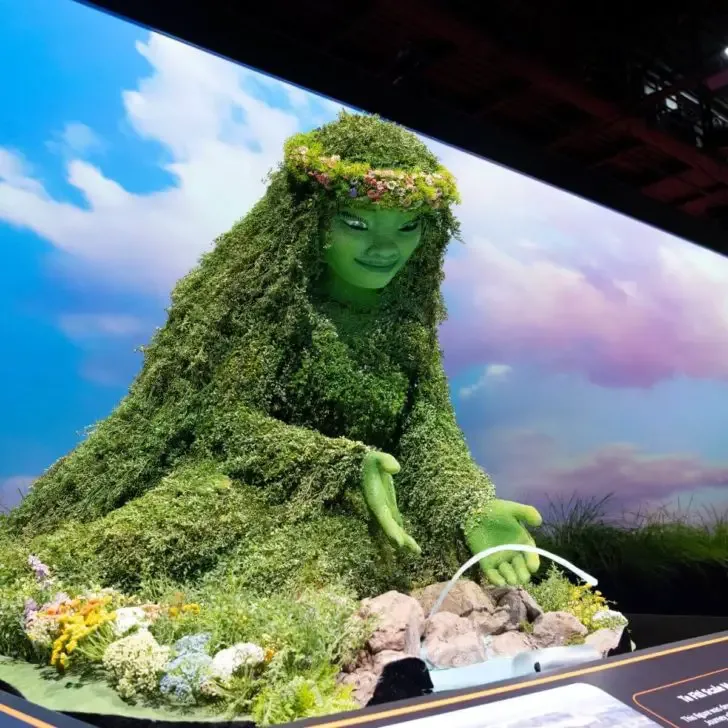 At Epcot, head to SeaBase, where you can see coral reefs, sea turtles, sharks, and stingrays (just like Moana's grandmother!).
For an extra fee, you can go do a snorkeling or scuba diving tour at SeaBase, too!
Don't forget to hit up The Seas with Nemo & Friends and have a chat with Crush at Turtle Talk with Crush while you're there.
Afterward, stop by The Circle of Life at the Land pavilion to see a short film about the environment.
Lastly, Journey of Water ~ Inspired by Moana is now welcoming guests to explore the cycle of water in this new walking trail in World Nature. In addition, there is a Moana meet-and-greet next door.
Too bad they aren't adding a wayfinding exhibit, too!
I suppose if you want to get up-close-and-personal with the stars, you could join the virtual queue for Guardians of the Galaxy: Cosmic Rewind and ride Mission: Space to make up for it.
For more info, check out my post about ride and attractions at Epcot.
Tropical souvenirs
No Disney World trip is complete without oodles of souvenirs.
If you're staying at Disney's Polynesian Village Resort, stop by Moana Mercantile, a classic resort gift shop with lots of stuffed animals, snacks, and other classic Disney World souvenirs.
For more tropical and Polynesian inspired gifts, head to BouTiki, also at the resort.
Sometimes you can find souvenirs from Disney's Hawaiian resort, Aulani, too!
The SeaBase Gift Shop at Epcot is another great option that might have extra Moana or ocean-life inspired gifts.
At Disney Springs, get decked out in tropical gear at Everything But Water, Havaianas, Lilly Pulitzer, Na Hoku, Ron Jon Surf Shop, Shore, Sunglass Icon, Tommy Bahama, and Volcom.
Lastly, a shopping trip to Disney Springs isn't complete without a stop at World of Disney.
Who knows, maybe you'll find some fun Moana merch, such as ears or a stuffed toy, while you're there!
Frequently asked questions about Moana
Before you move on to the next post, here are a few frequently asked questions and answers about Moana.
When did Moana come out?
Moana officially premiered on November 14, 2016 at El Capitan Theatre in Los Angeles, California. However, it didn't open to the general public until November 23.
What is Moana based on?
Moana is an original story, although it borrows heavily from Polynesian folktales and mythology, such as that of Maui.
Where is Moana from?
Moana is from the fictional island of Motonui in Polynesia.
If you're not familiar with Polynesia, it includes real-life places such as Hawaii, New Zealand, and Samoa.
So if the name of the island sounds familiar, that's because its name was inspired by a real mountain in New Zealand!
Is Moana a Disney princess?
Of course Moana is a Disney princess!
While some fans think Moana isn't a princess because she does not come from a monarchy, and she did not have an official coronation ceremony at Disney World or Disneyland, Disney does refer to her as a princess.
Plus, as Maui points out in the movie, she wears a dress (a Pandanus skirt) and has an animal sidekick (or two).
How long did Moana take to make?
Moana took approximately five years to make, from idea to premiere. While that might seem like a long time, that's pretty typical, especially for an animated film!
How much money did Moana make?
According to IMDb, Moana grossed just over $682 million worldwide – and that's just what it made during its run in movie theaters.
Will there be a sequel?
Disney is set to release an animated Moana series on Disney+ in 2024 that will follow Moana, Pua, Hei Hei, and friends in new adventures that take place after the movie (source).
In addition, Moana will be getting the live-action treatment, but a timeframe for the release is yet to be announced (source).
How will you celebrate Moana at Disney World?
A Moana-inspired vacation to Disney World is the perfect way to celebrate and pay tribute to the memorable characters and powerful story of this popular movie.
I hope you found some new tips for planning your stay at Disney World to celebrate your favorite gal, Moana, and her rag tag crew, Hei Hei, Pua, Maui, and others.
So what are you waiting for? Let's start planning our marvelous Moana-infused vacation now!
How will you celebrate Moana at Disney World? Let me know in the comments below.
---
About the author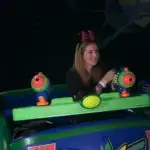 Meg Frost is the creator of The Park Pixie, where she covers Disney World, Disney+, and Disney fandom.
She holds an M.A. in Journalism from Northeastern University and B.S. in Communication & American Studies from University of Miami in Florida.
---
This post was originally published on November 3, 2016 on Frost + Sun. It was moved to The Park Pixie on April 20, 2023 and last updated October 16, 2023.