Ah, Disney World. The land of childhood dreams, family vacations, and endless queues.
But what if I told you that Disney World isn't just for kids? That's right, fellow adults, it's time to leave the strollers at home and plan an adults-only trip to Disney World.
But with so many parks to choose from, which one is the best for us big kids? Allow me to break it down for you so you can decide which one is the best Disney park for adults.
Animal Kingdom for adults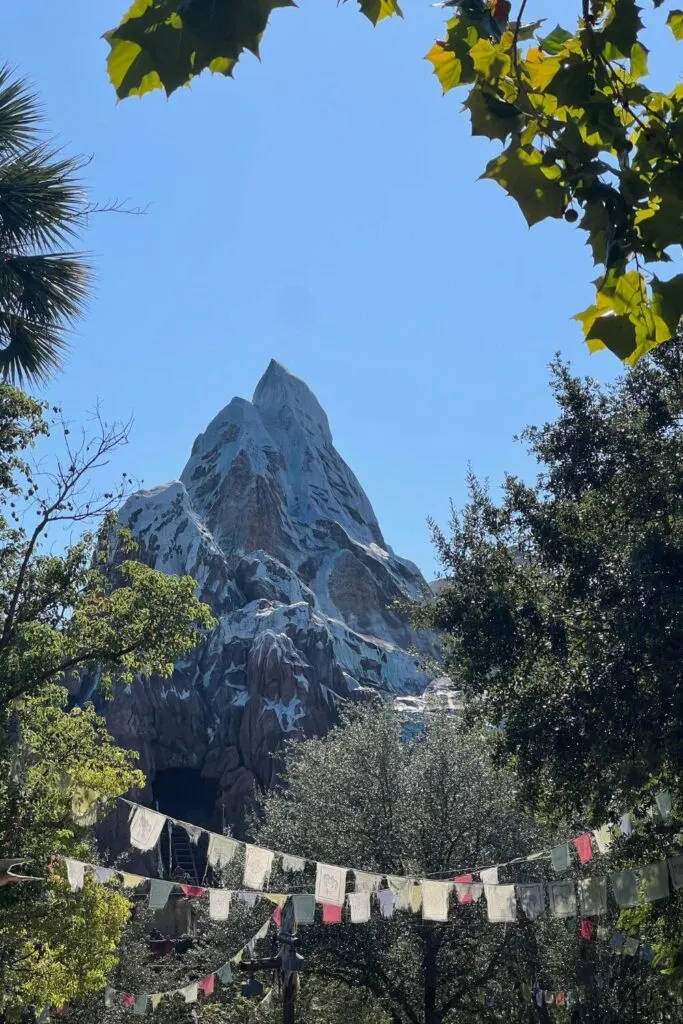 Disney's Animal Kingdom is all about wildlife conservation and education, including animals real and fantastical.
This park includes a nice mix of rides both thrilling and relaxing, as well as several excellent shows, such as Festival of the Lion King and Finding Nemo: The Big Blue…and Beyond.
It's also home to Pandora – The World of Avatar, one of the most impressively themed lands at Disney World.
As an adult, you can really appreciate the immersion and attention to detail that went into creating this section of the park!
It also has some of the best food across the resort, even when compared to Epcot!
Plus you can get adult beverages at both Pongu Pongu and Satu'li Canteen, two restaurants available in this area.
That said, Animal Kingdom needs a bit of TLC, particularly with the giant waterfront theater that sits empty – save for a few families sitting down while a baby or toddler naps in their stroller.
Perhaps that's why Disney recently announced big plans to revamp this park in the next few years.
Plus, Disney has really cut back on the closing hours for this park. It's absolutely stunning at night, especially Pandora.
Unfortunately, it's been quite some time since this park has been open after the sun has gone down and the stars have come out.
Overall, if you like animals and outdoorsy stuff, or are an Avatar fan, definitely add this park to your itinerary.
Just keep in mind that you'll be visiting during the day so you'll want to pack all the essentials for keeping cool and sunscreen to protect yourself against sunburn.
Epcot for adults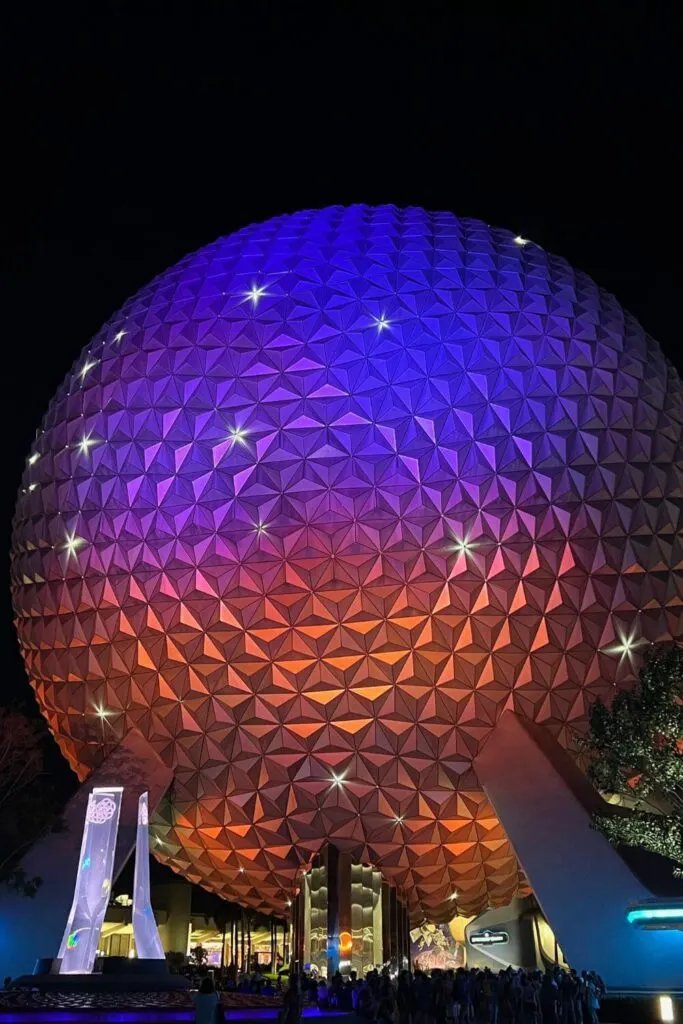 Next up is Epcot, also known as Experimental Community of Tomorrow. This park celebrates our world, including the past (culture) and future (technology).
It's a weird concept, but Disney is trying hard to smooth things out and make the theme more cohesive. Only time will tell if they succeed, because its revamp is taking forever.
It's also very well known as the park for adults at Disney World. And while it is great for us kids at heart, it's definitely not just for adults.
Anyway, this park can be broken up into three sections: World Celebration, World Discovery, World Nature, and World Showcase.
World Celebration is the main entrance to the park and is filled with restaurants and a few rides. It leaves a bit left to be desired, but I think within a few years, this section will improve.
Next, World Nature is home to a beautiful sea aquarium, as well as 2 Nemo-themed attractions, and the Land pavilion with attractions like Soarin' and Living with the Land.
Soon, an interactive walk-through exhibit, Journey of Water ~ Inspired by Moana, will open, as well.
Then there is World Discovery, an area devoted to science and technology. At the moment, there's a heavy focus on space, such as Cosmic Rewind, Space 220, and Mission Space.
I like to hit up this section first before I start sampling all the delicious food and drink across the World Showcase.
The World Showcase area is responsible for Epcot's reputation as a park for adults, as many like to "drink around the world" or "snack around the world," where you try different drinks or snacks from each country represented.
In addition, many of the pavilions have live music several times throughout the day and night. Some of the bands will play traditional music, while others will play more contemporary hits by artists from that country.
For example, on a recent visit, I noticed the band at the Mill Stage at the Canada pavilion was playing a Celine Dion song while I was making my way to the International Gateway to hop on the Skyliner.
As much as I love World Showcase, some of the pavilions are not as engaging as others, plus there haven't been any new countries added in literal decades.
Disney has definitely put in some effort in recent years to pull in more families, with the Frozen retheme of the Maelstrom boat ride in Norway, as well as the addition of the Ratatouille ride in France.
Overall, I highly recommend visiting this park, especially in the evening after you've had a rest or dip in the pool or for a fun date night.
Have a nice meal, enjoy a drink or 2, go on a couple rides, and watch the nighttime show. Just remember to imbibe responsibly, please!
For more tips, check out my post about the best rides at Epcot, as well as my festival guides for Arts, Flower & Garden, Food & Wine, and Holidays.
Hollywood Studios for adults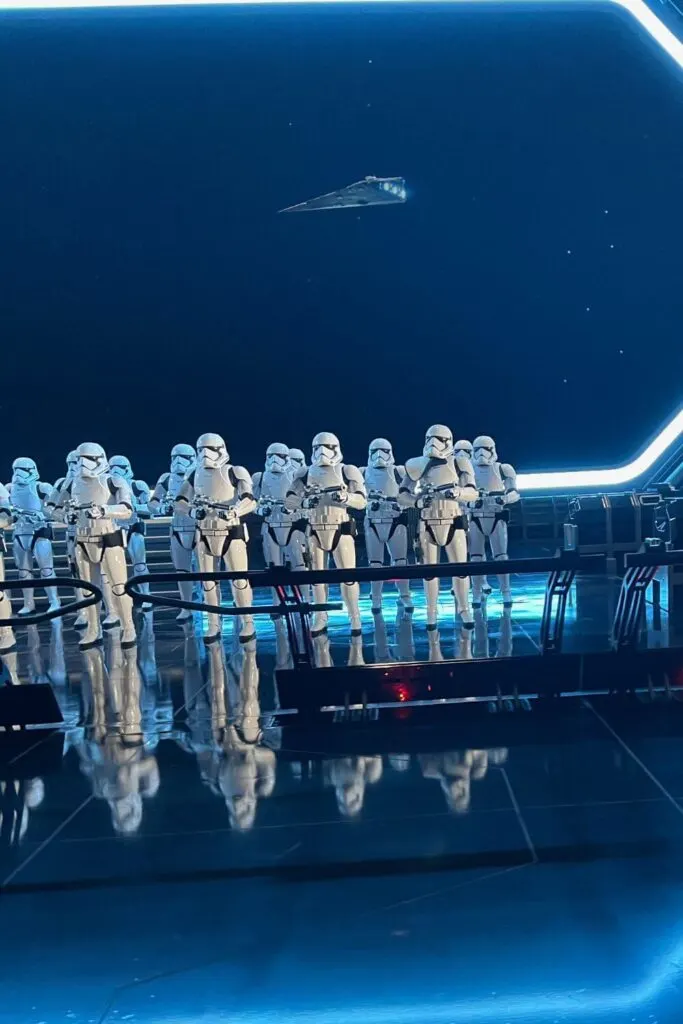 Hollywood Studios is the park for movie and TV lovers. With attractions like Star Wars: Galaxy's Edge, Toy Story Land, and the Twilight Zone Tower of Terror, this park is full of thrills and excitement.
That said, it is definitely very specific to the movies and TV shows represented, so if you're not a fan of any of them, this park may not be as enjoyable as the others.
I've also become more of a Star Wars fan after visiting Galaxy's Edge a few times. Pedro Pascal, aka The Mandalorian, might also have a lot to do with that, but that's a different article, ha!
I will say, the way Galaxy's Edge is set up – I absolutely hate visiting during the day. It almost feels like the sun is brighter and it's hard to see, even with sunglasses on. That's not something Mando can fix, unfortunately.
The same goes for Toy Story Land. There is just not enough shade and the sun reflects off the light colored ground, making it hotter than other areas of the park.
Anyway, I don't say that to discourage you from attending, as I think adults will really enjoy the rides and shows at this park. I just think it's more enjoyable in the evening hours.
Plus, you can watch Fantasmic!, my favorite nighttime show, and enjoy a cocktail or two at Oga's Cantina in Galaxy's Edge or a brew and apps at BaseLine Tap House.
Overall, I think Hollywood Studios is more fun at night and makes for a fun date night spot or friends night out.
Also, if you're not an annual passholder, you might even want to consider getting tickets to one of their specially ticketed evening events, such as Jollywood Nights or the generic After Hours event for short lines and a more adult-friendly vibe.
For more tips, check out my posts about the best rides and shows at Hollywood Studios, as well as the best snacks at Hollywood Studios.
Magic Kingdom for adults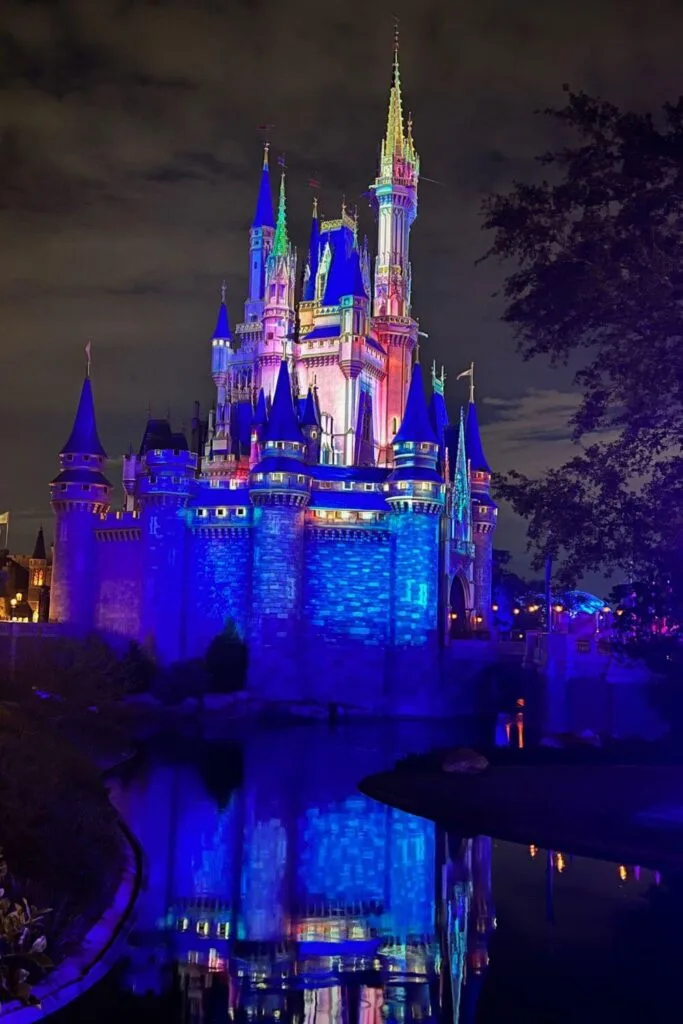 Magic Kingdom is what most people think of when they think of Disney World – the castle, the parades, the classic attractions.
As an adult, you can appreciate the nostalgia factor of this park and relive some of those childhood memories.
Plus, there are plenty of adult-friendly rides and attractions, like Space Mountain and Pirates of the Caribbean (complete with a Johnny Depp-as-Jack Sparrow animatronic).
But be warned – this park is the most popular and most crowded, so if you're not a fan of lines and crowds, you'll want to plan your visit strategically.
For example, using Genie+ to avoid long waits in line and visiting in the afternoon and evening (when families with kids are more likely back at the resort) or only visiting as part of one of their after hours events, like Mickey's Not-So-Scary Halloween Party.
Overall, this is THE park that represents Disney World the best, so it's a must-do in my opinion.
Sure, the food might be better at other parks, but there are more rides here. Plus you can always hop on the monorail to eat at one of the nearby resorts!
For more tips, check out my post about the best rides at Magic Kingdom.
Blizzard Beach & Typhoon Lagoon for adults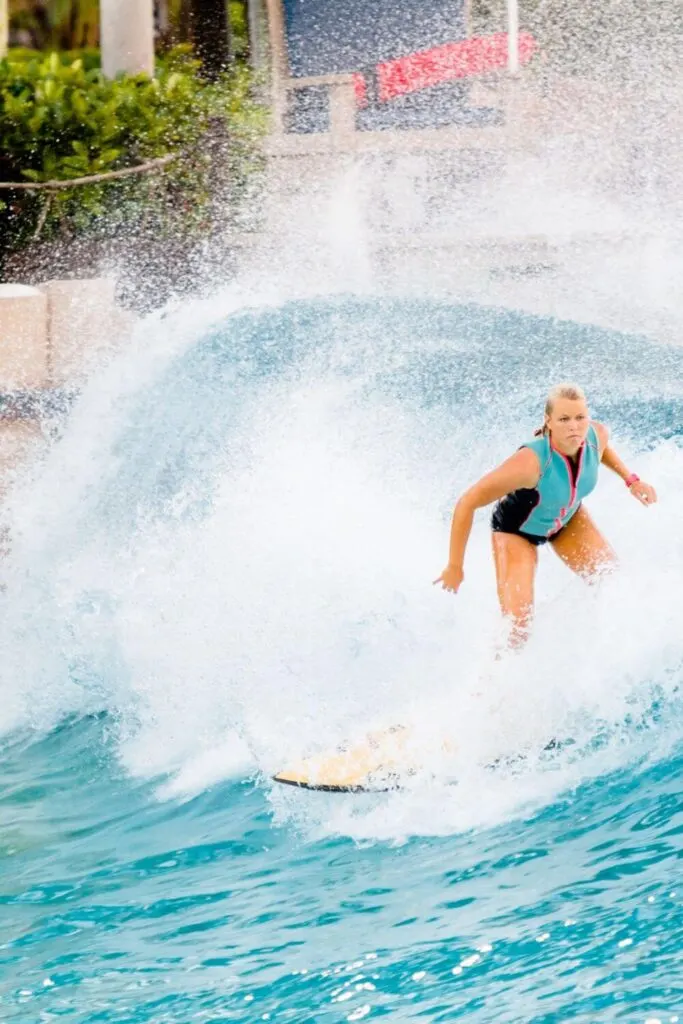 Blizzard Beach and Typhoon Lagoon are both water parks at Disney World.
While they are separate parks, I'm lumping them together here because Disney seems to only want to have one open at a time, while the other undergoes refurbishment.
Anyway, it's hot most of the year at Disney World, so if you enjoy water slides, definitely pencil in a day at one of these parks.
It's also a great way to rest if you've been running around all week, but you don't want to miss out on all the fun Disney World has to offer.
Grab a tube and hit up the lazy river, soak up the sun, or hit up one of the water slides for some roller coaster-like thrills.
Another option is to hit up the after hours events, such as H2O Glow at Typhoon Lagoon, which usually happen every summer at whichever park happens to be open for the season.
The only time I wouldn't spend money on one of these parks is if I'm only there for a few days or if it's Winter. Although it's sometimes warm enough in the Winter, it's hit or miss, temp-wise.
Another perk is that you're not going to be here all day (unless you're at an after hours event), so you can still fit in a nice nap at the hotel and then hit up Disney Springs for a lovely sit-down meal and perhaps a drink while listening to a local band or taking in the Cirque du Soleil show, Drawn to Life.
So which one is the best Disney park for adults?
Honestly, it really depends on your interests and preferences!
Plus, if you're here for even just a night or two, you can easily fit in more than one or two parks with a park hopper upgrade or annual pass.
Be sure to have a rough plan on what you want to do (by reading my guides!) and that will help with deciding which parks are worth it to you.
And at the end of the day, no matter which park you choose, just remember to embrace your inner child and have lots of fun.
Before you go, I highly recommend also check out my post about the best Disney resorts for adults (plus which ones to avoid), as well as my overall guide to Disney World for adults.
See you in the parks!
---
About the author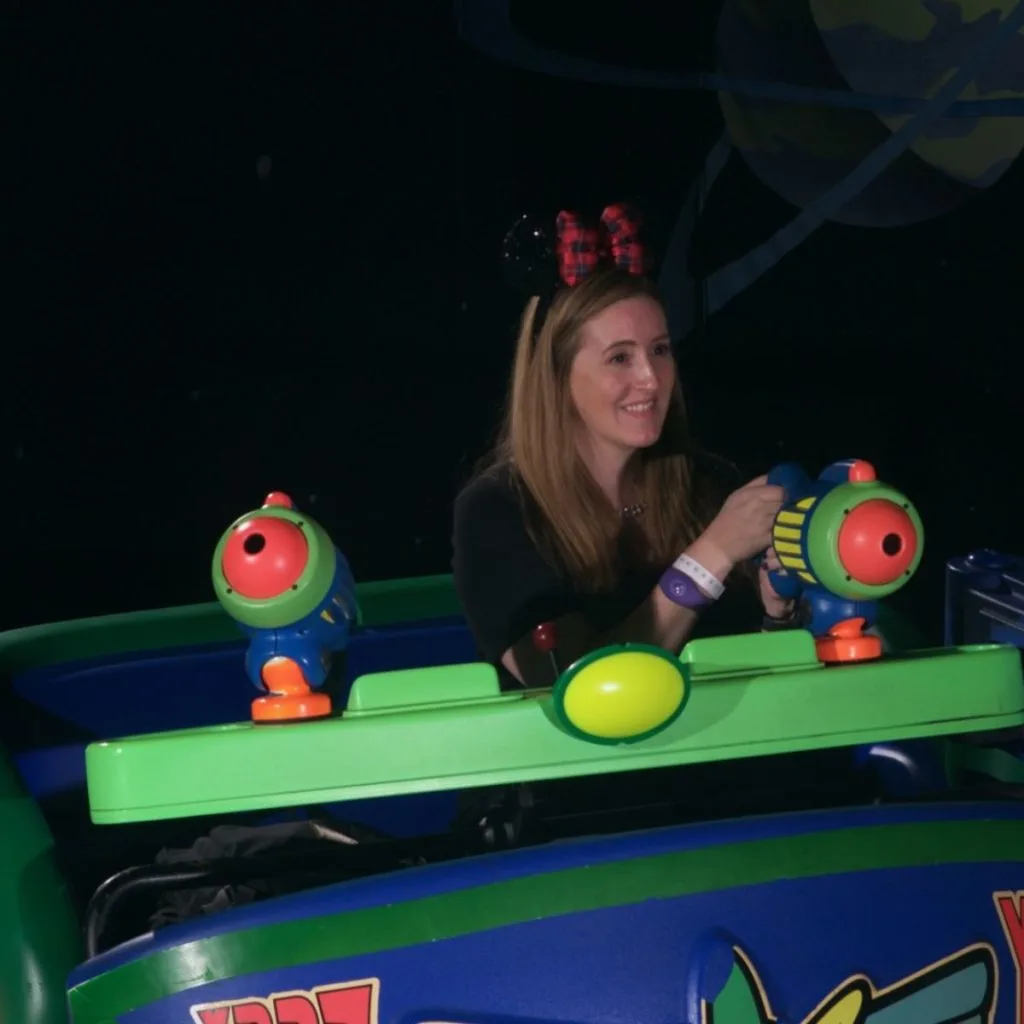 Meg Frost is the creator of The Park Pixie, where she covers Disney World, Disney+, and Disney fandom.
She holds an M.A. in Journalism from Northeastern University and B.S. in Communication & American Studies from University of Miami.
---